Actress Jennifer Connelly in Balenciaga Fringe Skirt and Shoes at Late Show With David Letterman
Trend Alert: Textured Minis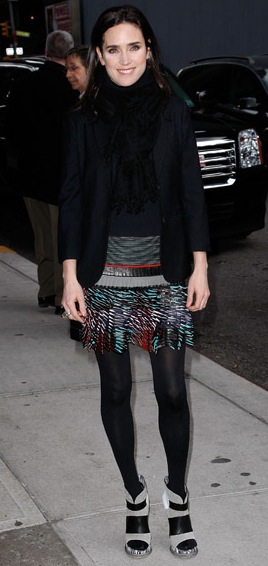 It's been a while since skirts have gotten the spotlight. Shine on pretty
textured minis
.
Jennifer Connelly
wore this futurama
Balenciaga
ensemb, along with
a subtly shimmery face
, to Letterman in NYC. Even though she isn't
the brand's Spring campaign muse
, she remains faithful to the house — it suits her so well. Though her colorful, varitextured miniskirt competes with her dove gray sandals for attention, my eye went straight for it. Whether ruched, tucked, pleated, fringed, or feathered, textured minis are funky, playful, and ready to wear.