Back-to-School Fashion Inspired by Clueless
Cher, Get in Here! How to Nail That Clueless-Inspired '90s Prep Look
Our world was forever changed (and infinitely enhanced) after watching Clueless for the first time in 1995. The epic rom-com, in its purest form, is an adaptation of Jane Austen's Emma with a Beverly Hills twist. But for those of you who have watched it as many times as we have, you know that it also happens to be a movie filled with hilariously memorable one-liners, spot-on meta '90s commentary, and really, really fun fashion.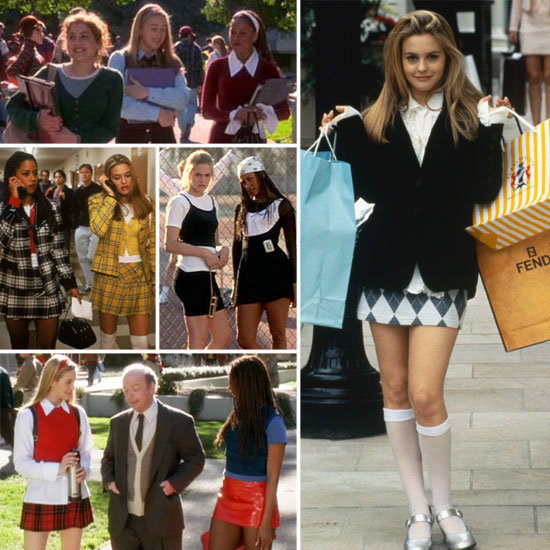 Ringleader Cher Horowitz (played by Alicia Silverstone), along with BFFs Dionne and Tai, gravitated toward a mix of '90s prep-school pieces. It's all about a bolder, sexed-up brand of schoolgirl charm for this crew, from pleated plaid miniskirts, sharp collared blouses, and cropped cardigan sets to knee-high socks and Mary Janes. Lest we forget, Dionne's bright leather skirts, printed bandannas, and Dr. Seuss-worthy vinyl top hats certainly added that extra element of interest. We know the dramatized plaids, platform pumps, and feather boa accents aren't necessarily school-appropriate, but trust us, the
Clueless
uniform definitely translates into today's dress code. Just stick to that overt schoolgirl silhouette — cozy cashmere sweaters, classic pleated skirts, over-the-knee socks (
Madewell
makes
a great pair
), and an updated cap-toe Mary Jane pump. As for the after-school set, Cher's
Calvin Klein
slip dress and now-iconic Alaïa LRD still remain viable evening ensemble options. Before you start spouting off your favorite
Clueless
quotes (which we're totally OK with), it's time to snag the movie-inspired pieces that will "mesh well" with your back-to-school wardrobe. Click below to shop our impressive rotating closet now.