Whether you're planning a wedding [1] or just daydreaming about dresses, we're about to take you on a tour of the most gorgeous beach wedding [2] gowns — all from real weddings [3]. You may have your own prerequisites for the dress, but sometimes seeing the gown in action [4] can make all the difference.
Whether you're seeking a lace confection or something a little simpler, we've plucked the prettiest images to show you exactly what they'll look like on the sand and surf. Some might even convince you that you can do that train after all — just scroll through to take inspiration from a collection of the most beautiful seaside weddings.
Channel the New England Vibe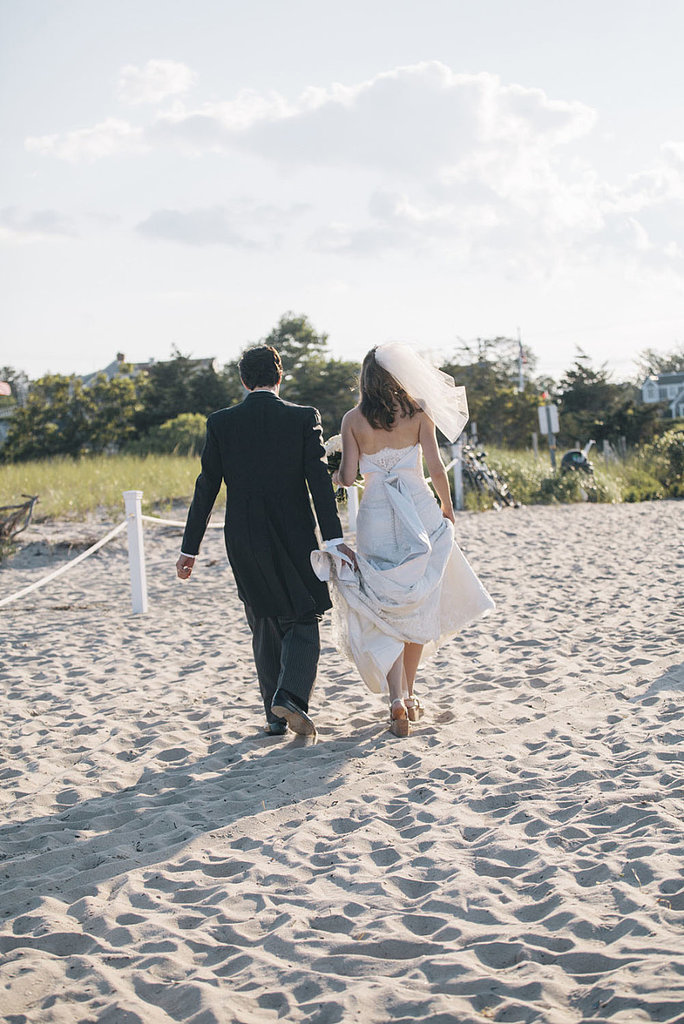 Shoreside wedding [5] in New England? Do what this clever bride did and look for a dress with just the right details — the subtle seersucker at the back of her dress couldn't be more perfect for the occasion.
Photo by Kate Preftakes Photography [6] via Style Me Pretty [7]
Don't Rule Out Tulle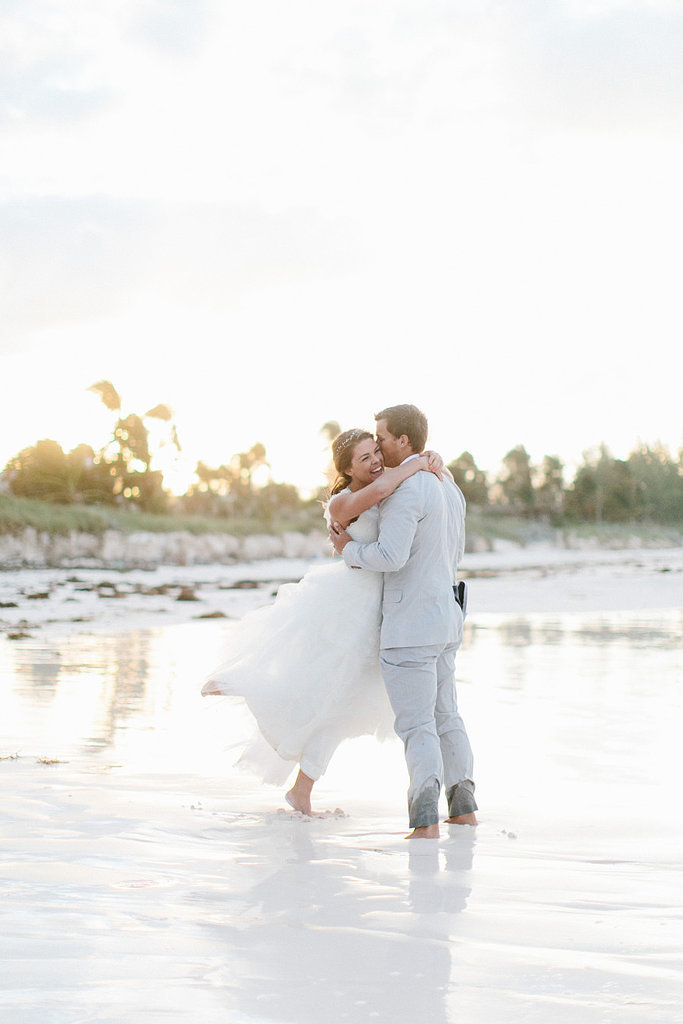 You might think a tulle dress won't cut it at the beach, but the pictures of a princessy tulle confection will look even more magical when you're barefoot in the sand with your partner.
Photo by Jeremiah and Rachel Photography [8] via Style Me Pretty [9]
Simple Is Stunning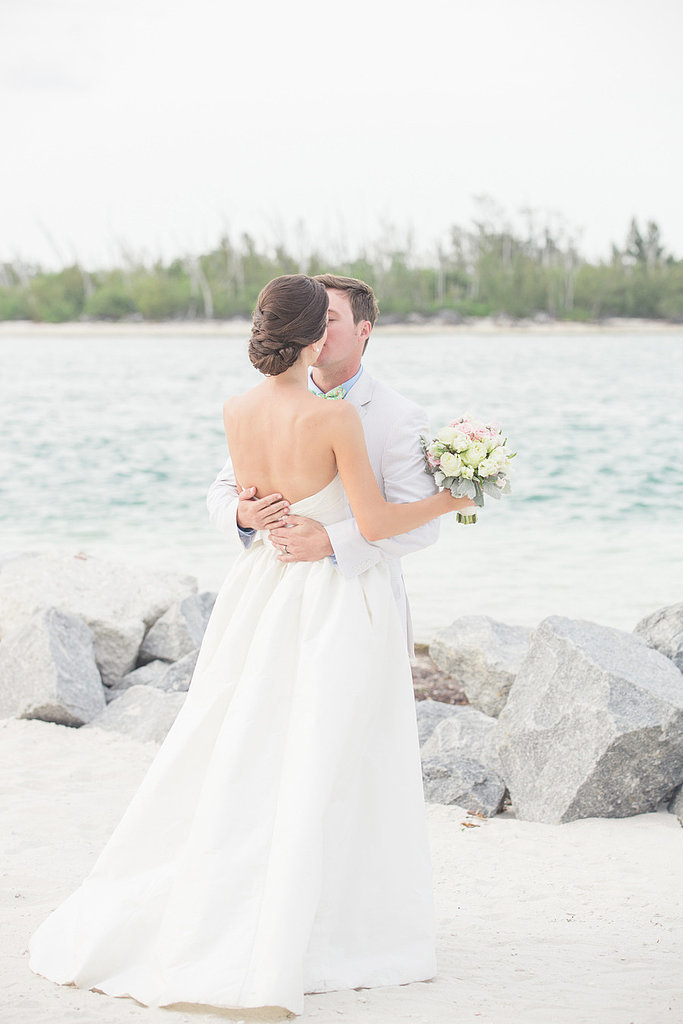 A classic gown with clean lines will complement the natural beauty of the setting.
Photo by 1313 Photography [10] via Style Me Pretty [11]
Romantic Layers Look Amazing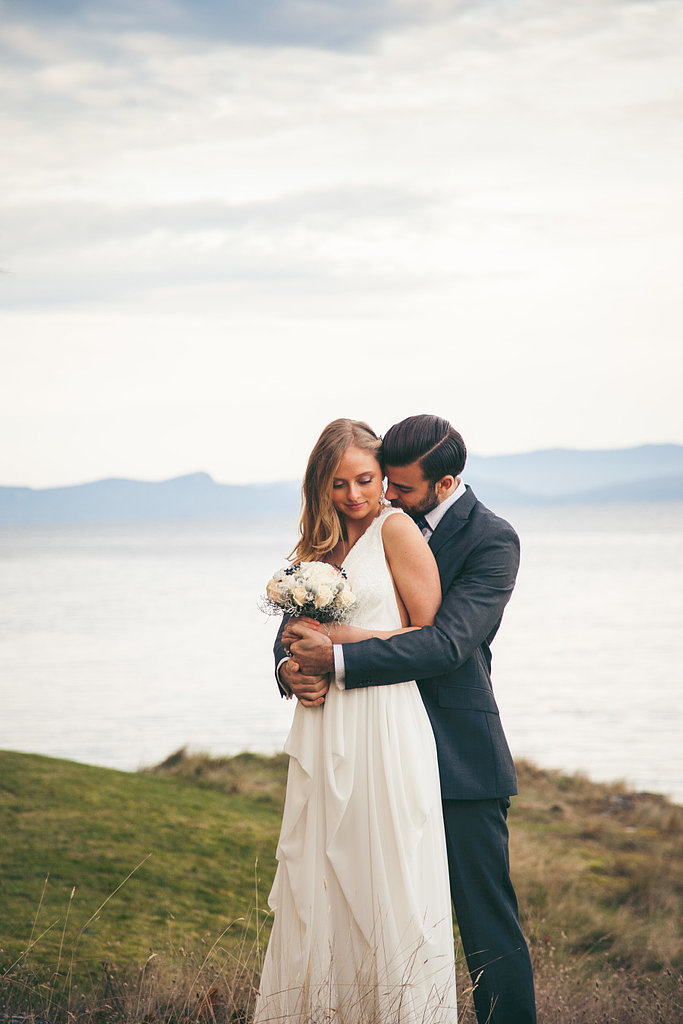 The subtle, romantic layers of her dress weren't fussy; they felt understated and easy, just like the landscape.
Photo by Ainsley Rose Photography [12] via Style Me Pretty [13]
Go All Out With a Backless Dress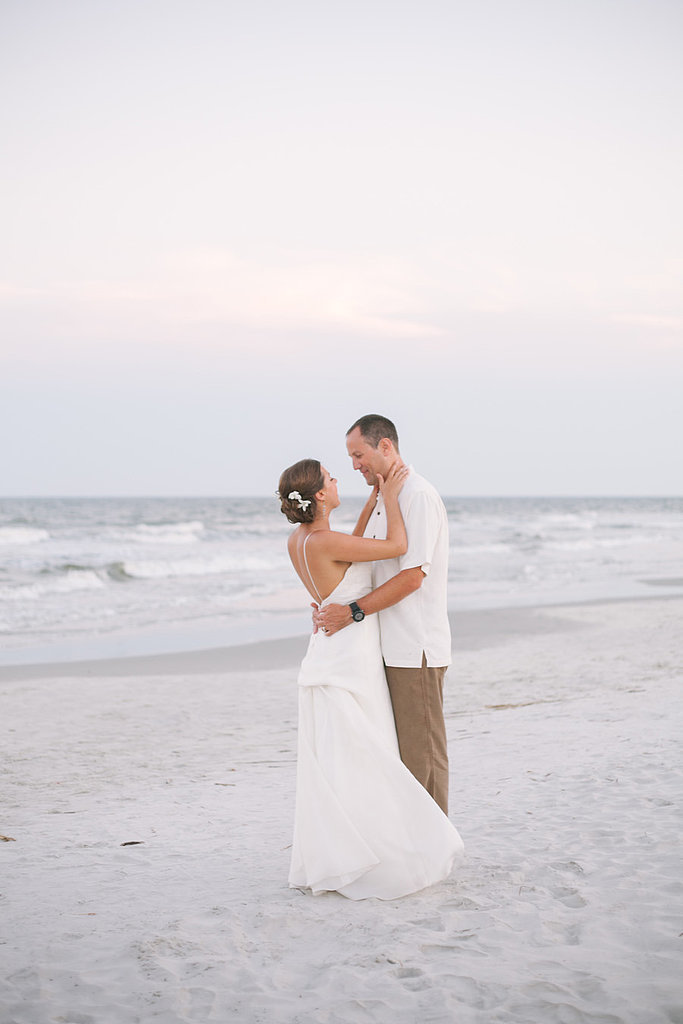 Embrace the beachy vibe — especially if your partner is playing it more casual — with a breezy dress that speaks to the setting with an open back or a halter-style neck.
Photo by Ashley Seawell Photography [14] via Style Me Pretty [15]
Halter Necklines Hit the Right Note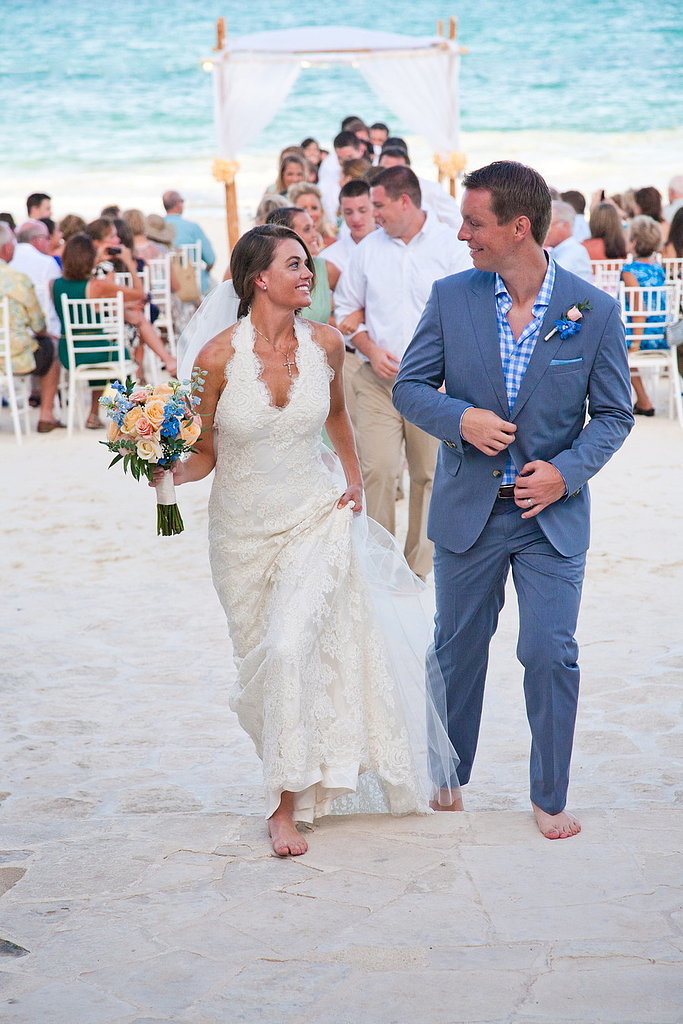 If you fear that a lace-covered gown is going to look too formal for the location, look to a halter neckline. Not only is it incredibly flattering, but it also feels less formal and hints at a sexier, carefree vibe.
Photo by Bride and Joy [16] via Style Me Pretty [17]
Choose a Dress That Moves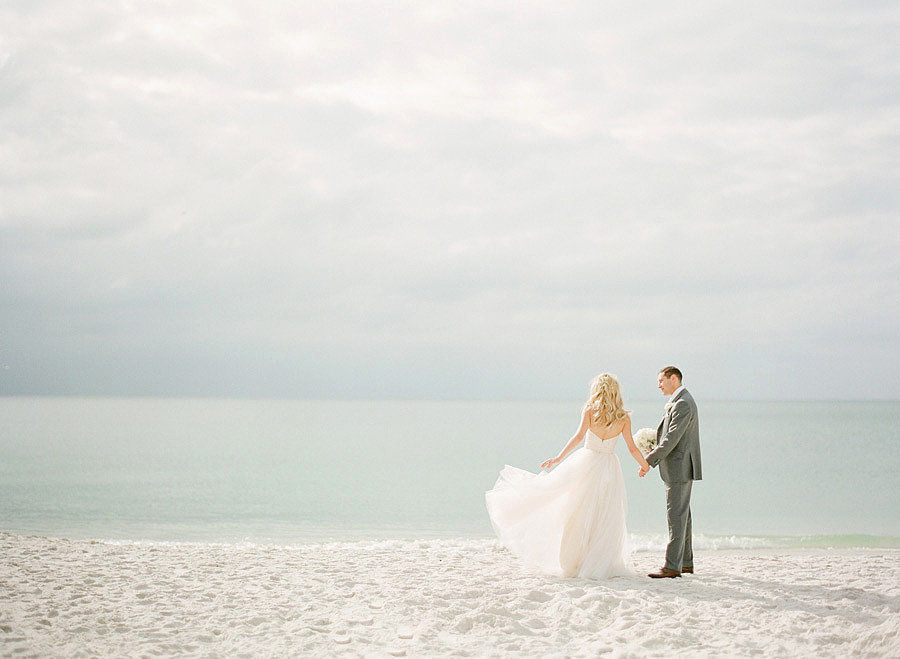 A strapless, chiffon dress like this was made for nuptials at the shore. The beauty of it will really come through when you're shooting your couples' portraits on the water.
Photo by KT Merry Photography [18] via Style Me Pretty [19]
You Can Still Wear the Princess Dress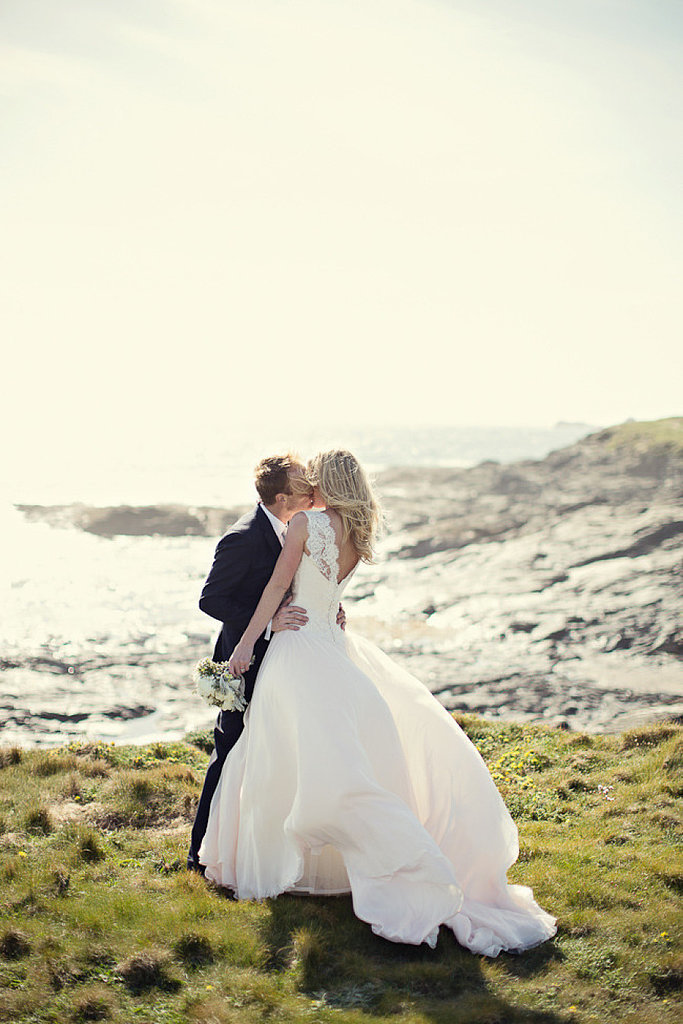 If you do opt for a grander train and ballgown-style silhouette, show it off with photos that capture the back of the dress and the setting. And if you're afraid of getting the dress wet or covered in sand, you can still get the landscape when you opt for portraits overlooking the water.
Photo by Marianne Taylor Photography [20] via Style Me Pretty [21]
Light-as-Air Layers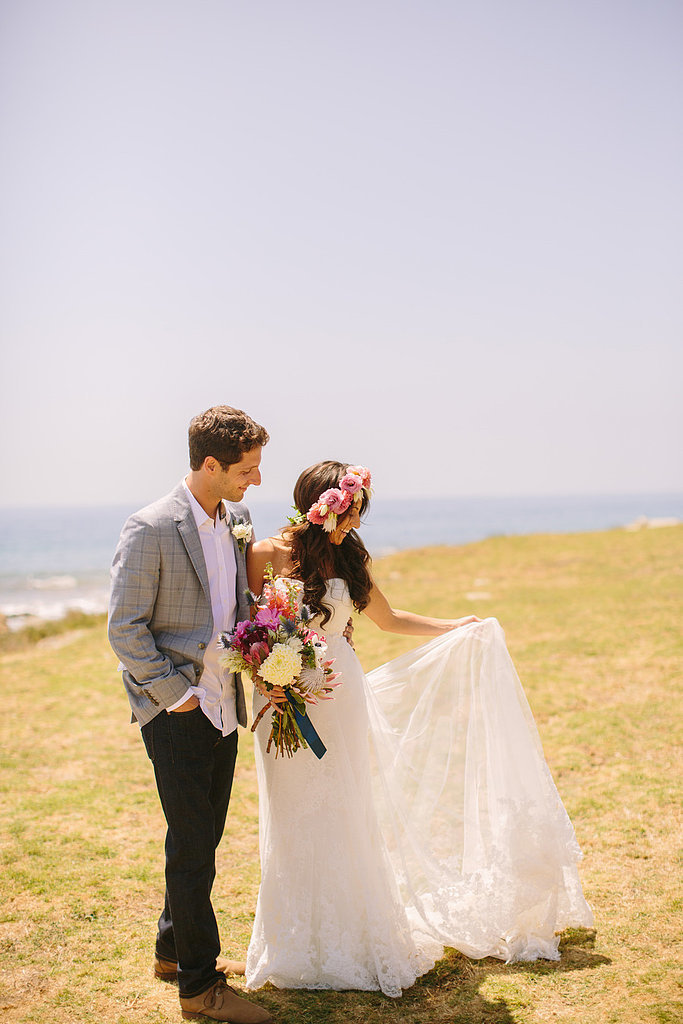 For a no-fail style, look for light, airy layers that will capture the light in pictures and fall into a flattering A-line. This style isn't just perfect for an outdoor day wedding [22]; it's also flattering on so many body types.
Photo by Danielle Capito Photography [23] via Style Me Pretty [24]
Keep It Casual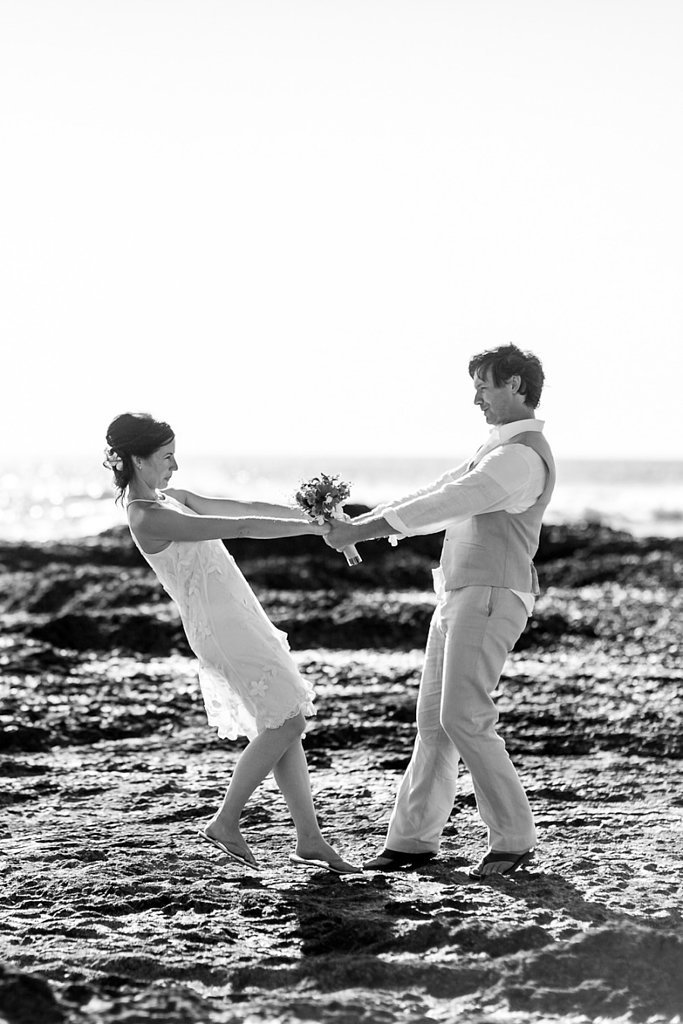 If your beach wedding [25] is a more casual affair, keep the dress in line with your theme. A shorter style will look right on point and let you move freely to dance — and to stage a killer photo shoot near the waves.
Photo by A Brit & A Blonde [26] via Style Me Pretty [27]
Opt For a Vintage Feeling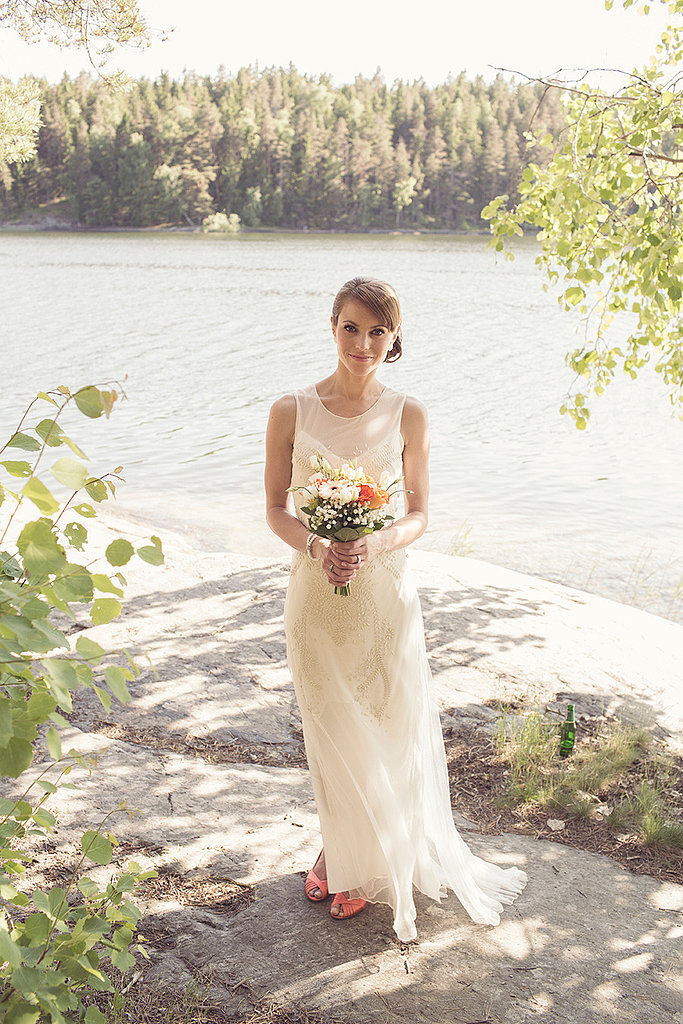 There's something about a sweet, unique, vintage-feeling dress that would fit in perfectly at a lakeside or beachfront wedding [28]. The effect is carefree and romantic.
Photo by Annevi Weddings [29] via Style Me Pretty [30]
Soft Ruffles Are Just Right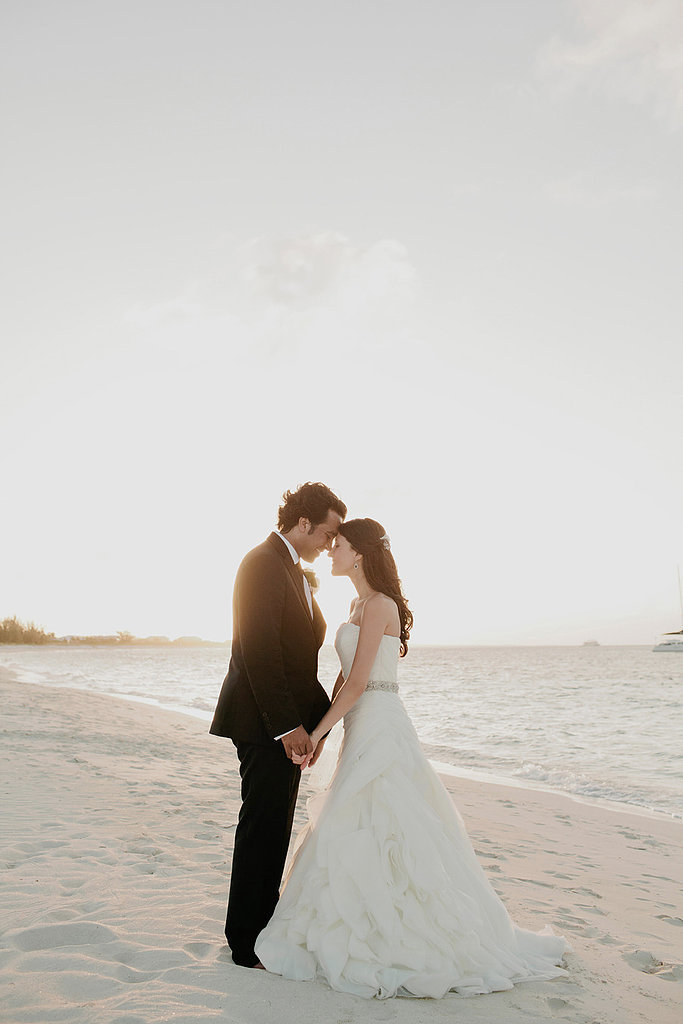 Just look at how the soft ruffles of her dress echoed the waves in the ocean. Pretty magical, right? Re-create the effect with a gown that has just a touch of texture — you'll thank yourself when you see the photos.
Photo by Kelly Kano [31] via Style Me Pretty [32]
Make It About You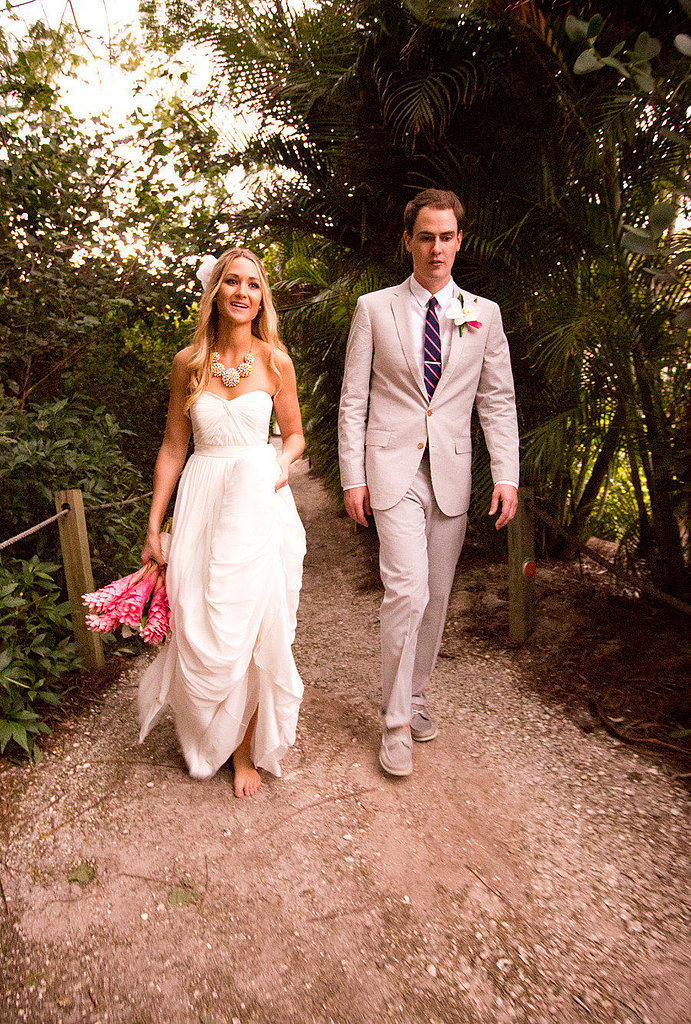 Most often the best dresses aren't the ones with a lot going on; they're the ones that highlight your natural beauty and the beauty around you. This light, chiffon strapless flattered the frame and didn't compete with the easy feel.
Photo by A Guy and a Girl [33] via Style Me Pretty [34]
Small Details Make Big Differences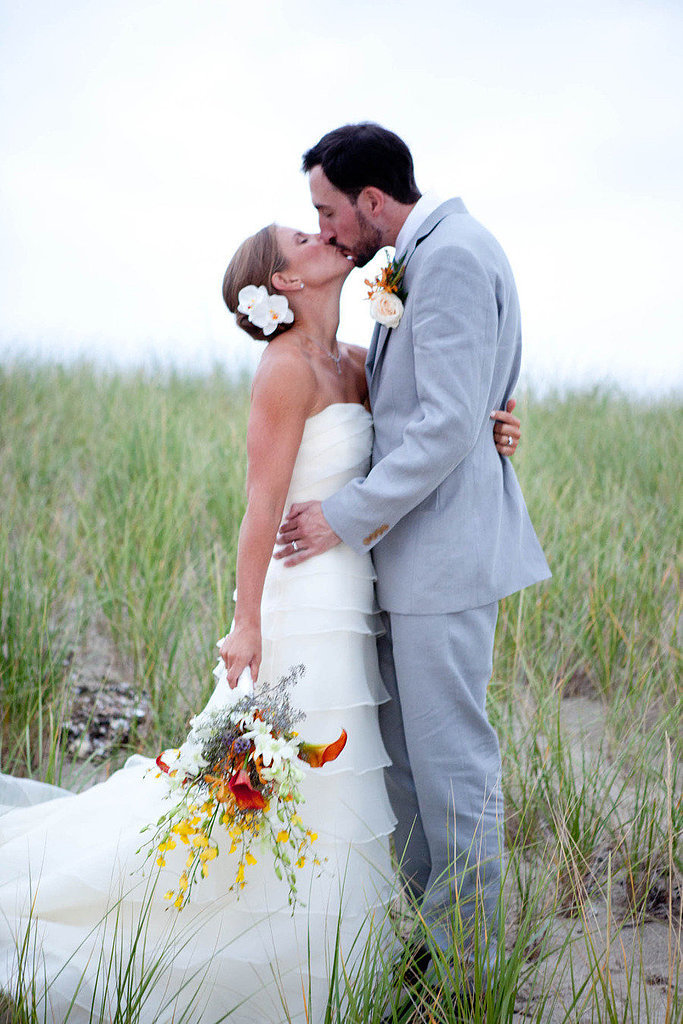 The tiers on this gown felt breezy and romantic, adding to the grassy beachscape.
Photo by Katie Noble Weddings [35] via Style Me Pretty [36]
Easy Doesn't Have to Mean Boring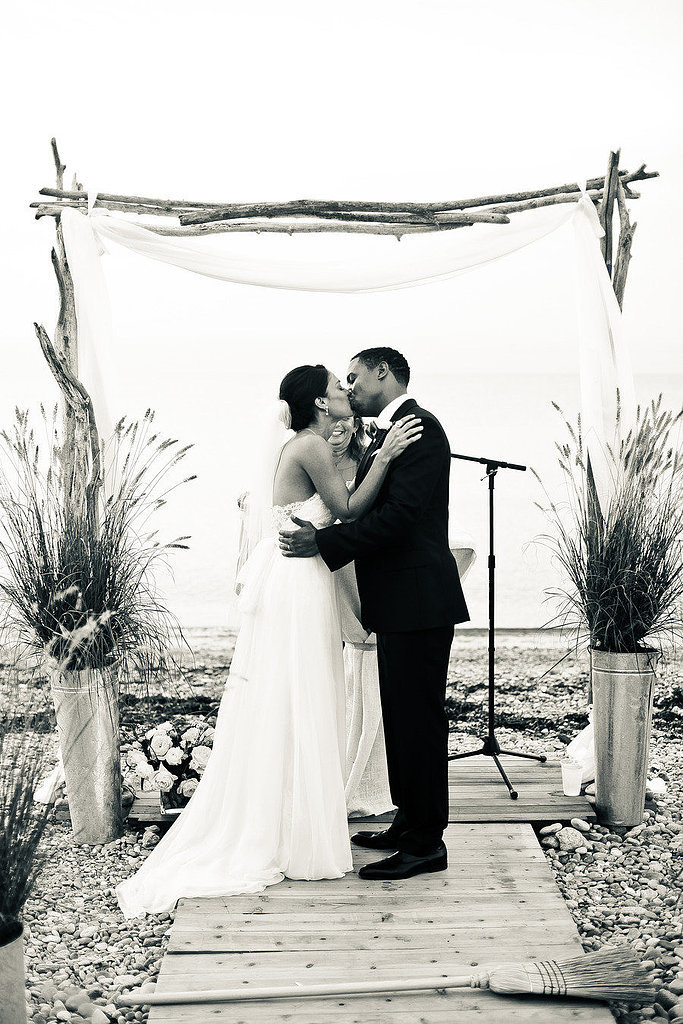 If you're on the hunt for a dress with beautiful details but one that you still want to feel easy and natural, look for finishes at the top of the gown that set it apart. This one didn't come with a major train or layers of tulle, but the hint of lace at the bodice and the open back helped set it apart.
Photo by Stylish and Hip Weddings [37] via Style Me Pretty [38]
Don't Shy Away From All Lace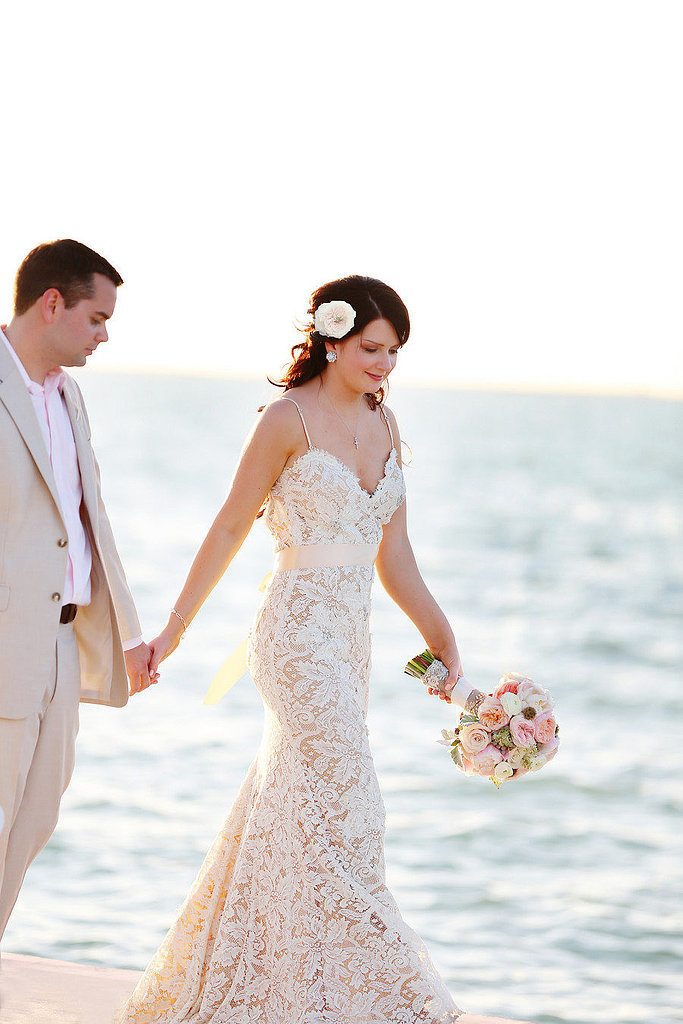 Lest you think lace is only fit for a city wedding [39] or feels too precious for a day at the beach, this photo could easily set you straight. The neckline felt just a tad sexy, as did the mermaid-style silhouette, while the lace was completely eye-catching.
Photo by Stay Forever Photography [40] via Style Me Pretty [41]
It's All About Casual Romance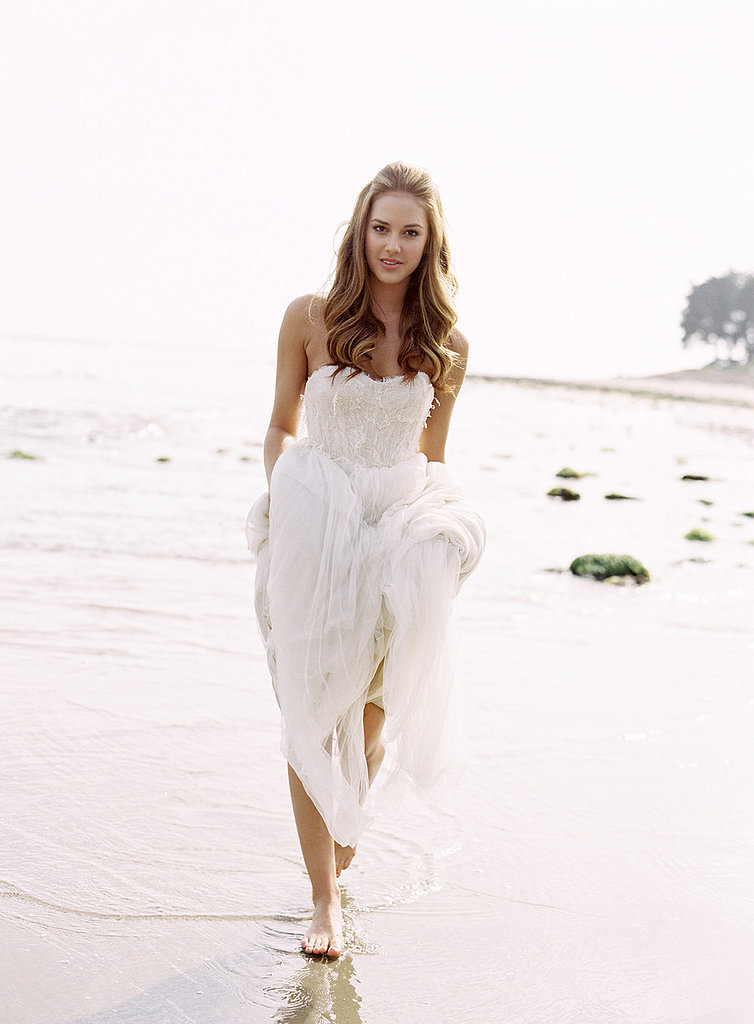 This gown managed to be sexy, understated, and entirely romantic. The textural detailing added interest, but the vibe wasn't overworked or staged.
Photo by Jose Villa [42] via Style Me Pretty [43]
No Train Required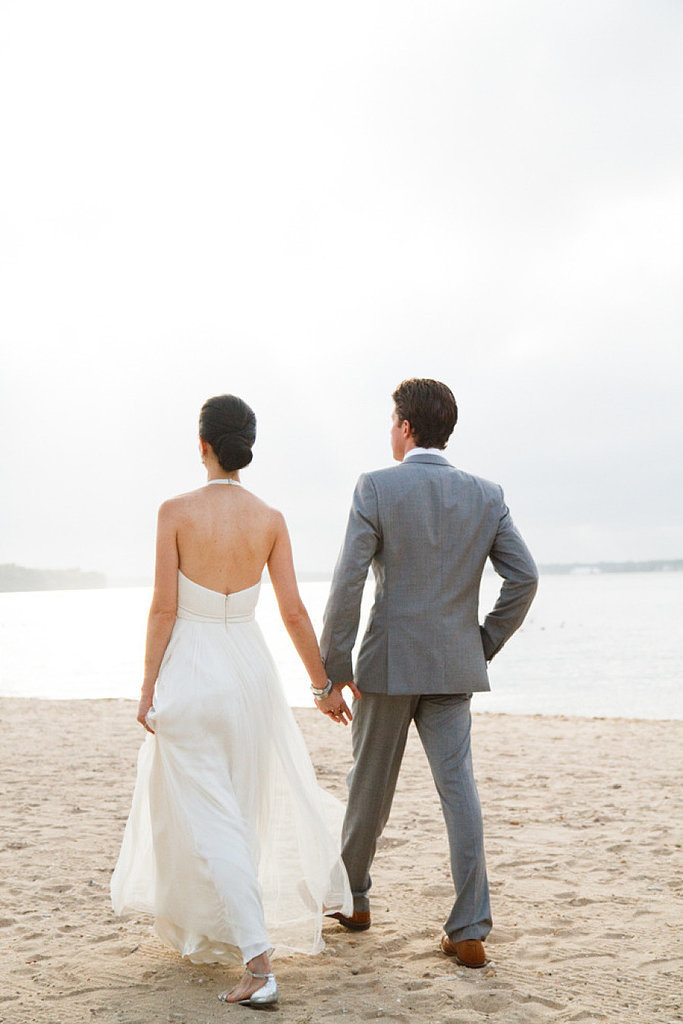 Banish any prerequisites for wedding-dress shopping. Your gown doesn't have to have a train if you don't want it to. Opt for a length like this, one that's totally functional for strolling the beach and has an open back, fitting the occasion perfectly. It's also a great option for showing off a sweet pair of sandals.
Photo by Kate Osbourne Photography [44] via Style Me Pretty [45]
Find Gorgeous Embellishments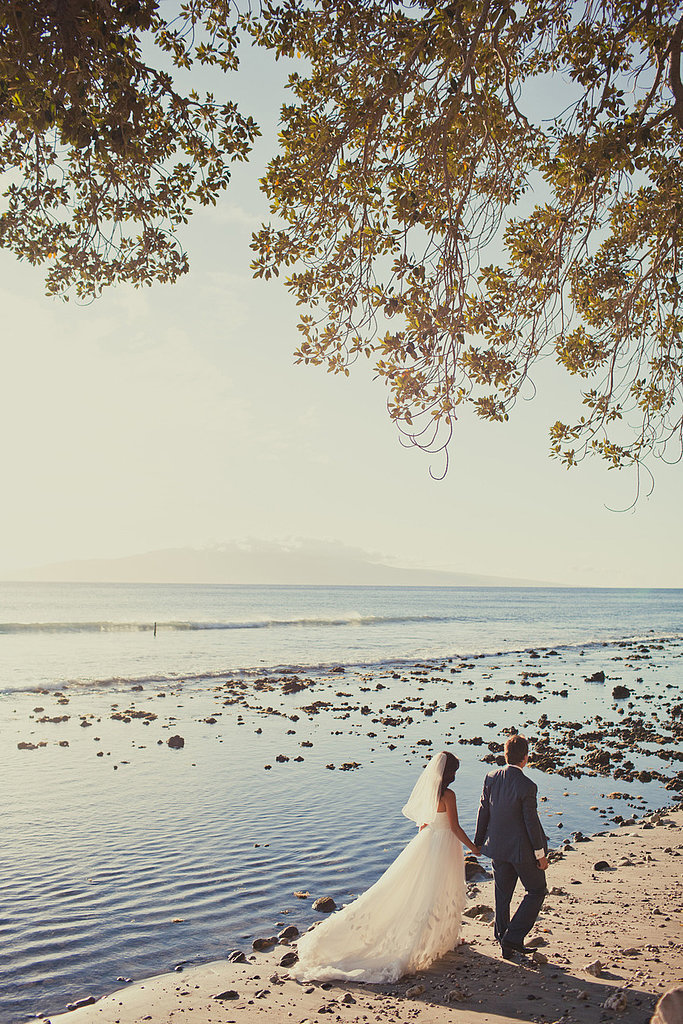 You might not be a studs and sequins kind of girl, but have you ever thought about sweeter, softer embellishments? The appliqués on this gown turn it into a total showpiece in photographs, and since it's not sparkly, it doesn't feel outrageous in the natural setting.
Photo by Erica Chan [46] via Style Me Pretty [47]
Look Lovely in Lace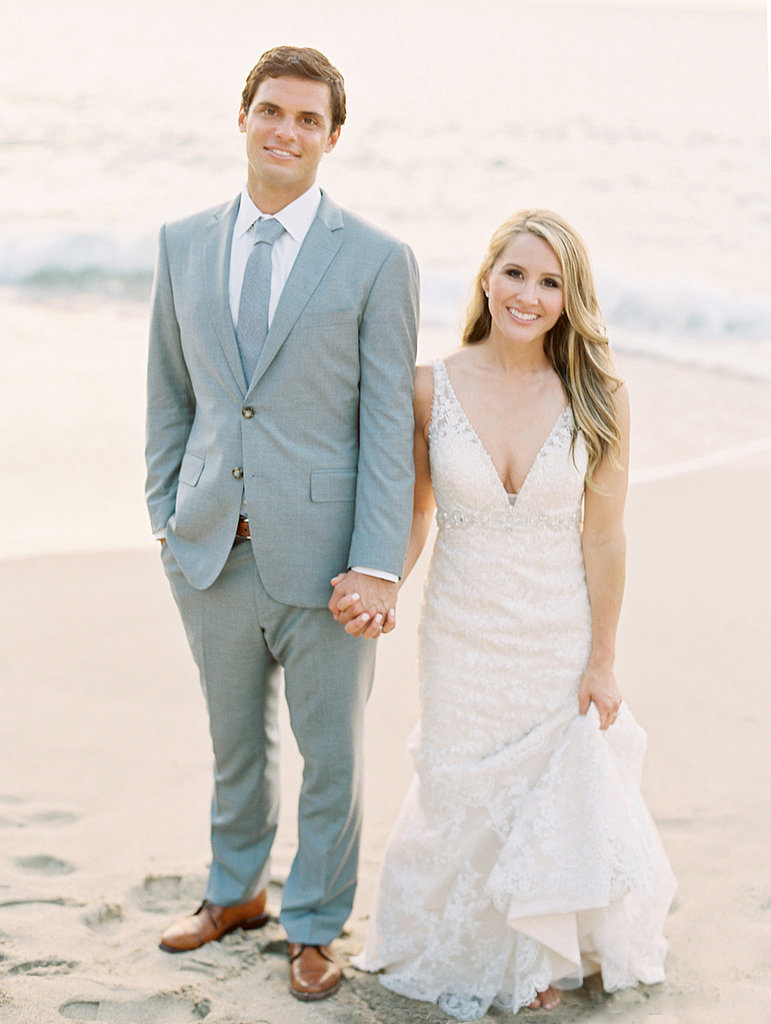 While an over-the-top, ruffled, and rhinestoned dress might compete with the beachy vibe, a pretty lace dress won't, especially when it's cut slim to the body. Want to make the look feel even more beachy? Just ditch your shoes for a photo shoot on the sand.
Photo by Clary Pfeiffer [48] via Style Me Pretty [49]
Show Off Your Assets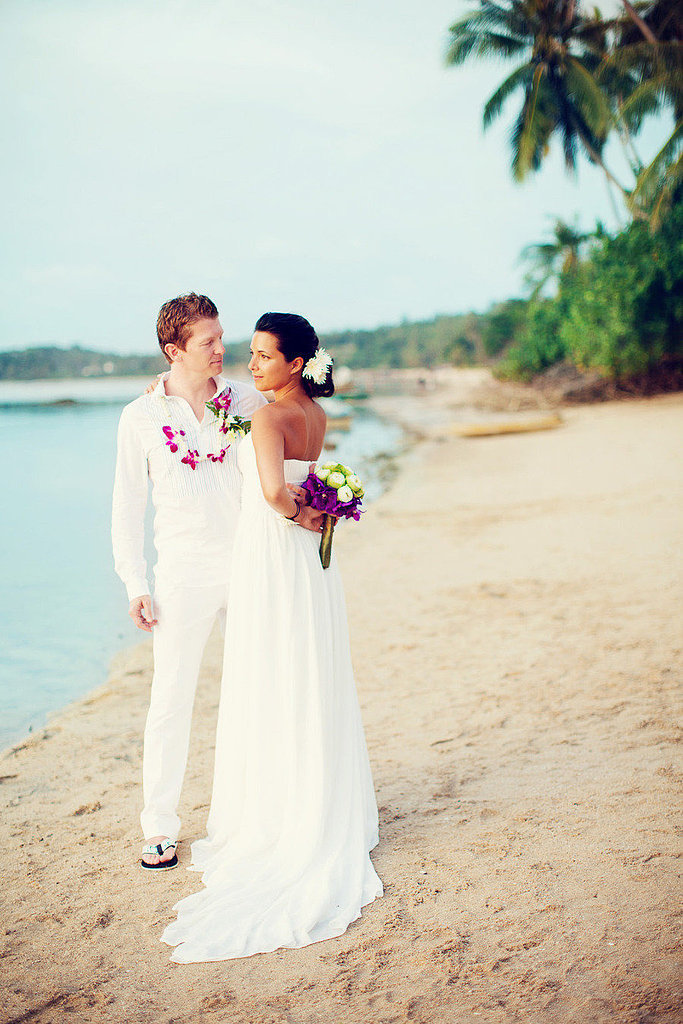 Hawaii-bound for a seaside wedding? Showcase your best assets with a pared-down gown that you can dress up with bright florals. This one paired perfectly with her husband's easy all-white look, too.
Planning your wedding? Check out more of our wedding content right here:
Take the perfect engagement photos [50]
Find your wedding shoes [51]
Prep for the most gorgeous detail shots on your wedding day [52]
Photo by Peaches & Mint [53] via Style Me Pretty [54]