Let's face it: there's a lot coming and going down the runway over the course of a day during New York Fashion Week. Each show alone is packed with pretty designs and looks good enough to (almost!) make us want to skip Spring and go straight to Fall 2014.
After the first day's crash course in cozy outerwear and layering at Coach, BCBG Max Azria, and Marissa Webb; day two's transportive eveningwear from Jason Wu [1] and Cushnie et Ochs [2]; and day three's shockers, day four continued to bring the gold (literally, in some instances, as was the case with Diane von Furstenberg).
And just when we thought day five was Fashion Week's biggest yet, Tuesday's shows brought the real drama with unexpected influences like Weimar-era cabarets in Berlin at J.Crew, medieval armor at Tory Burch [3], and (most literally) Rodarte [4]'s Star Wars prints. Whether they were fighting against or pushing along the trends, day seven was a fitting way to (nearly) wrap up the week with shows like Proenza Schouler [5], Reed Krakoff [6], and Michael Kors [7] moving the conversation along.
To sum up Fashion Week, Calvin Klein [8], Ralph Lauren [9], J. Mendel, and Marc Jacobs [10] closed the show schedule with strong collections that took moments we had been seeing throughout the eight days and gave them their boldest takes yet. Here are the most memorable looks that we'll have on our minds all this week and beyond.
Source: IMAXTREE [11]
Day 8: Calvin Klein Collection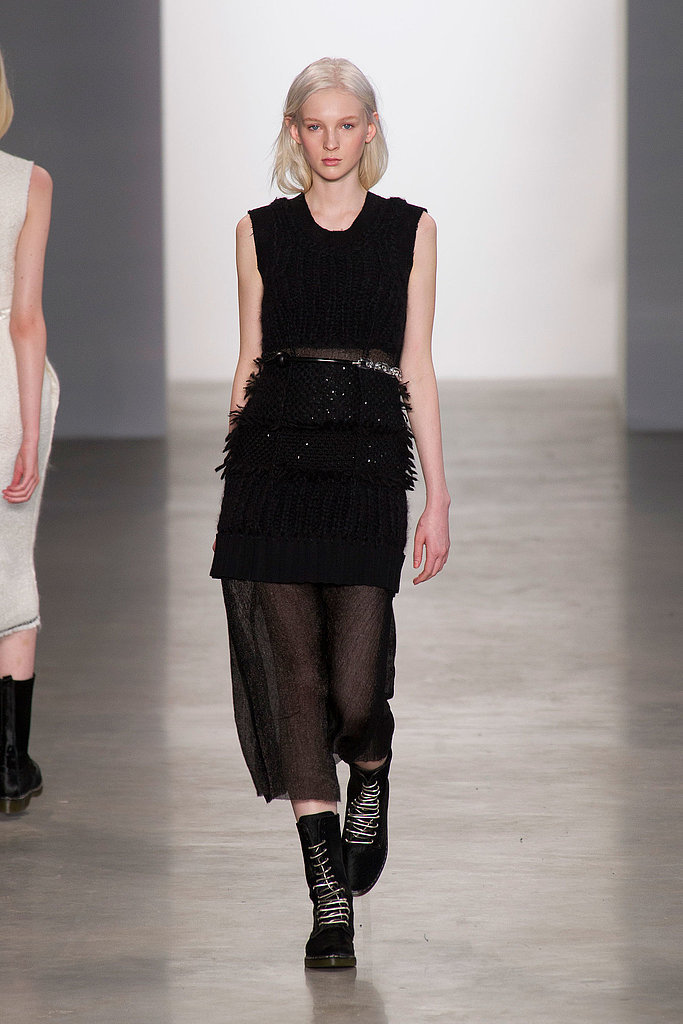 Calvin Klein [12] went cozy and casual in a relaxed collection that balanced laid-back boots and knits with Francisco Costa's trademark tailoring.
Day 8: Ralph Lauren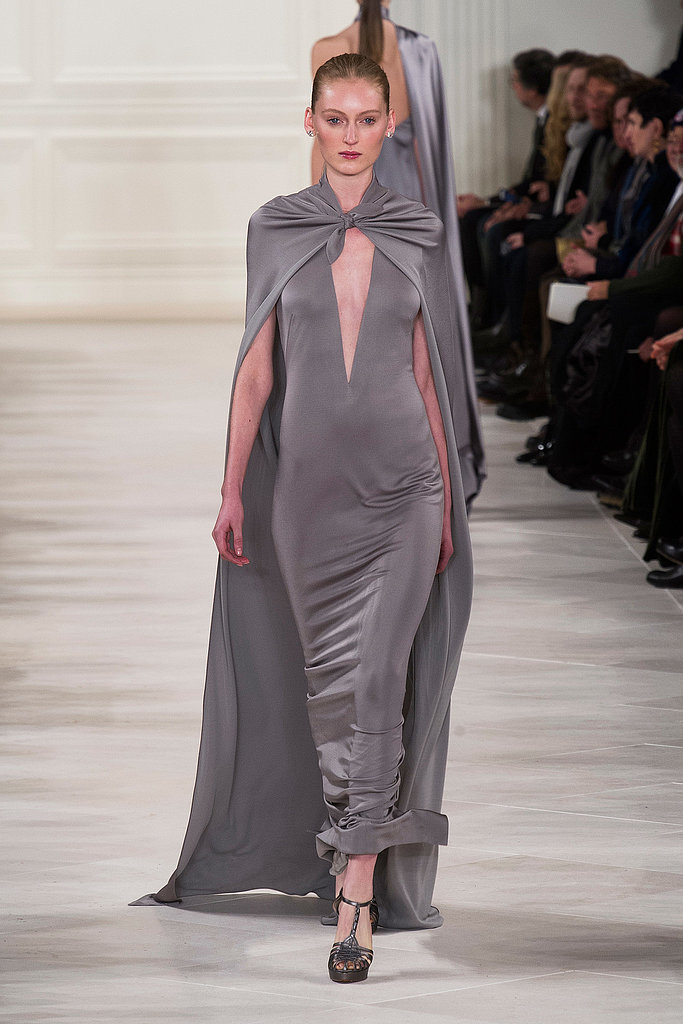 Who needs 50 shades when just one looks this strong? The classic designer made a case for monochrome with head-to-toe stunners like this caped gray gown.
Day 8: Marc Jacobs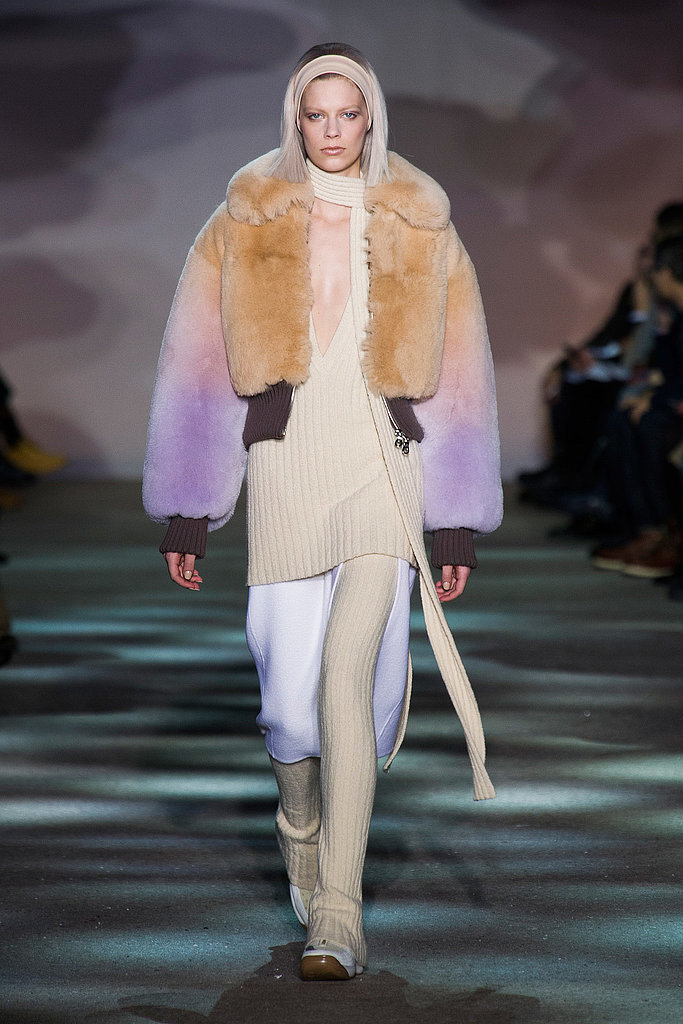 Marc Jacobs [13]'s light-as-air show extended from the clouds mounted on the show space's ceiling to the fluffy pastel outerwear.
Day 8: J. Mendel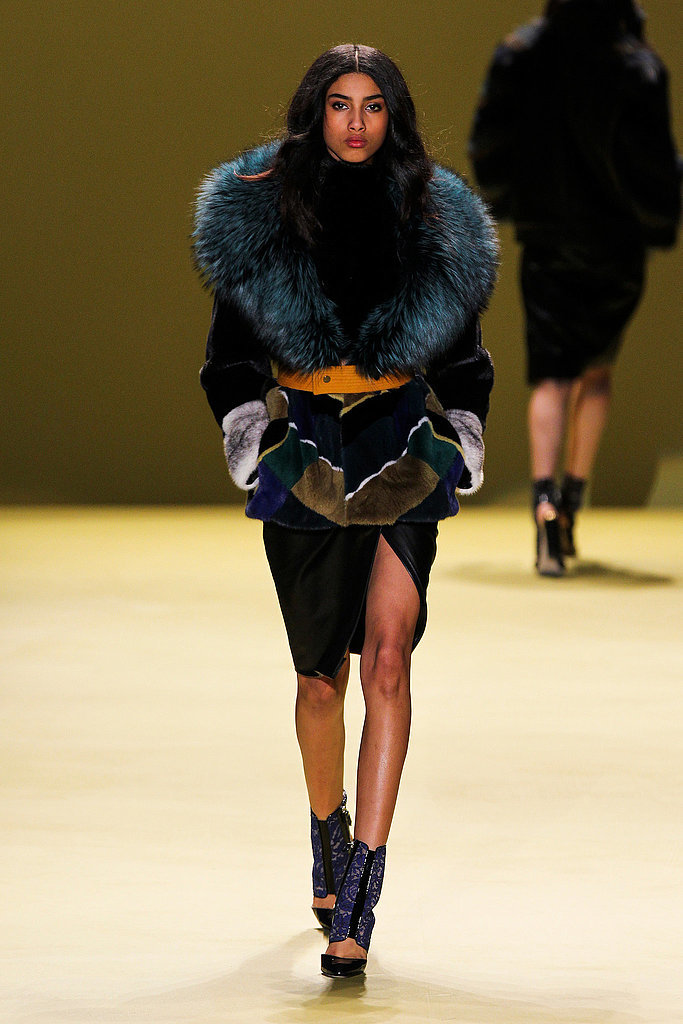 Colorful fur also came in jewel tones when J. Mendel punctuated his collection with striking outerwear.
Day 7: Michael Kors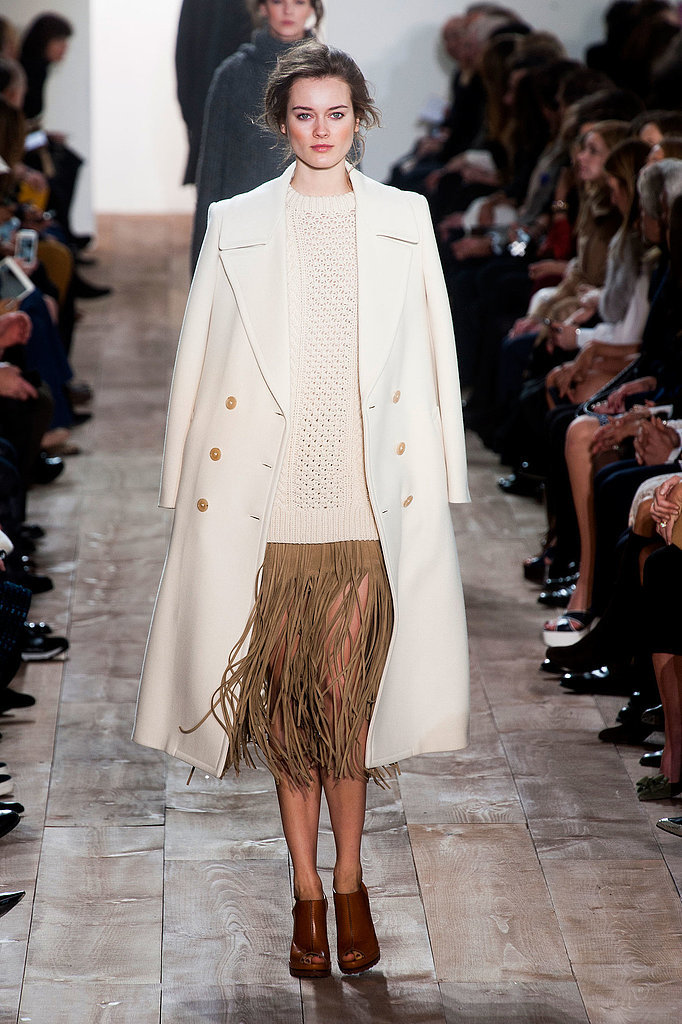 You don't need to push envelopes to get attention; sometimes a classic will do. That was the case for both Michael Kors's designs [14] and the models who wore them (including Carolyn Murphy, Frankie Rayder, Karen Elson, and Jacquetta Wheeler).
Day 7: Marchesa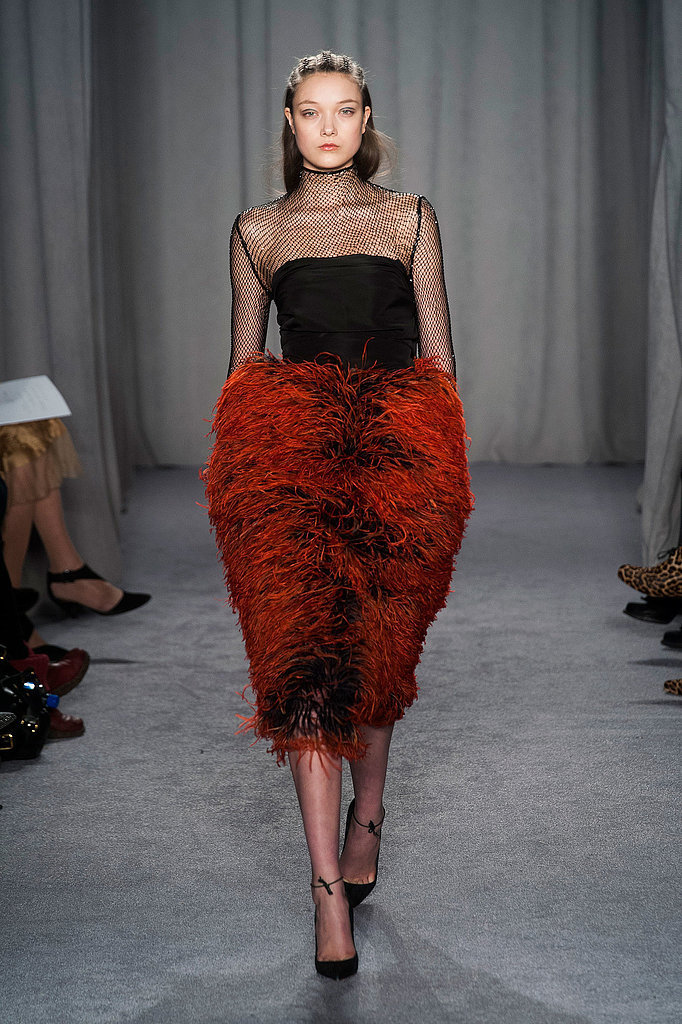 The only thing louder than the rich hues employed in Marchesa's Fall designs [15] were the asymmetric silhouettes that were formed by everything from cascading silk to fluffy plumes.
Day 7: Reed Krakoff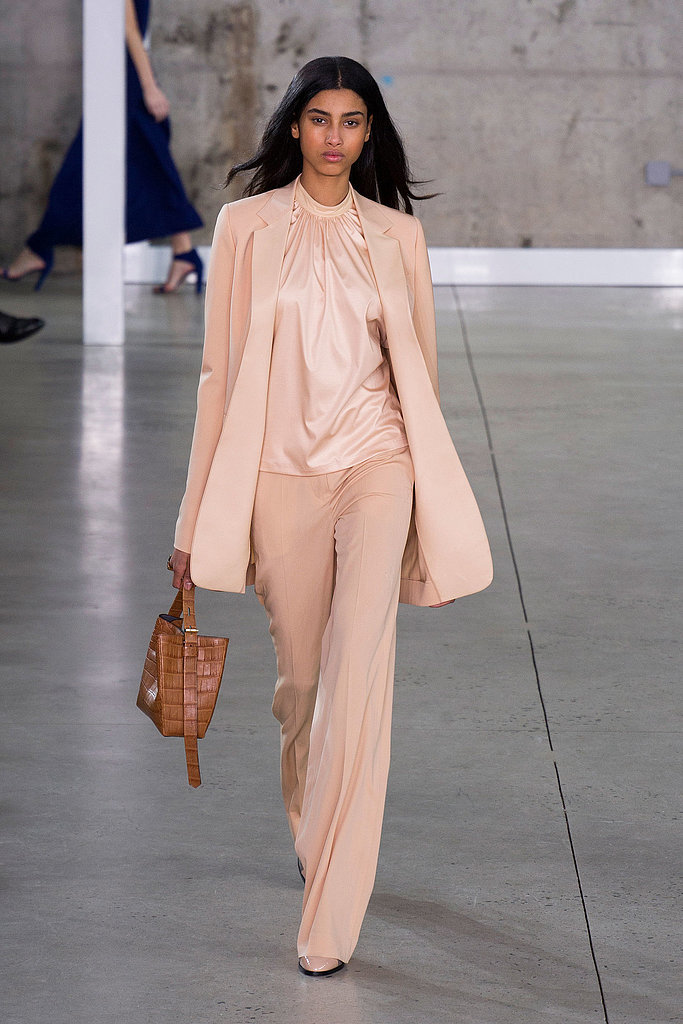 Preaching to the choir of minimalism, Reed Krakoff stuck to expert tailoring [16] to let his designs stand out. And if there were any bells and whistles, those would be the luxe Krush bags that had the audience swooning.
Day 7: Proenza Schouler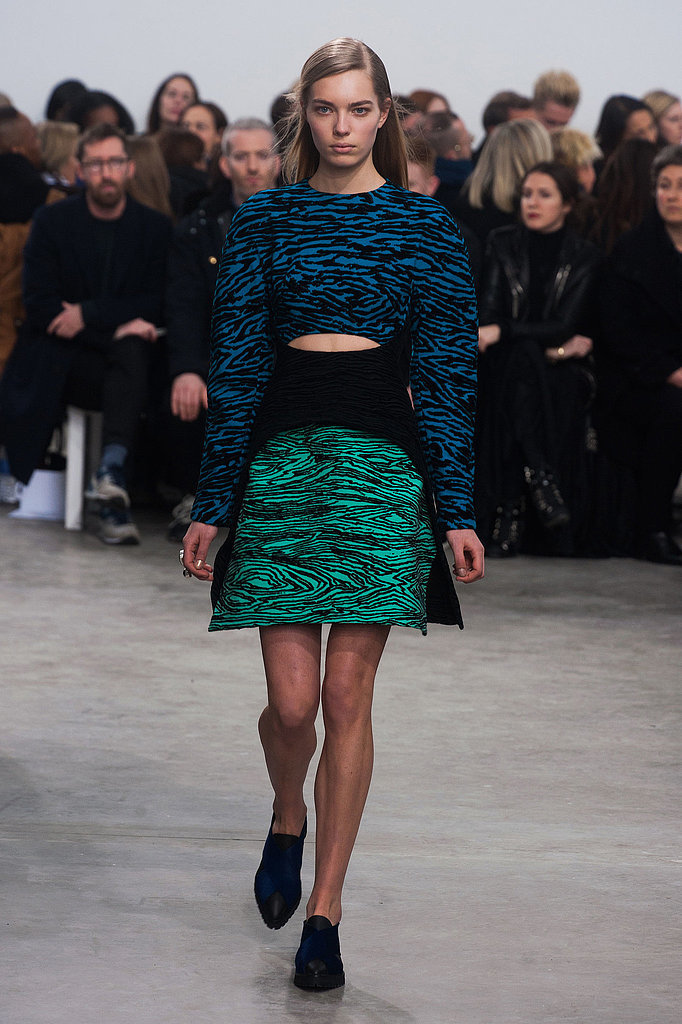 Prints? Dead? Not at Proenza Schouler [17], where the designer paired high-contrast woodgrain with rounded shoulders and a hint of midriff (count those as two more trends that are here to stay, according to Jack McCollough and Lazaro Hernandez).
Day 7: Nanette Lepore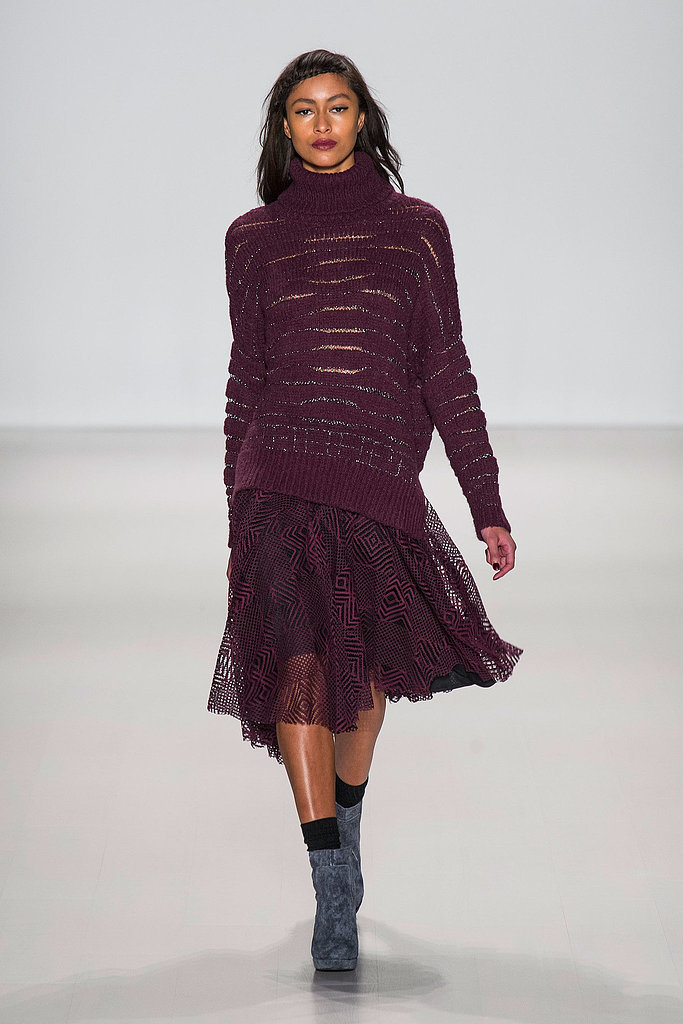 If there's any trend hotter than DIY [18], we haven't heard of it. Though Nanette Lepore's berry creations [19] weren't exactly replicable on Pinterest, shirring and crafty fabrics gave them a made-by-hand feel.
Day 6: Marc by Marc Jacobs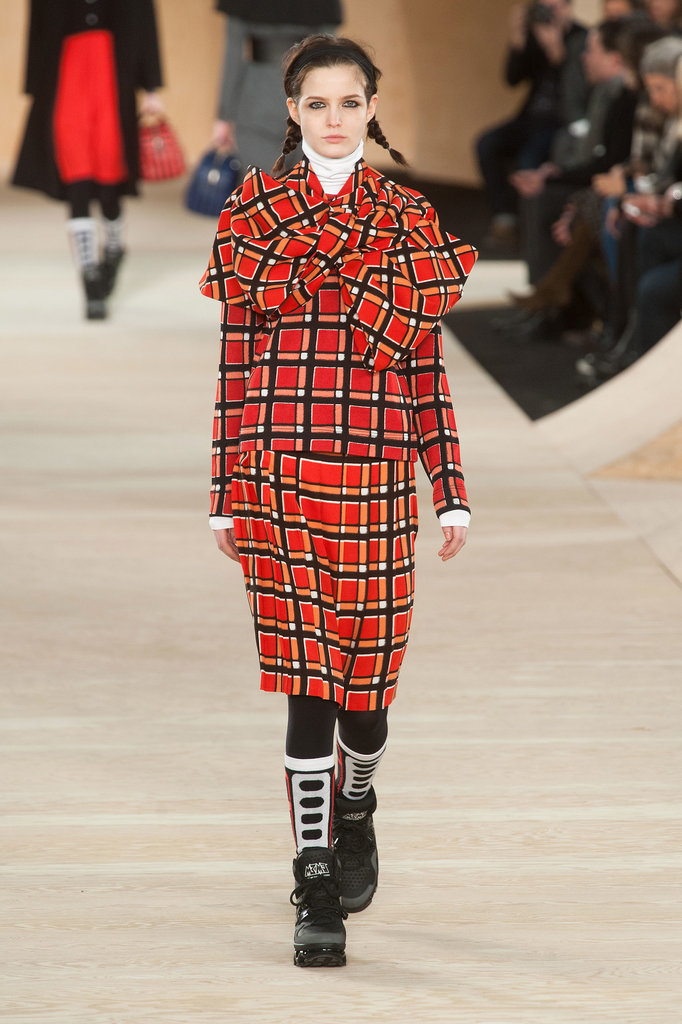 It's been a while since we've been so stopped in our tracks at a Marc by Marc Jacobs [20] show. But with a new creative director and head of design at the helm of the race-car-inspired Fall collection [21], it's full speed ahead.
Day 6: Rodarte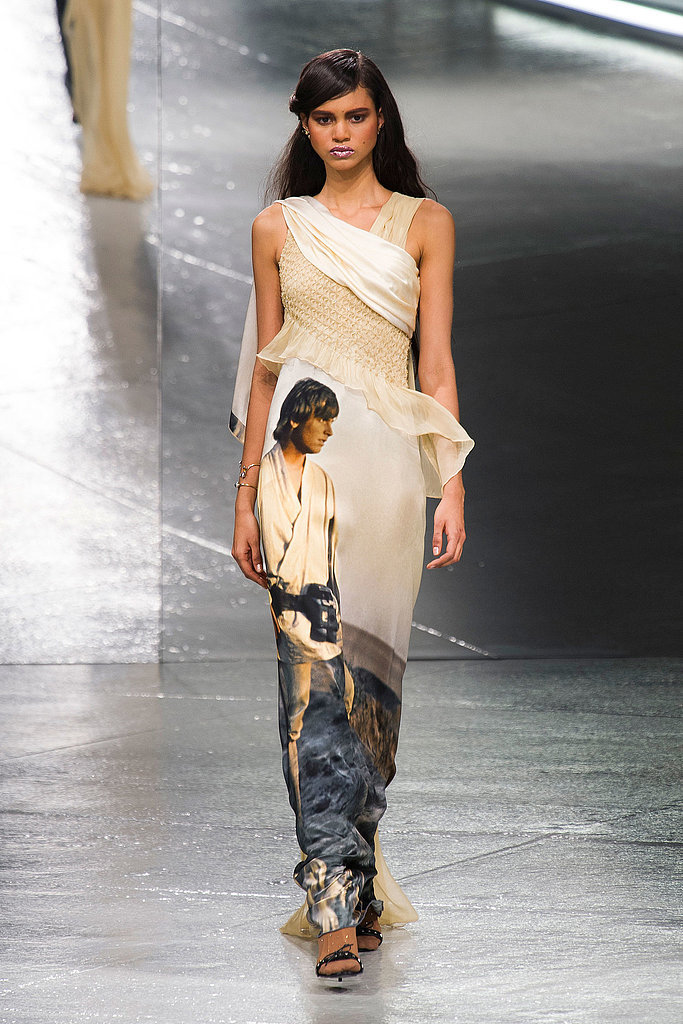 This wouldn't be the first time a Rodarte collection [22] could be described as "out of this world," but it would be the first occasion when we could take the term literally. With standout prints directly depicting classic Star Wars characters on gowns, the force is definitely with Kate and Laura Mulleavy.
Day 6: J.Crew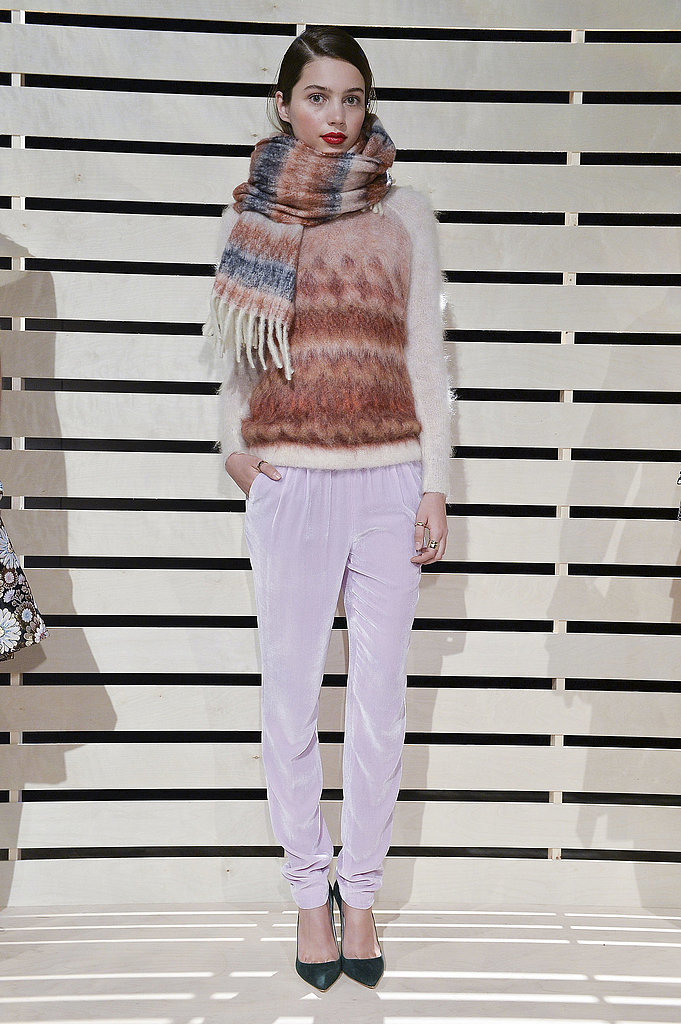 What good is sitting alone in your room when velvet, cabaret-inspired sweats are demanding to be seen? The Weimar-era Berlin influence [23] extended to other rich textures like fringe, fur, and leather while muted hues blended effortlessly with loads of sparkle.
Day 6: Oscar de la Renta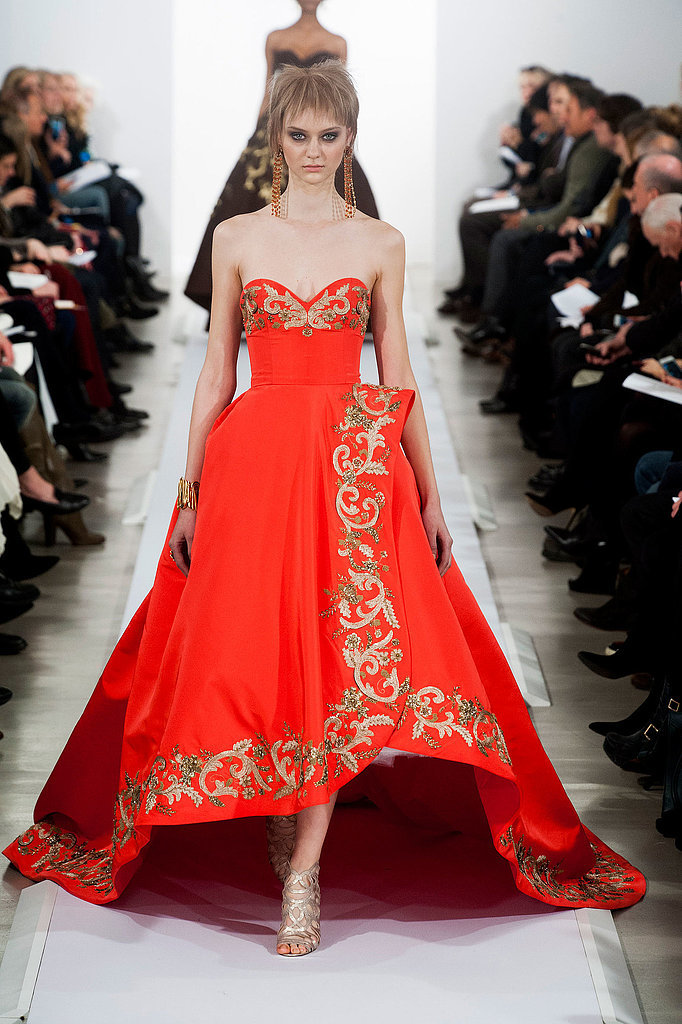 The question isn't if but which star will hit the Oscars in Oscar. While hot hues and embroidery made this design a standout [24], a softer palette kept to this season's pastel trend as well.
Day 6: Tory Burch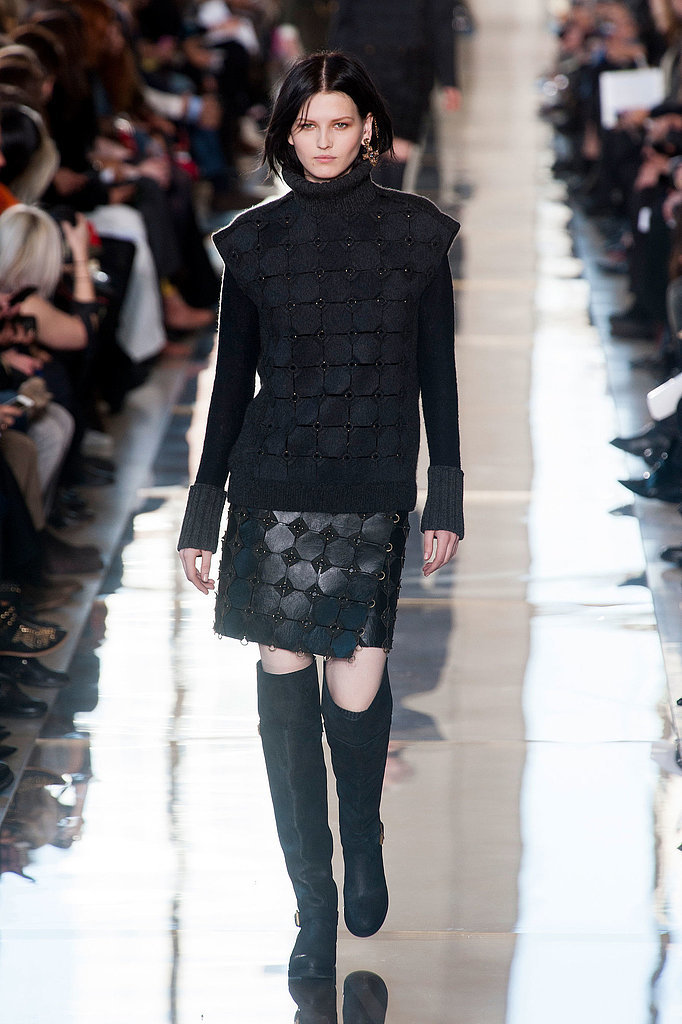 Tory Burch [25] went medieval on us with a clever collection [26] inspired by armor, chain mail, and tapestries. This leather look made the Old World techniques look positively modern.
Day 5: 3.1 Phillip Lim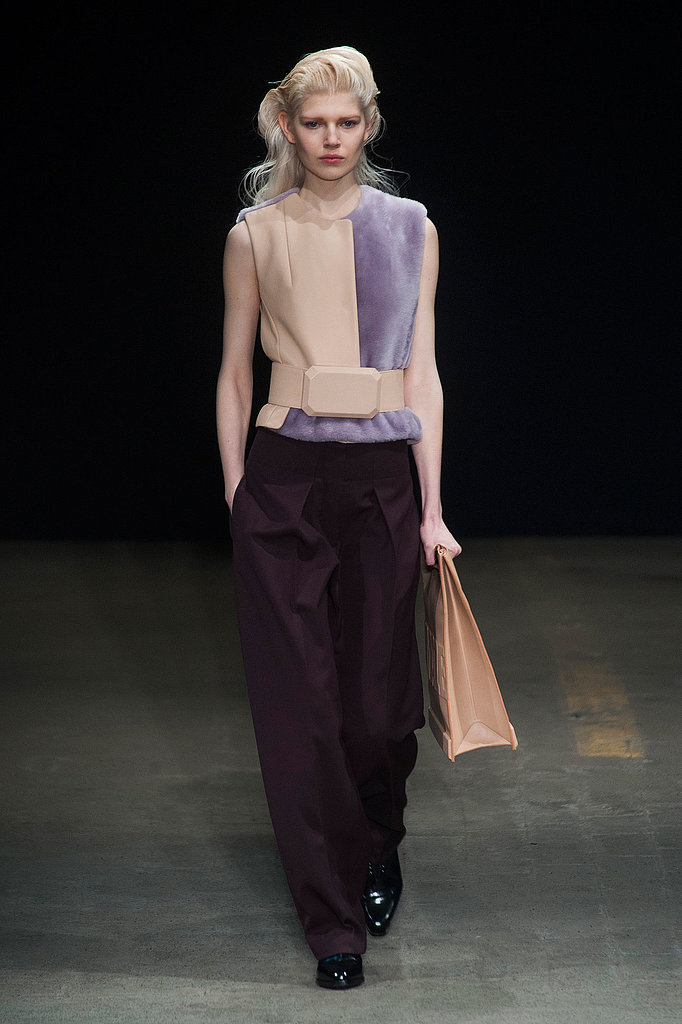 How do you top a Target collaboration? Phillip Lim went big [27] with a collection influenced by pop-art that included bold color combos and oversize accessories.
Day 5: Donna Karan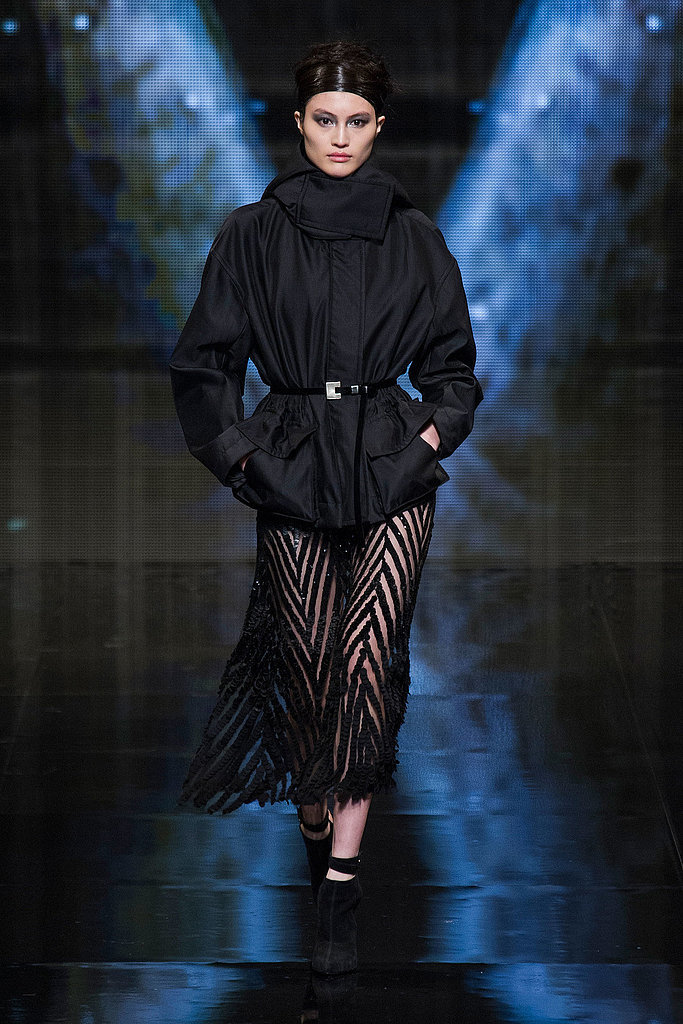 Donna Karan feted 30 years [28] of style with a retrospective collection that included iconic pieces like her puffer with sparkle worthy of a celebration.
Day 5: Carolina Herrera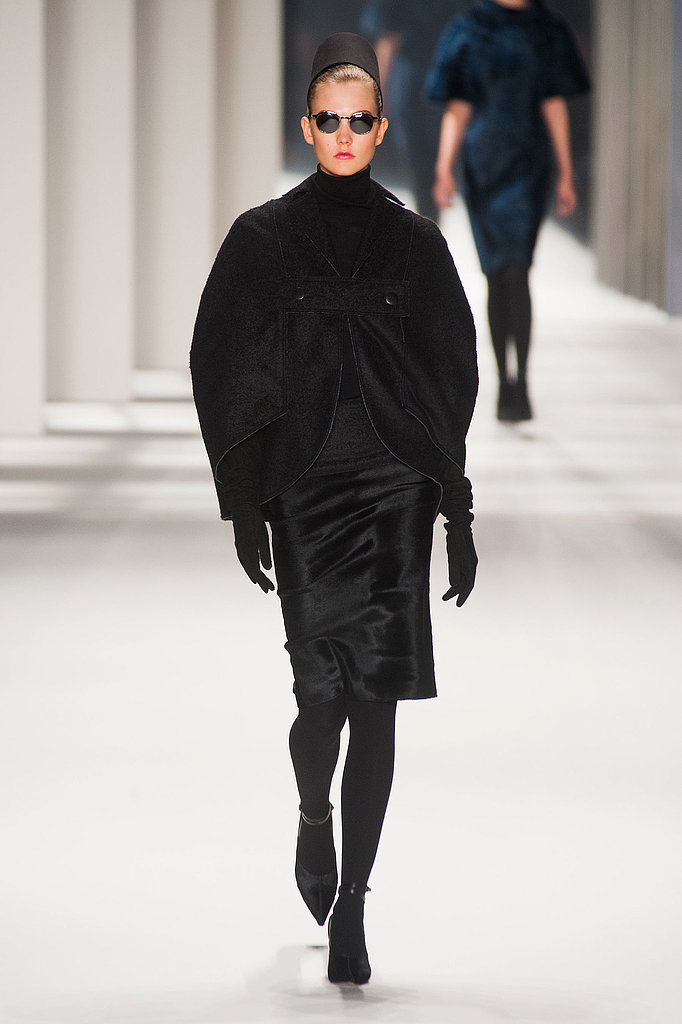 The designer's "whimsical play on proportions" [29] saw Park Avenue-worthy models in oversize silhouettes and exaggerated accessories.
Day 5: The Row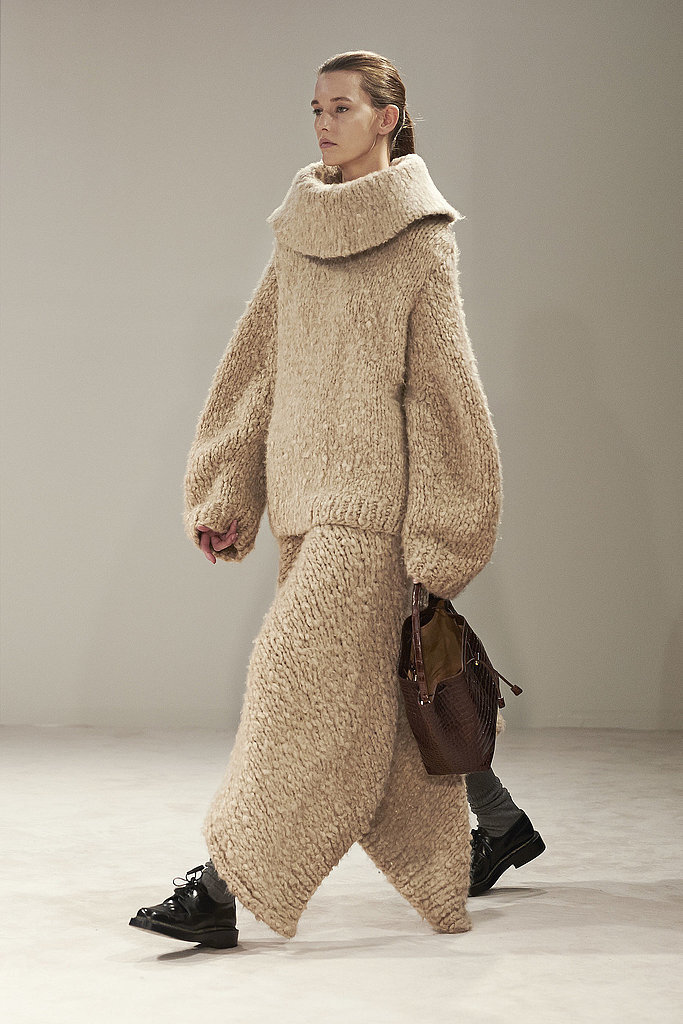 The cool brand made us want to snuggle up with something voluminous next Fall. While cozy knit sets like this camel opener [30] tempted us to relax, sleek accessories made us consider a walk on the more severe side.
Day 5: Zac Posen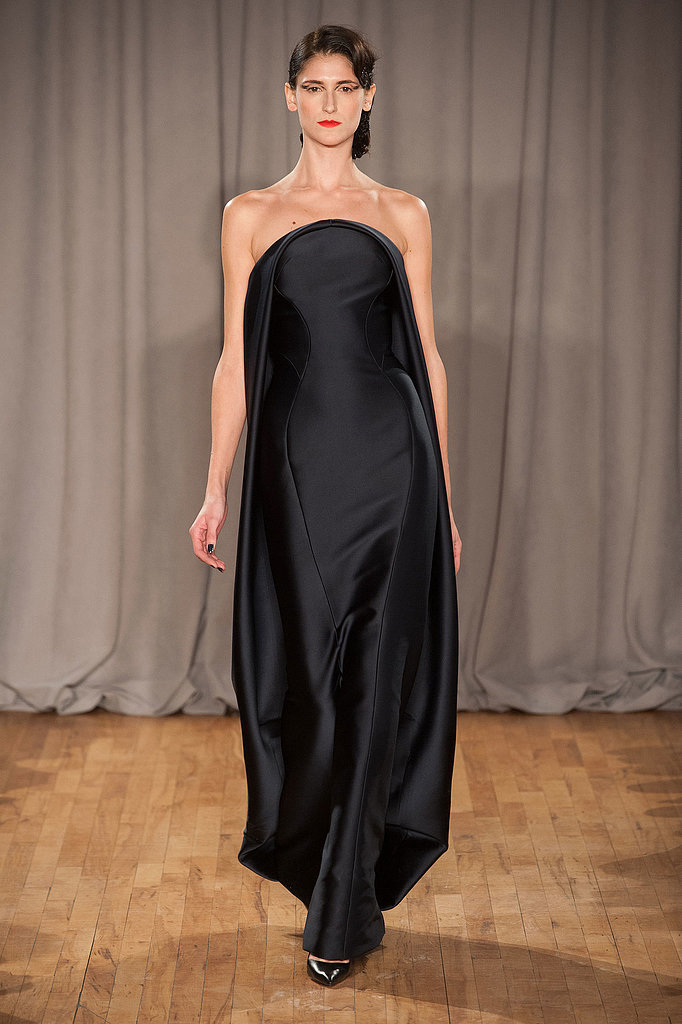 Zac Posen [31] is known for two things: gowns and construction. This runway design [32] exemplified both with a tricky contoured shape.
Day 4: Derek Lam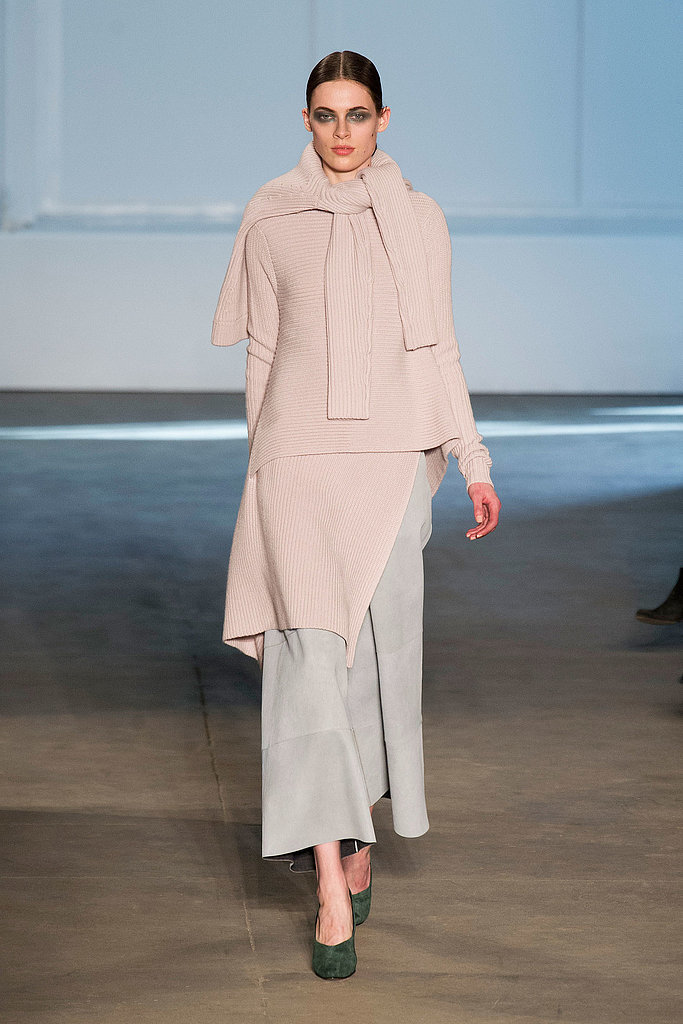 What season is it again? Derek Lam reminded us [33] that pretty hues know no season with lovely pastel looks.
Day 4: Diane von Furstenberg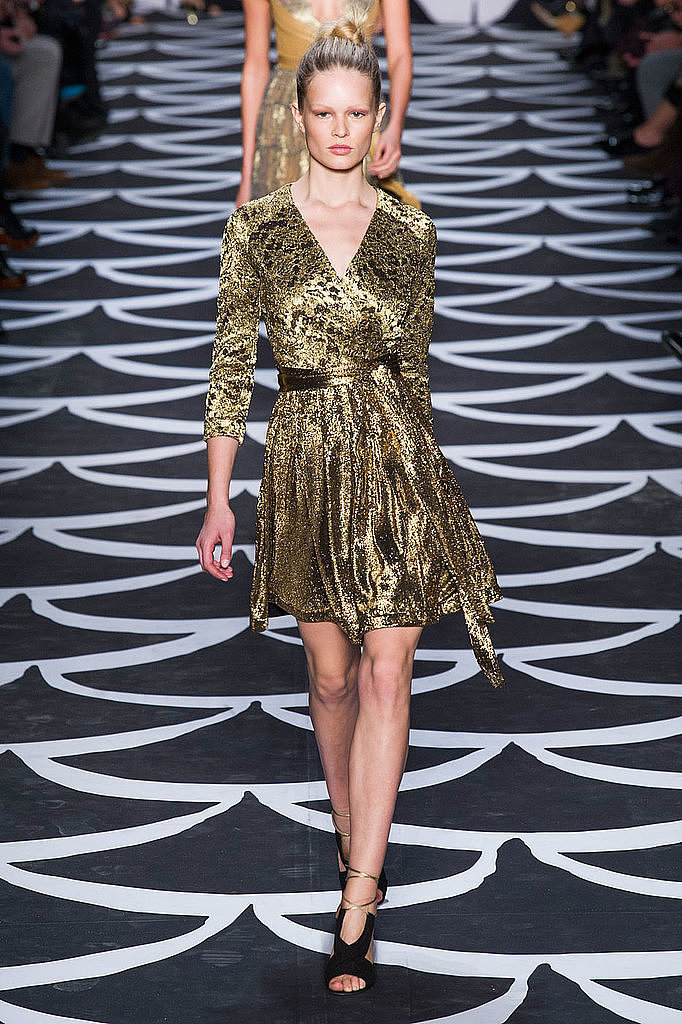 What better way to celebrate DVF's iconic design than with a series of golden dresses to wrap up her runway show [34]?
Day 4: Victoria Beckham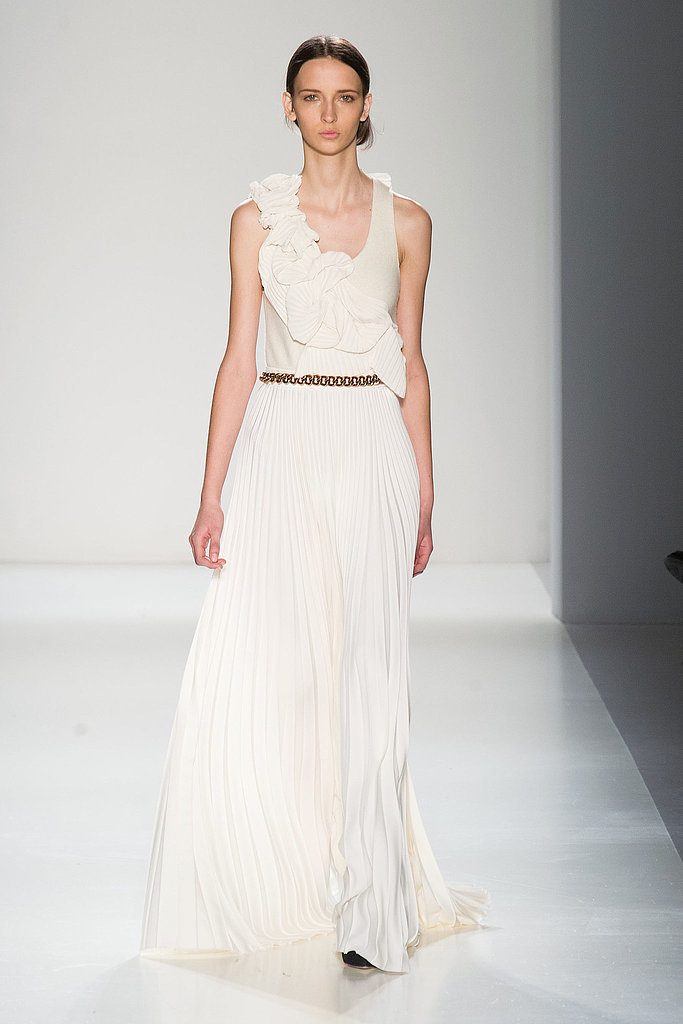 She's already a celebrity favorite with her severely sleek sheaths, but prepare to see a whole new side of Victoria Beckham [35] with her most red-carpet-ready gowns ever.
Day 4: DKNY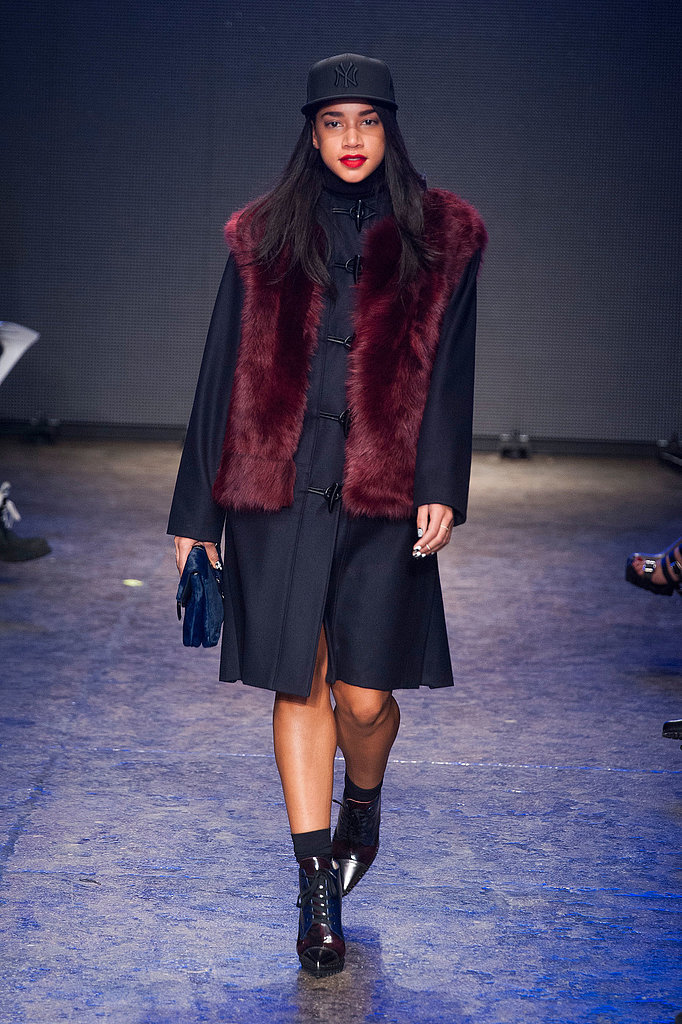 You didn't have to be a model to model DKNY's New York-inspired designs [36] — just ask Hannah Bronfman!
Day 4: Opening Ceremony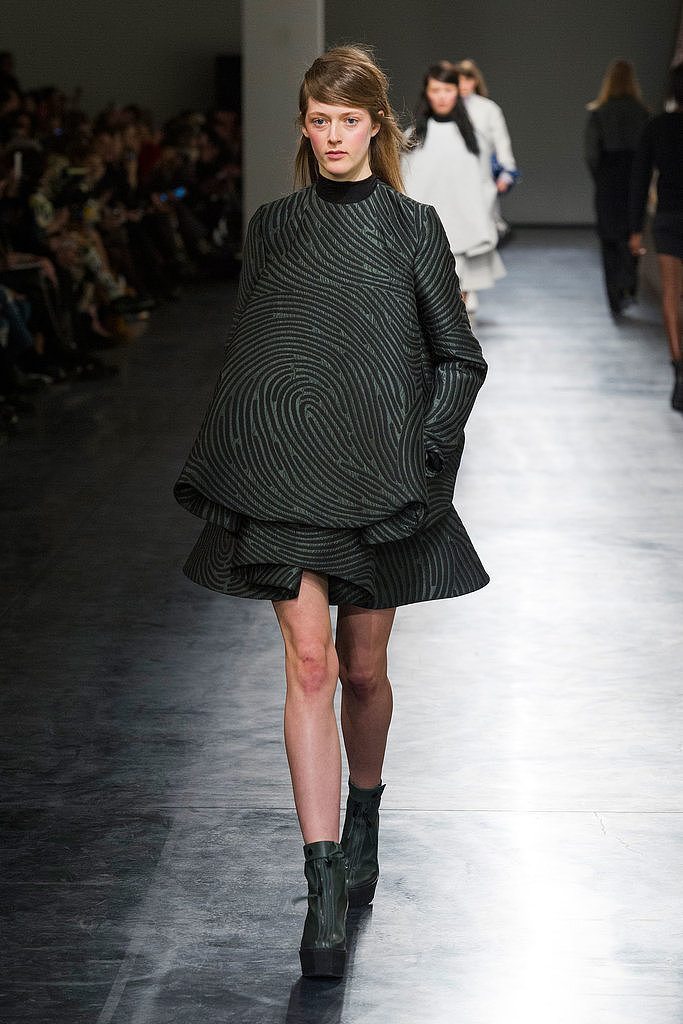 What's Fall's most unique print? It's Opening Ceremony [37]'s fingerprint-inspired motif.
Day 3: Alexander Wang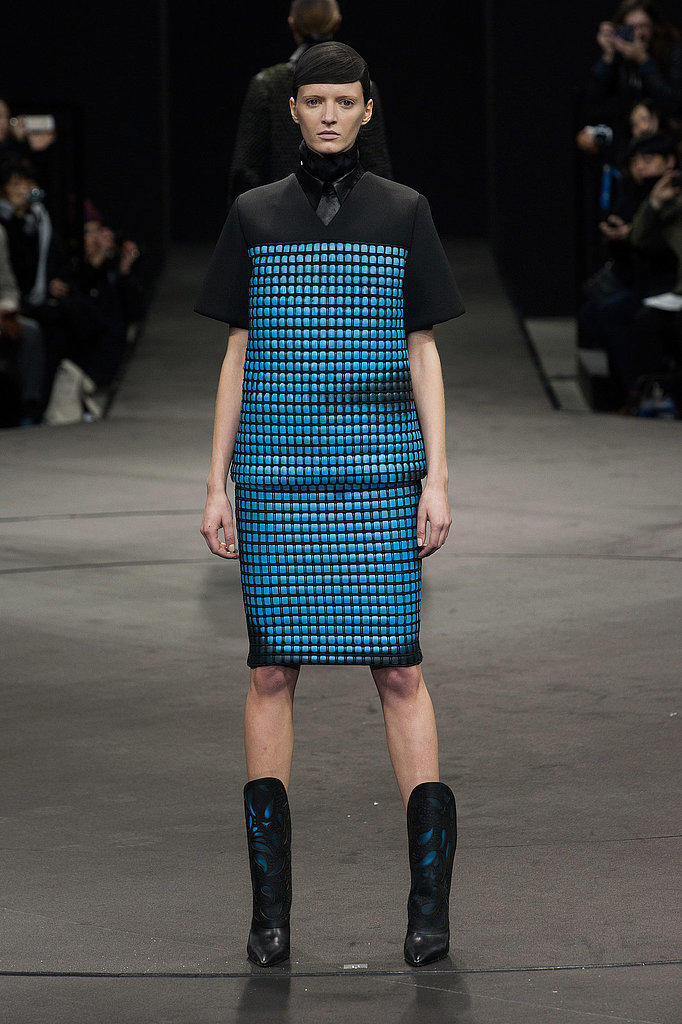 In the same spirit as the designer's Spring 2013 glow-in-the-dark finale, Alexander Wang closed his Brooklyn venture [38] with heat-activated separates that turned colors before showgoers' eyes — that is, if they could look up long enough from Wang's new half boot shape to see.
Day 3: Prabal Gurung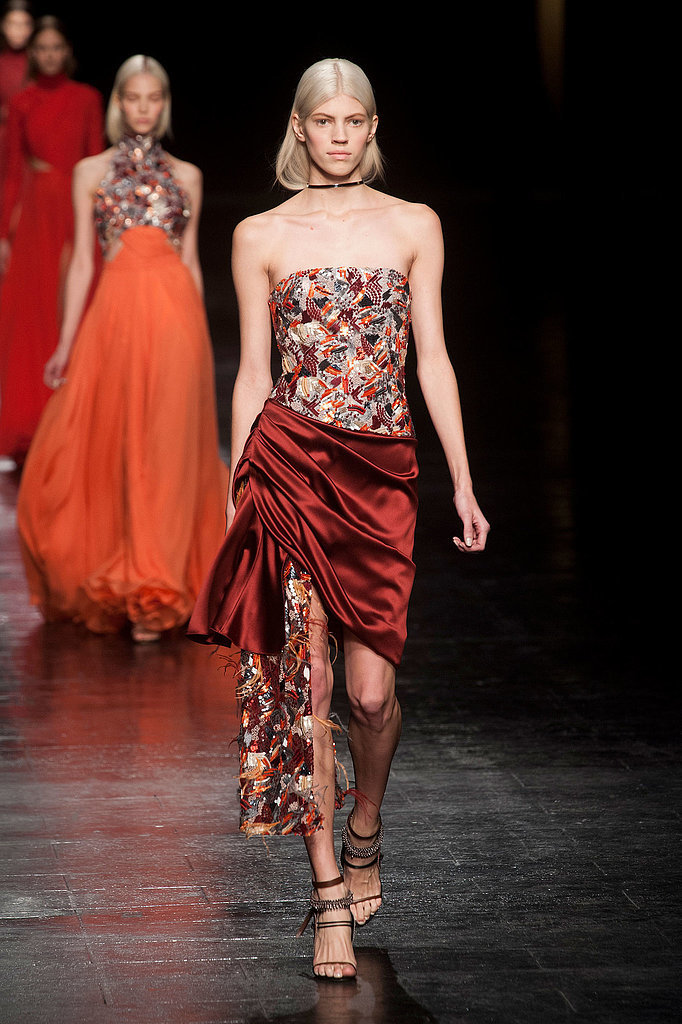 Tibet may not seem a likely source of inspiration for sexy eveningwear, but monks' red robes proved to be a shockingly sultry reference.
Day 3: Tibi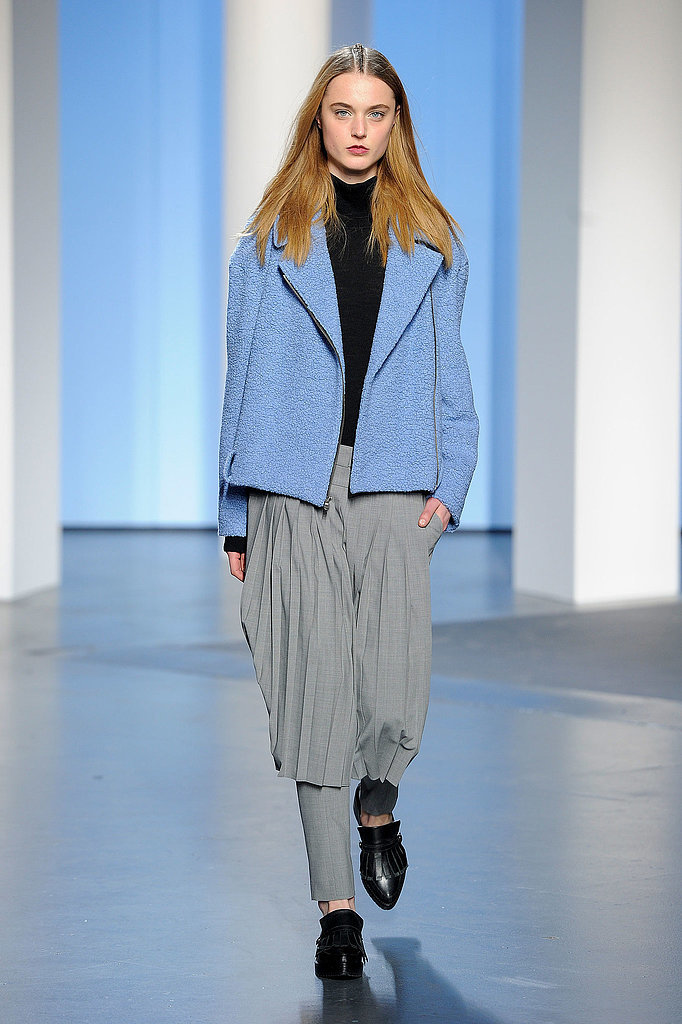 Were they pants? Were they skirts? They were both, and we wanted them all from Tibi [39]'s soft collection.
Day 3: Monique Lhuillier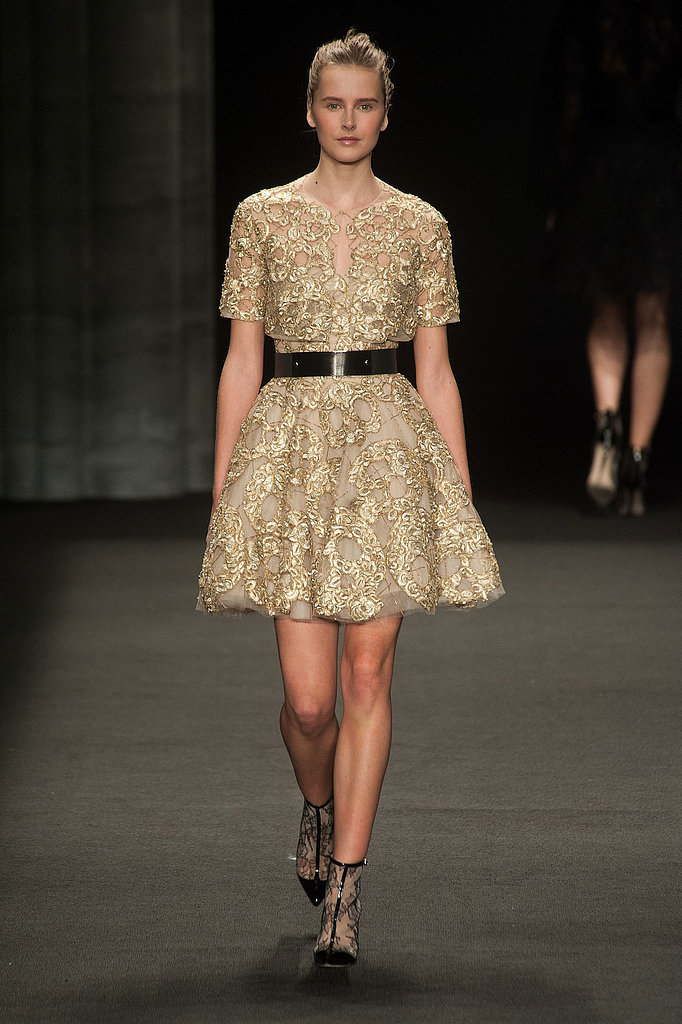 Pretty lace dresses are no surprise at a Monique Lhuillier [40] show. But look closer. That brushed gold fabric was no ordinary lace: embroidered skulls gave a shockingly dark twist to Lhuillier's red-carpet-ready looks.
Day 3: Altuzarra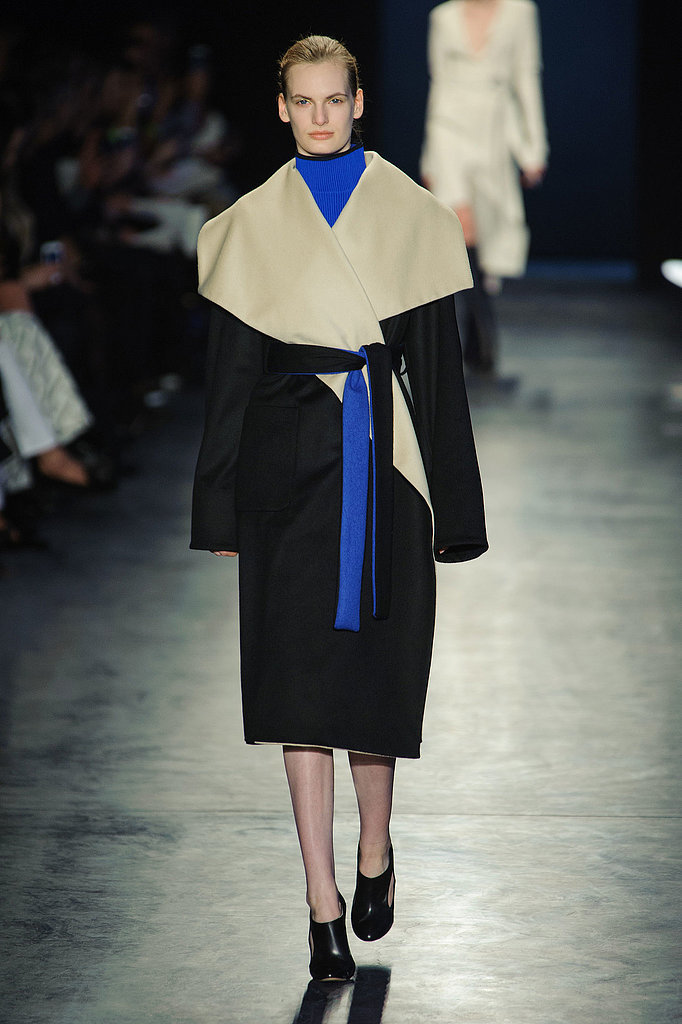 From the outside, they were chic, solid coats. But inside lay unexpected pops of color linings that would make taking these coats off just as fun as wearing them.
Day 2: Rag & Bone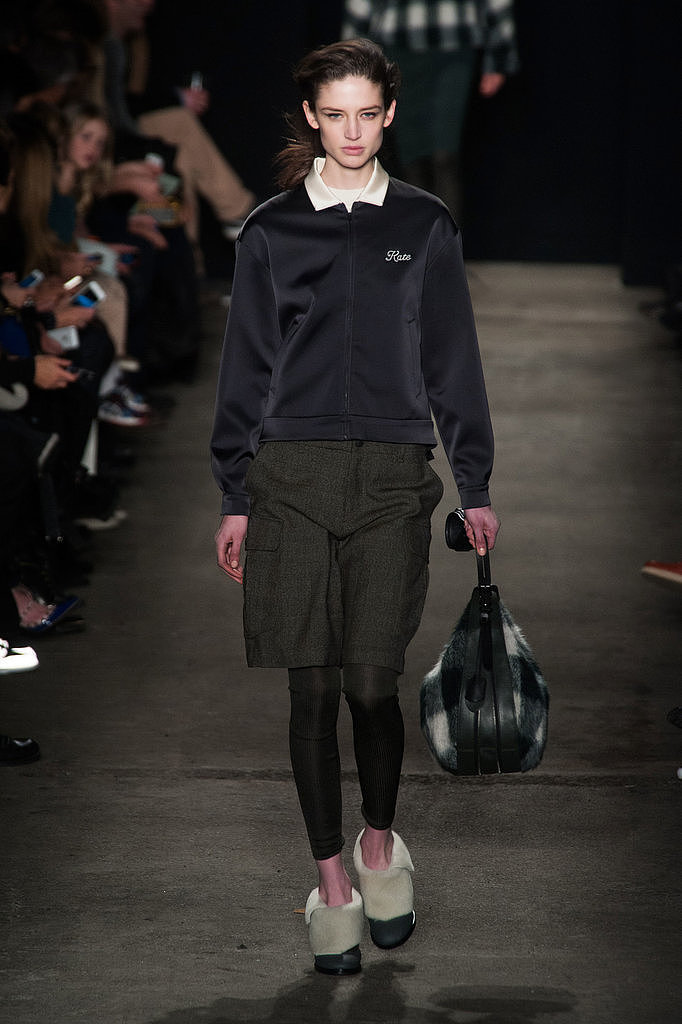 Let's be honest: the clothes are something to talk about, but the accessories are the real star of a Rag & Bone show [41]. With covetable backpacks, totes, and shearling boots hitting the runway, we (almost!) missed the charming embroidered bowler shirts that landed a spot on our wish list among the shoes and bags.
Day 2: Jason Wu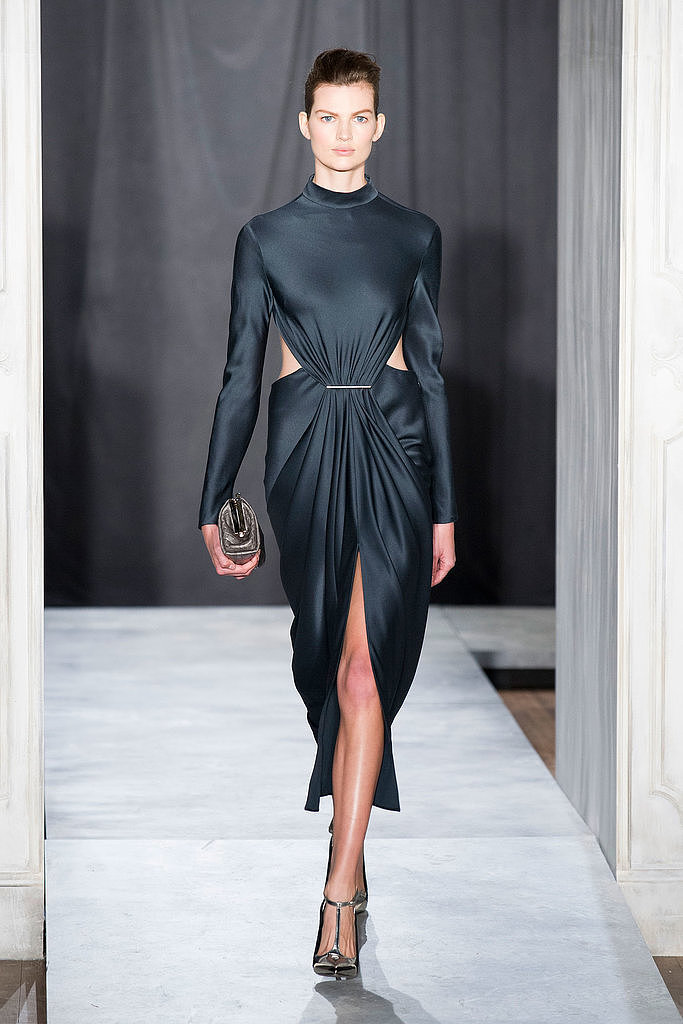 Sexy, slinky eveningwear stole the show at Jason Wu [42], where we found ourselves wooed by the alluring balance of coverage and skin.
Day 2: Helmut Lang
Helmut Lang's slouchy, cozy knits [43] remind us that we can be equally comfortable and stylish as the temperature drops. After all, who wouldn't sizzle in this scarlet knit set?
Day 2: Cushnie et Ochs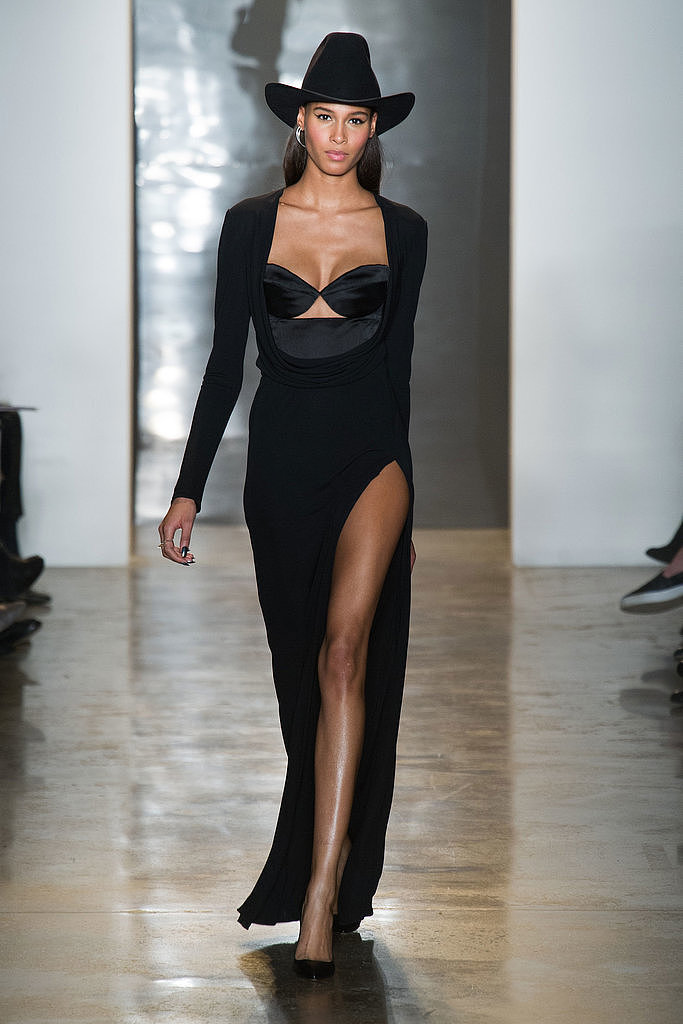 If you've ever realized the appeal of a cowboy, Cushnie et Ochs suggests [44] you try their hats on for size. That the dresses Carly Cushnie and Michelle Ochs paired the headgear with demonstrated all the sexy trademarks of the line didn't hurt either!
Day 2: Kate Spade New York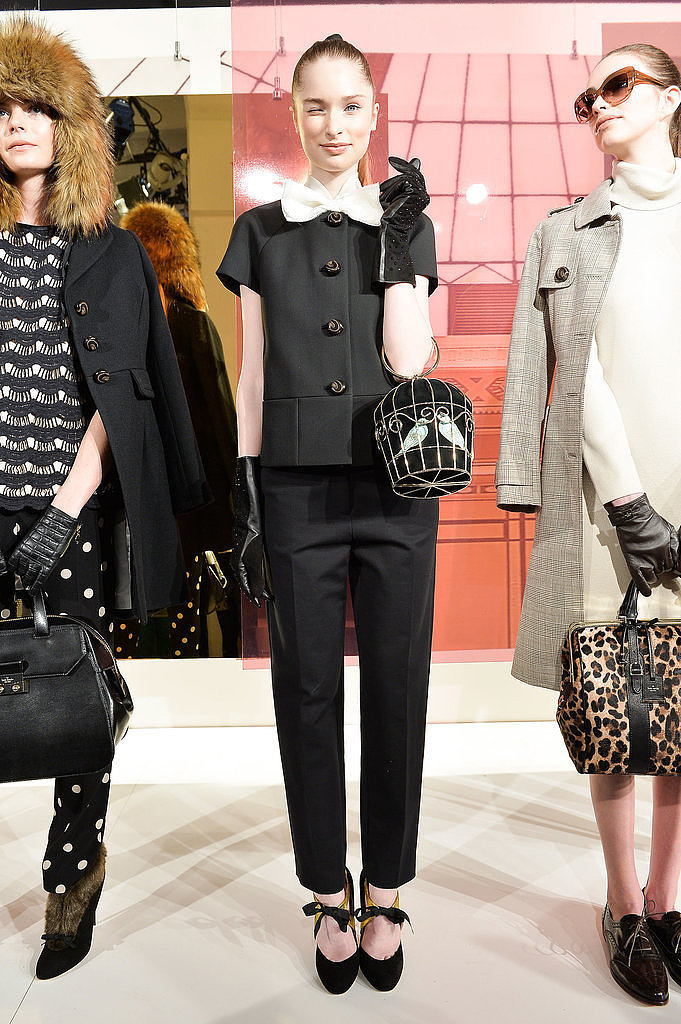 Kate Spade [45] New York wants to take us on a trip to Tokyo next Fall [46]. And if that means cute and quirky accessories like this birdcage bag and laced heels (and not to mention a big white bow tie), we're booking a ticket immediately!
Day 1: Coach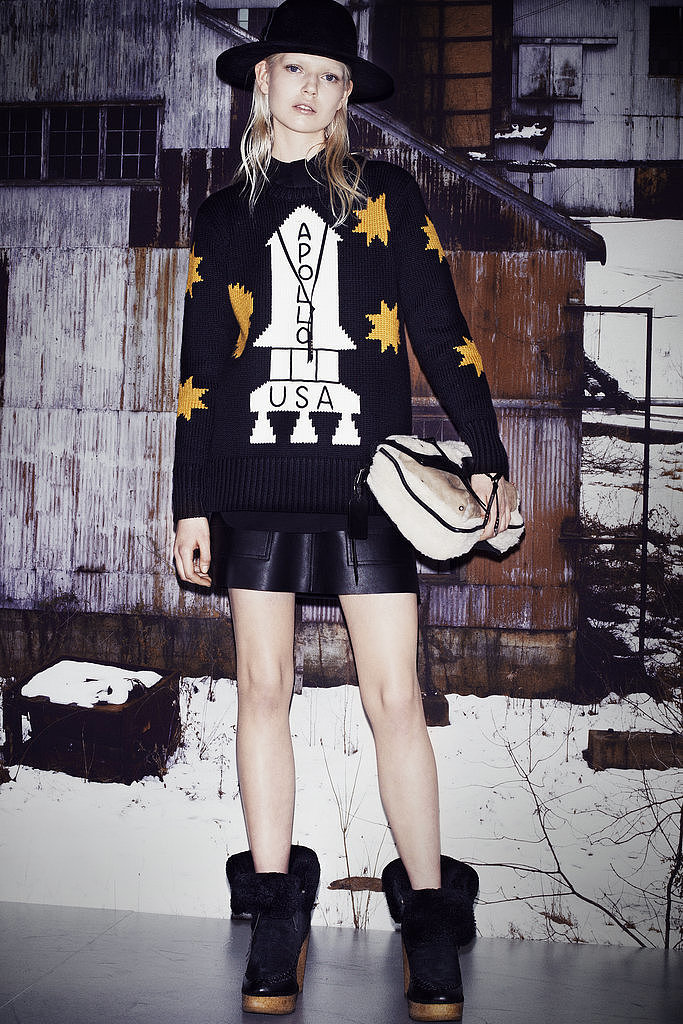 Coach was out of this world for the label's first Fashion Week presentation [47] with Americana influences, like this Apollo 1 sweater.
Source: Coach [48]
Day 1: Richard Chai Love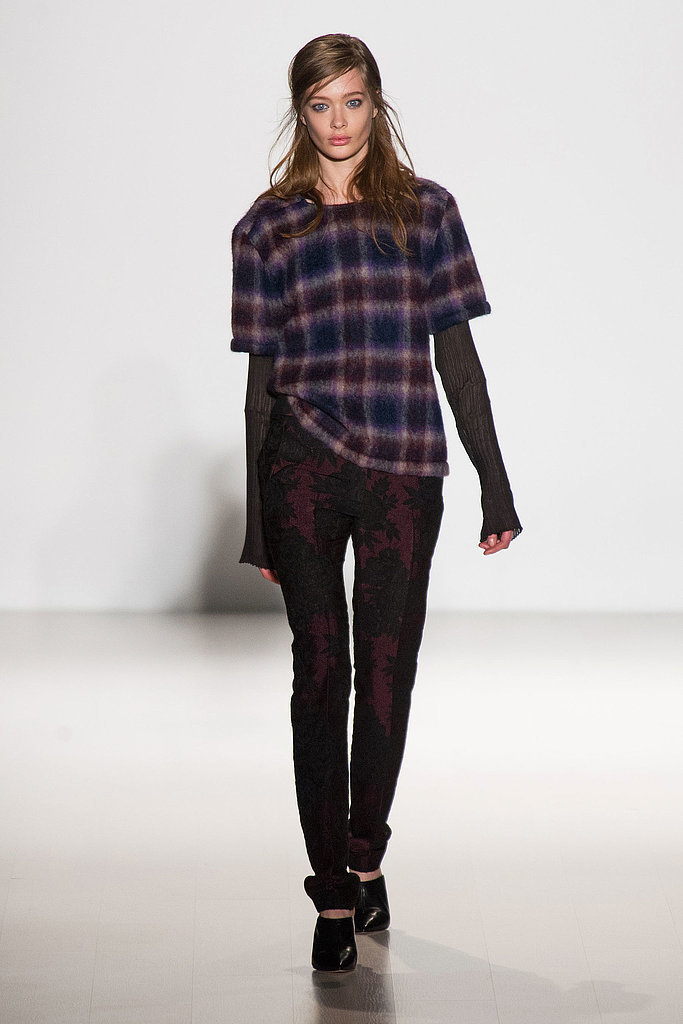 Grunge got a glam spin [49] from rich jewel tones and the accompaniment of slim lines and luxurious fabrics.
Day 1: Costello Tagliapietra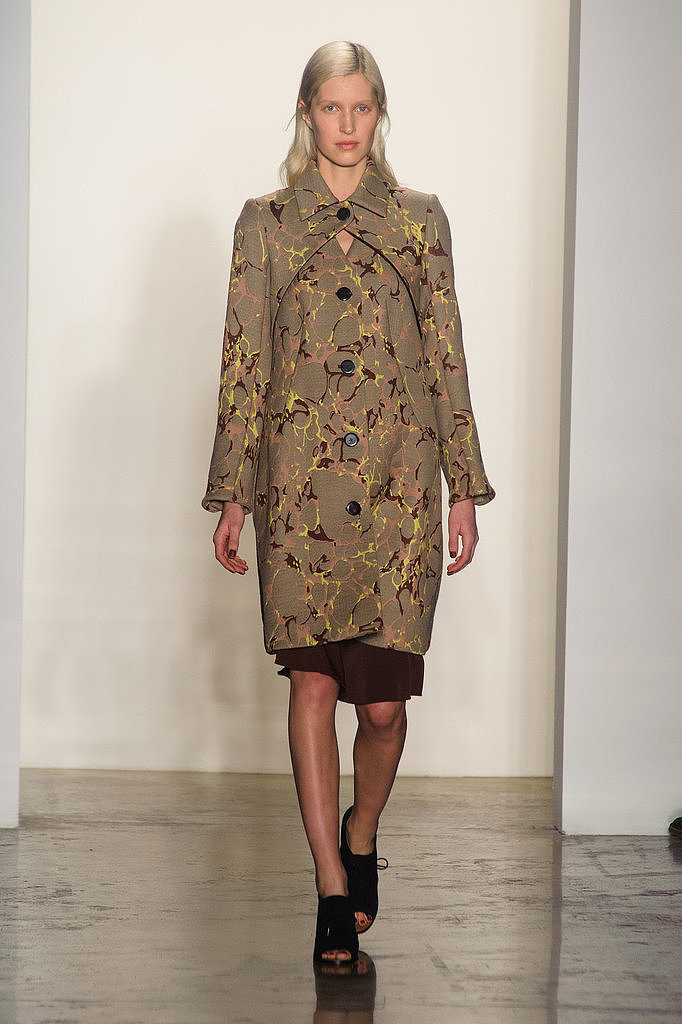 The theme was fairy tales [50], which might be the reason why we're already fantasizing about owning this structured coat next Fall.
Day 1: BCBG Max Azria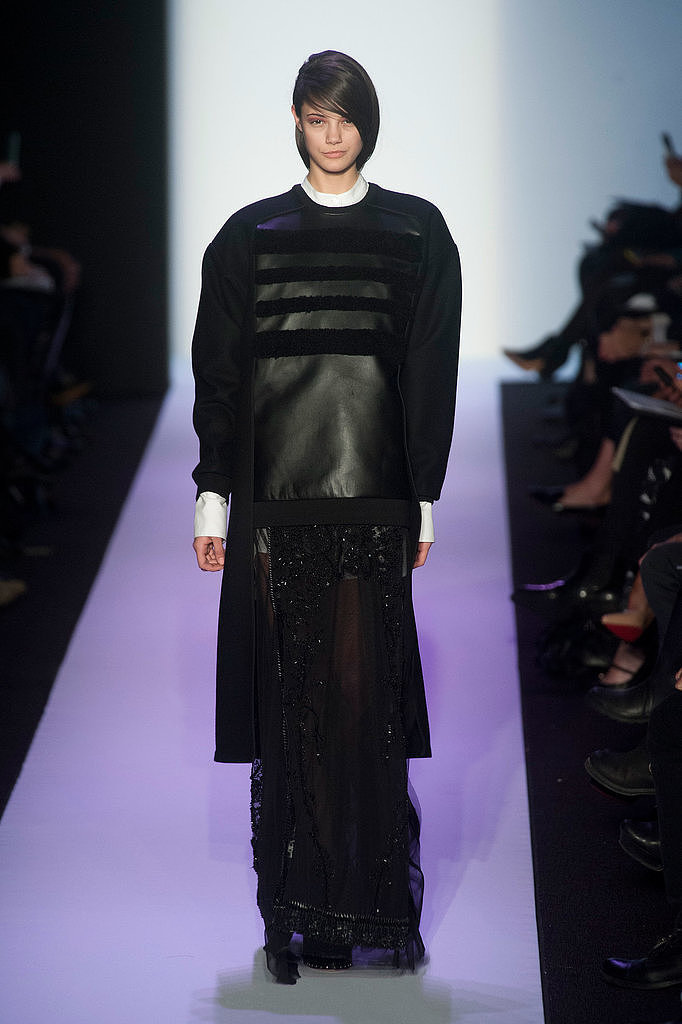 One of the edgiest looks to come down the 25th anniversary BCBG runway [51] was a layered leather style that made us eager to see what the future will bring for one of our longtime favorites.
Day 1: Marissa Webb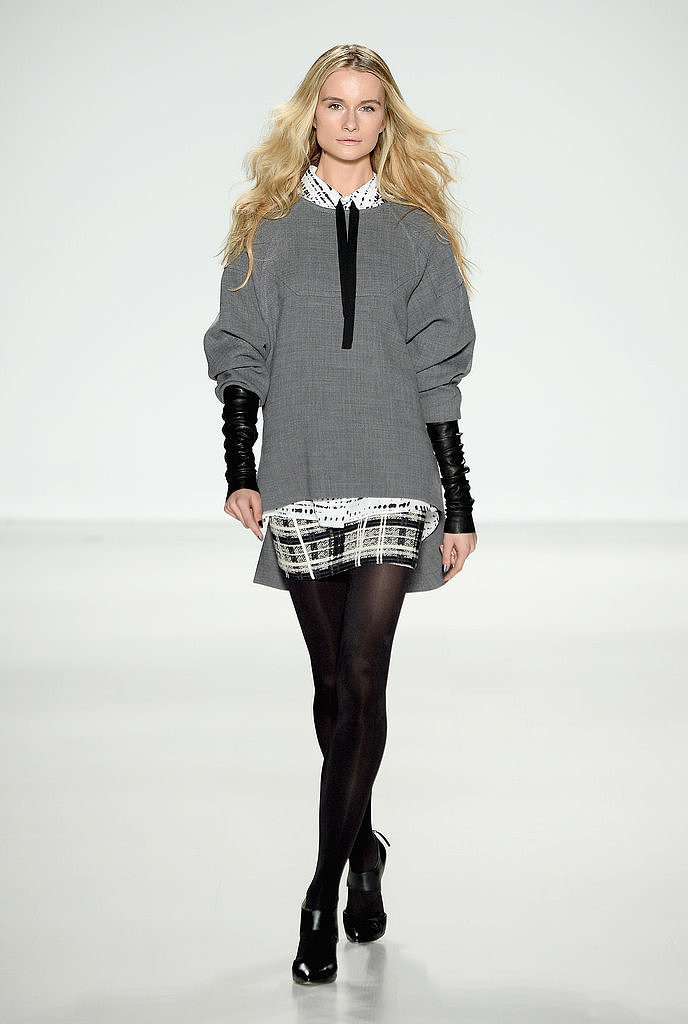 The lovely collection [52] of layered, feminine pieces balanced girlie elements with a cool vibe. Case in point: leather and bows!