After four fun-filled days, Bonnaroo has come to a close. And while we may be packing away our concert wares (for now), we've still got one more fashion dispatch fresh from the farm. This Tennessee festival was unlike anything we'd ever experienced before — that applies to the physical location, the music lineup, and, of course, the people watching. Festivalgoers flooded the fields in (as expected) less-is-more attire, dressed in a mix of frayed cutoffs, airy tops, bikini tops peeking through, and a mashup of sandals, beat-up sneakers, and flat ankle boots. For other Bonnaroovians, it was all about flowers in the hair, slick accessories, and lacy white dresses. The best looks from Bonnaroo 2013, here in the gallery.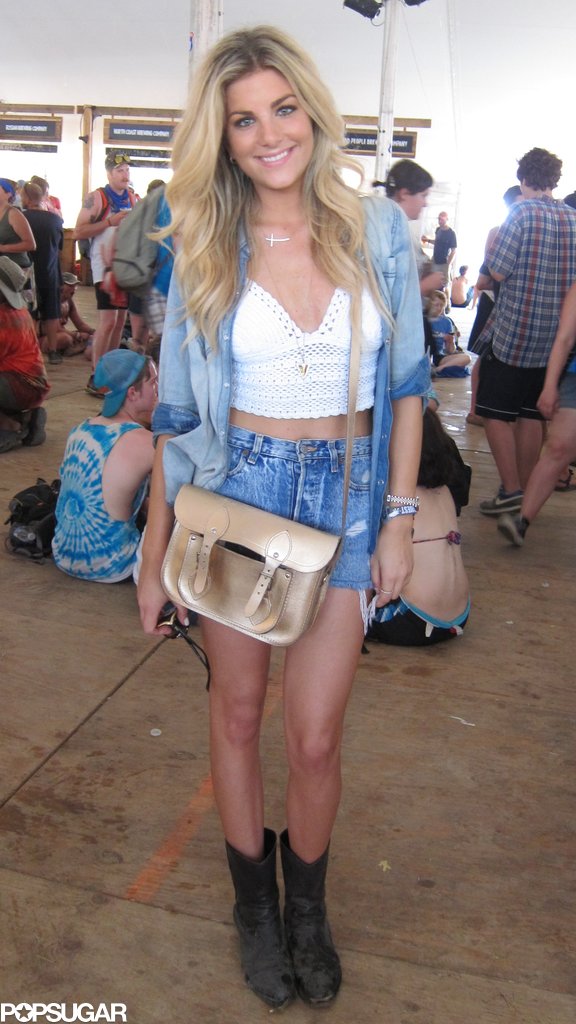 Maddie gave her denim-on-denim look a funkier twist with a gold metallic satchel, a crochet top, and black boots.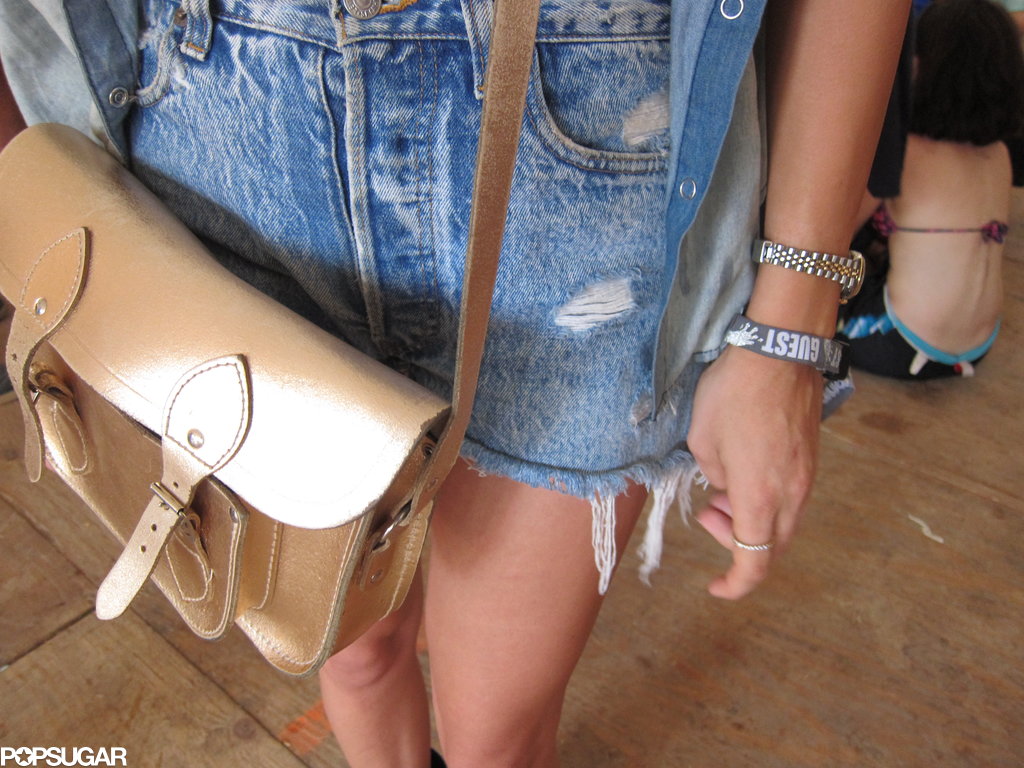 Maddie's structured satchel and silver accessories were the chicer contrast to her ripped denim cutoffs.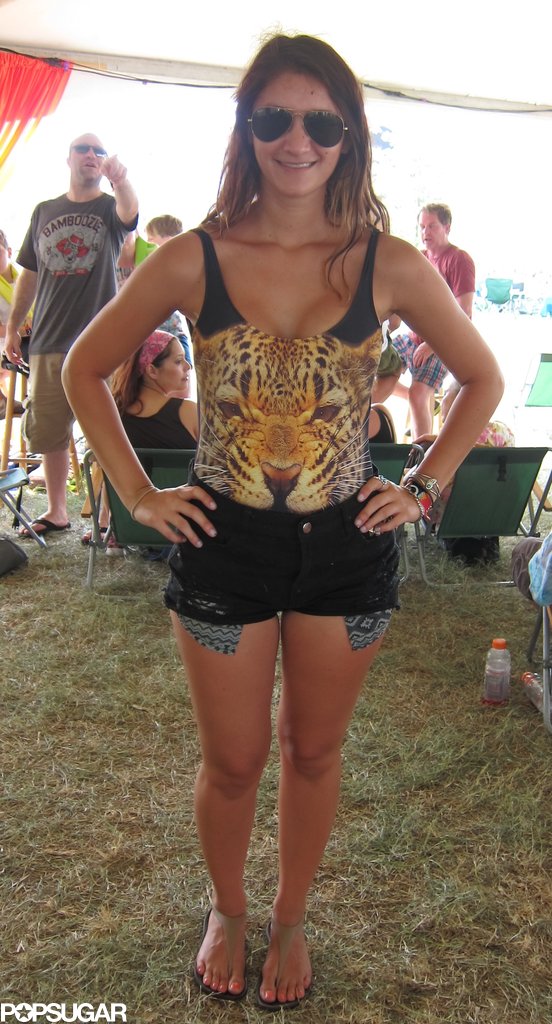 April went the bold route with a tiger-print one-piece swimsuit, but by adding shorts and aviator sunglasses, she supplied a more daytime appeal.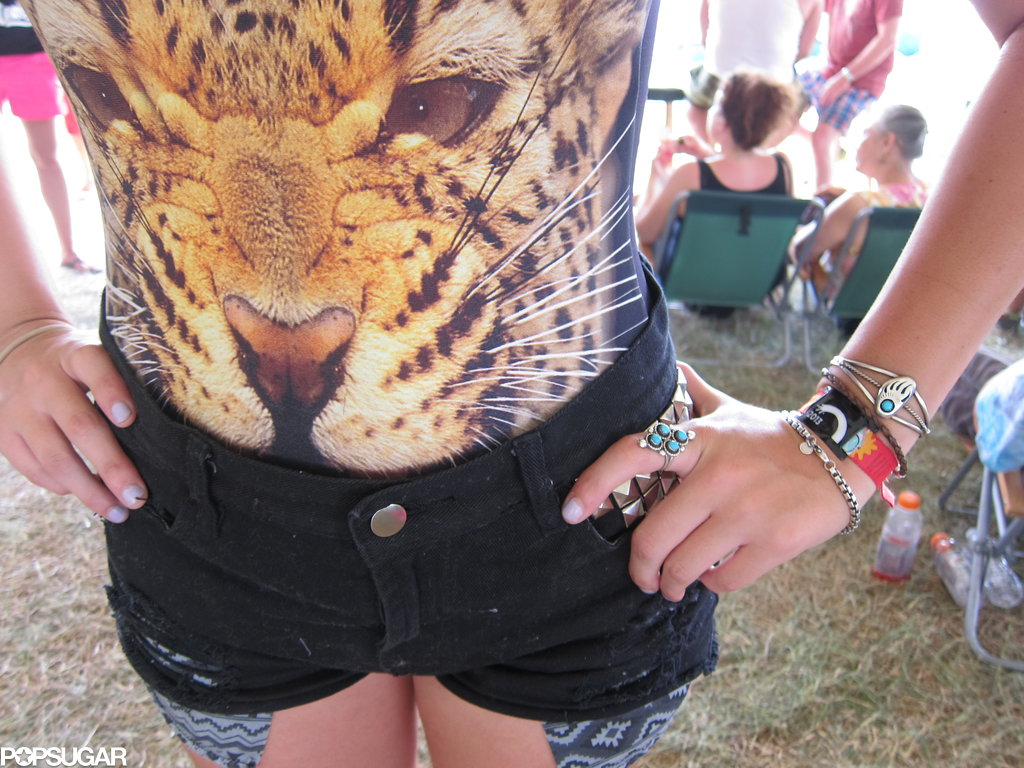 A closer look at April's mix-and-match jewelry.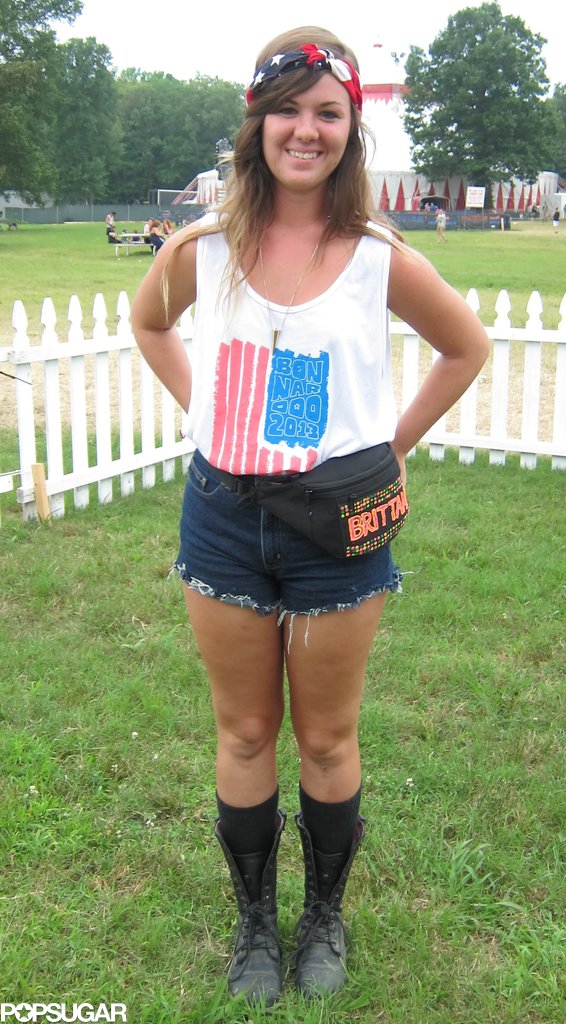 Brittany gave us a little Fourth of July dressing inspiration with her doubly patriotic look. It's not overwhelming, but we love the flag-print bandanna and tank together.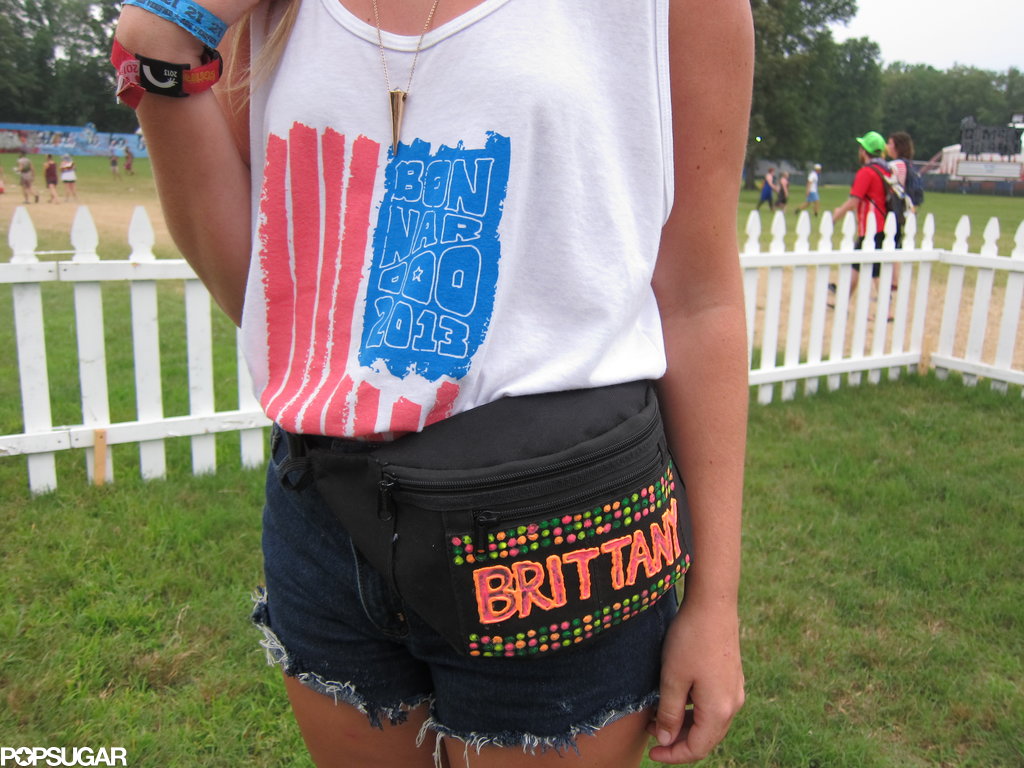 In case you didn't know, Brittany's name is in bright "lights" on her fanny pack. It's kitschy, cute, and totally worked in conjunction with her patriotic-inspired outfit.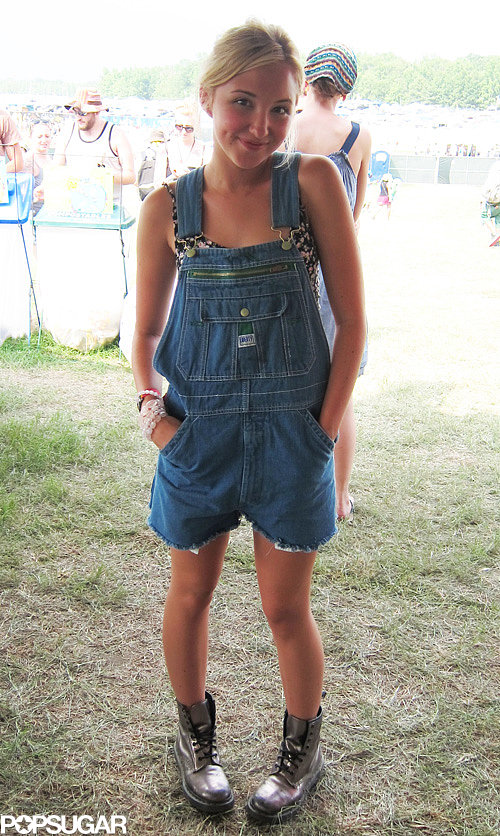 Audrey drew us in with her throwback staples: a great pair of denim overalls and silver Doc Martens.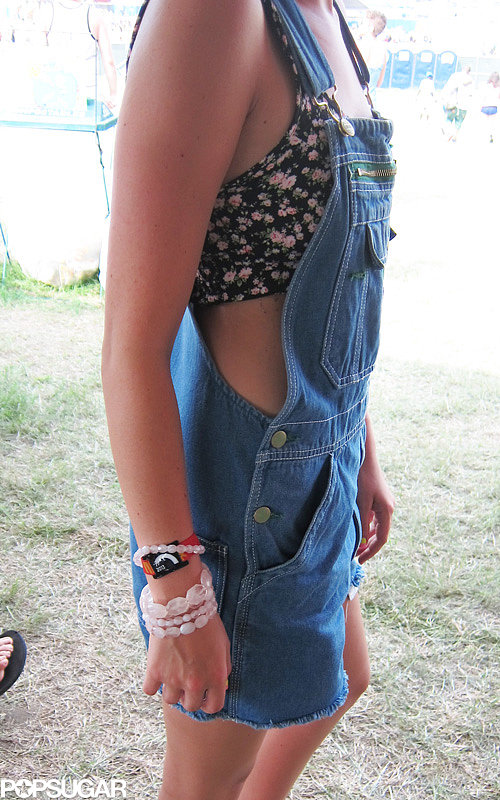 One way to wear your overalls: with a floral crop top and a stack of bracelets.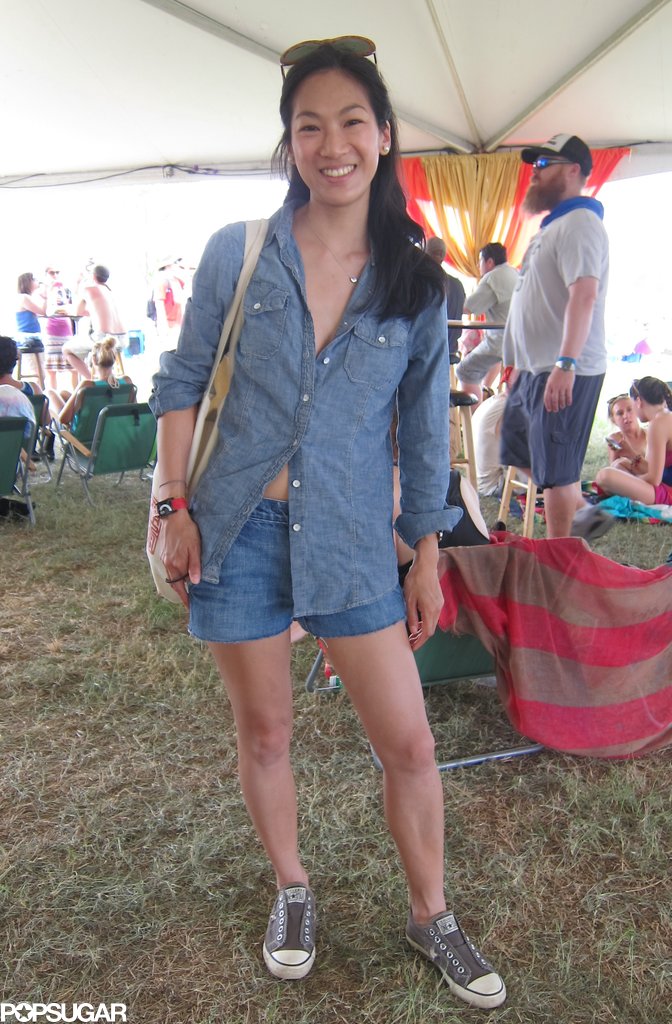 Carolyn's denim-on-denim look was crisp, easy, and with the addition of lace-less Converse, proved classic, too.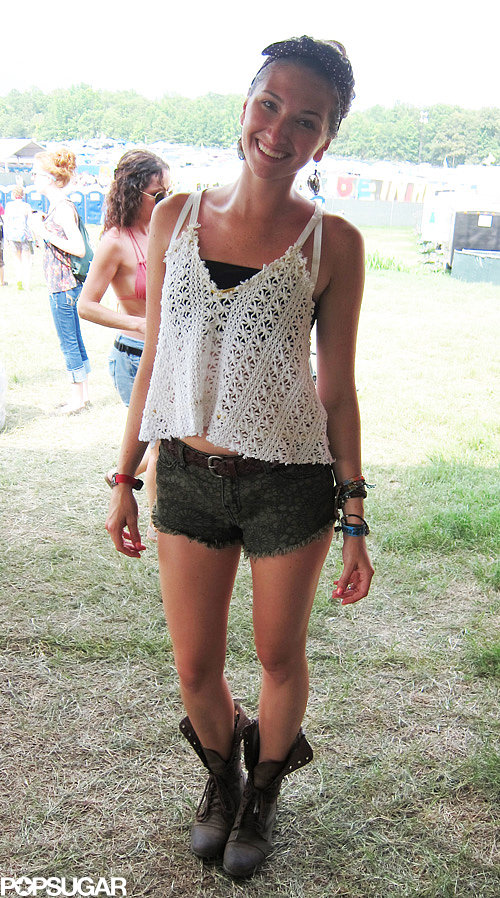 Maddy paired printed shorts and a crochet top with combat boots — a laid-back outfit with just a hint of toughness.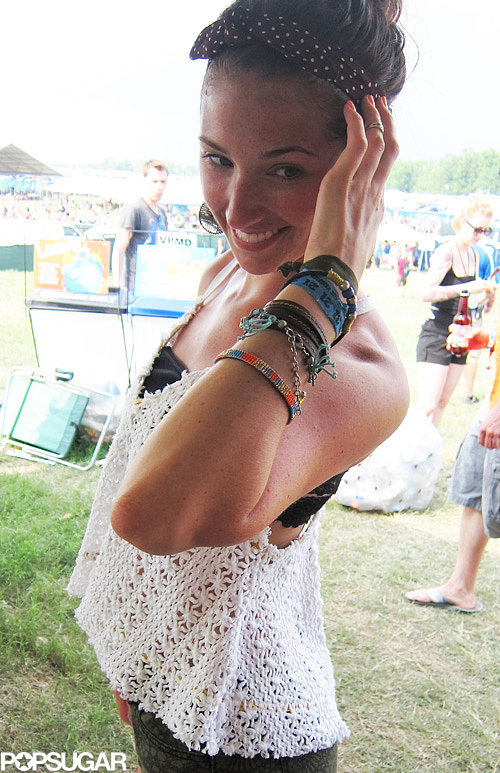 Dress up your crochet with a festival no-fail: colorful friendship bracelets.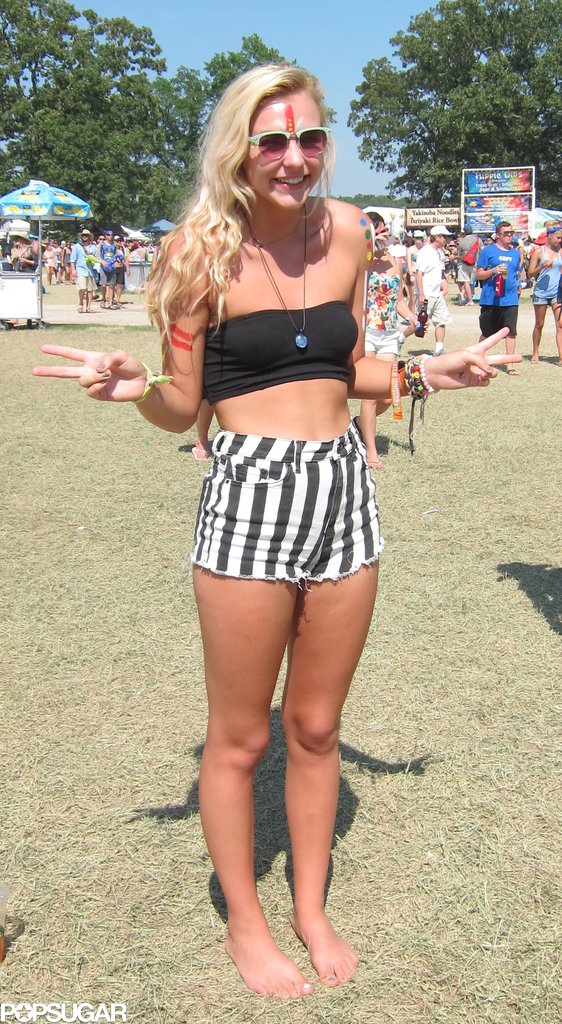 We noticed Maddie's black-and-white striped denim shorts from across the Centeroo field, and upon closer inspection, we also fell in love with her bandeau top and quirky mix of accessories.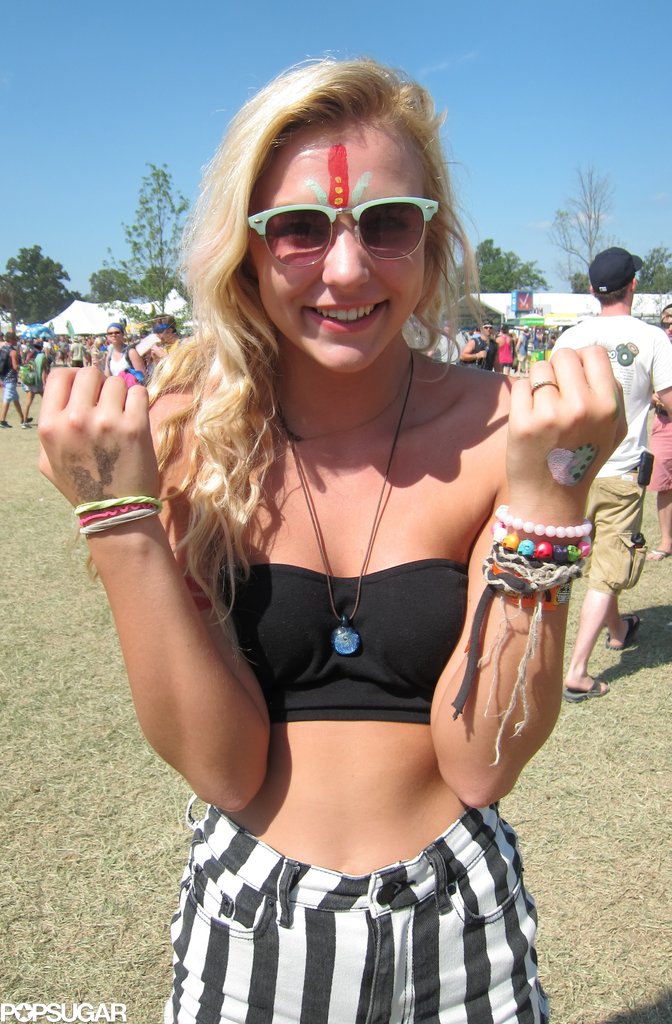 Beaded bracelets, half-frame sunglasses, and a pendant necklace completed Maddie's skin-baring look.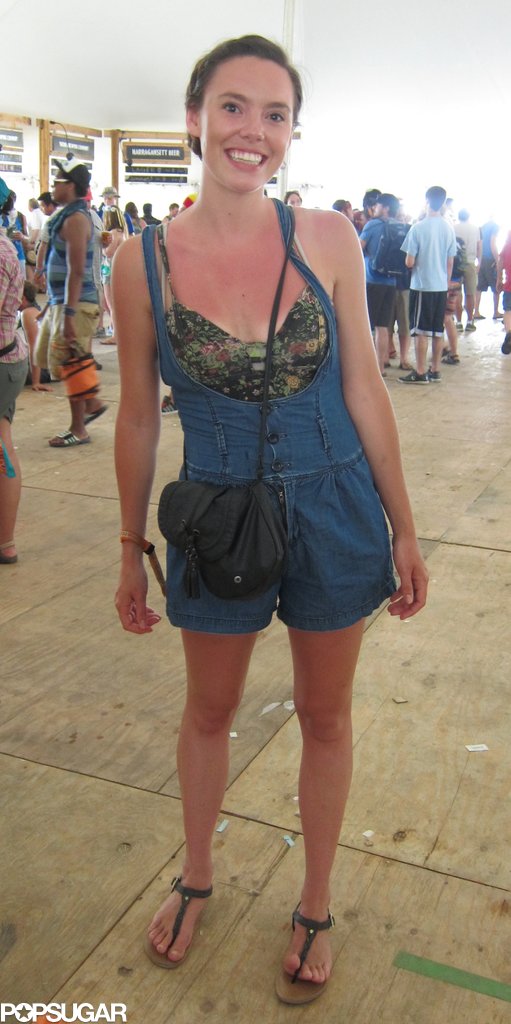 Lindsay paired a floral bustier top with denim overalls, which gave her summery look a fitted body-con silhouette.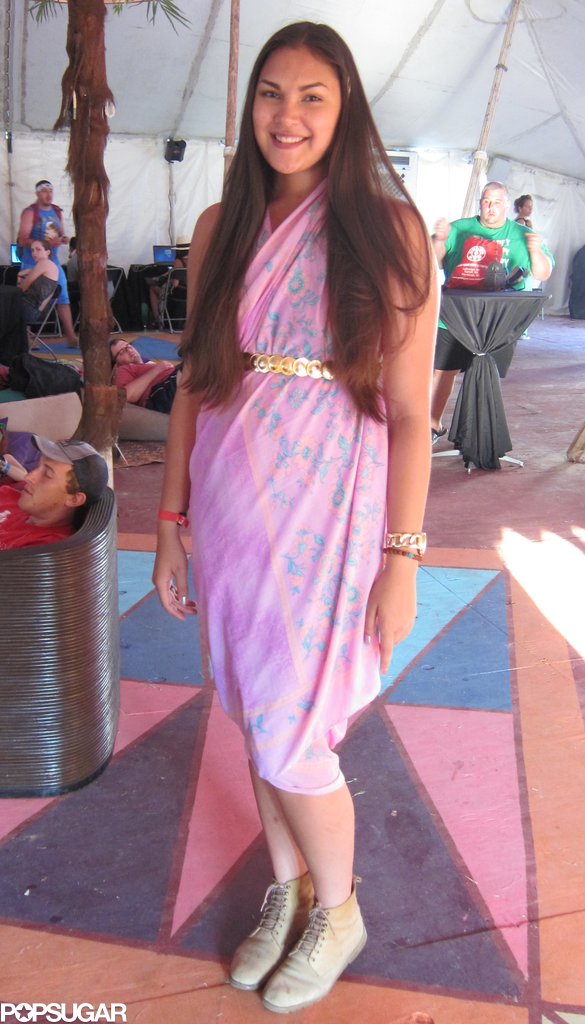 We love how Tamora belted her ultrafeminine, draped sarong-turned-dress.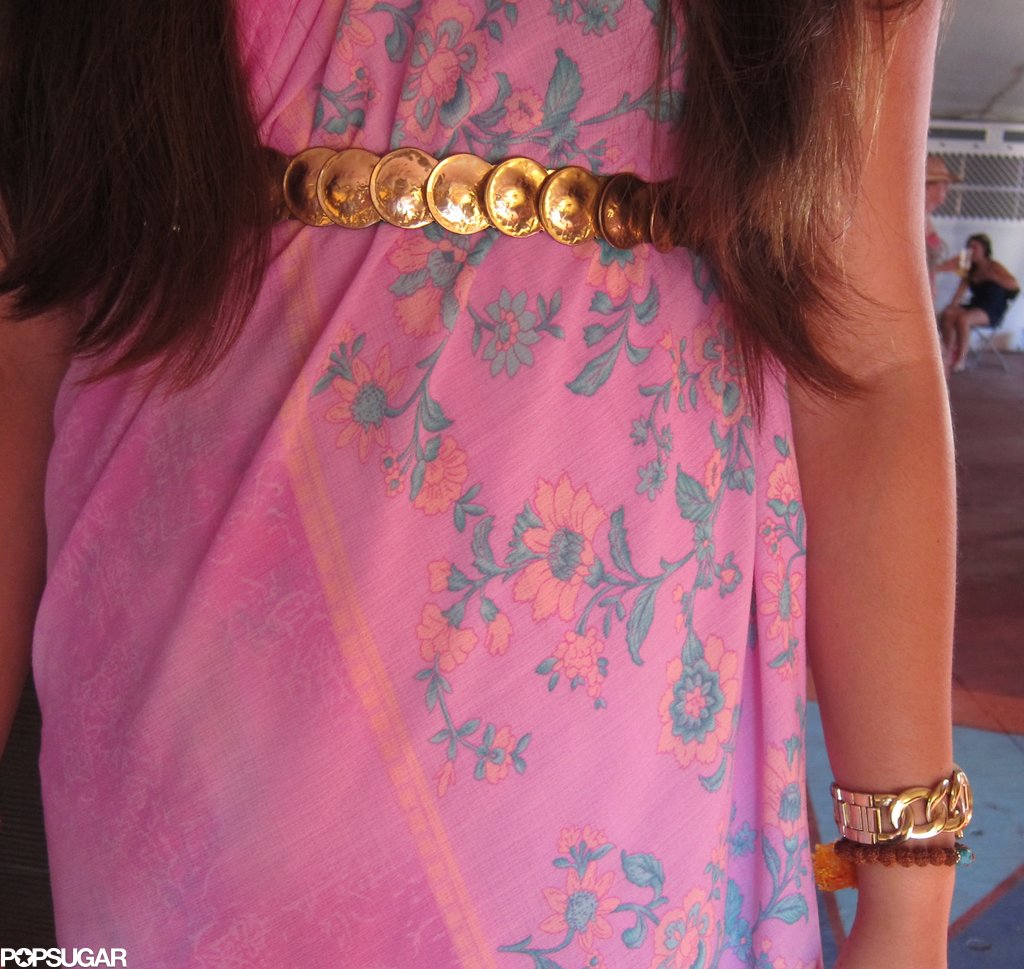 A close-up of Tamora's gold-coin belt — a gorgeous accent to her dress's softer floral-print palette.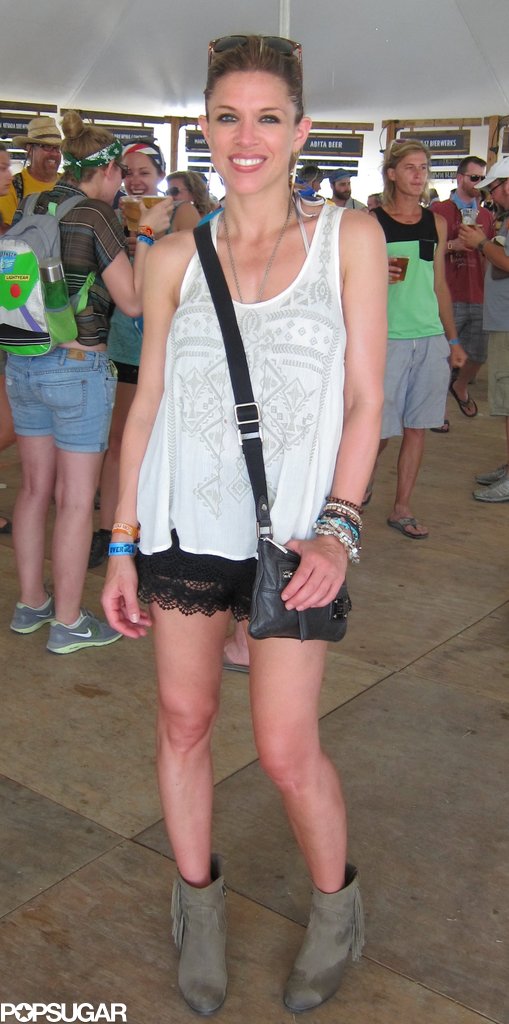 Karen's black lace shorts — from Urban Outfitters [1]! — and ankle boots supplied equal parts girlieness and downtown cool.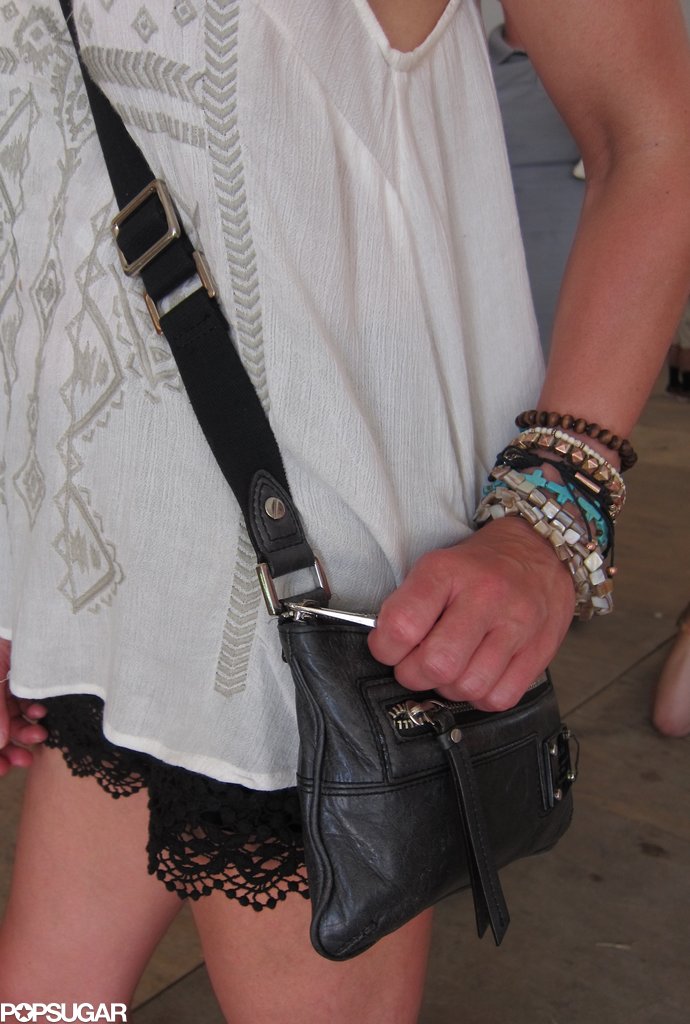 In addition, Karen went with the stacked bracelet approach.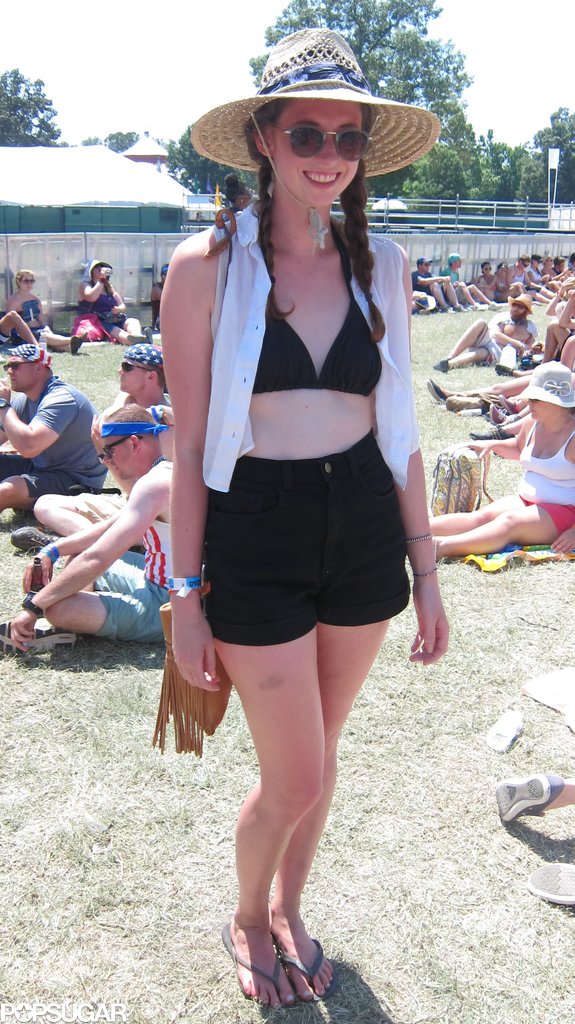 The classic bikini and high-waisted shorts combo looked even sweeter when Madison added a fringe crossbody bag, wide straw hat, and round sunglasses, too.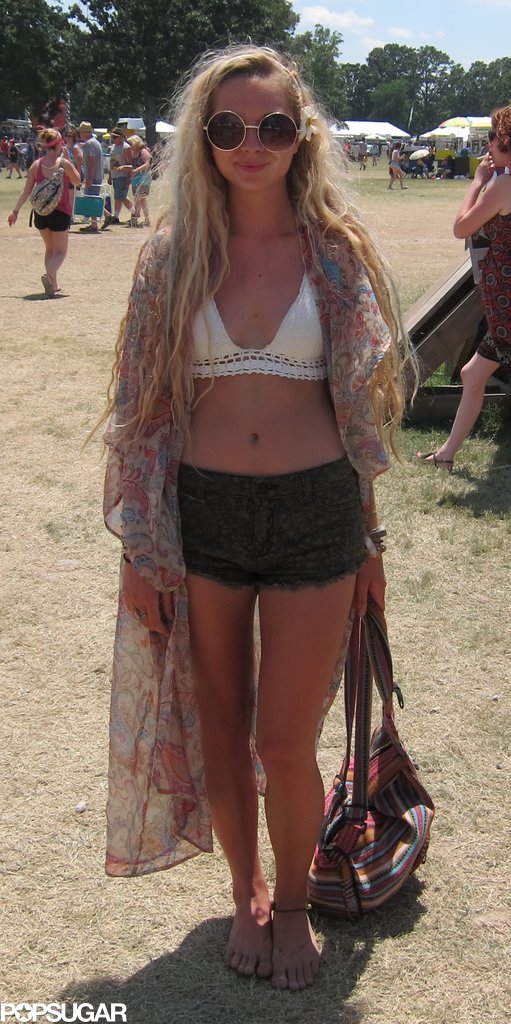 Ellen's semisheer caftan was perfectly light and flowy. And while she dared to bare her midriff, this is the kind of top layer that is essential to chillier nights.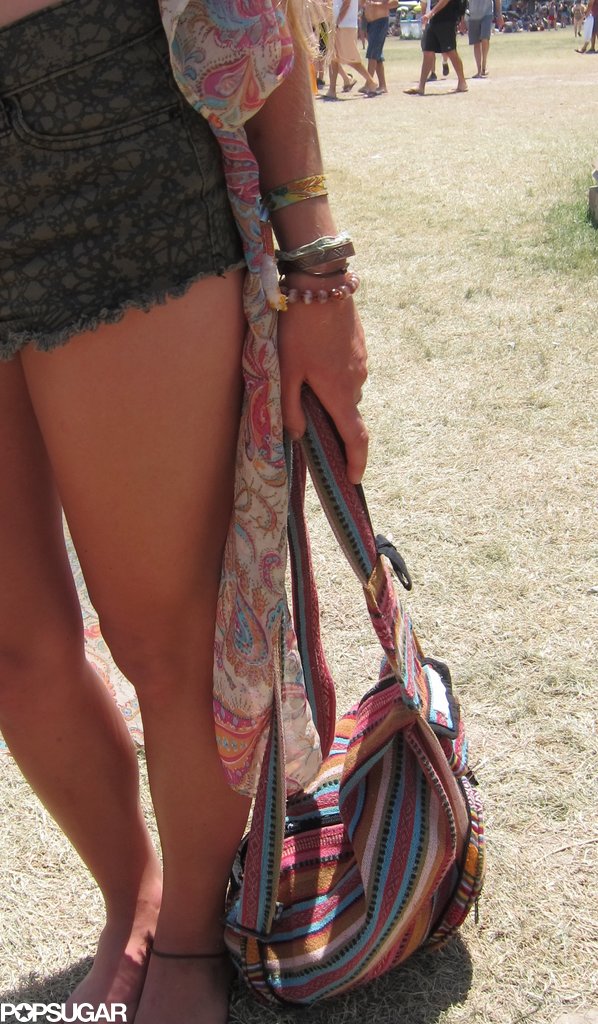 Prints on prints on prints: the Bonnaroo festival edition.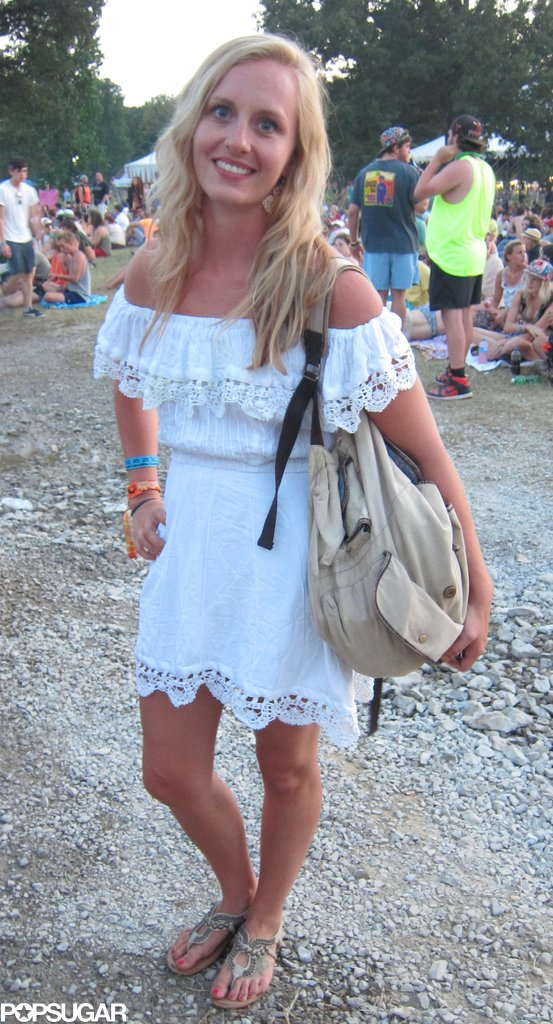 A flirty off-the-shoulder LWD got a boyish tilt, thanks to this festivalgoer's old-school backpack.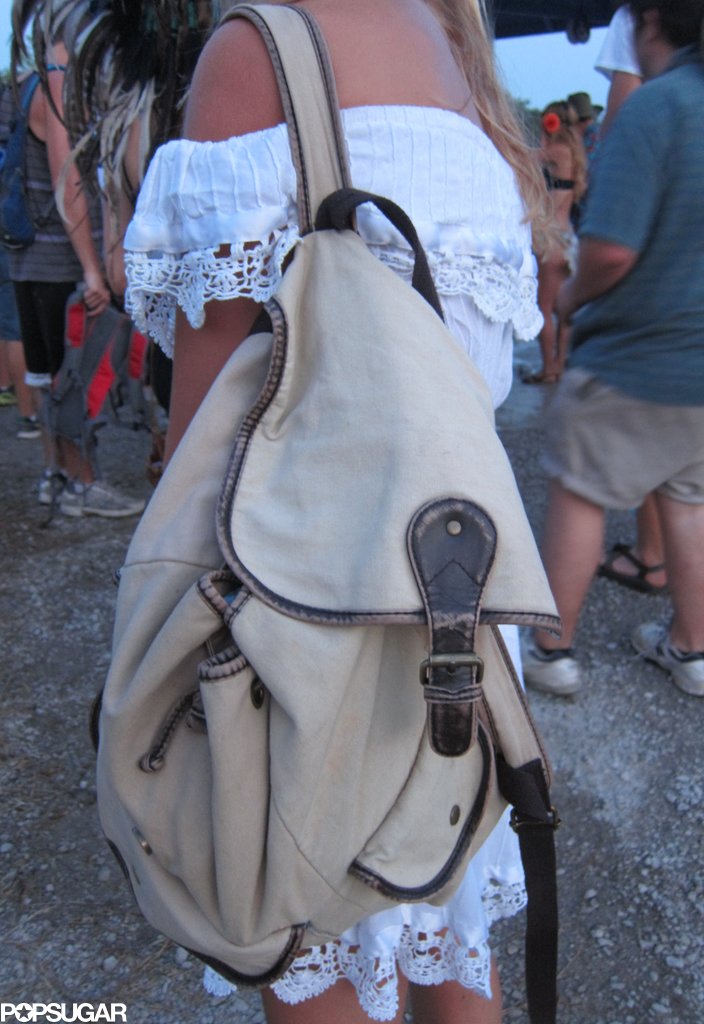 We love the vintage feel of her leather-lined backpack — a hands-free carryall for the girl who wants something a little more timeless.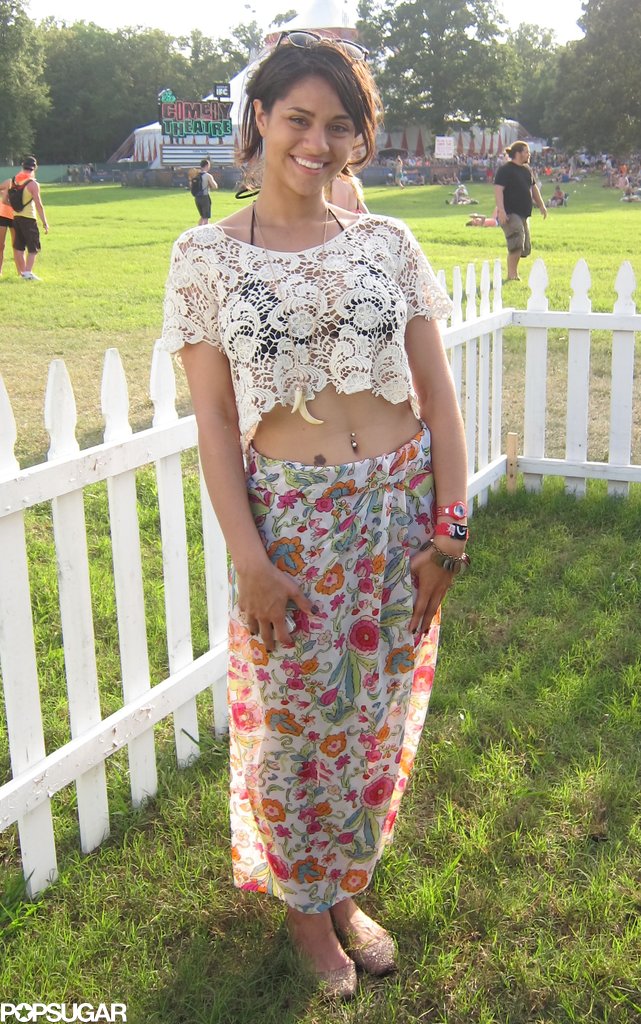 Rachel's girlie look wasn't too over-the-top, thanks to her mix-and-match approach. She paired a white lace crop top with a long, colorful floral skirt.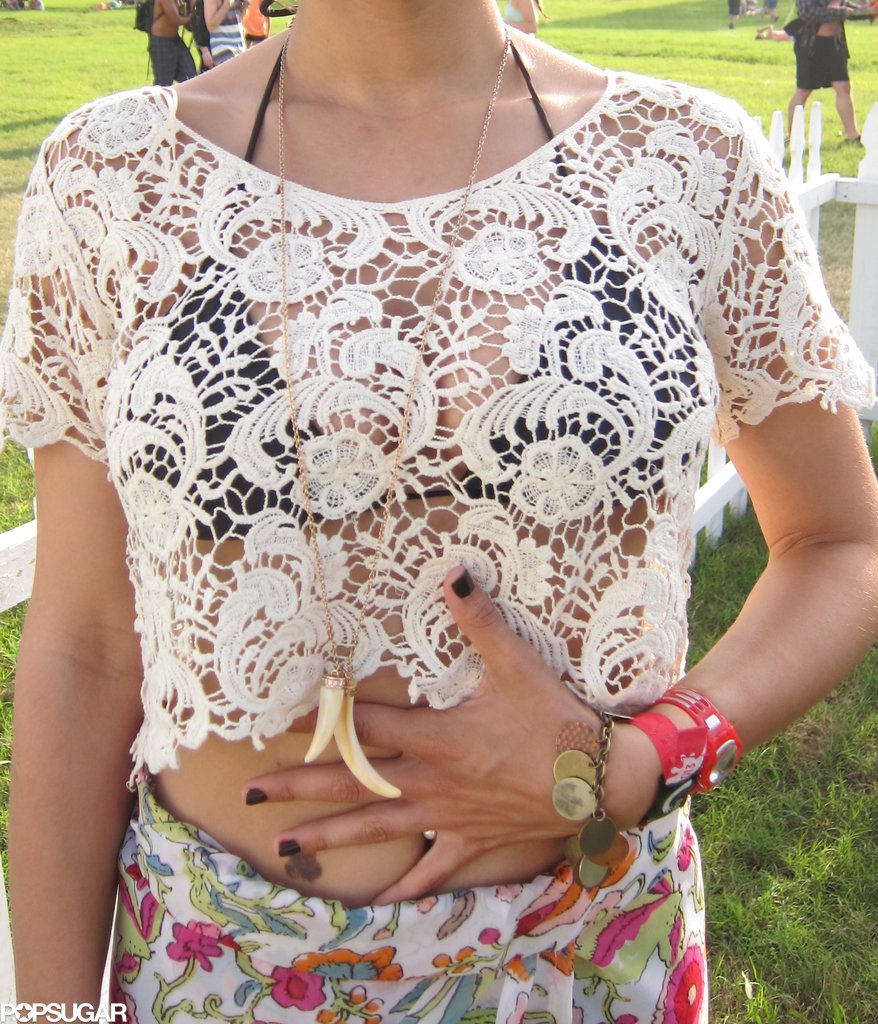 Rachel's gold coin bracelet and multihorn necklace gave her feminine look a bohemian edge.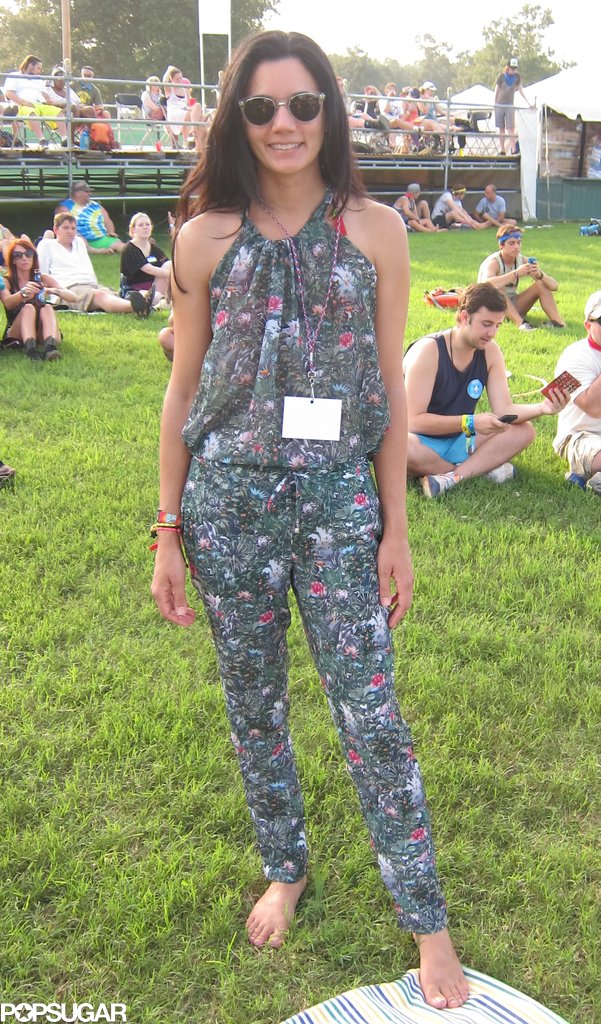 No shoes, no problem. This festivalgoer went with the light and breezy approach, and her printed jumpsuit proved it.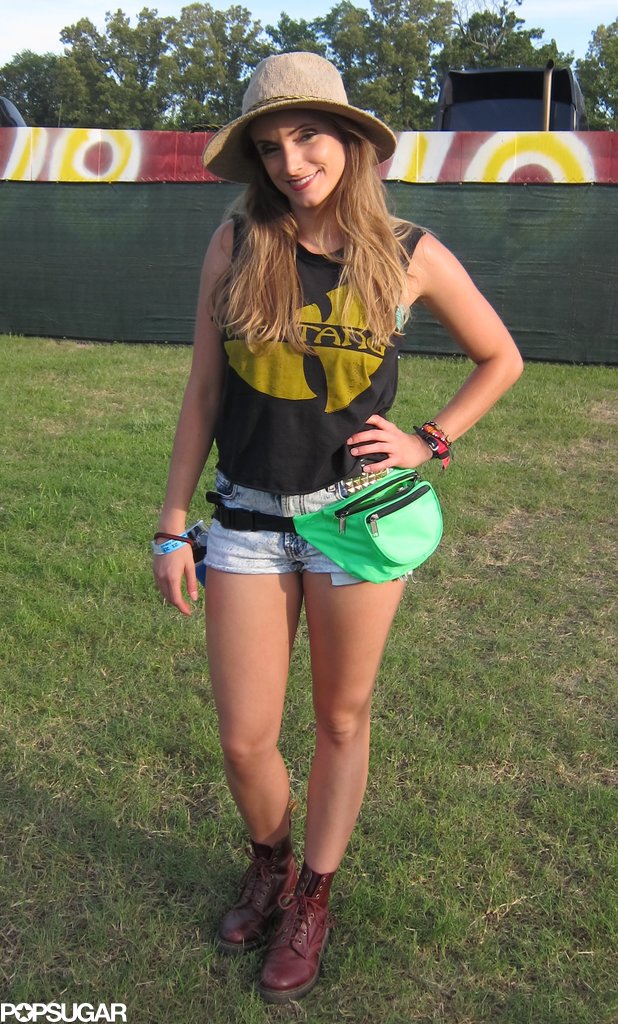 Sarah put a '90s spin on her Wu-Tang look, and it had everything to do with her neon green fanny pack and maroon Doc Martens.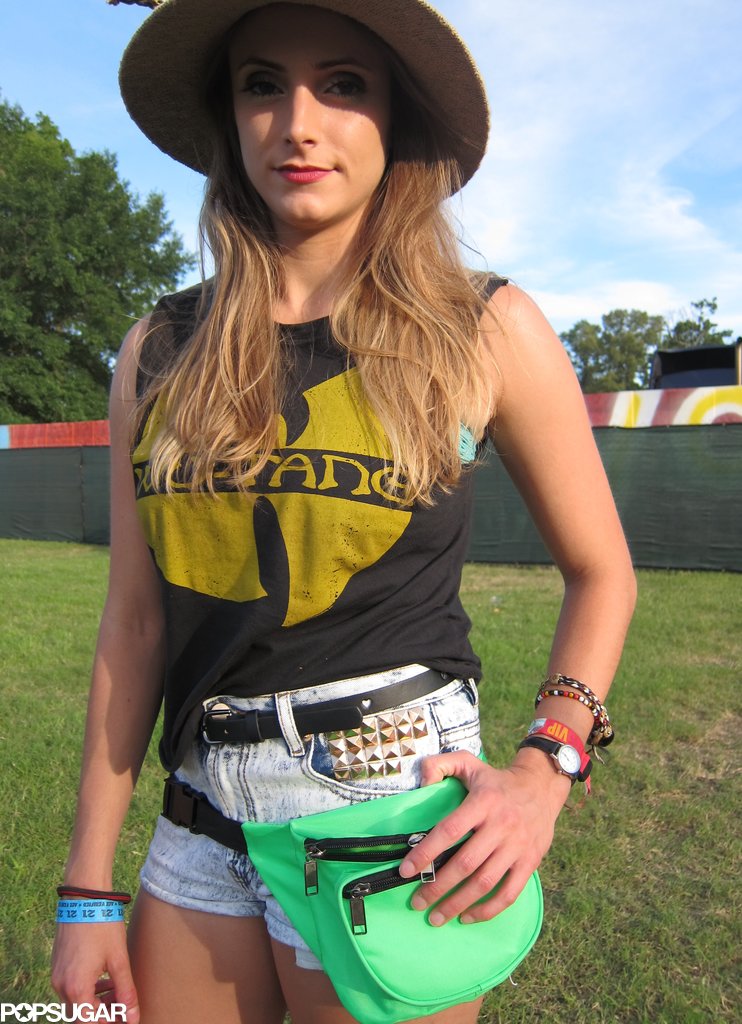 A close-up of Sarah's accessories — notice the subtle stud detailing at the pockets, too.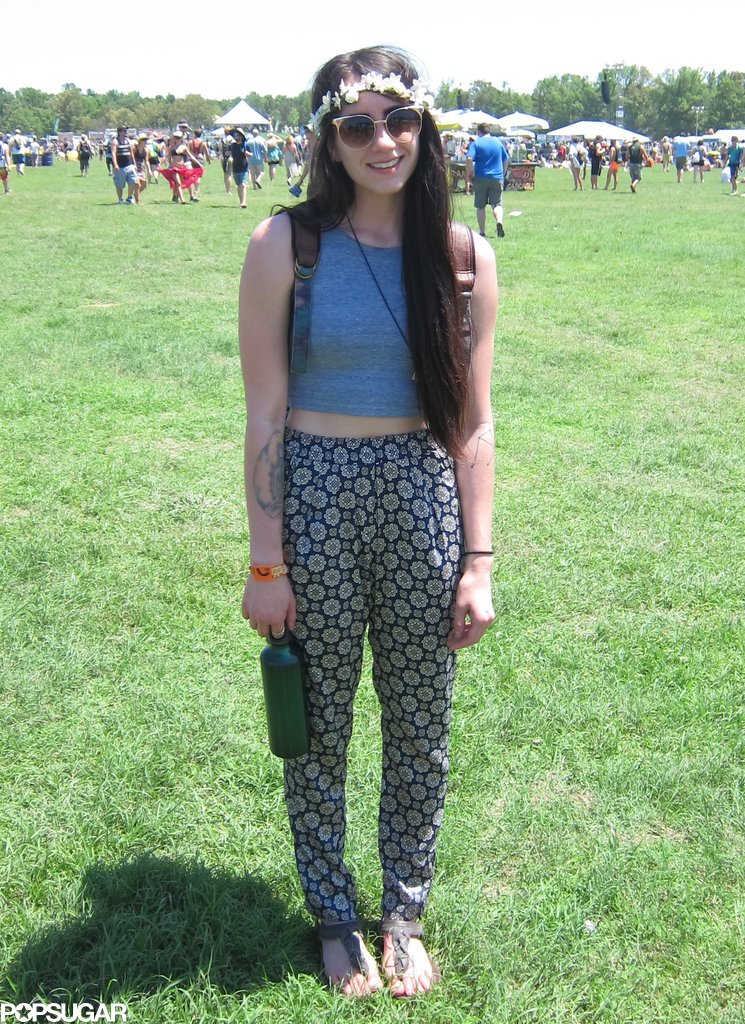 We loved Amber's laid-back ensemble, especially her high-waisted silky trousers.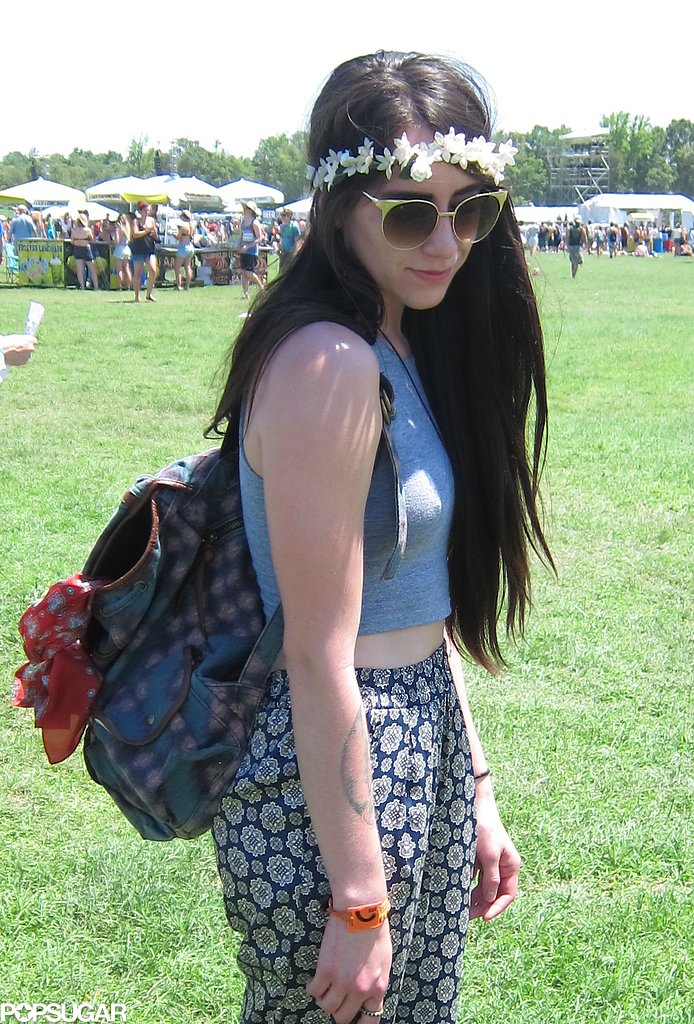 All the (printed) elements of Amber's look worked together to give her a flower-child vibe.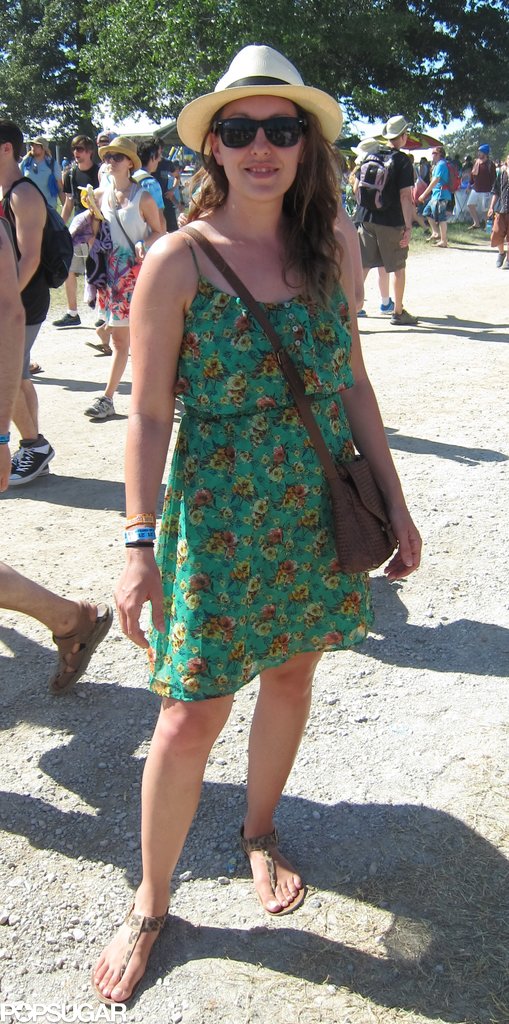 A classic fedora was the perfect offset to Adrianne's bright green floral dress.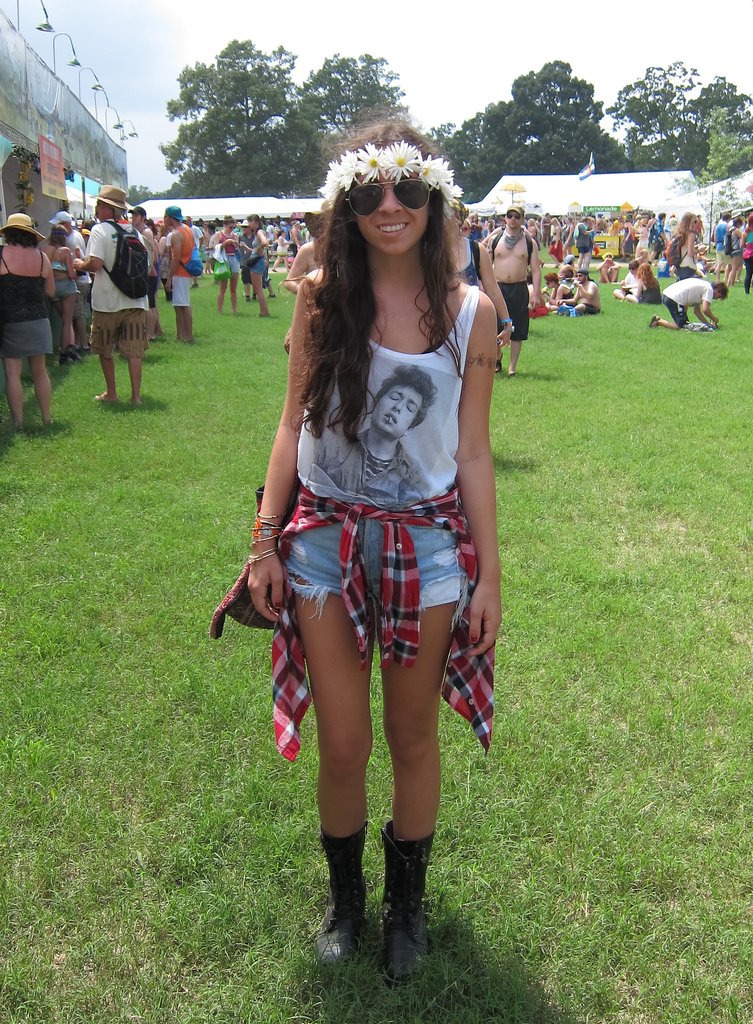 A little '90s inspiration, courtesy of Tessa's plaid shirt tied at the waist, ripped cutoffs, and a printed tank.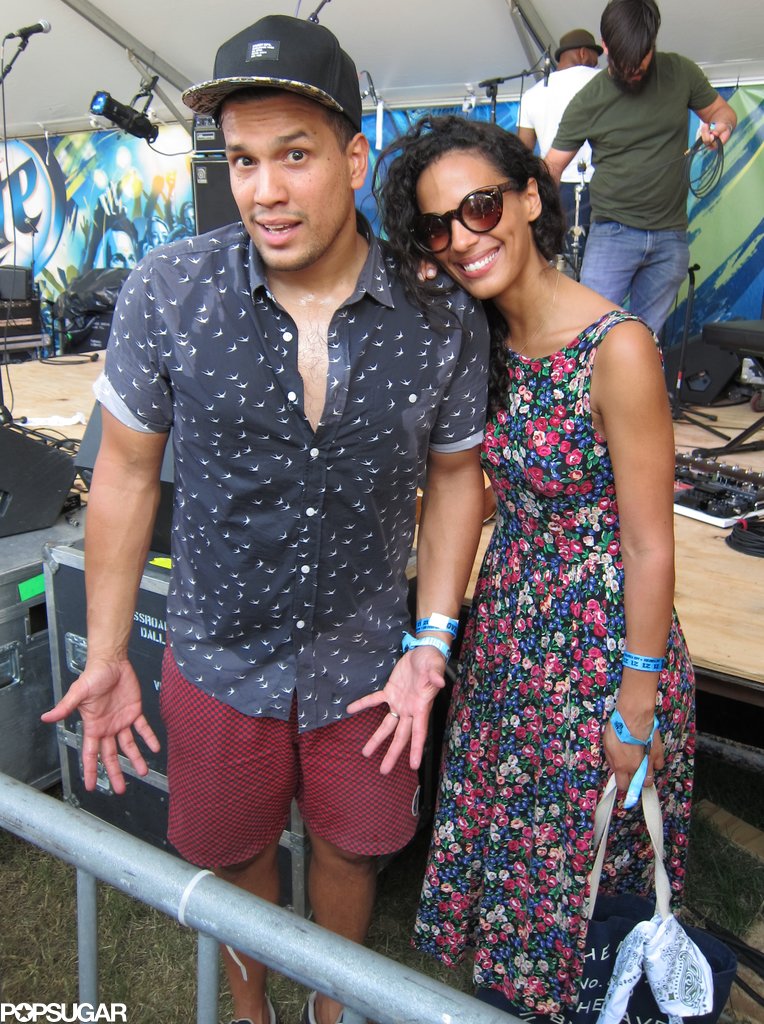 Johnnyswim's Abner Ramirez and Amanda Sudano after their show — in a flurry of eye-catching prints.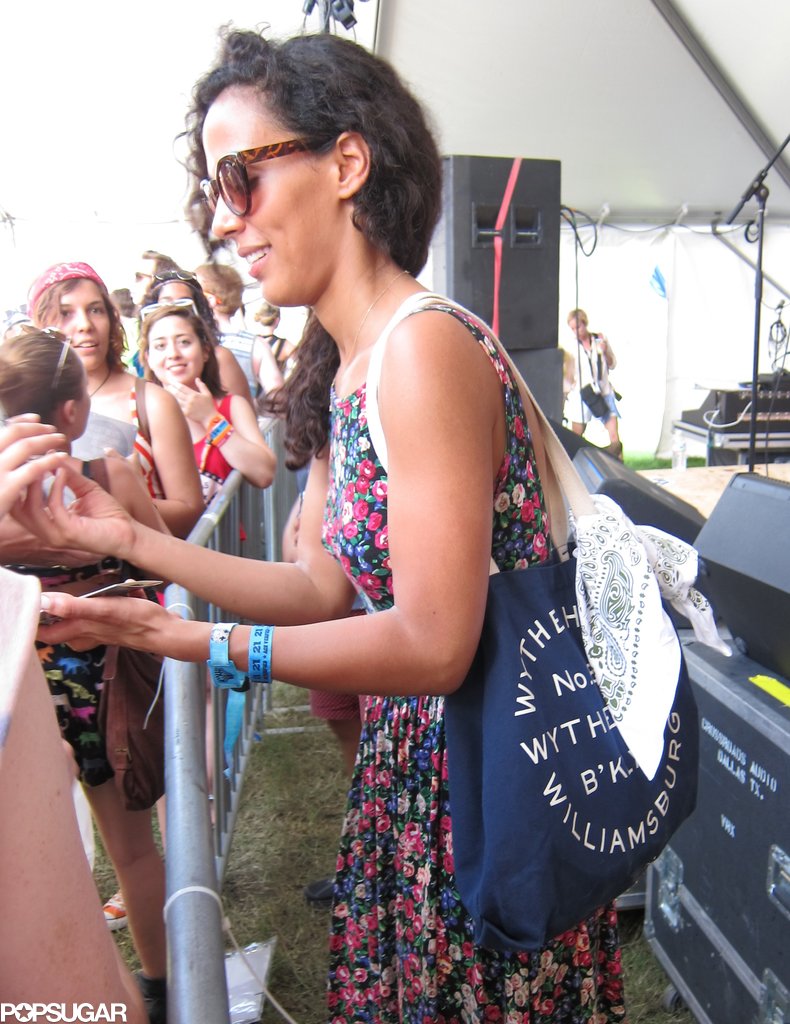 Johnnyswim's Amanda Sudano added a white bandana to her Wythe Hotel canvas tote.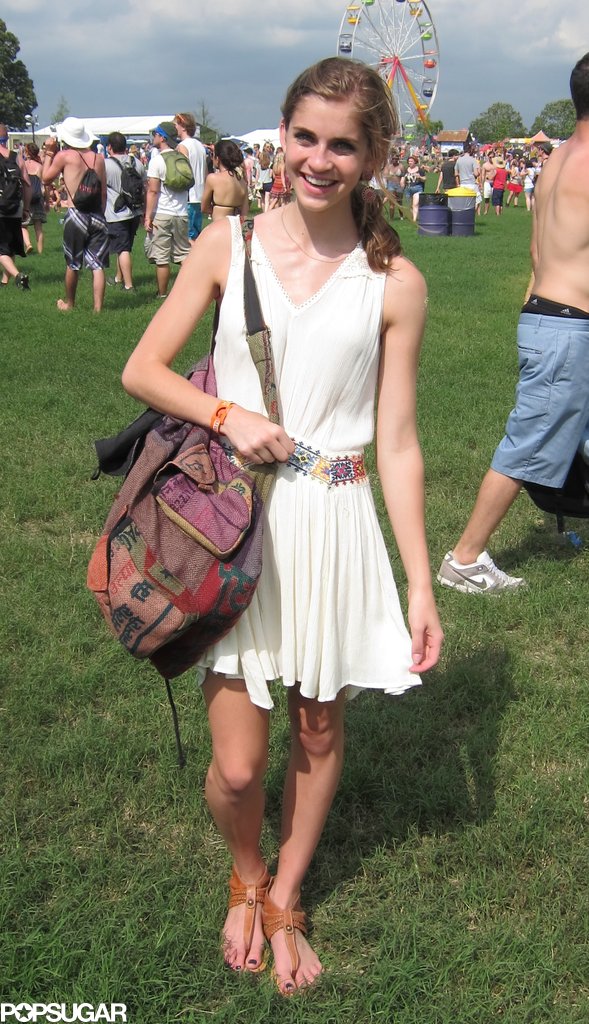 Sarah's simple LWD only needed a patchwork knapsack and a beaded belt for further flair.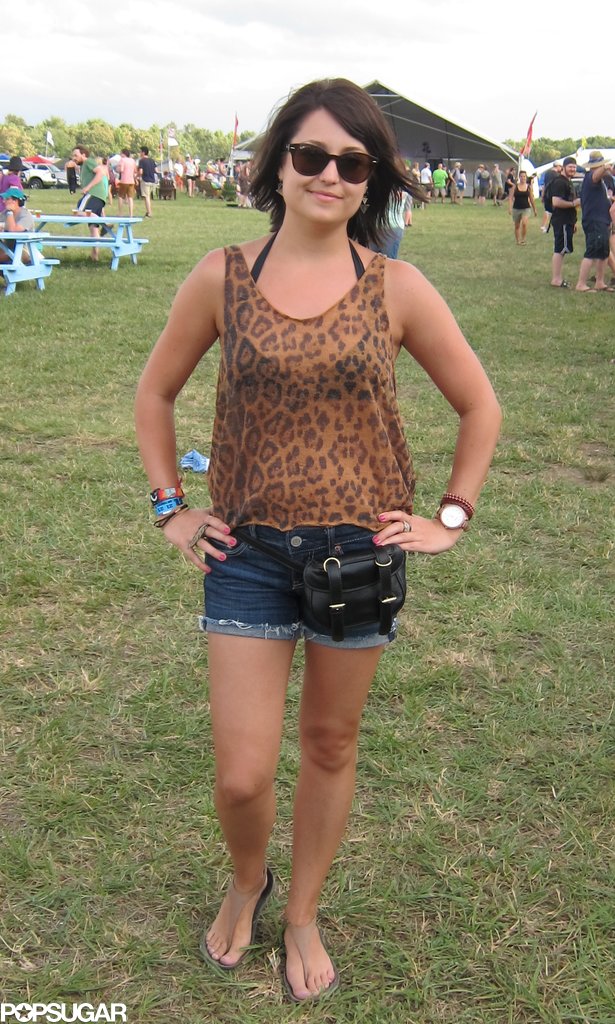 Leopard can be tempered with easy basics, as proven by Lindsay.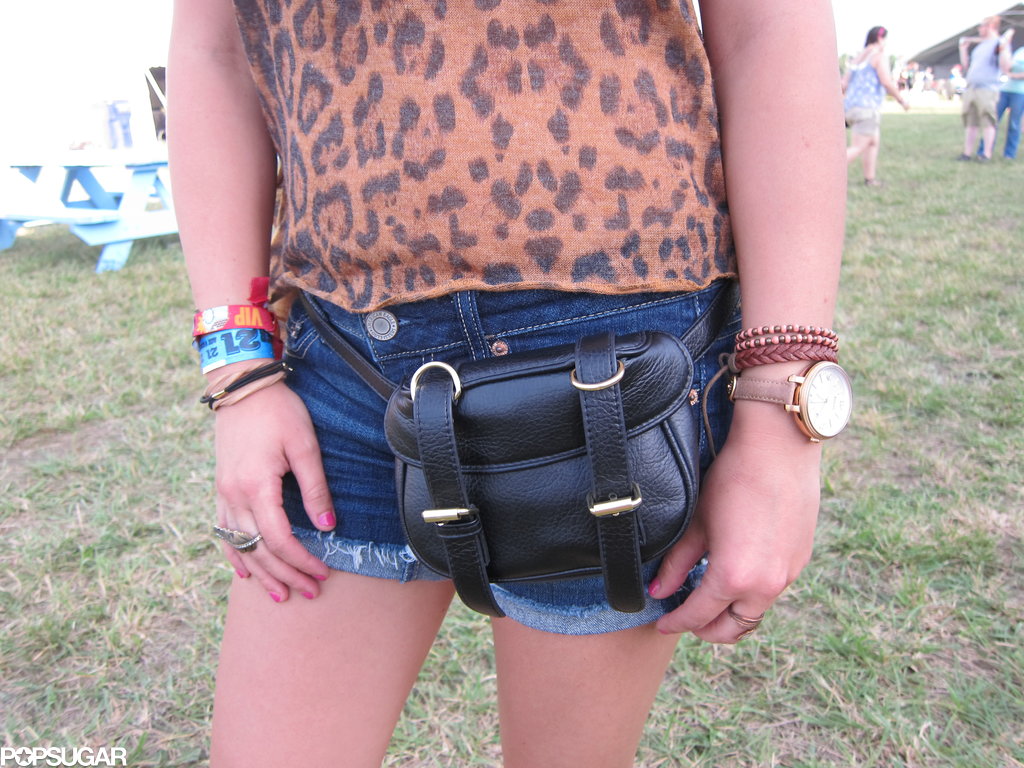 Her sleek, black belt bag, mix of bracelets, and oversize-face watch supplied the leopard print with sleek undertones.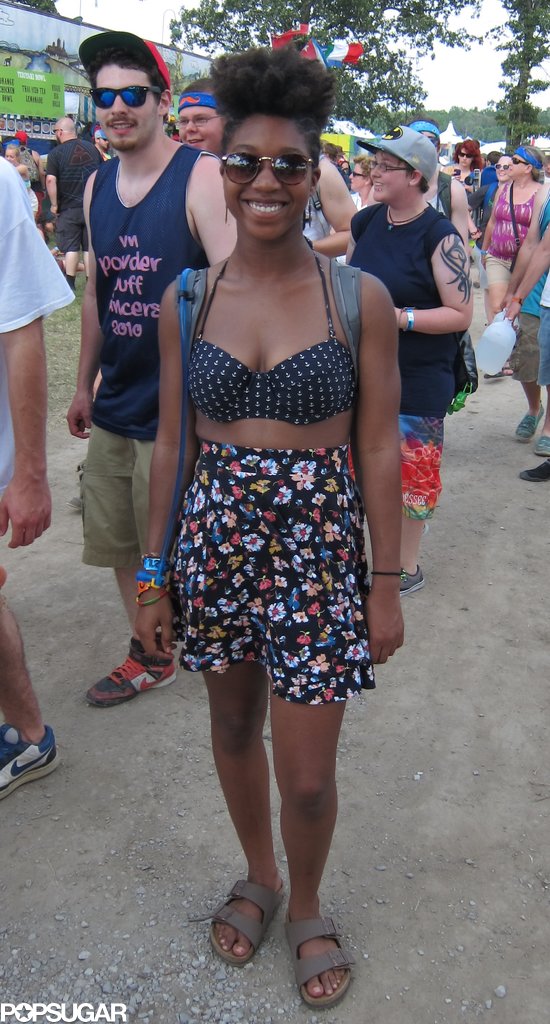 We spotted Danielle making her way into the festival and couldn't get enough of her retro-inspired look. Her anchor-print halter-top bikini offset the high-waisted floral skirt to perfection.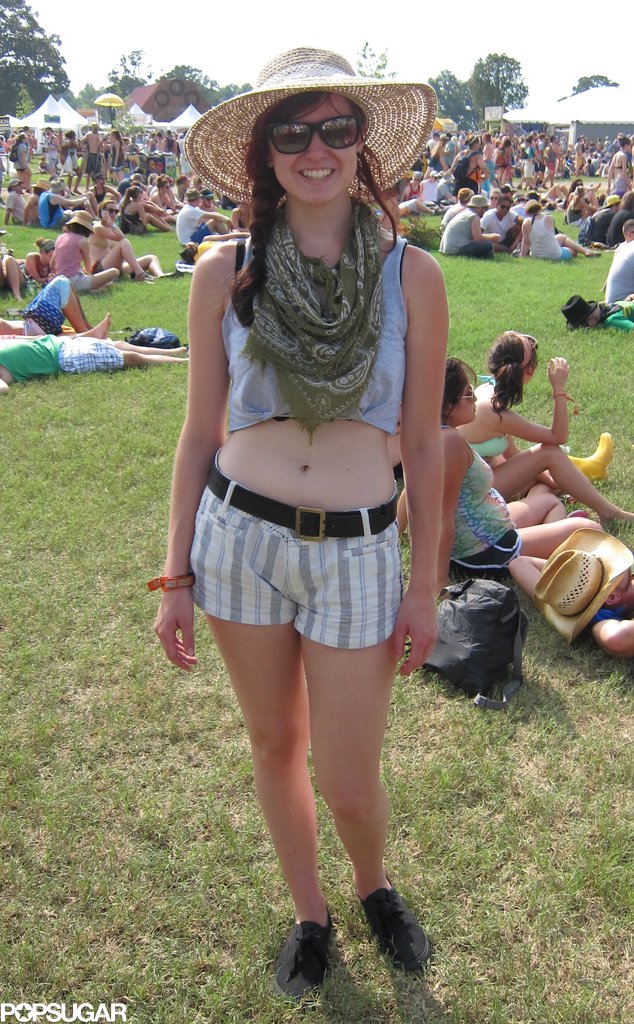 A wide-brimmed fedora and an artfully layered scarf provided Maxine with double the sun protection.
We loved Lauren's low-slung crossbody bag paired with old-school round sunglasses and coral-colored shorts.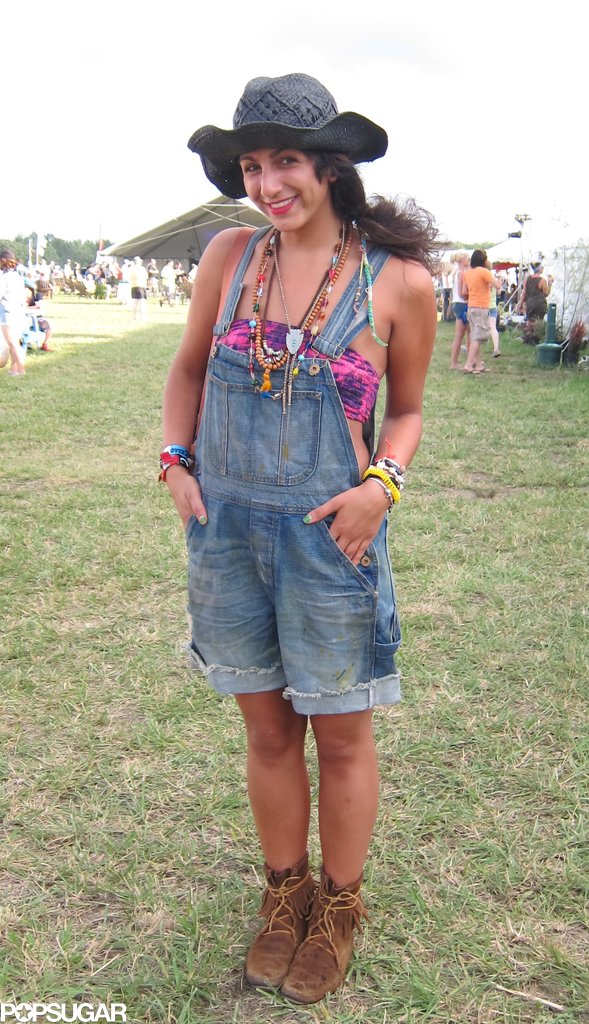 Here are a few of our favorite things, courtesy of Niftythrifty.com's Sam: a cool sun hat, a colorful bandeau top, lots (and lots) of necklace layering, all with a '90s short-alls twist.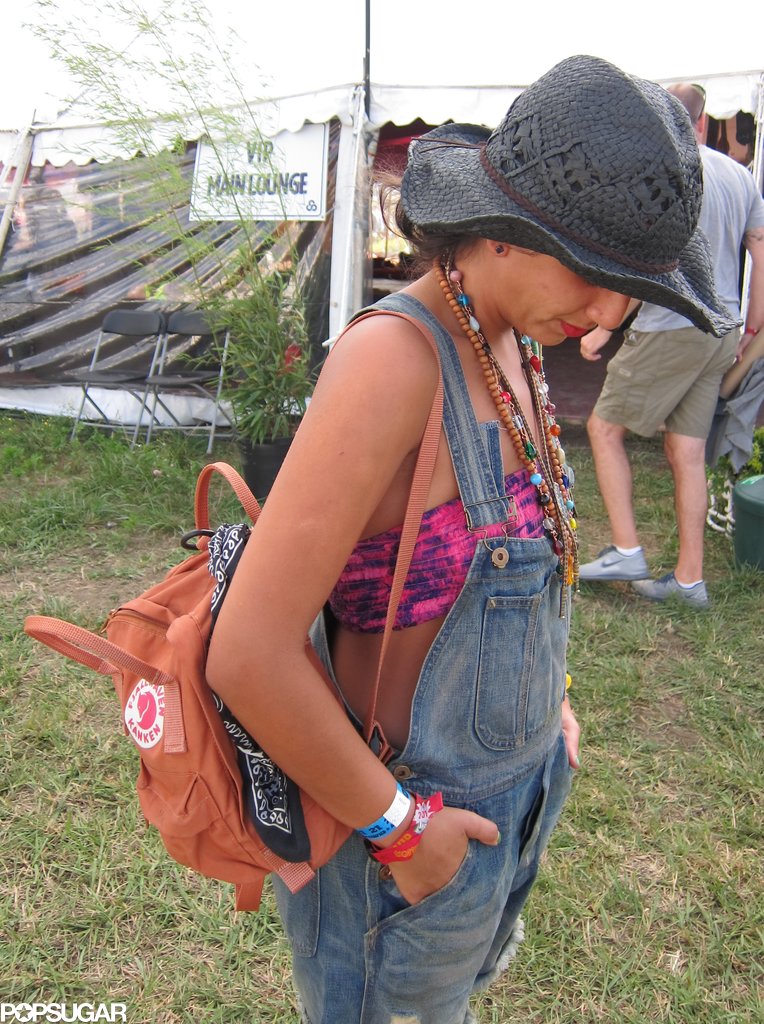 A side shot of Sam's orange backpack, accented with a blue bandanna.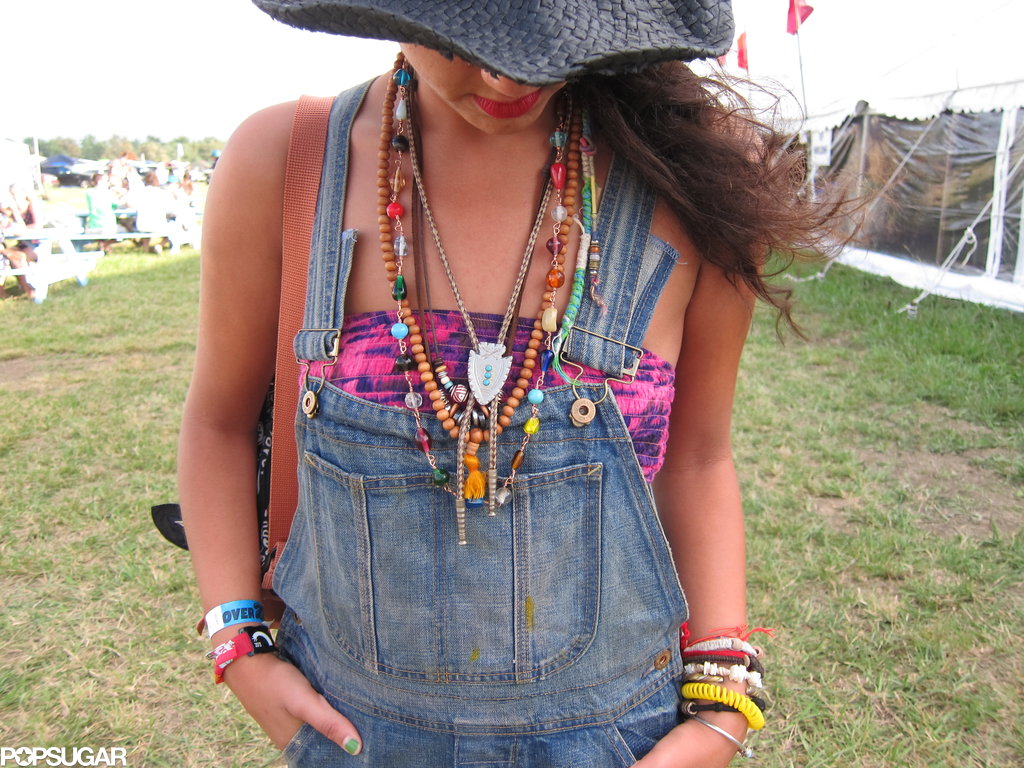 A zoom-in of Sam's multicolored necklaces — beaded and bold pendants included.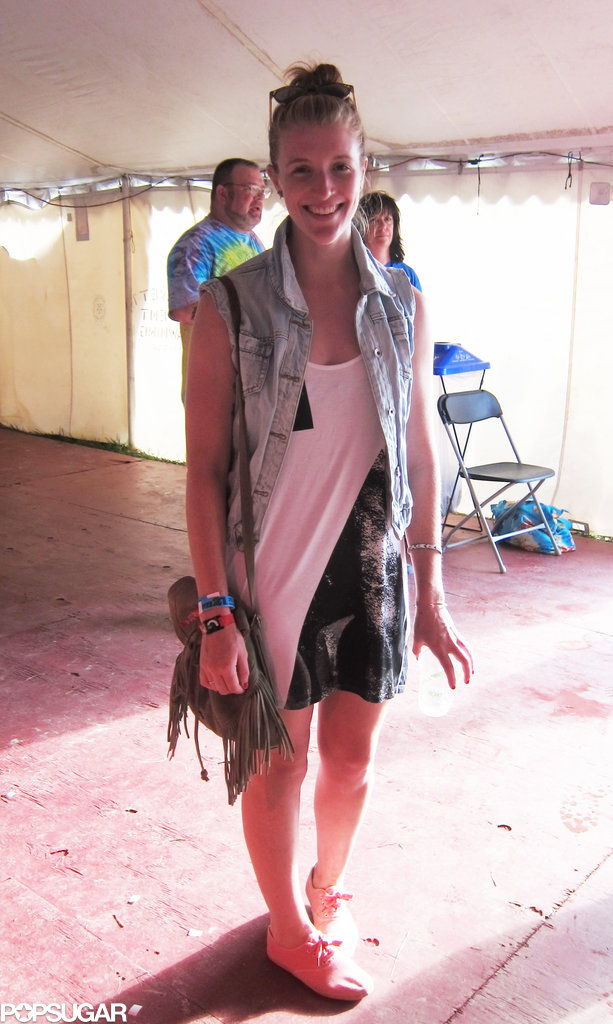 Phoebe's light denim vest and fringe-laden bag took a simple white dress from Summer ready to concert perfect.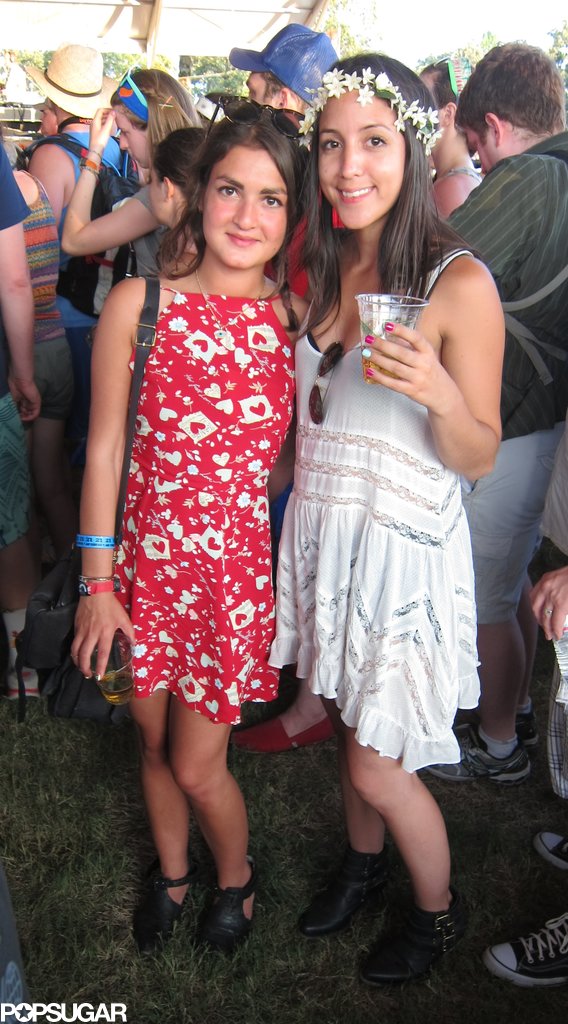 This is Alana and Alex's BFF style: light, airy dresses, flowers in the hair, and the coolest ankle boots we've seen (so far) at Bonnaroo.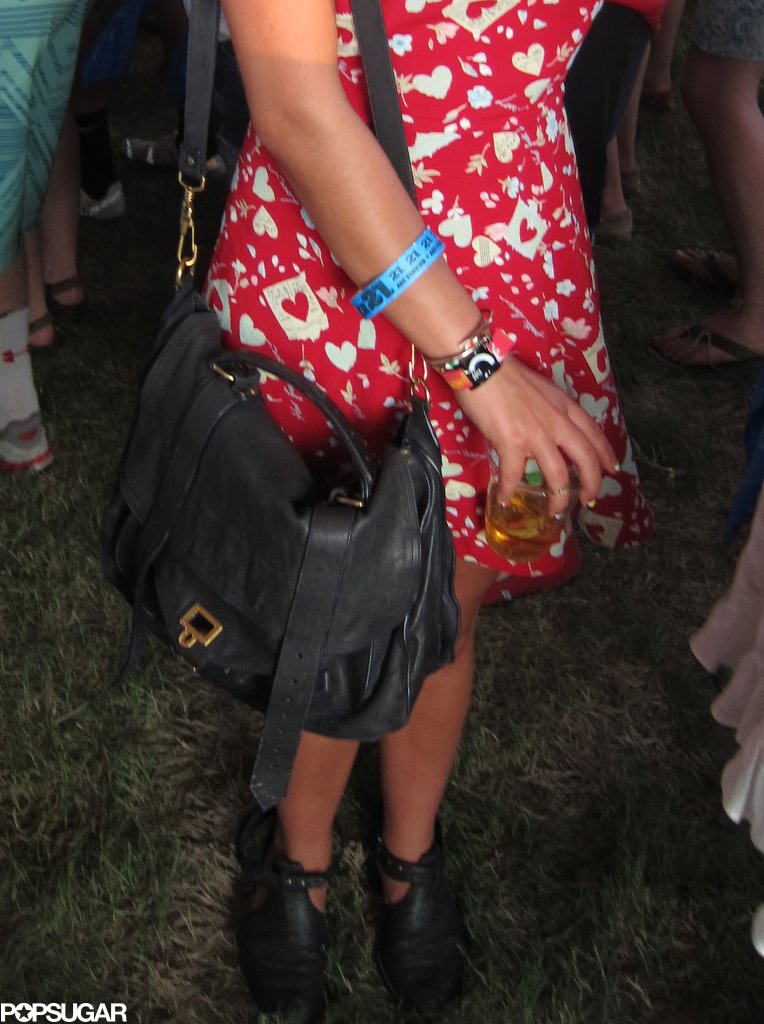 To toughen up a red floral minidress, Alana added cutout boots and a Proenza Schouler [2] bag into the mix.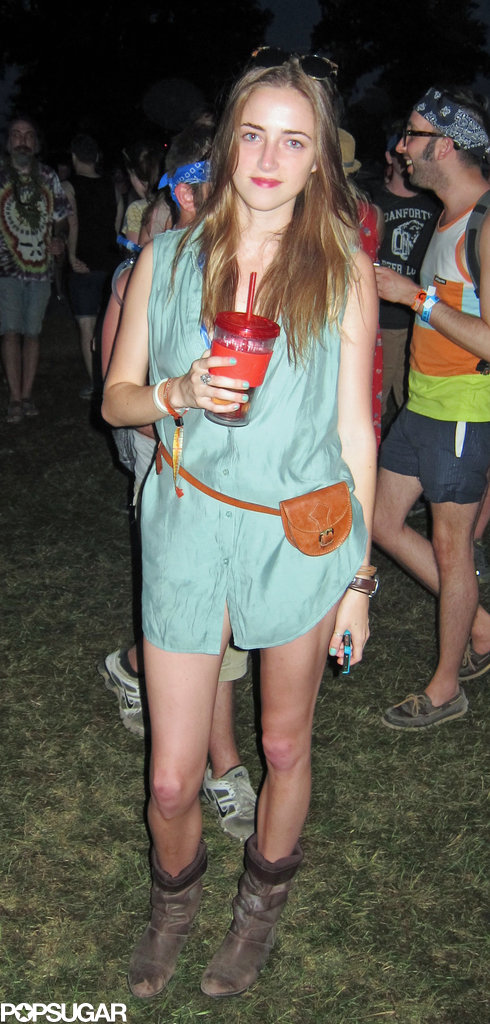 Easy, breezy styling caught our eye here. Her oversize top — worn as a silky dress — cinched at the waist with a belt bag offered up a cool way to dress for the evening sets.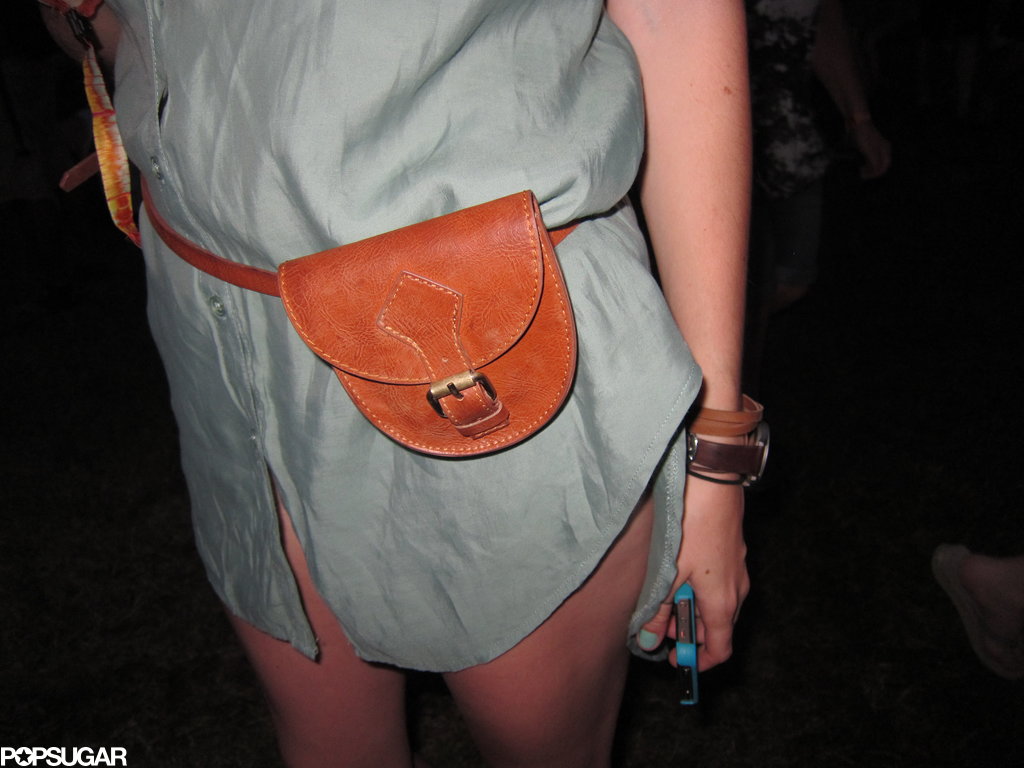 We love how compact but structured this Bonnaroovian's belt bag was.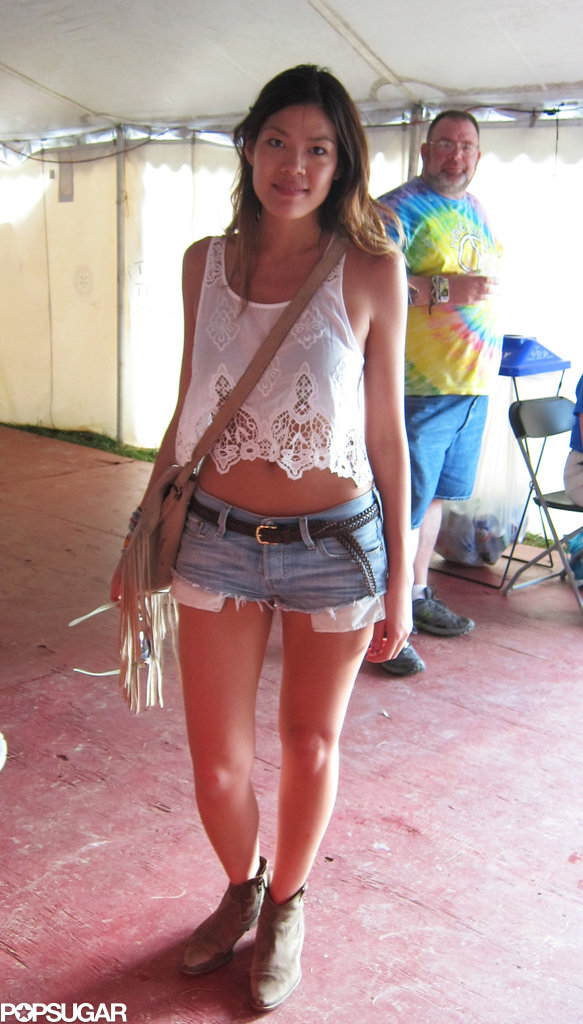 Jenoveve nailed the classic festival look with a sweet white crop top, cutoffs, and neutral-toned ankle boots.