No matter what actual boyfriends think about our boyfriend jeans, we adore them. They can swing with ease from one end of the style spectrum to the other and are comfortable beyond belief. So much so that we're willing to totally tune out any protests from the men in our life.
Yet even as hardcore fans, we have to admit to some fatigue. We find ourselves pairing ours with the same few tanks in our closet, sloppily rolling the hem, and slipping on a trusted and true pair of pumps. It all combines for a look that's cute and perfect for grabbing a glass of wine with a friend, but the ensemble feels far from fresh at this point. And because we'd be happy wearing them every single day, we figured it was time to turn to the street style pros for a few new ideas about how to style the staple.
With Typical Denim Essentials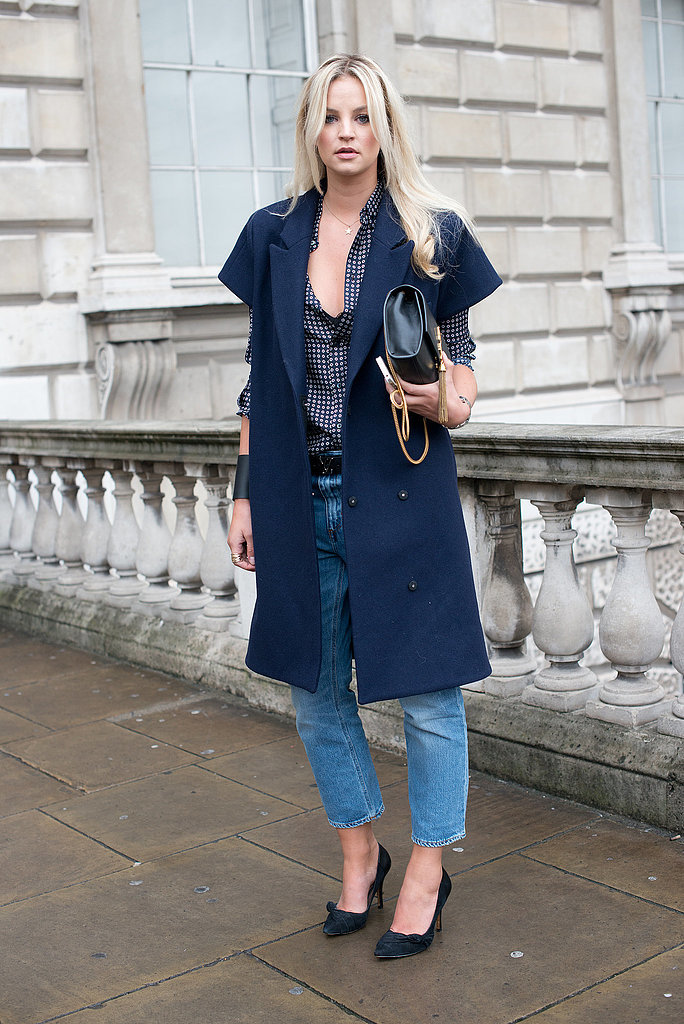 First and foremost, try not to overthink it and see what happens. It's fun to plan outfits specifically around them (either to combat the unsexy vibe or to make them the main point of your entire look), but they can also fit into a totally run-of-the-mill outfit. Finish them off with whatever basics you'd typically wear with your everyday skinnies.
With Cuffed Hems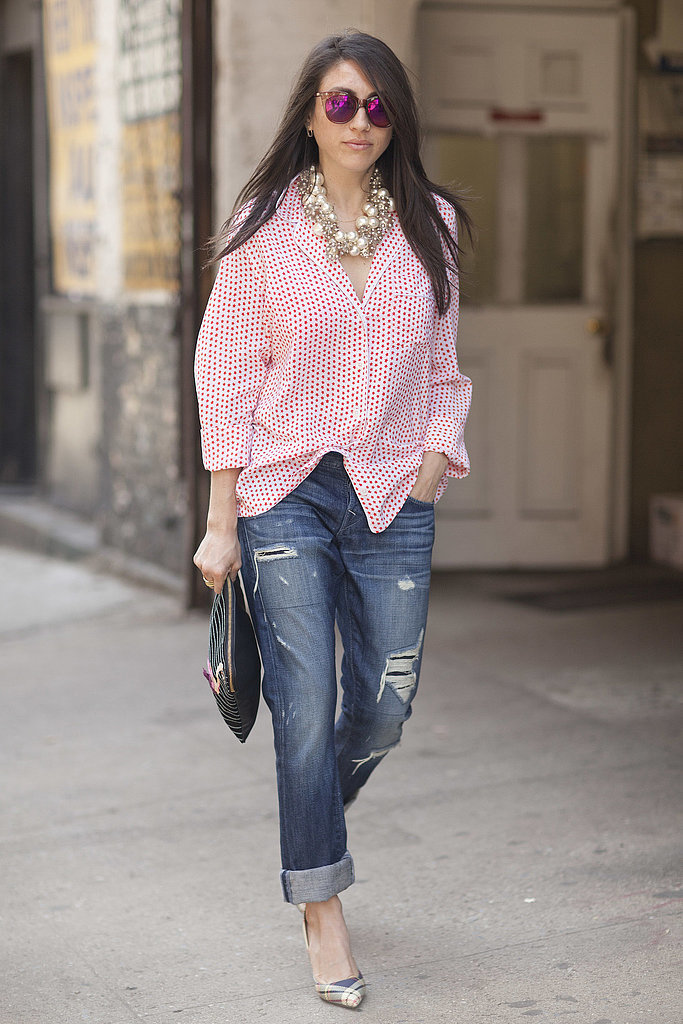 Rolling boyfriend jeans can be an artform, but the best news is that a classic cuff works, too. While it doesn't quite give off the same nonchalant appeal as the messy, nearly undone roll, it has a retro vibe that puts your pair in a new light.
With Ankle Boots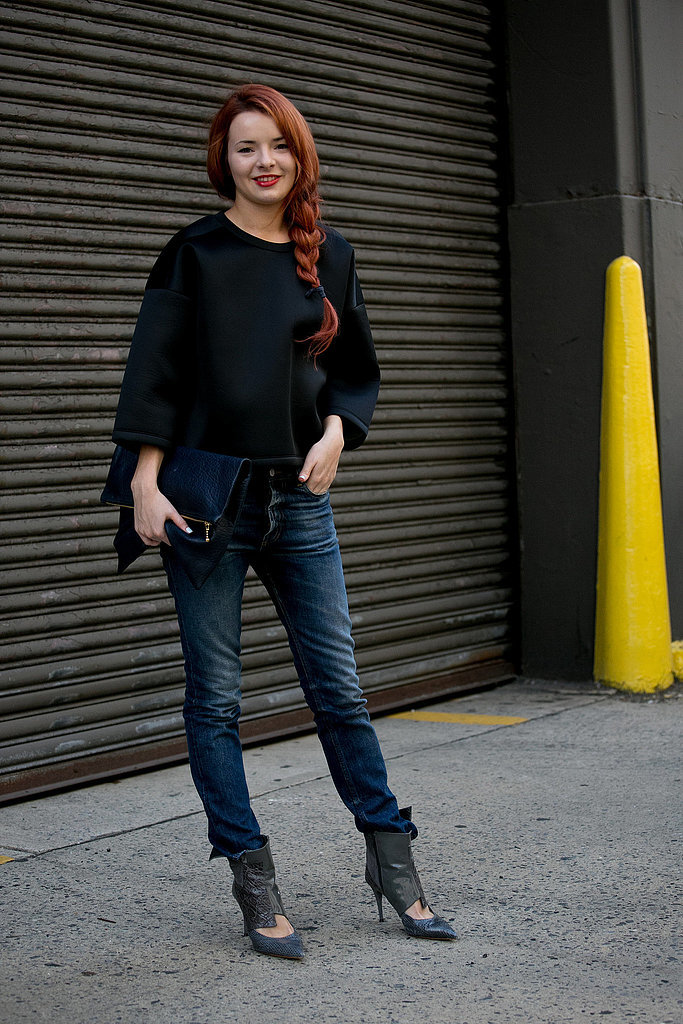 And if you've never felt comfortable with figuring out how to finish off your pair, good news. Where a skin-tight pair would easily slid into boots, a roomier fit means they scrunch and pool when worn with boots that hit above the ankle bone, creating a look that's cool by default.
With Girlie Heels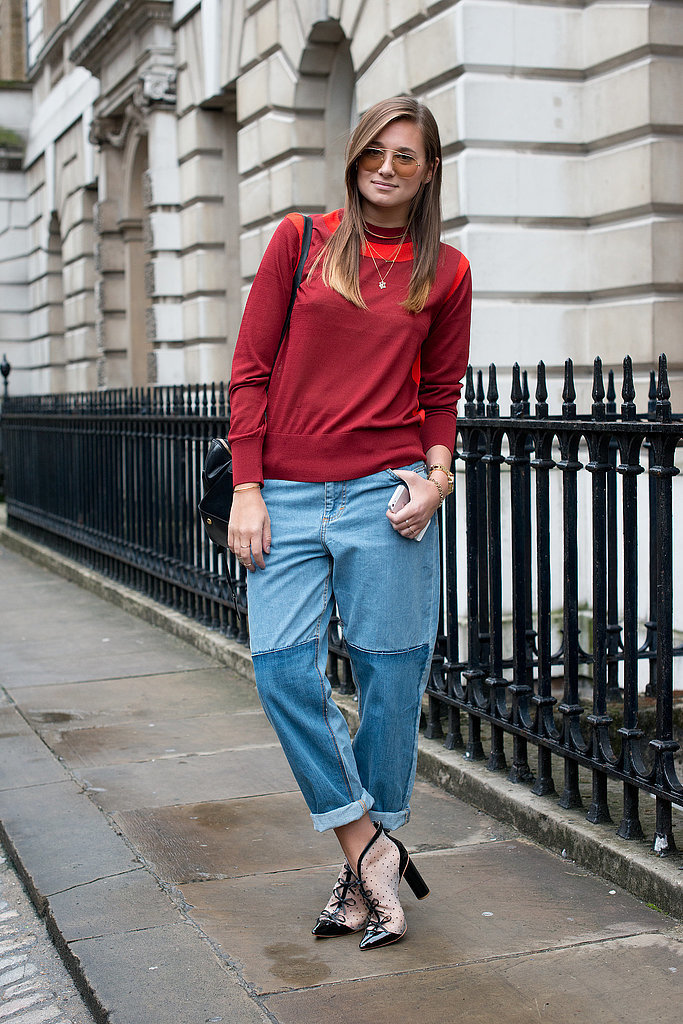 The top reason we extol when trying to convince a friend that she needs to give boyfriend jeans a try? Just how brilliant they are at showing off statement heels. This patchwork pair, rolled a few times, was the perfect choice for letting pointy-toe, statement boots take center stage.
With Preppy Pieces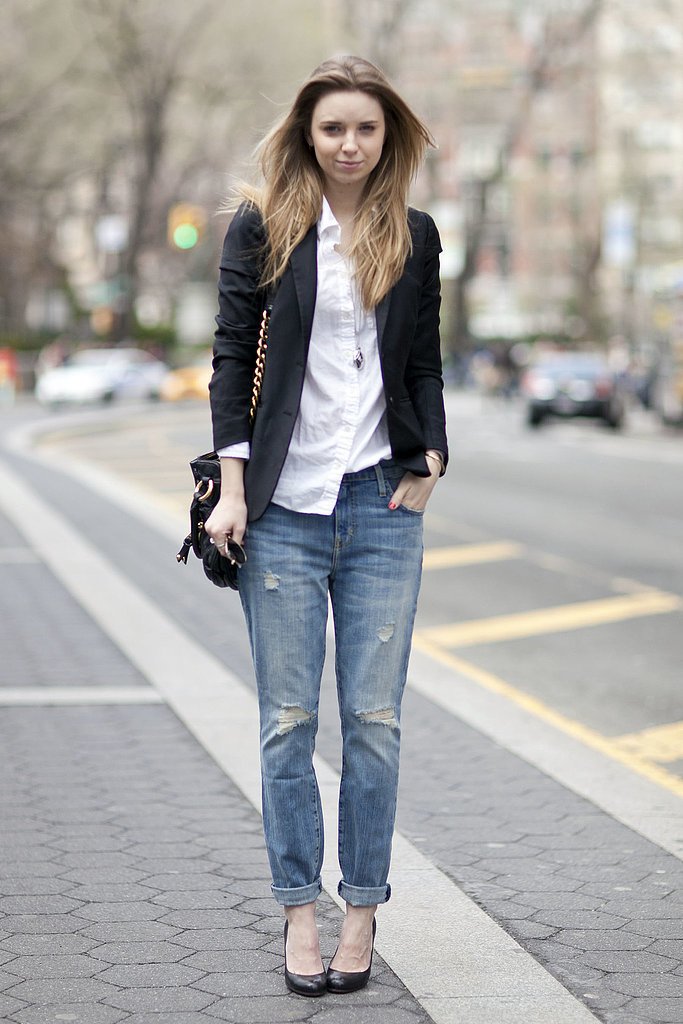 The oversize fit doesn't mean that boyfriend jeans have to be messy. Try yours with preppy essentials like a crisp white button-down and schoolboy blazer for a look that's polished.
With Flat Sandals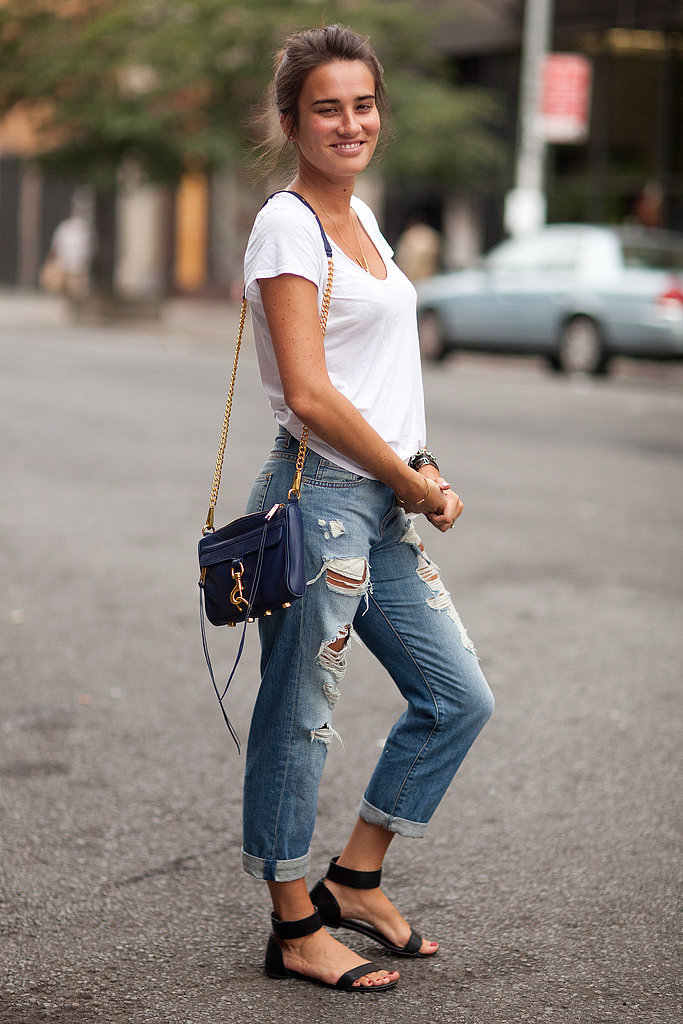 We're typically inclined to reach for heels if it's a boyfriend jean kind of day, aware that the fastest way to racket up the sex appeal of the slouchy style is with a pair of killer stilettos. Still, this look makes us think it's worth trying them with our favorite flats. It changes the look, sure, but not in a bad way.
With Stripes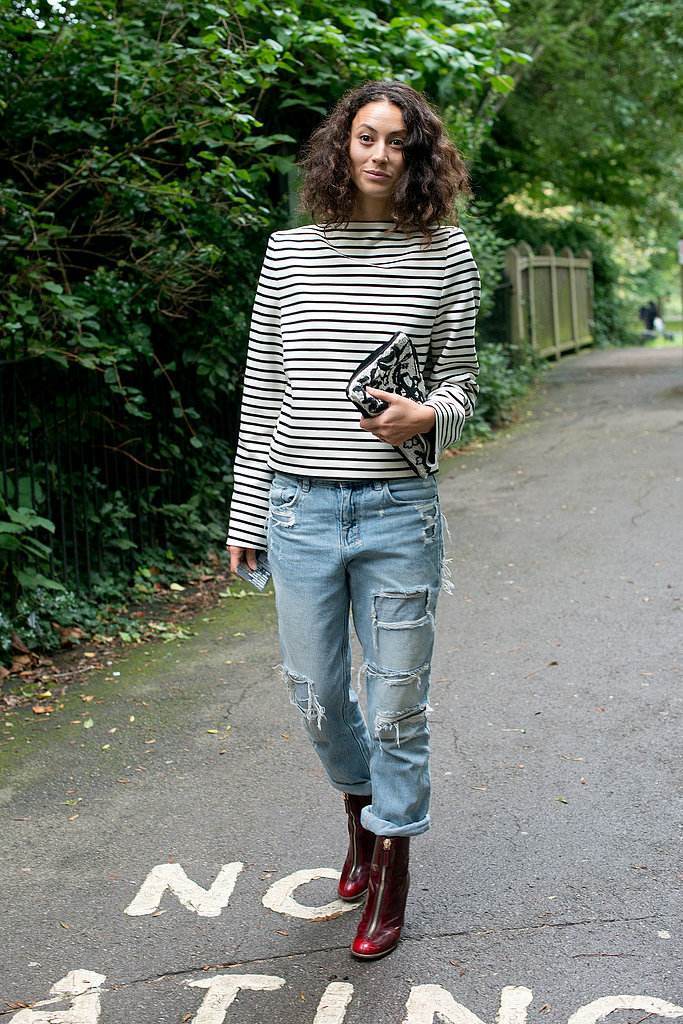 If you're like us, you've likely exhausted all the fitted tops you have for pairing with boyfriend jeans. The classic formula is smart dressing, but when you're hankering for something that feels fresh, consider throwing on a roomier top like classic sailor stripes.
With a Tucked-In Tank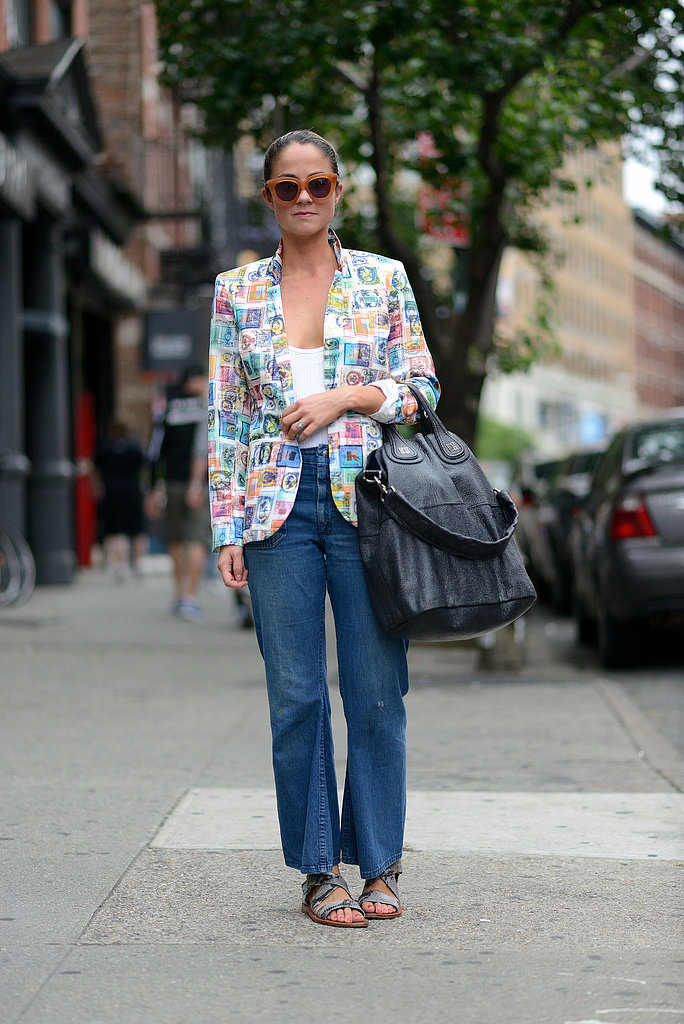 Wide-leg, baggy jeans rank right next to sweatpants on the comfort scale, which is great, but they need a certain type of styling to keep things from looking too messy. And, as is true with most things, the simplest approach might be one you haven't even tried yet. Skip the fancy, complicated blouses, and grab a plain white tank to tuck in. Looks good, right?
With a Silky Blouse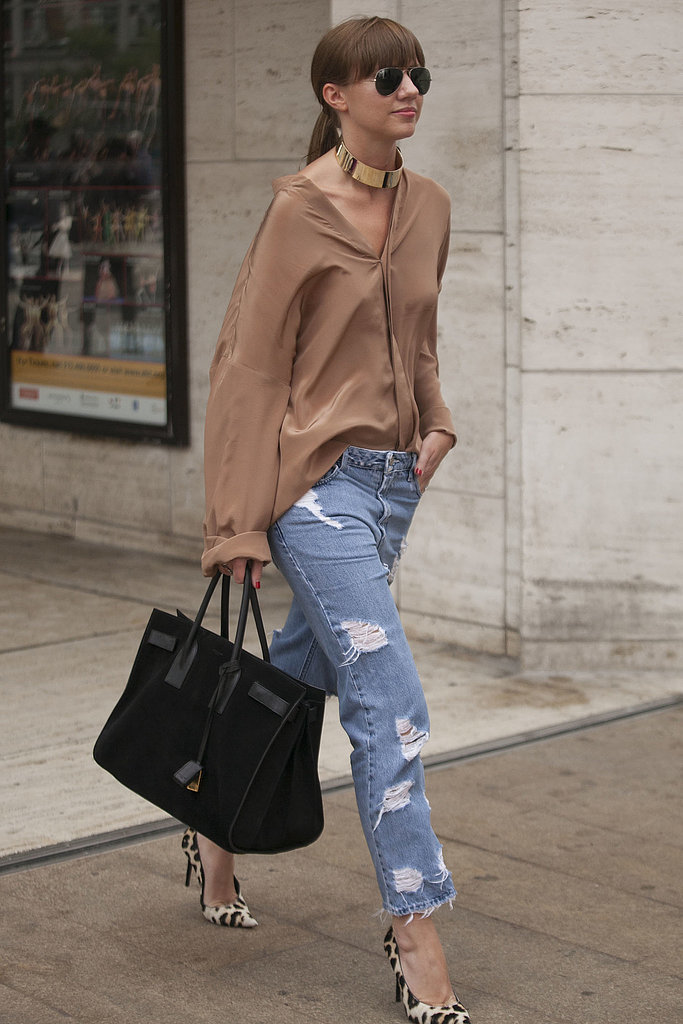 If your silk button-ups most often get playtime with classic cigarette pants and dark denim, shake things up by pairing with your most distressed, oversize jeans.
With a White Tee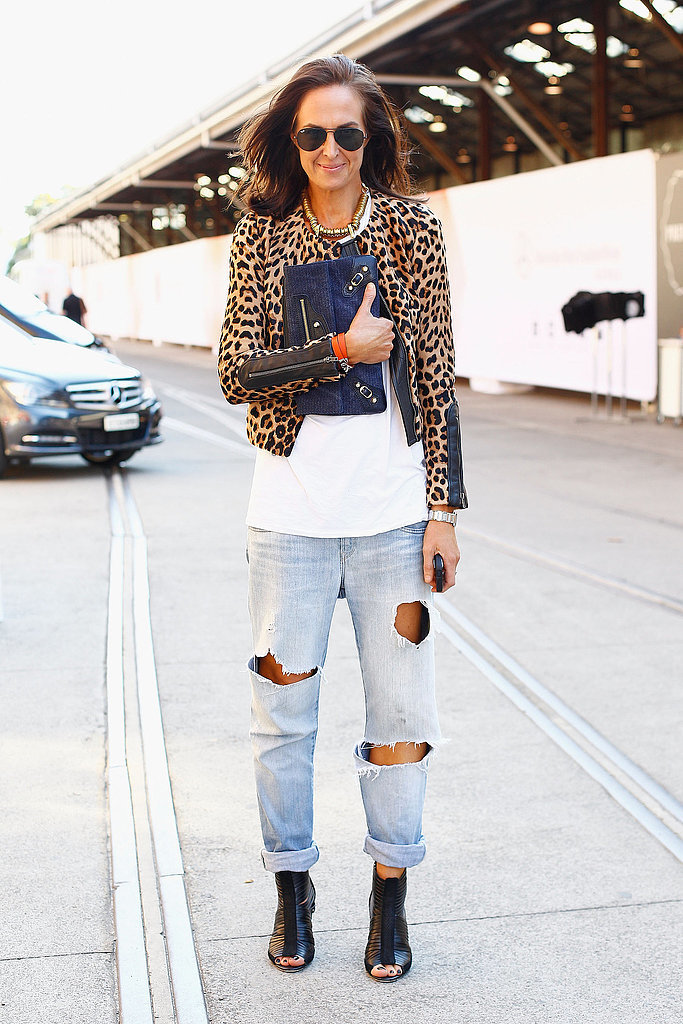 If you've got a statement blazer or shrunken jacket and can't figure out how to make it work with equally loud denim, consider the white t-shirt your savior. The basic makes for a perfect blank canvas for mixing and matching items that are beyond bold on their own.
With a Belt and Sneakers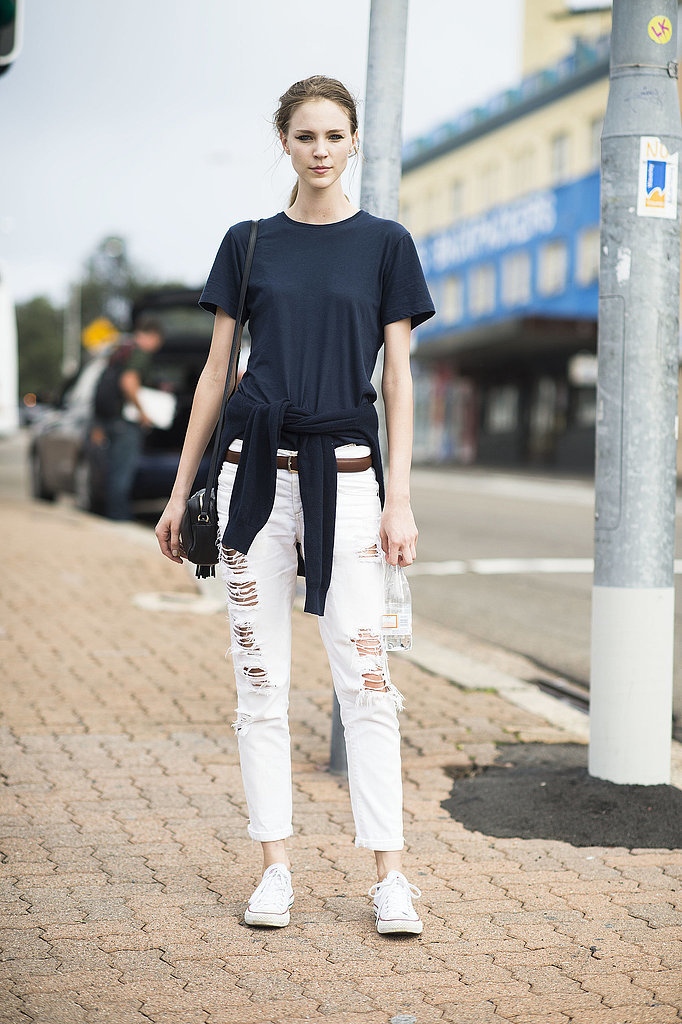 The key to making roomy jeans work with sneakers is to leave some ankle showing, whether by way of an artfully done roll or a cropped hemline. And if you've fought with a baggy seat before when rocking boyfriends, do the obvious: belt it.