When you're a top model like Cara Delevingne, fashion is your job — seriously. If she's going to continue following in the footsteps of Kate Moss [1], what she wears when she's out and about matters, whether it's for casual, off-duty errands or an official obligation. We've seen her on both ends of the style spectrum, from a supersexy white suit [2] to a sweatsuit look so casual, she kind of looked like Justin Bieber [3] (not kidding).
Yesterday in London, a full schedule meant that we had two different looks to study and dissect. For day, she went casual in a combination that'll feel familiar, while her sultry evening look was more unique (no cocktail dress here!). Scroll down for pictures and similar items you can shop to re-create both outfits.
Source: Getty [4]
The Daytime Look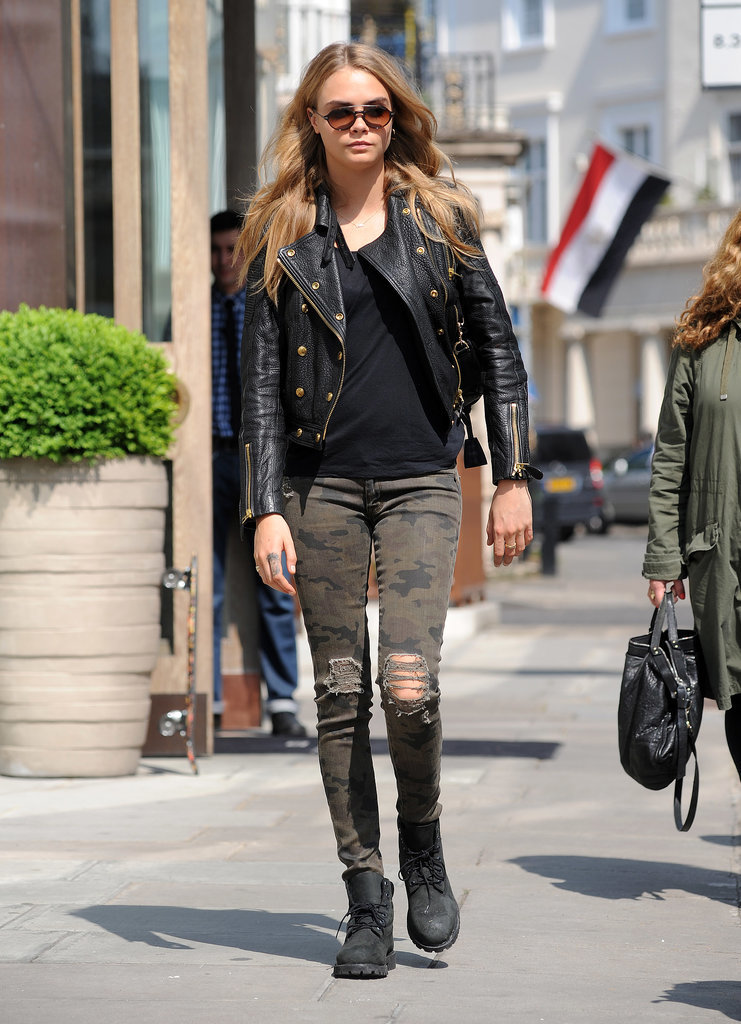 For day, Cara picked distressed denim done in a camo print rather than a traditional rinse. Her leather jacket, another staple, also felt a tad different thanks to two rows of buttons. But when it came down to her shoes, the model kept things very simple in a classic flat black combat boot.
The Jacket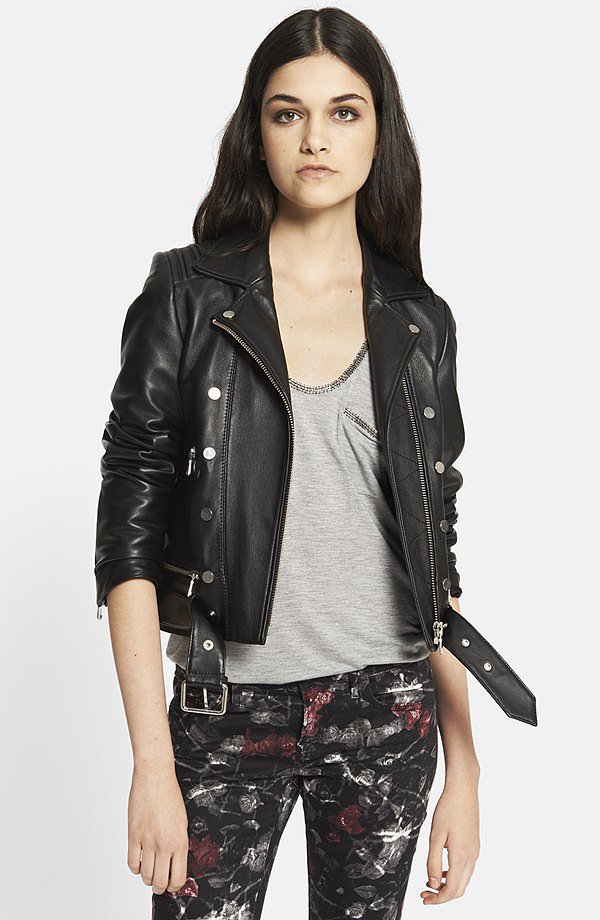 For a similar jacket, we loved this find [5] ($895) that had all those moto jacket signatures (the heavy buckle at the waist and sharp lapel) but with the proper double-breasted look.
The Jeans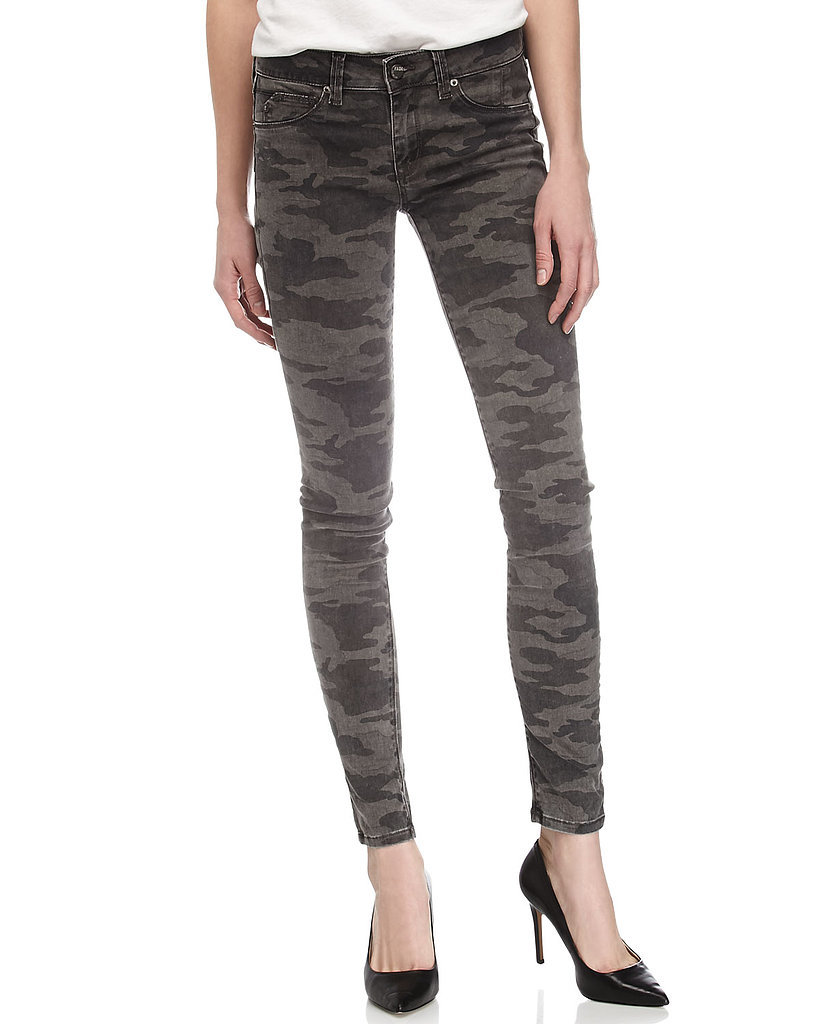 After more than a few seasons, camo's proved that it's not just a passing fad. For the subtlest take on the trend, try the print done in dark hues, and shop a style [6] ($55, originally $79) similar to the jeans you regularly pull on.
The Boot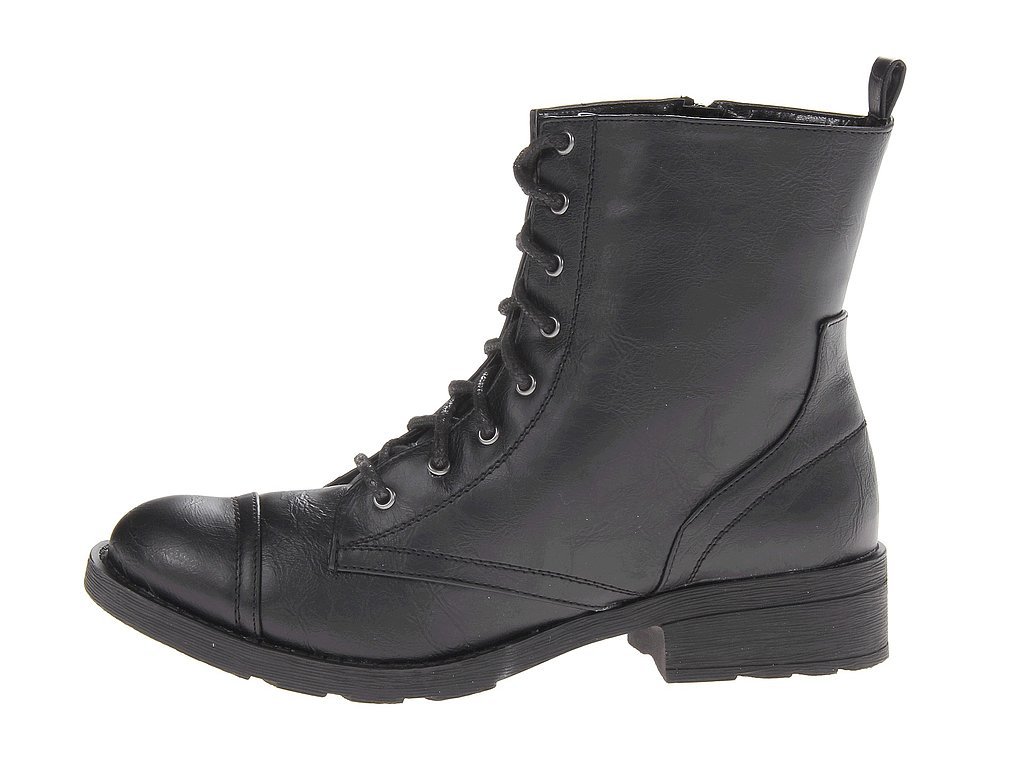 Cara's style often involves a pair of combat boots [7] ($45, originally $60), and she wears them the same way other women would consistently reach for a nude pump or ballet flat. To style, copy her look and only lace them up halfway.
The Nighttime Look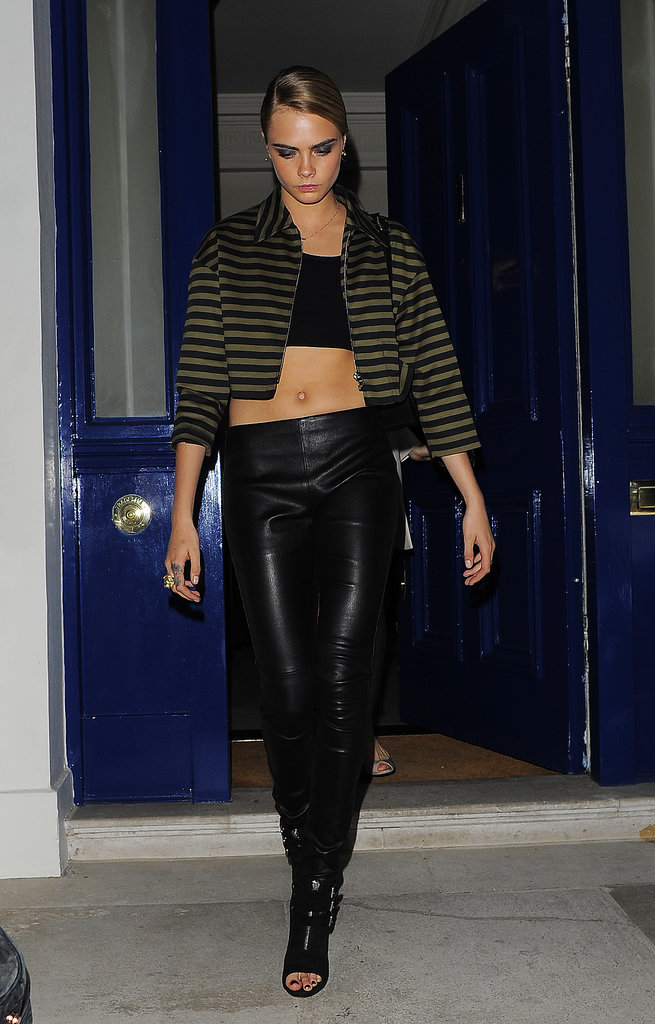 When the sun goes down, sexier looks come out to play. Cara ditched the jeans-and-boots look for a sleek pair of leather skinnies, a crop top, and ankle boots. To break up all that black, she reached for a striped statement jacket with a boxy fit that created an intriguing shape.
The Jacket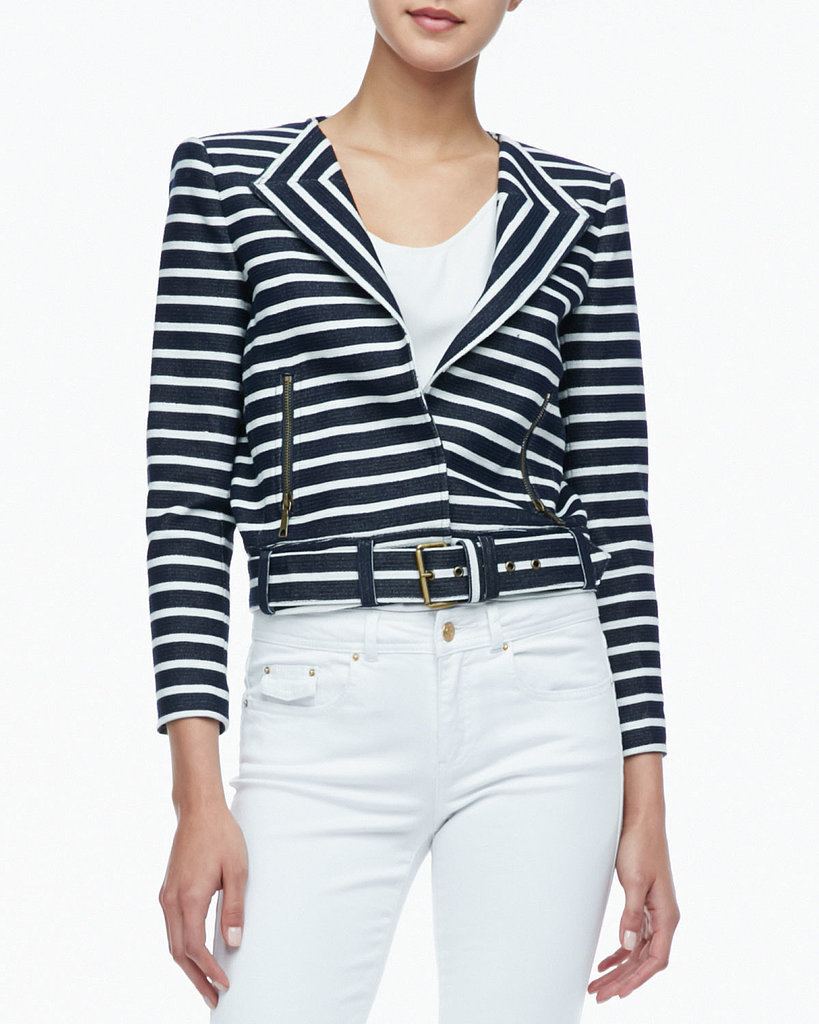 Pulling off a bold jacket [8] ($225, originally $375) can be tricky if the rest of your outfit involves loud prints or colors. If you want to wear it, model your look off of Cara's and use it to top an otherwise monochrome outfit.
The Crop Top
By now, you've likely seen a plethora of ways that the simple crop top [9] ($71) can fit into your wardrobe. For the most versatility, shop for a neutral hue.
The Pants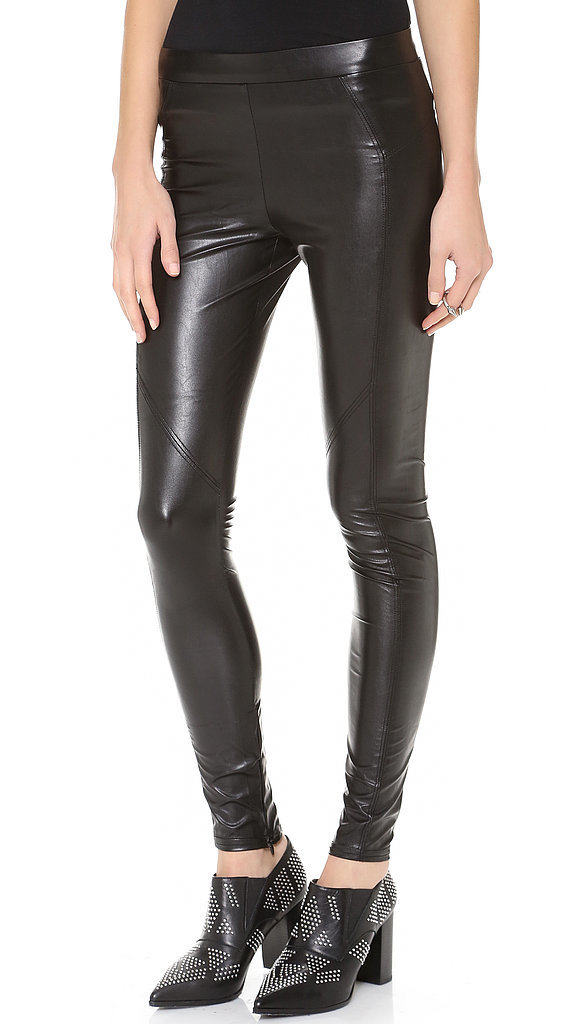 Adore the look of leather skinnies [10] ($135) but can't stomach the price tag? The popularity of the piece has meant that the market is flooded with options, including some really amazing faux pieces. Spend as much as you can afford for the most realistic look.
The Boot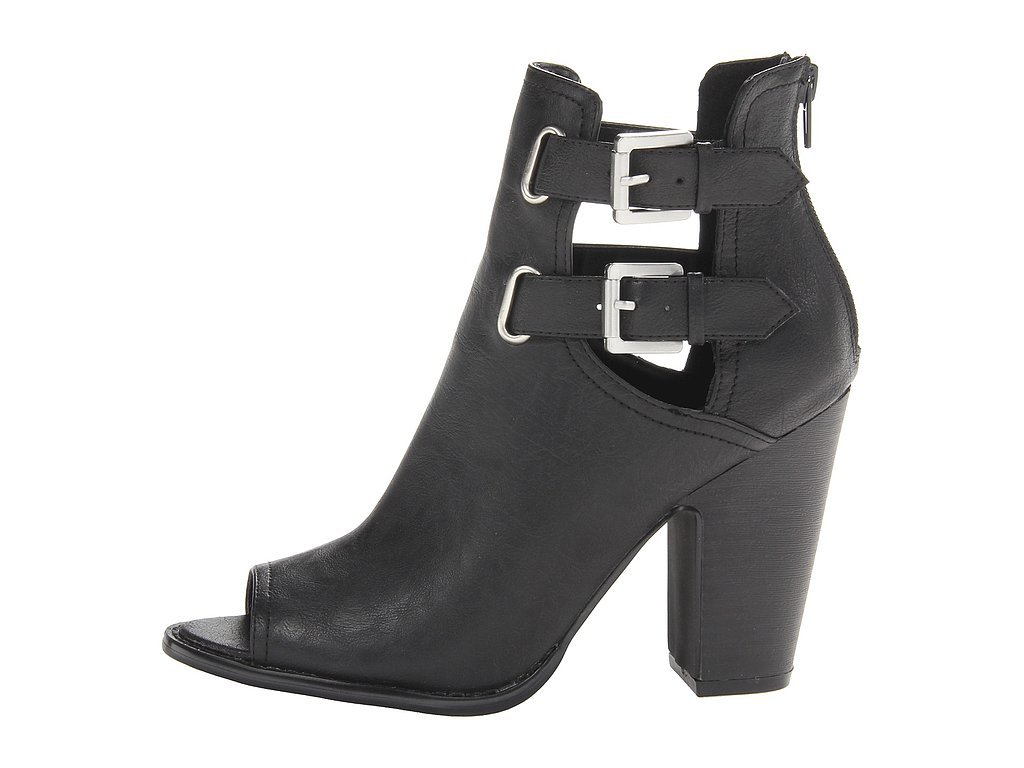 Chances are you already own a pair (or two) of black ankle boots [11] ($45, originally $79). But does yours have unique touches that can help make an outfit? Cara's pair features buckles on the side and an open front, taking the entire look places a simple pair couldn't.