Modeling for DKNY [1] is nothing new for Cara Delevingne — not only has she stomped its New York runway, but she's taken to the streets [2] (and cabs) of Manhattan to front its campaigns. So how do you top a Times Square photo shoot [3]? Cara has the answer: she's designing a DKNY capsule collection.
Of the partnership, Cara said in a statement "When I first came to NYC when I was 15 years old and saw the DKNY mural on Houston Street, I was wowed. To me, DKNY captured the essence of New York and set trends for young people everywhere." And not only will the collection capture DKNY's New York-centric vibe, it'll incorporate the quirky, cool aesthetic Cara's off-duty style is known for with everything from crop tops, hoodies, and jumpsuits to suiting. "I love to layer every which way," Cara detailed. "There are 15 pieces to play with — no rules, no 'looks,' just opportunities."
And although she's never one to shy from the spotlight [4], the model's stepping aside when it comes time to strike a pose for the curated collection. Because #CaraWantsYou [5]. She's putting out the call to her Instagram fans — yep, all 5.5 million of them — and asking followers to upload photos with the hashtag and #CaraD4DKNY ahead of the November launch. And when the contest ends on June 16, two or three lucky fans, male or female (yes, the collection is unisex) will help Cara mug for the camera in everything from $70 beanies to a $375 leather motorcycle jacket. Need inspiration? Watch Cara at work!
Source: Instagram user caradelevingne [6]
Behind the Scenes at Cara Delevingne's DKNY Shoot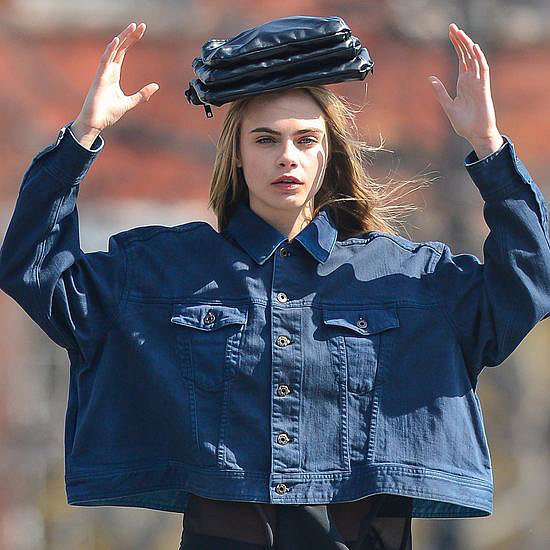 Cara Delevingne For DKNY