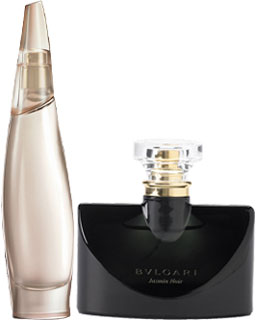 If you're a musk fan, there are a couple of new scents out right now that are sure to strike your fancy. The first,
Bulgari Jasmin Noir
($75), has a deceptively floral name, but 80 percent of the fragrance is a slow-developing musk that gets sweeter and lighter as it ages. It's interesting in that, for me at least, it aged backwards, opening with strong musk and moving on to a lighter, more modern floral. If you don't like mixing flowers with your musk, there's also
Donna Karan
's
Cashmere Mist Liquid Nude
($72). Nude scents
have been a trend recently
, but Liquid Nude is a standout. It opens with expensive French-milled bath soap, and then quickly shifts to a very realistic smoky leather accord before drying down to an incense/musk. Both fragrances were fun to smell, and pleasantly subtle, so if you're perfume sensitive or looking for something to wear at work, I recommend both.