Earlier this week, Forever 21 [1], the original fast-fashion destination, turned 30, a milestone that totally took us by surprise! Even if the brand didn't enter into our awareness until high school or so, it started as a one-stop shop in a Los Angeles suburb way back in 1984. After spending a good chunk of our earliest paychecks in its hallowed halls on tops for going out, flimsy dresses, and more jewelry than we can remember, it's still thriving (and more so than even teen us could've imagined — have you seen some of the gigantic stores it has??).
Now, to celebrate it the best way we know how, we searched through all of its offerings and came up with 30 pieces so impressive, we guarantee you could fool many a fashion-phile into thinking they're designer (and purchased for a much higher price, natch).
Forever 21 Chambray Colorblock Jacket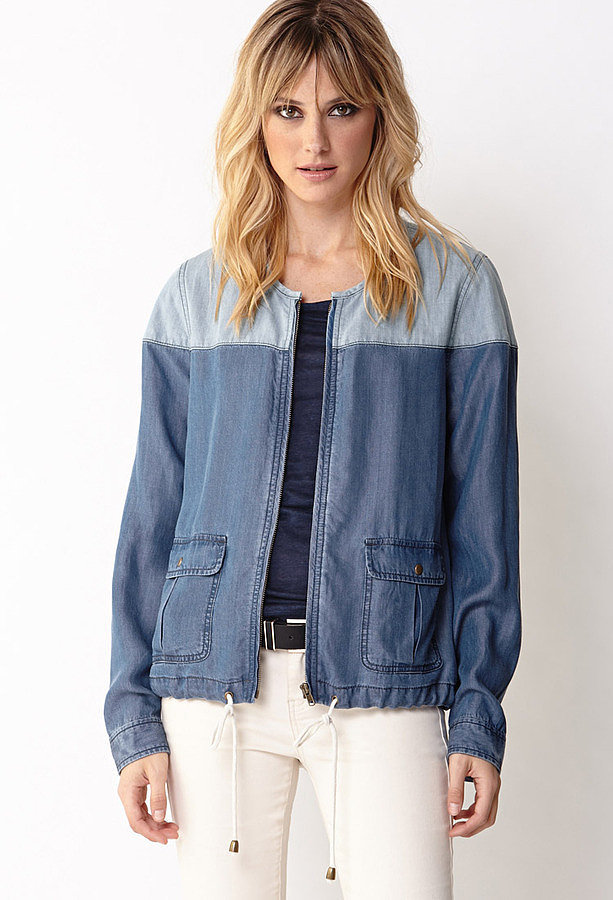 In our joy to shed the Winter coat, we often forget that still-brisk Spring can require a lightweight jacket. Make sure your closet's stocked with chic options like this chambray two-tone find [2] ($21, originally $30).
Forever 21 Printed Dress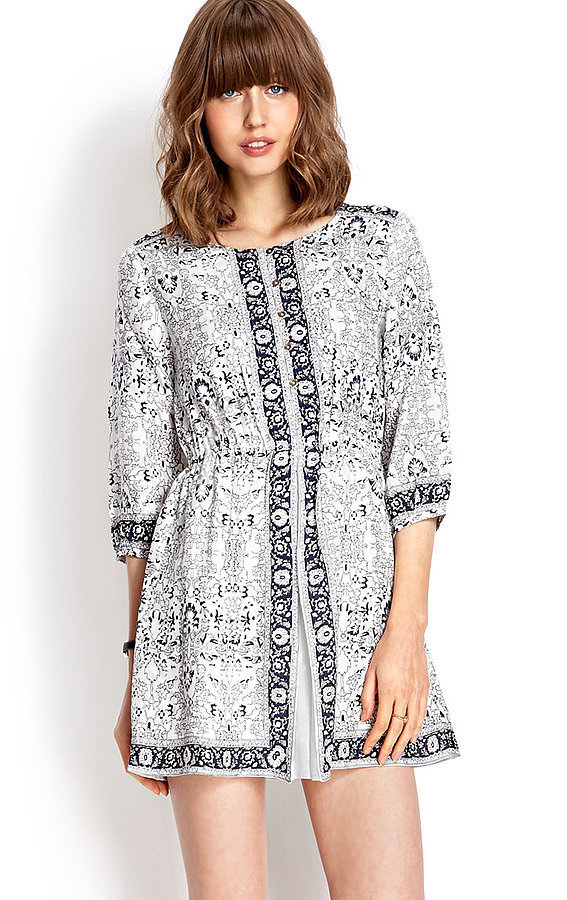 As beach coverup or day dress worn with flat sandals, this printed mini [3] ($25) is the sort of piece worthy of heavy closet rotation.
Forever 21 Bow-Neck Blouse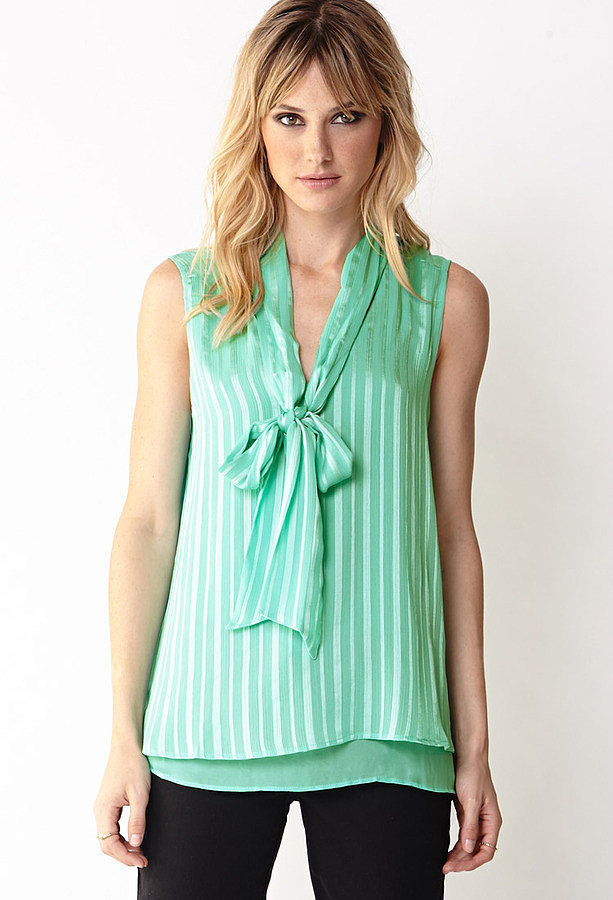 Forever a classic, the floppy bow at the neckline of this proper top [4] ($23) is a sweet touch that won't feel out of place with slacks at the office.
Forever 21 Muscle Tank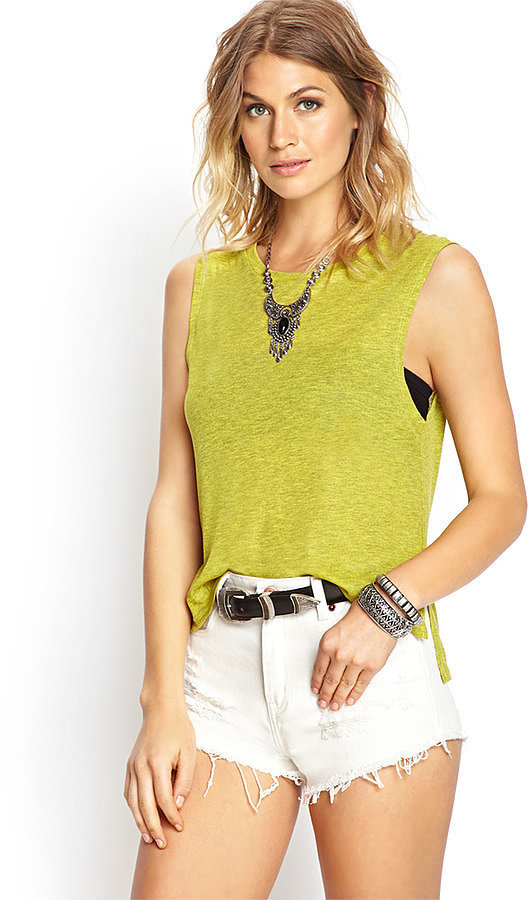 The staple cotton tank [5] ($10) is just the sort of item that you'll reach for more often than you know, both for throwing on with a bikini and cutoffs or tucking into a pair of high-rise denim.
Forever 21 Pink Lace Miniskirt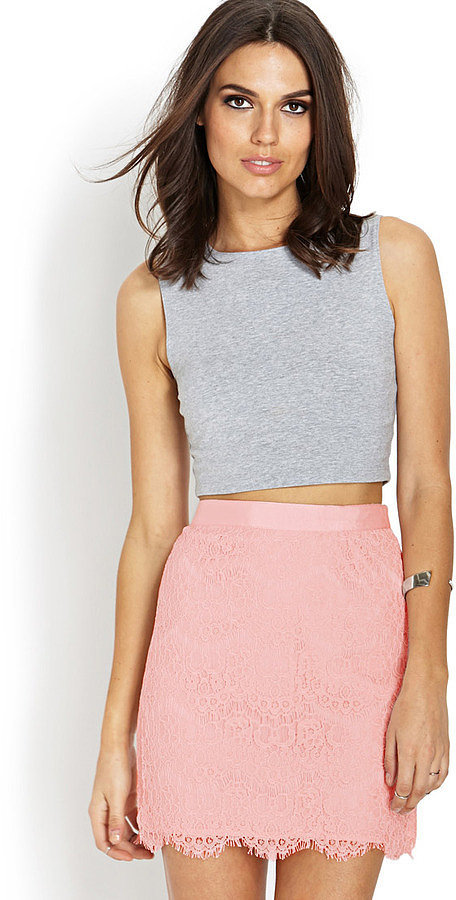 Dressed up or down, this dainty lace skirt [6] ($20) is the sort of piece that'll become invaluable in your wardrobe.
Forever 21 Day-Off Tank Top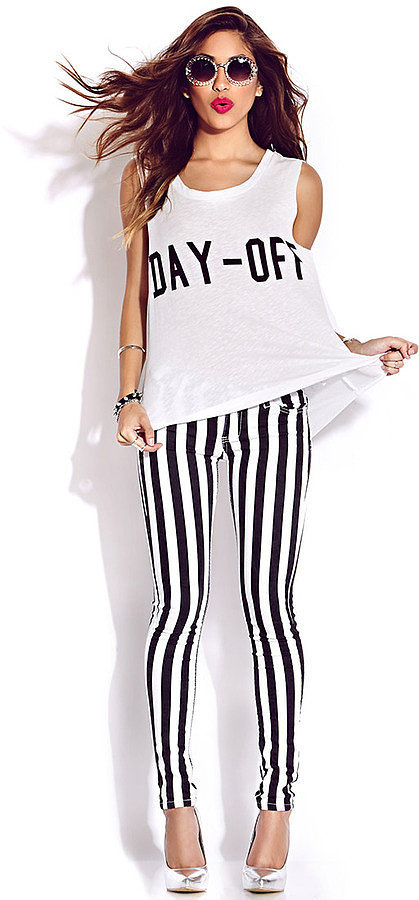 Because there's no age limit on cheeky slogan tanks [7] ($12, originally $15).
Forever 21 Black and Gold Ankle Boots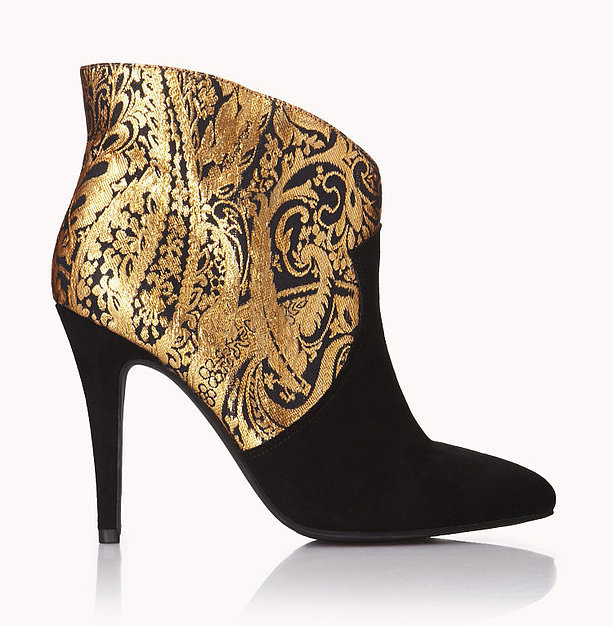 Ankle boots might be the hardest working shoe out there, but with a splash of gold, this pair [8] ($24, originally $40) is on another level.
Forever 21 White Lace Tee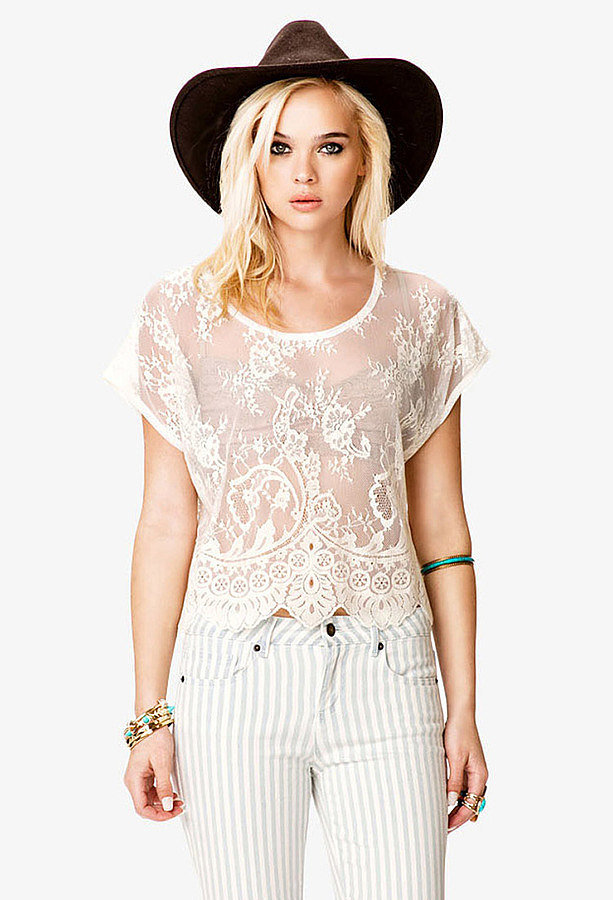 Feminine lace is always in, and done in white, it's especially appropriate for the warmer months. Try a familiar t-shirt shape [9] ($18) done in the ladylike fabric.
Forever 21 Sparrow Dress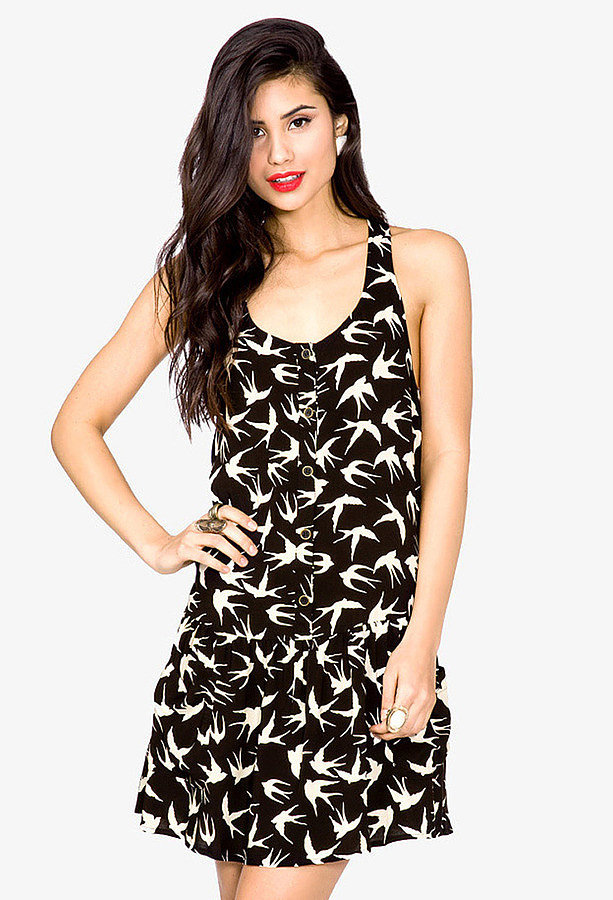 After seeing Taylor Swift in her fair share of sparrows [10], the print always turns our head. We love this opportunity [11] ($20) to get the same vibe without spending a fortune.
Forever 21 Striped Lace Dress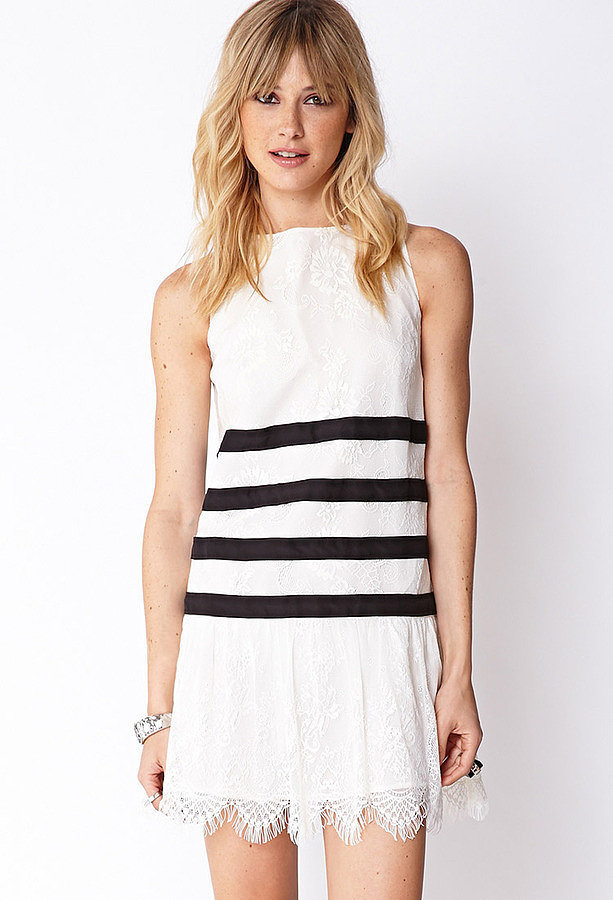 Lace and stripes combine in this drop-waist style [12] ($30) for an unusual sweet-preppy vibe that we love.
Forever 21 Angular Shift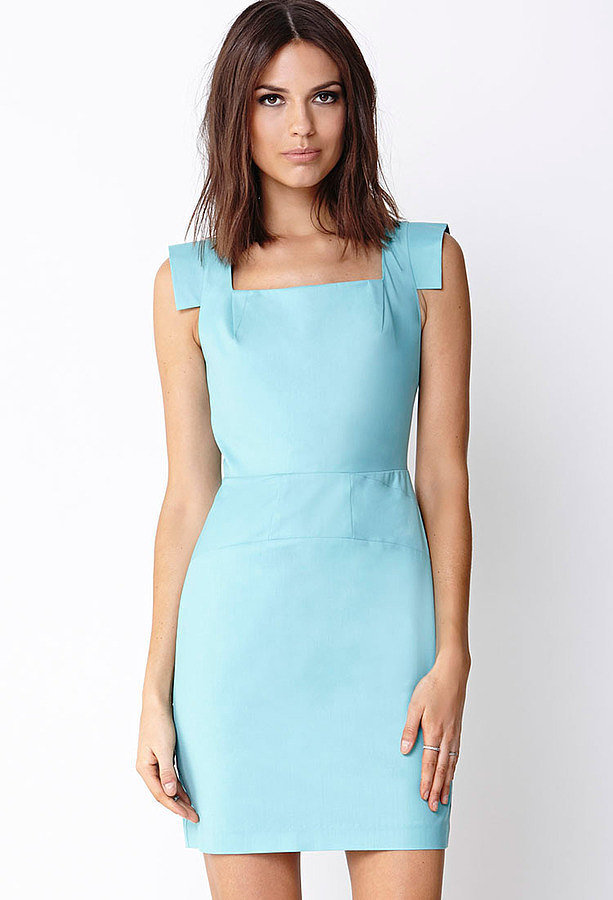 Occassionally it feels like we keep wearing the same thing to the office, over and over. Happily, the price tag on this sophisticated dress [13] ($18) is so low, there's no excuse not to mix things up.
Forever 21 Blue and White Tie-Dye Tank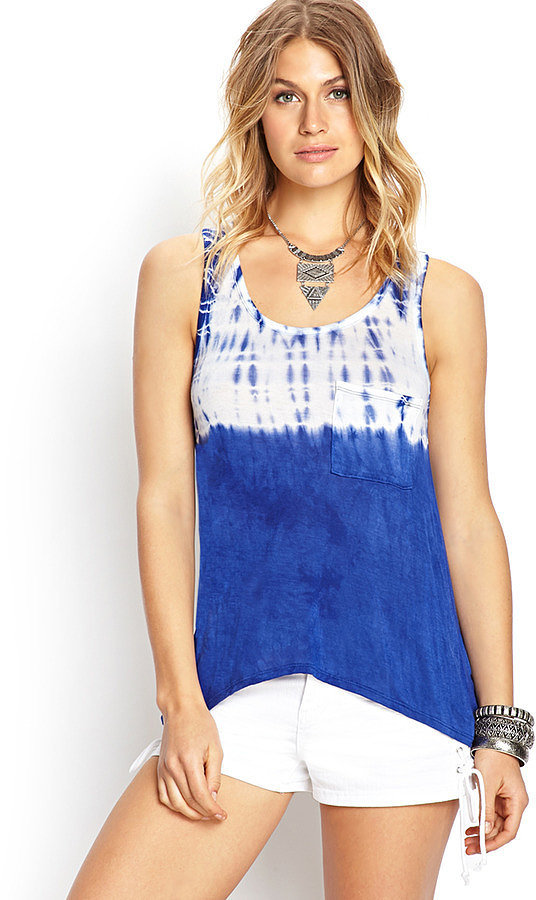 The hippie print of your summer-camp youth is back and ready for wearing in adulthood. Pair this tank [14] ($16) with a pair of skinny white jeans for a fun Spring look.
Forever 21 Oversize Blue Button-Down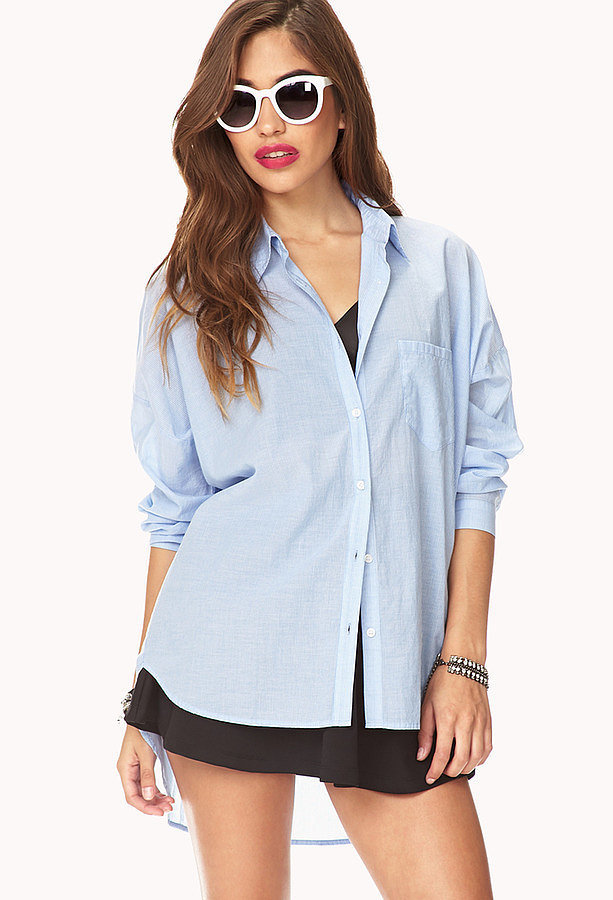 Getting the boyfriend fit just right can be tricky — you want oversize but not to be swimming in it. Avoid the problem by buying one [15] ($18) that's actually made for you.
Forever 21 Kimono Jacket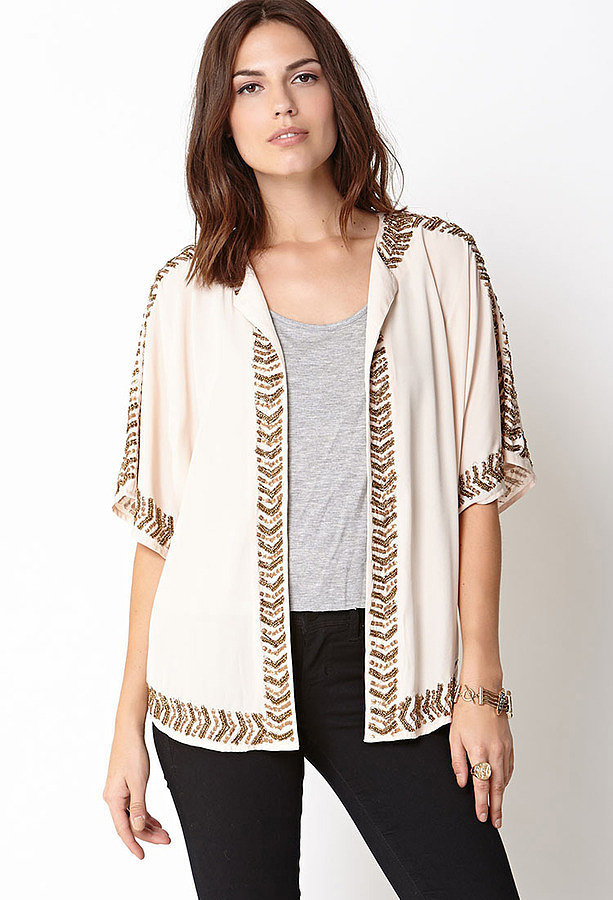 Top tanks and tees with a lightweight kimono-style jacket [16] ($40) — it's a very music festival fashion icon [17] thing to do.
Forever 21 Patchwork Denim Miniskirt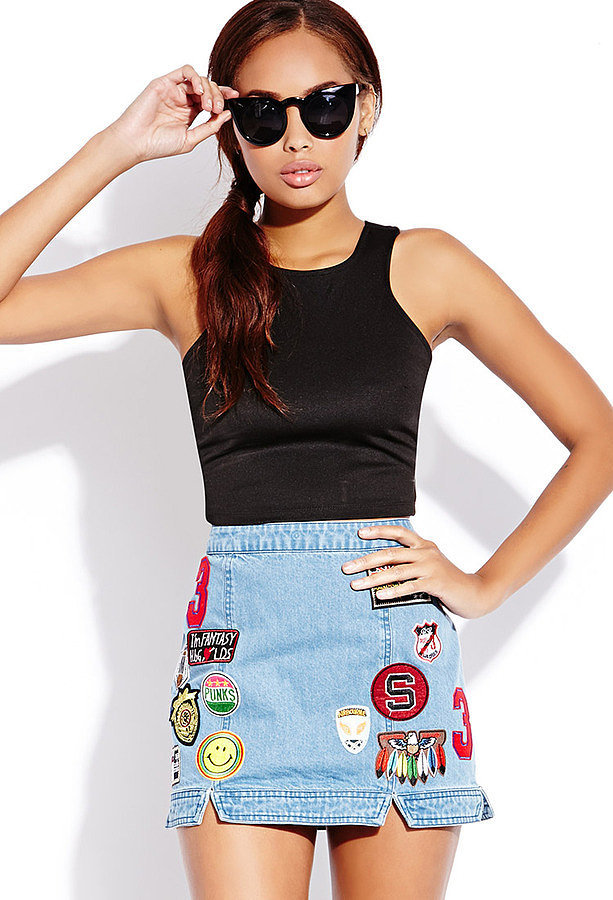 The bold patches on this thigh-skimmer [18] ($26, originally $33) make your run-of-the-mill denim mini look downright boring.
Forever 21 Gold Peter Pan Collar Necklace
Cheap-looking rhinestones can give an inexpensive piece of jewelry away, but when it's all metal like this collar [19] ($8, originally $11)? Way harder to tell whether you shelled out the big bucks or not so much.
Forever 21 Gray Romper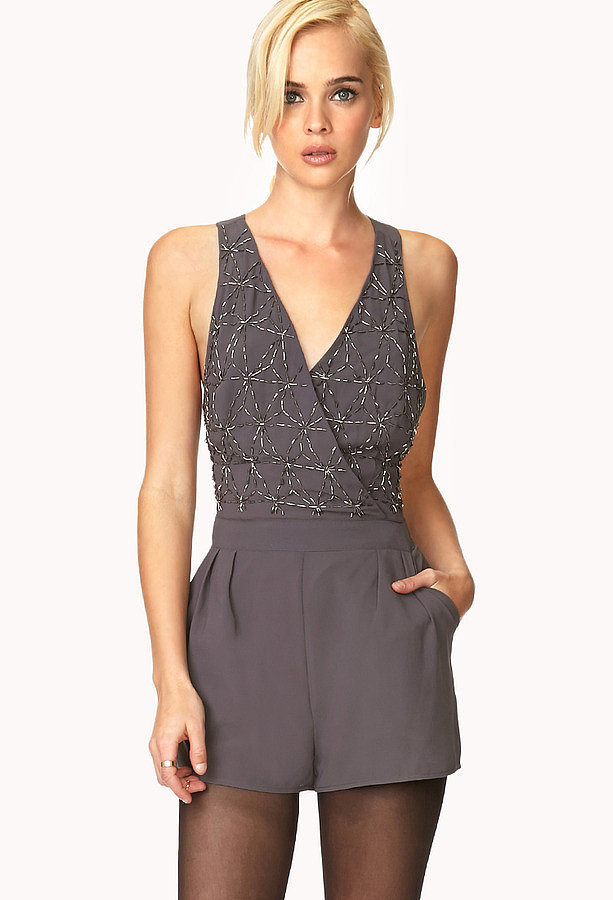 For a unique take on a night-out look (and one that's supersimple), look no further than this one-piece style [20] ($30).
Forever 21 Sweatshirt With Zippers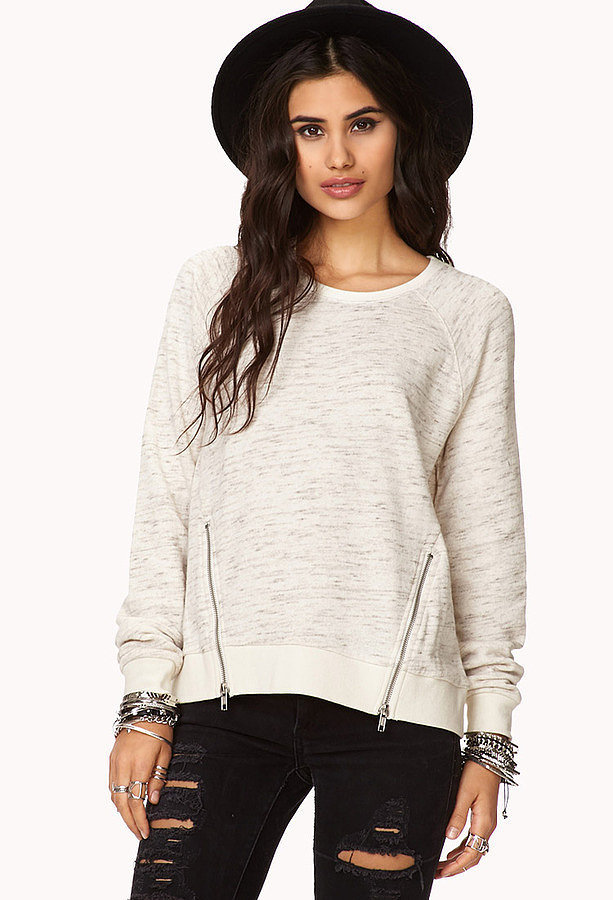 Even if your shelves are filled to capacity with simple sweaters and sweats, we're willing to bet you don't have one with front zippers [21] ($20) yet.
Forever 21 Brown Leather Sandals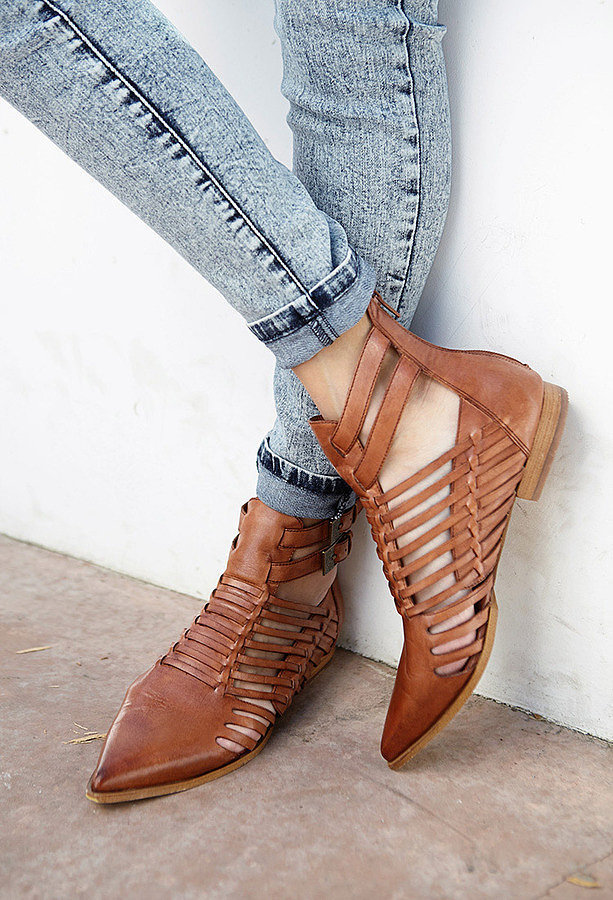 Now that the Winter boots are officially stored away, we can't get enough sandals. One more pair [22] ($60) surely wouldn't hurt, right?
Forever 21 Livin' La Vida Broka Sweatshirt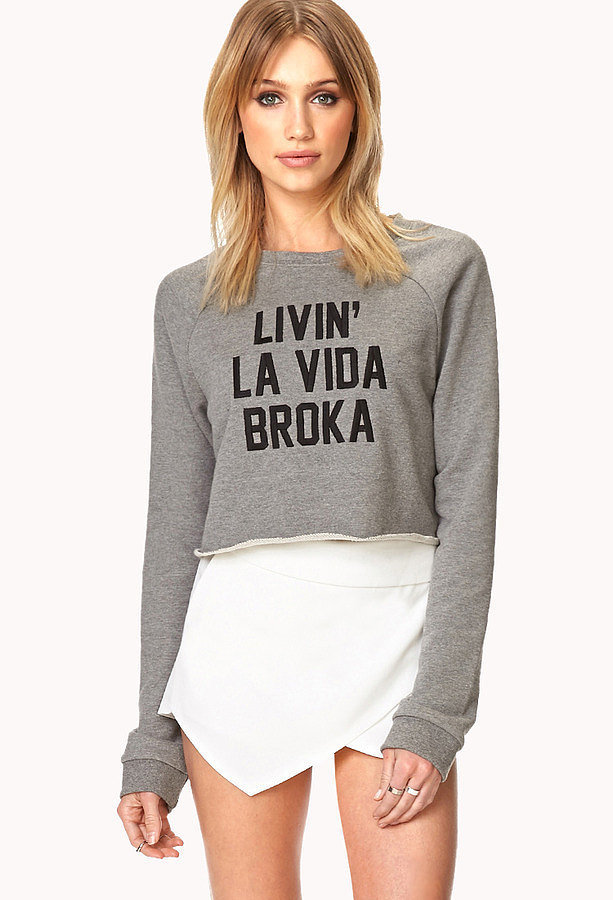 No lie, this graphic sweatshirt [23] ($18) actually made us laugh out loud.
Forever 21 Pink Polka-Dot Dress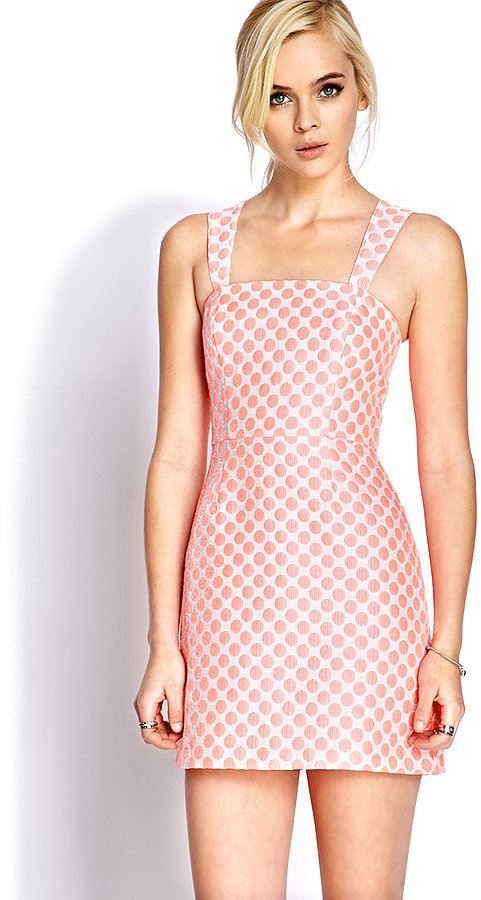 For drinks or a Spring wedding [24], the coral hue and textured fabric of this dress [25] ($25) make it look like it's carrying a way bigger price tag.
Forever 21 Quilted Jacket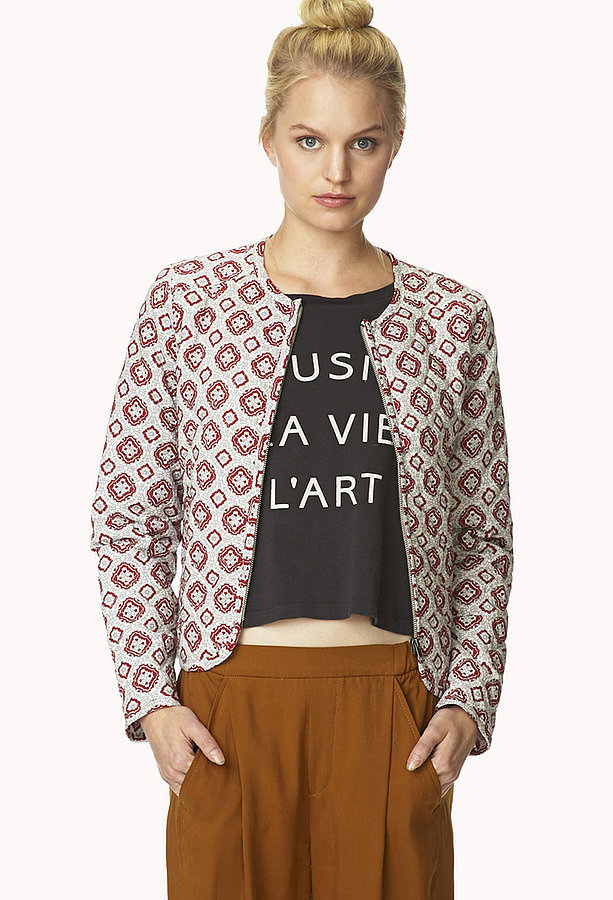 We've never met a quilted jacket we didn't like, including this boho-perfect pick [26] ($21, originally $30).
Forever 21 Red Crop Top
The trick to the crop top? Look for one with thick straps [27] ($13) up top to avoid showing too much skin and a fit that's snug but not smothering.
Forever 21 Red Dress With Sheer Neckline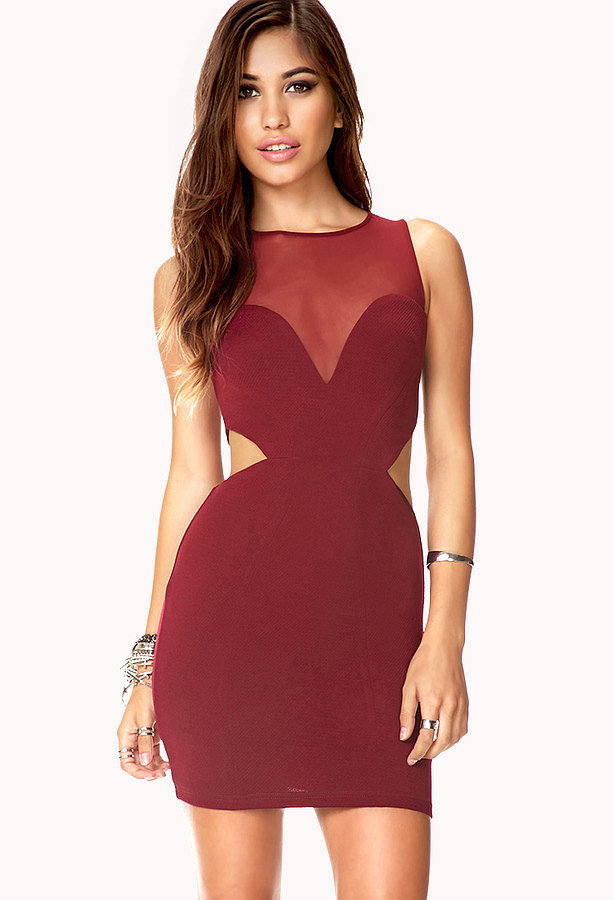 Keeping a sexy, date-worthy dress [28] ($30) in the closet is always a smart move (even if the best time it sees is girls' night out with the ladies).
Forever 21 Cutout Sweatshirt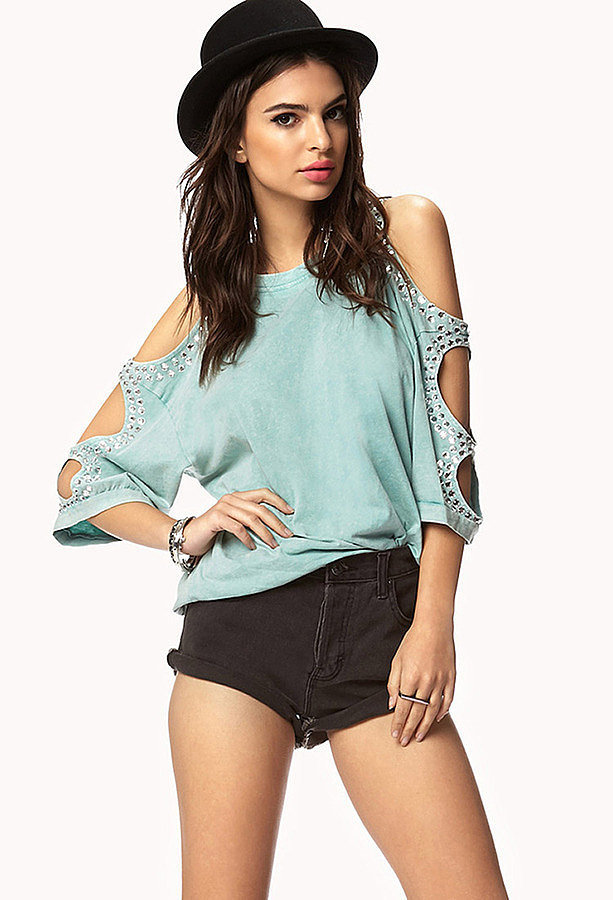 With jewels turning the typically casual sweatshirt a little bit fancy [29] ($30), we smell some runway inspiration but not so much that it's a turn-off.
Forever 21 Striped Baseball Tee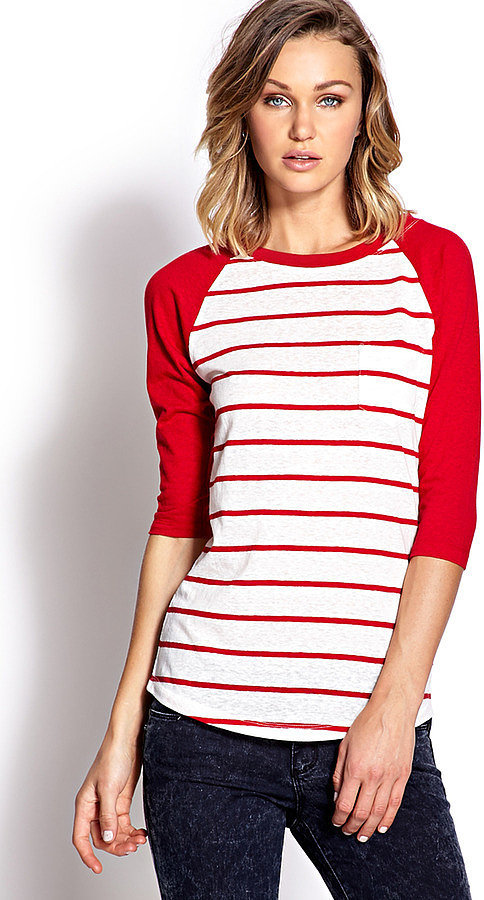 Like classic Americana on your bod, the baseball tee [30] ($10) isn't going anywhere.
Forever 21 Rolling Stones Tank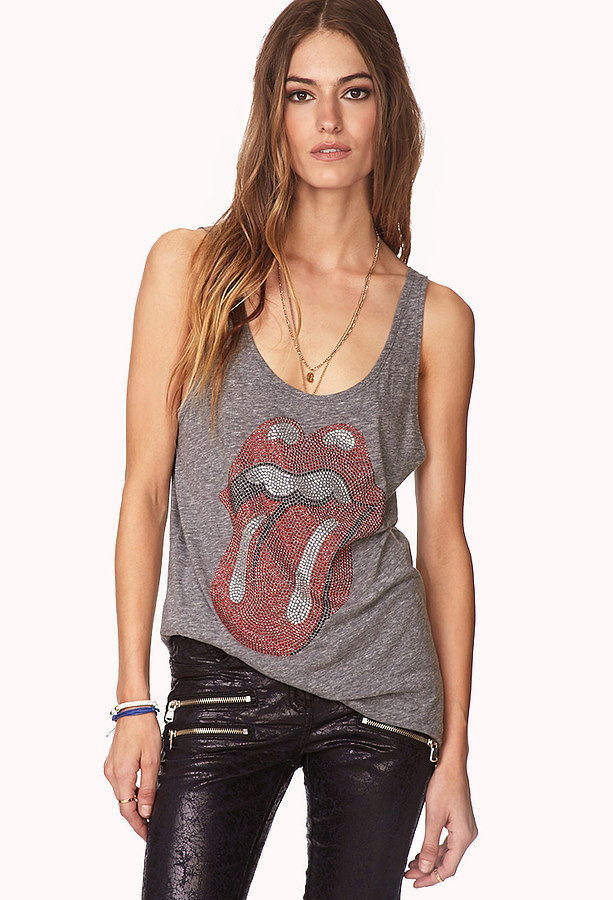 There's an immediate nonchalance that comes with pulling on a vintage-esque band tee [31] ($18); get your dose for less.
Forever 21 Red Long-Sleeve Dress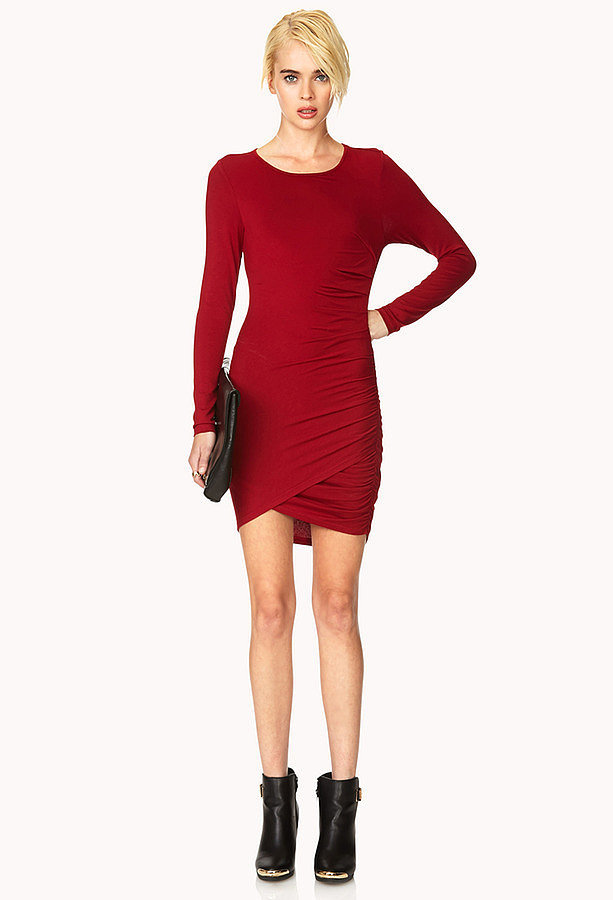 A would-be basic dress [32] ($20) feels special thanks to a wrapped bottom half that turns the entire look a tad sultry.
Forever 21 Jersey T-Shirt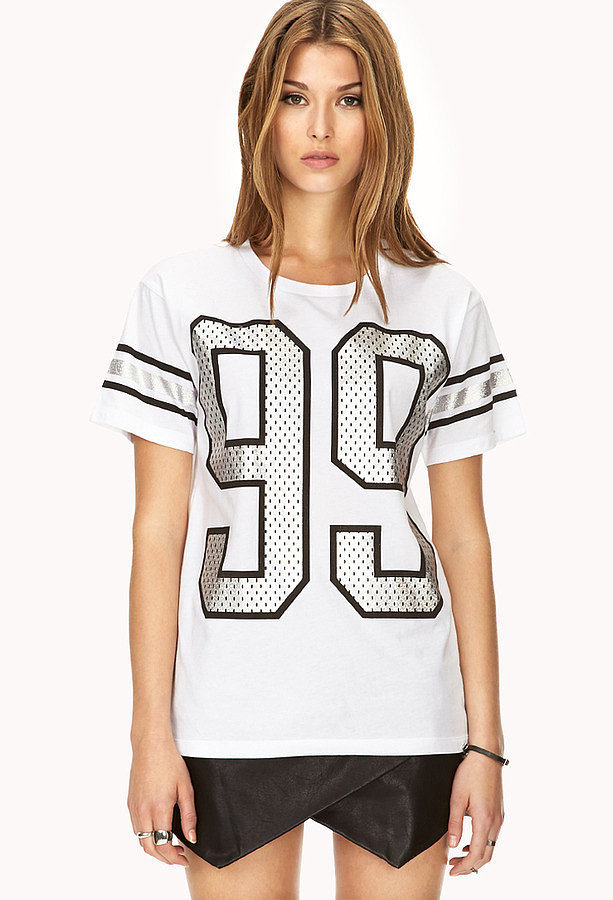 The no-brainer way to include Spring's sporty trend into your outfit lineup? A jersey-inspired tee [33] ($14), best worn boxy and with a girlie bottom.
Forever 21 Tie-Dye Tank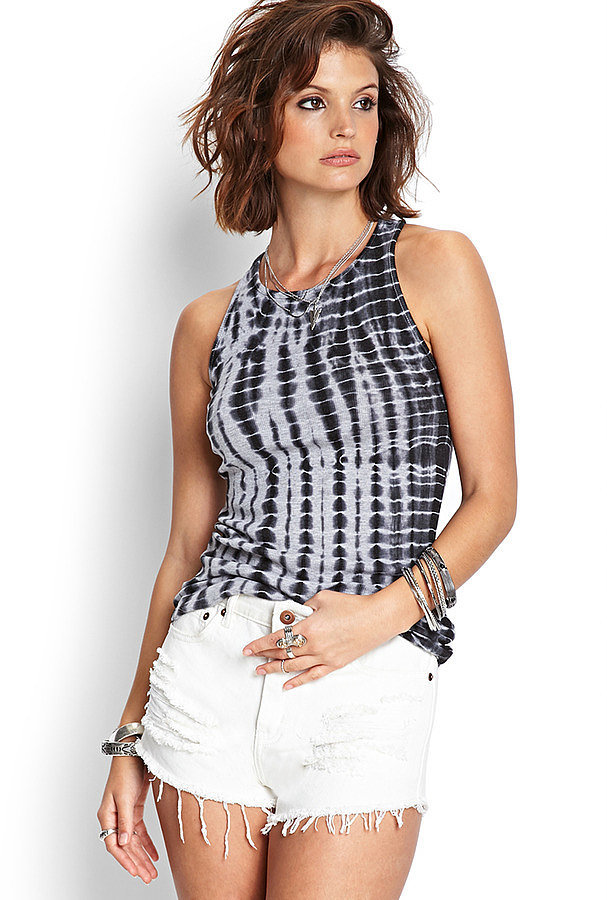 If your favorite outfits routinely involve a basic tee or tank, add some energy with the same shape [34] ($14), but done in a vivid print.