Beyoncé has officially been named an influencer [1] — not that we didn't already know that. After all, Bey doesn't follow trends, she starts them. To quote Sheryl Sandberg, who wrote Mrs. Carter's profile for the Time 100 issue, "Beyoncé doesn't just sit at the table. She builds a better one."
And that applies to everything she does AND wears. Be it for the red carpet, on stage, or in her personal life, Beyoncé has built an entire workshop of tables when it comes to influencing celebrity style. They don't call her an influencer for nothing!
Source: Time [2]
Sexy Gowns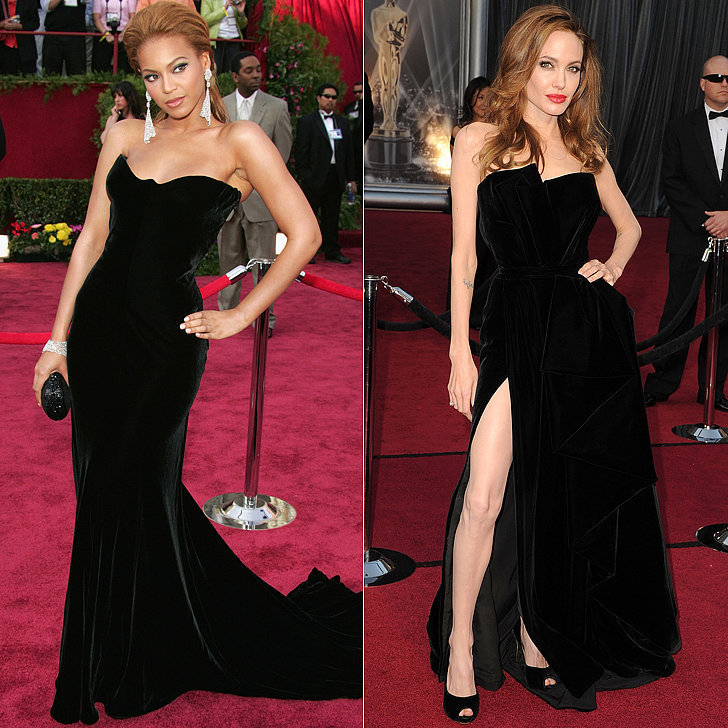 Remember that time Angelina Jolie [3] wore a black velvet Versace [4] gown to the 2012 Oscars and it's all anyone would talk about for the next few months? Too bad Beyoncé pulled the same trick (also in Versace) at the 2005 Academy Awards — and she didn't even need to show leg to get us buzzing.
Onstage Leotards
The reason Miley can't stop, won't stop? We'll bet it has something to do with Beyoncé (and we can think of more than a few other names we could include in that assertion). Beyoncé owned the leotard at the 2009 MTV Video Music Awards, and Miley has picked up where she left off on the Bangerz tour.
Hot Mama Dresses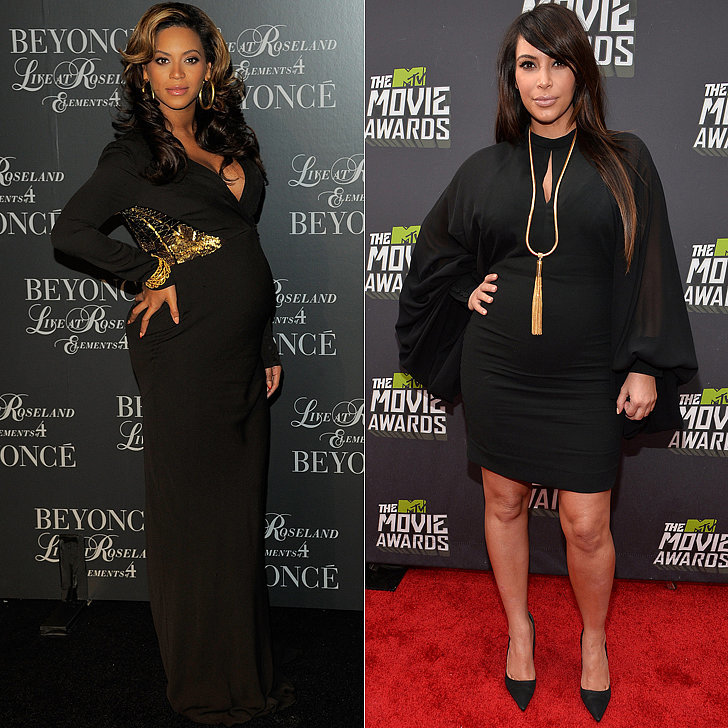 Lest you thought Beyoncé would resign herself to caftans and billowy blouses when she was pregnant in 2011 with Blue Ivy, she recommended you think again. When she arrived for a screening of Live at Roseland: The Elements of 4, gold elements on her sculpted Roberto Cavalli [5] gown not only contoured her curves, they emphasized them. We've always said that Kanye influences Kim Kardashian's style [6], but when we look back at her 2013 MTV Movie Awards Saint Laurent [7] look, we realize where the impulse to highlight her baby bump with metallic accents came from.
All-Over Sparkle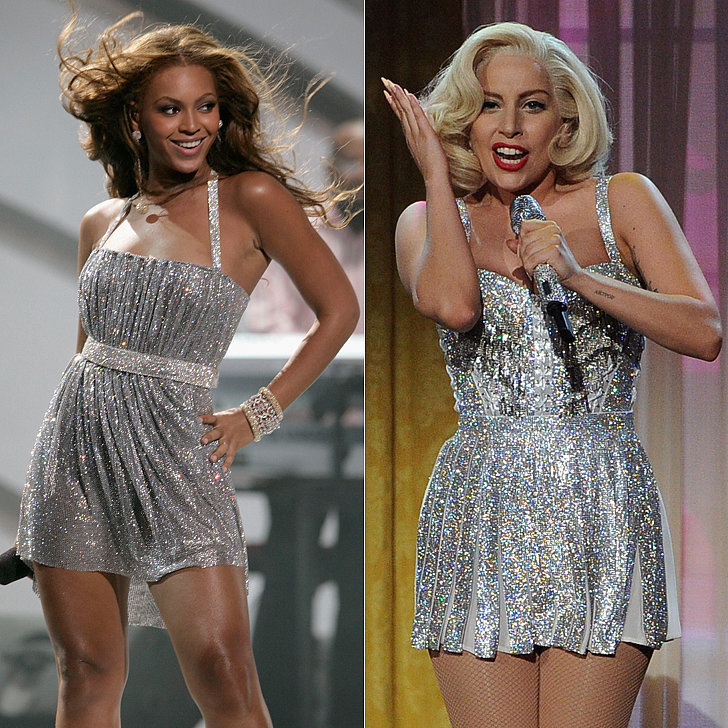 You want shine? Beyoncé's got your shine. And she proved that less is far from more when she hit the 2005 World Music Awards in silver. Lady Gaga [8] took note when she recycled the effect during her 2013 Saturday Night Live hosting duties.
Leggy Minis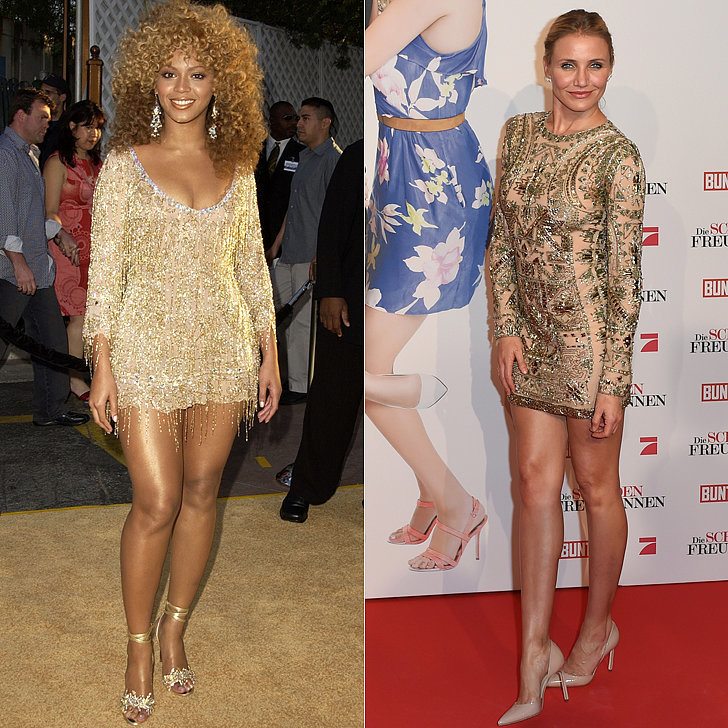 On stage isn't the only place Beyoncé shines. When it comes to the red carpet, nobody (not even the flawless Cameron Diaz [9]) can knock the power of Beyoncé in a mini, least of all a fringed gold mini like she wore to the 2002 premiere of Austin Powers: Goldmember.
Courtside Heels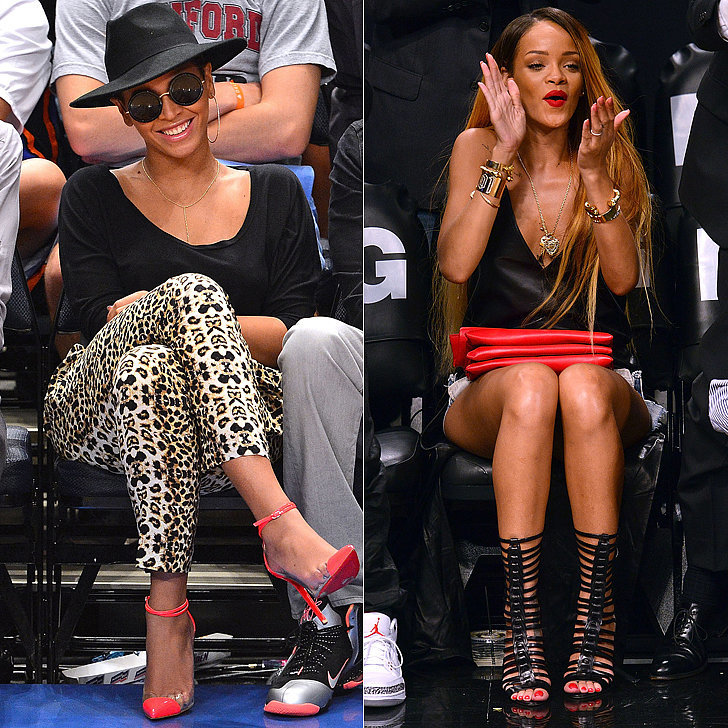 Slam dunk. Beyoncé nailed her bleachers game [10] years ago, and it was just everyone's job to catch up with the power player. Rihanna [11] took a page from Beyonce's book when she cheered on her team at a May 2013 game, because this is one heel lover who knows that sitting is the perfect opportunity to flaunt some serious footwear.