Iconic Brands Quiz 2011-08-03 12:00:03
Do You Know These Iconic Styles?
Your fashion prowess is measured in many ways: your style, your knowledge of current events and trends, and lastly, your expertise in fashion history. You may recognize an iconic item, but do you know its name, designer, or origin? Along those lines, we're testing you on some of the industry's most notable heritage brands — think iconic shoes, jewelry, and clothing that have helped define style over the years. Think you've got what it takes? Take the quiz and find out!
1 of 10
Which French label is behind this luxe logo tote?
Longchamp
Goyard
Hervé Chapelier
Celine
2 of 10
These iconic shades were born in 1952, and recently experienced a resurgence — what are they called?
Sundogs
Knockarounds
Wayfarers
Oakleys
3 of 10
Which label is behind this iconic striped tee?
J.Crew
Saint James
Petit Bateau
Brooks Brothers
4 of 10
Which label is behind this iconic jacket, now worn by the likes of Alexa Chung?
Mulberry
Burberry
Eddie Bauer
Barbour
5 of 10
First produced and marketed as a basketball shoe in 1917, these canvas sneakers are synonymous with what brand?
Converse
Keds
All Stars
Tretorn
6 of 10
These iconic platforms are called?
Triboo
Lady
Tribute
Pigalle
7 of 10
These iconic waterproof boots were first sold to hunters in Maine in the early 1900s; what is their official name?
Duck Boots
Bean Boots
Hunter Boots
Maine Boots
8 of 10
Who makes this famed piece of jewelry?
Cartier
David Yurman
Gucci
Hermès
9 of 10
Which company is responsible for popularizing these boots in the 1980s?
Dr. Scholl's
Hunter
Dr. Marten
Vans
10 of 10
This popular Open Heart Tiffany pendant was designed by . . .
Frank Gehry
Elsa Peretti
Paloma Picasso
Jean Schlumberger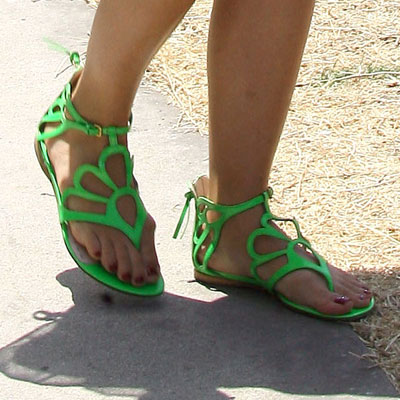 next slidequiz
Can You Identify the Celeb by Her Fab Accessories?