Jaime King at Rachel Zoe Party October 2012
Jaime King's Purple Skirt Is Perfect For the Office — and Beyond
Jaime King looked every part the festive style setter — in head-to-toe Christian Dior Fall 2012, no less — at the launch of Rachel Zoe's must-haves range with Jockey last night. And while the holiday party circuit is still a little ways off, we're looking to Jaime's ensemble for easy day-to-night styling inspiration. Even with its undeniably purple-lovers' slant, you might be surprised at just how simple it is to emulate her bold attire for work (and beyond). No, seriously.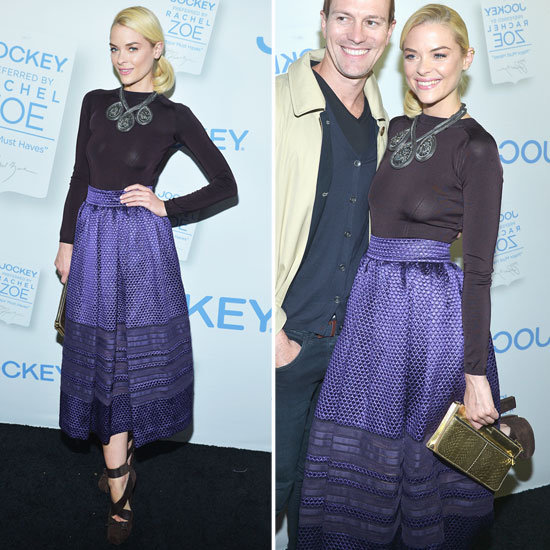 She paired a dark long-sleeved eggplant-hued top (but we think a classic black version would work just as well) with a midi-length skirt, which highlighted her svelte frame with a ladylike twist. But let's be honest, body-con or fit-and-flare, the silhouette took a back seat to the skirt's double dose of purple prettiness and textural intrigue, showing that, in this case, the key to a really stunning evening outfit can be pinpointed to just
one
standout piece. What's more, we're pretty sure that if you swap out her ballerina pumps for a low-key black heel, you could wear this to the office, no problem. If your 9 to 5 calls for less flair, skip the necklace and opt for gold stud earrings instead. Then, when it's time, ramp up the evening appeal by turning your attention to those eye-catching accents once again. If you're a fan of the
Hart of Dixie
starlet's accessory choices, follow suit. If not, try a jewel-encrusted bib necklace and pointy-toe black patent leather pumps for a similarly cool finish. You can have some fun with the final touches, especially since that purple skirt holds its own. Ready to take your work wardrobe to cocktail hour with a little help from Jaime's latest look? Shop our editors' picks below for the outfit essentials.