Jessica Chastain's Oscar Dress Shopping
Go For Baroque: Shop Dresses Inspired by Jessica Chastain's Gorgeous Oscars Gown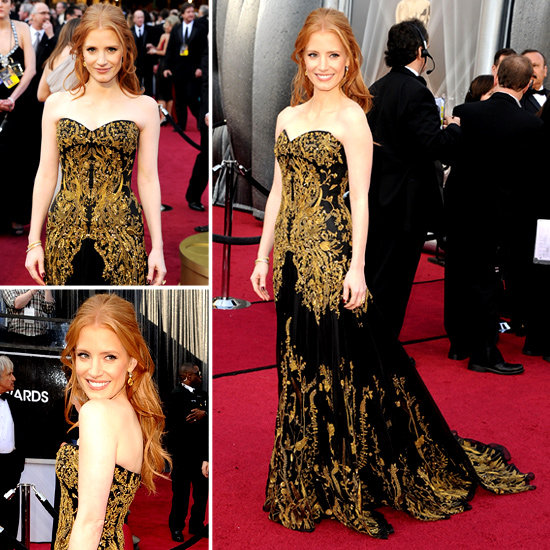 Though there are many things that make us wish we could have been on the Oscars red carpet — Gwyneth's cape, Angelina's infamous right leg,
George Clooney
's everything — high on that list was the opportunity to see Jessica Chastain's gorgeous
Alexander McQueen
gown in person. On television it looked so stunning, so elegant, so opulent, that we could only imagine how it appeared up close. The actress, who was nominated for her performance in
The Help
, showed up to the event (with her nana, no less) looking every bit the movie star; she donned Harry Winston jewels and a loose yet sophisticated half-updo, and smartly let her Baroque, gothic-inspired gown steal the show. Black is an obvious choice for evening, but one that can be easily jazzed up through your shoes, jewelry, and accessories. When you find a dress as statement-making as Jessica's, you rarely need any extra accoutrements. We've picked some similar options for your next fancy fête — click the widget below to see and shop them now.