Let's let out another cheer for Kate Middleton, please — ahead of her upcoming trip to Australia and New Zealand [1], our favorite Duchess hit up a local Gap [2], where, according to The Daily Beast [3], she spent time browsing the children's section and picked up two pairs of pants for herself.
While we're sure her selections were spot-on (because when have they not been [4]?), we took the time to scour the latest Spring items to hit the retailer and rounded up 11 we'd love to see in her closet. Or ours, for that matter. In case you need something to sweeten the deal, you can get 35 percent off your purchase through April 2 with code SAVE.
Source: Getty [5]
Gap Floral Sateen Sleeveless Dress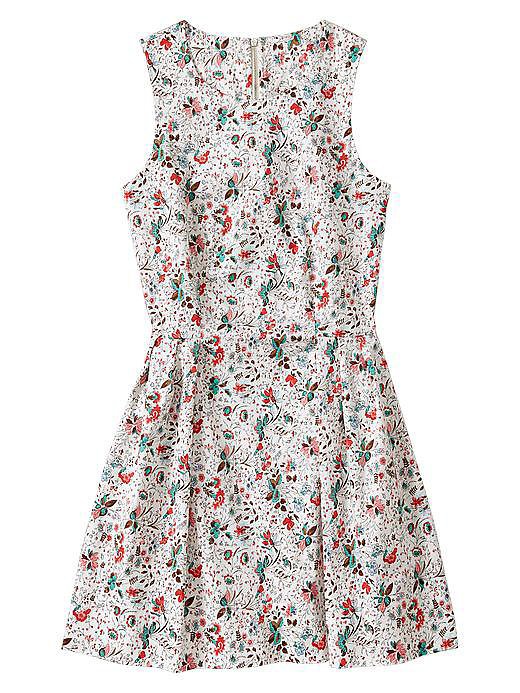 With a ladylike fit and sweet floral print, this dress [6] ($70) practically screams Kate's name.
Gap Fitted Blue Gingham Button-Up
Retro gingham is poised for a surge of popularity this Spring. How good would this top [7] ($50) look tucked into dark denim?
Gap Pastel Colorblock Leather Clutch
Come to think of it, we've never really seen Kate out with a heavy, oversize bag. This soft, pastel colored clutch [8] ($40) would make a nice addition to any outfit she puts together in upcoming months.
Gap Long-Sleeve Black Oxford Fit-and-Flare Dress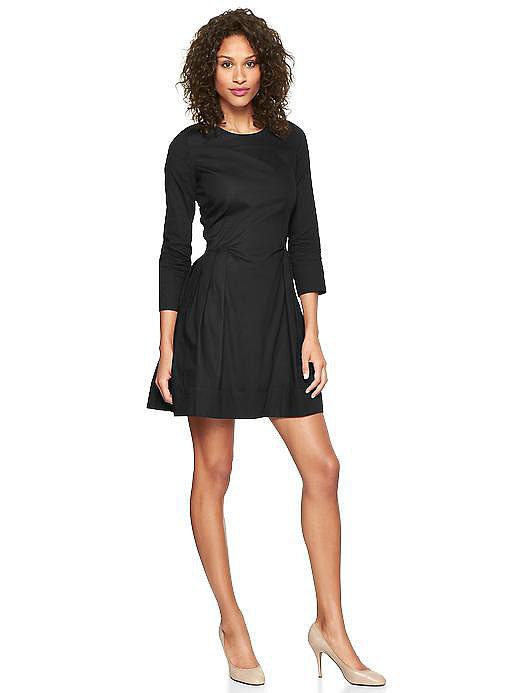 While we love Kate in prints, she always looks striking in dark solids, too. The old-school cut of this dress [9] ($70) would look great on her.
Gap Silver-Stripe Dobby Fit-and-Flare Dress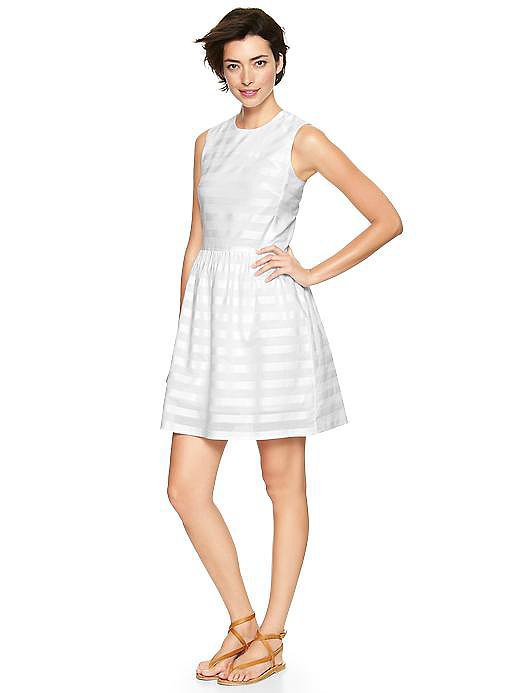 And for days when she does want to indulge in a little bright, printed action? We'd suggest this silvery striped number [10] ($70).
Gap Colorblock Raglan Baseball-Sleeve Shirt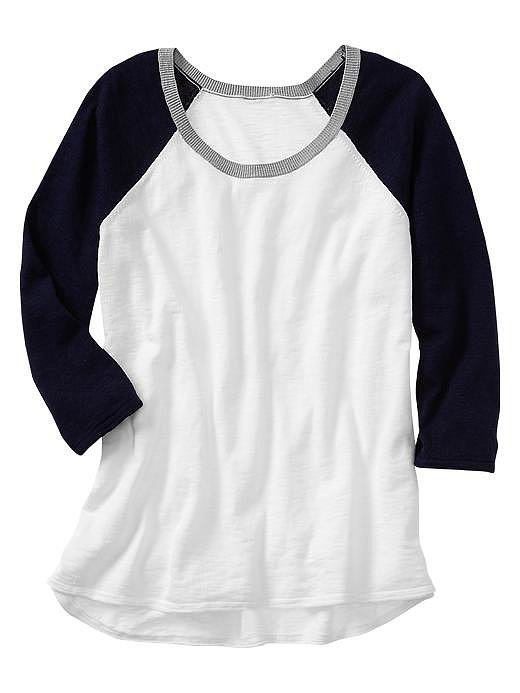 Though we most often see Kate dressed up and out on official engagements, you can't convince us she doesn't wear comfy duds around the apartment. And, in our mind, a girl can never have too many baseball tees [11] ($40)!
Gap Navy-and-White Polka-Dot Pointy-Toe Flats
We know the duchess is a fan of sensible shoes and the polka dot print on this pair [12] ($40) are a sweet throwback to the dress she wore when introducing us to baby George [13] for the first time.
Gap Printed Sleeveless Shirtdress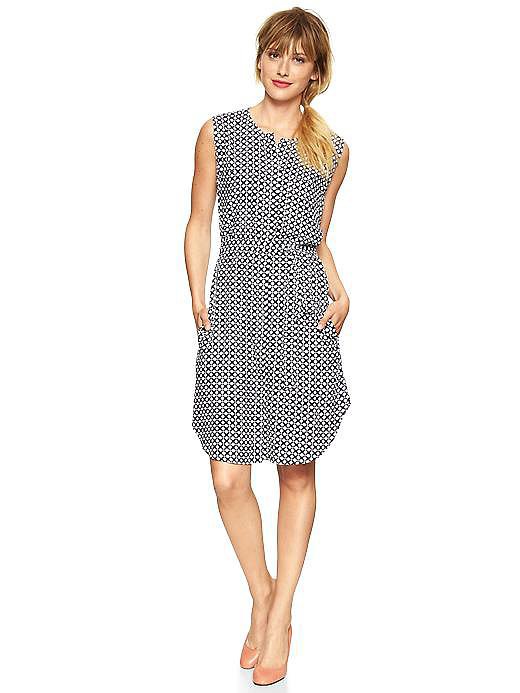 Even if the royal dress code doesn't typically call for sleeveless dresses, this one [14] ($60) is so practical, we think it warrants a spot in her Australia tour wardrobe (and she can top with a tailored blazer!).
Gap Skinny-Stripe Boatneck Sweater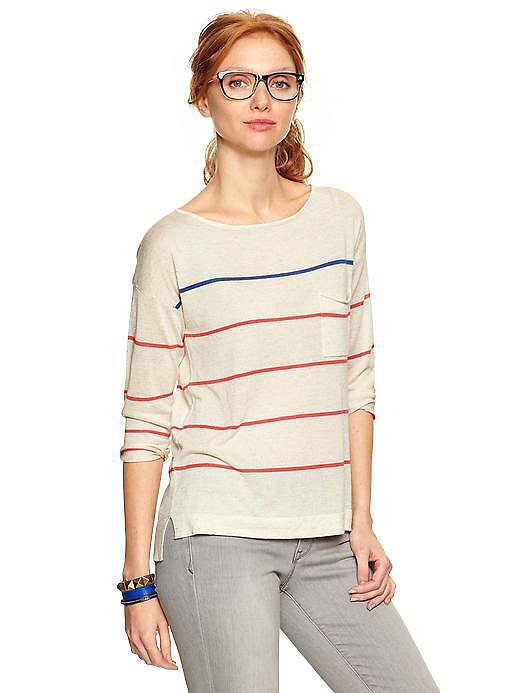 Another comfy, casual top for lounging or playing with George. The skinny stripes on this boatneck knit [15] ($45) have a retro feeling we love.
Gap Navy-and-Pink Rugby-Stripe Miniskirt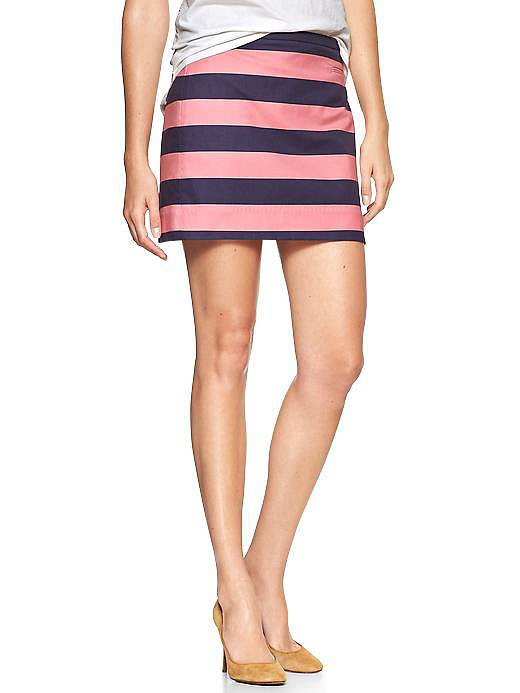 OK, we're sure the queen wouldn't approve [16] of this mini [17] ($50), but it was too cute not to at least suggest. Plus, Kate's toned gams and preppy leanings make it a natural fit.
Gap Thick Blue-and-White Stripe Oxford Shirt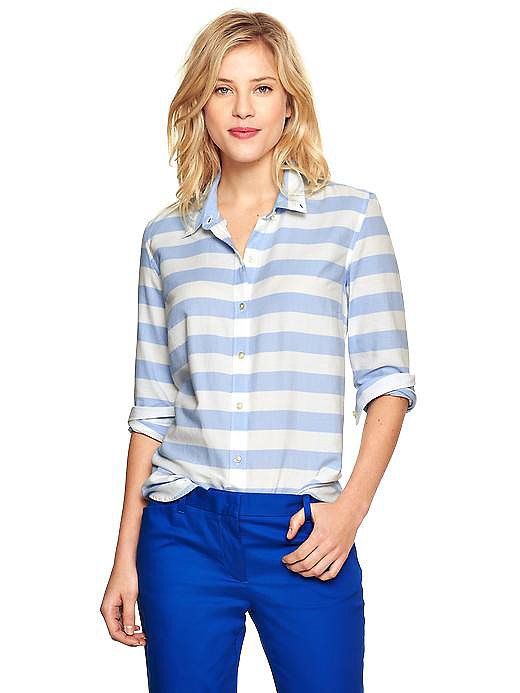 When Spring arrives, it's out with the dark and in with the light! The sky blue stripes on this blouse [18] ($55) would look especially sharp against dark denim.