You know the old adage: April showers bring May flowers. But it's been a long Winter, and we aren't taking any rain checks on shopping (even if it's on the side of our umbrella — keep reading to see what we mean). We've rounded up the best pieces to complete our Spring wardrobes, from Coachella-ready shirts and breezy pleated skirts to embellished flats and spunky open-toe heels. And in case the forecast calls for some thunderstorms, don't think we forgot our raincoat. Shop our editors' April must-have fashion picks right here, right now.
Illesteva Leonard Sunglasses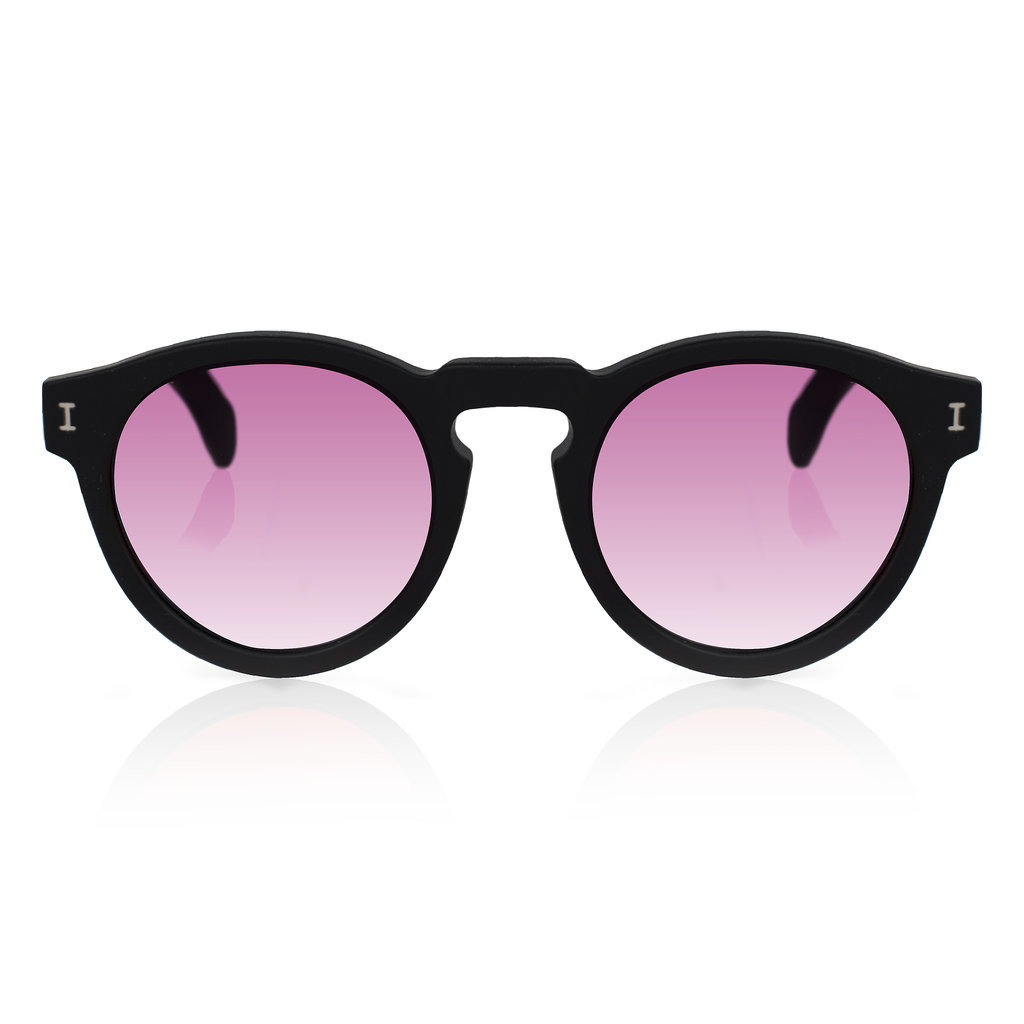 Um, can these shades [1] ($177) stop being the coolest sunglasses ever already?
— Allison McNamara, fashion reporter
Yarnz Popsicle Scarf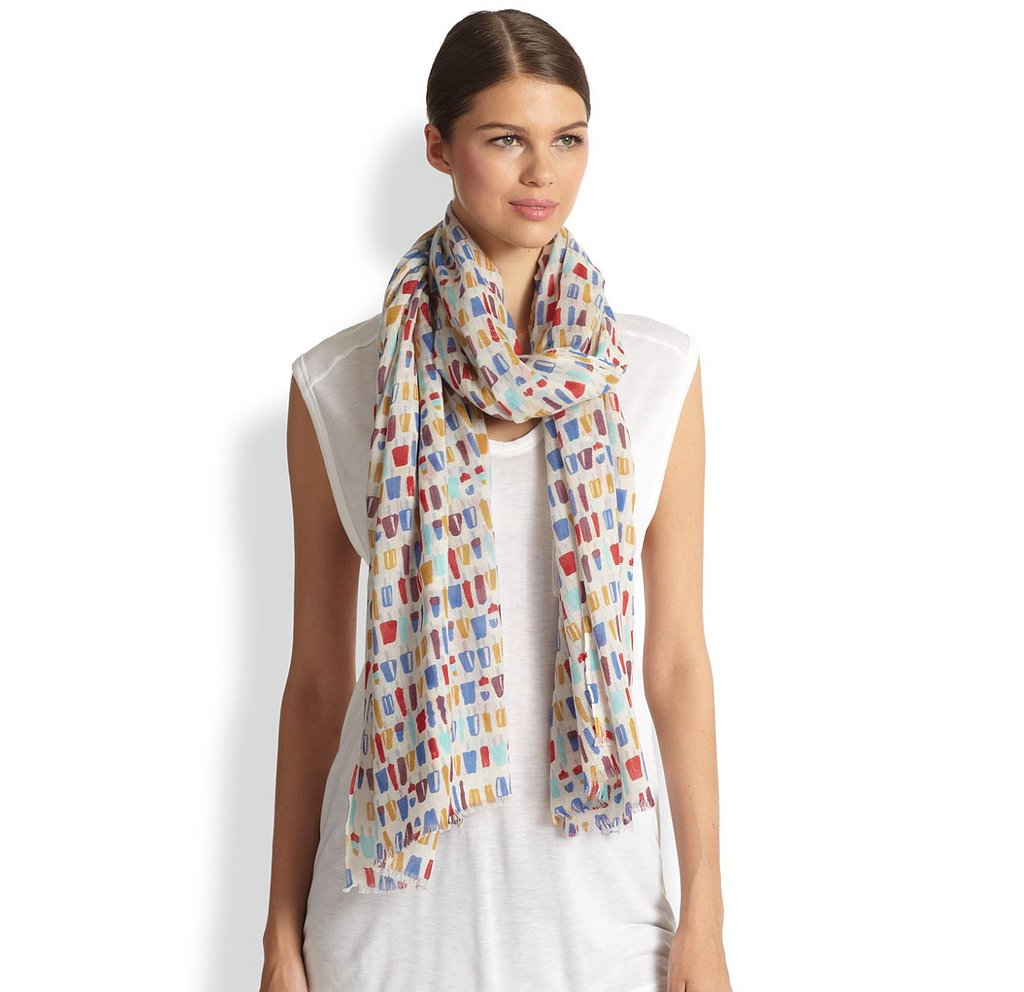 One of my all-time favorite Spring layering pieces is a lightweight scarf that can be tucked away in my bag when it's sunny and wrapped around my neck when the temp drops. This popsicle-print option from Yarnz [2] ($187) is just too sweet for words.
— Kate Schweitzer, editor
Victoria Beckham Ankle Slim Jeans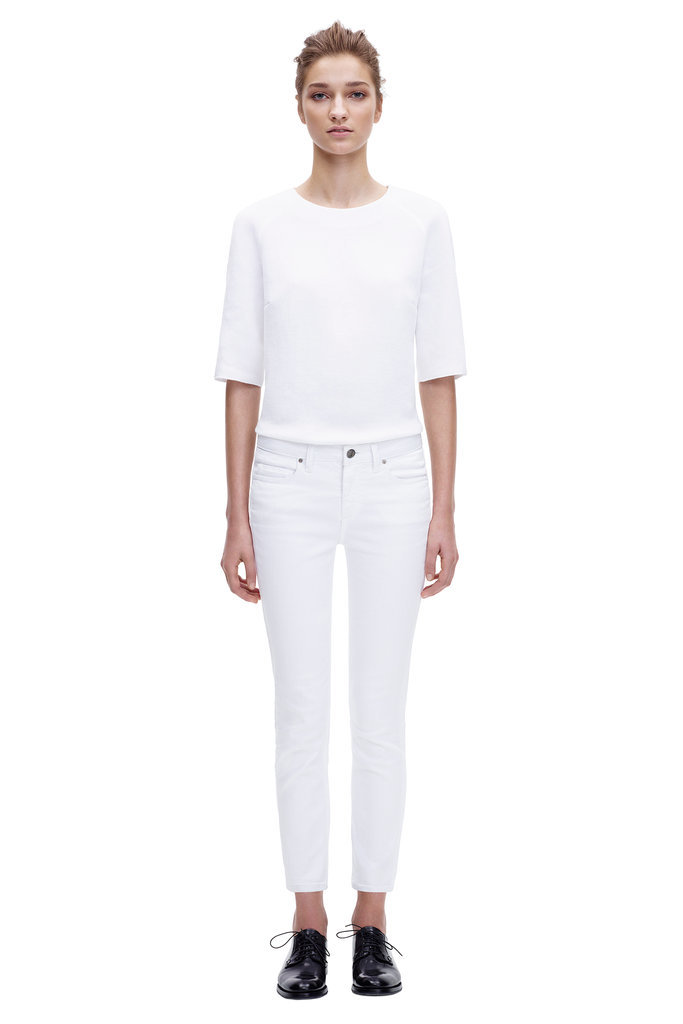 After spotting street style stars like Hanneli Mustaparta in white jeans long before Memorial Day, I realized that they were worth investing in as a year-round option. So I'm ready to splurge on these Victoria Beckham Ankle Slim Jeans [3] ($295) to wear with everything from embellished sweatshirts on the weekends to blazers at work.
— Melissa Liebling-Goldberg, fashion and beauty director
House of Hackney Flippy Dress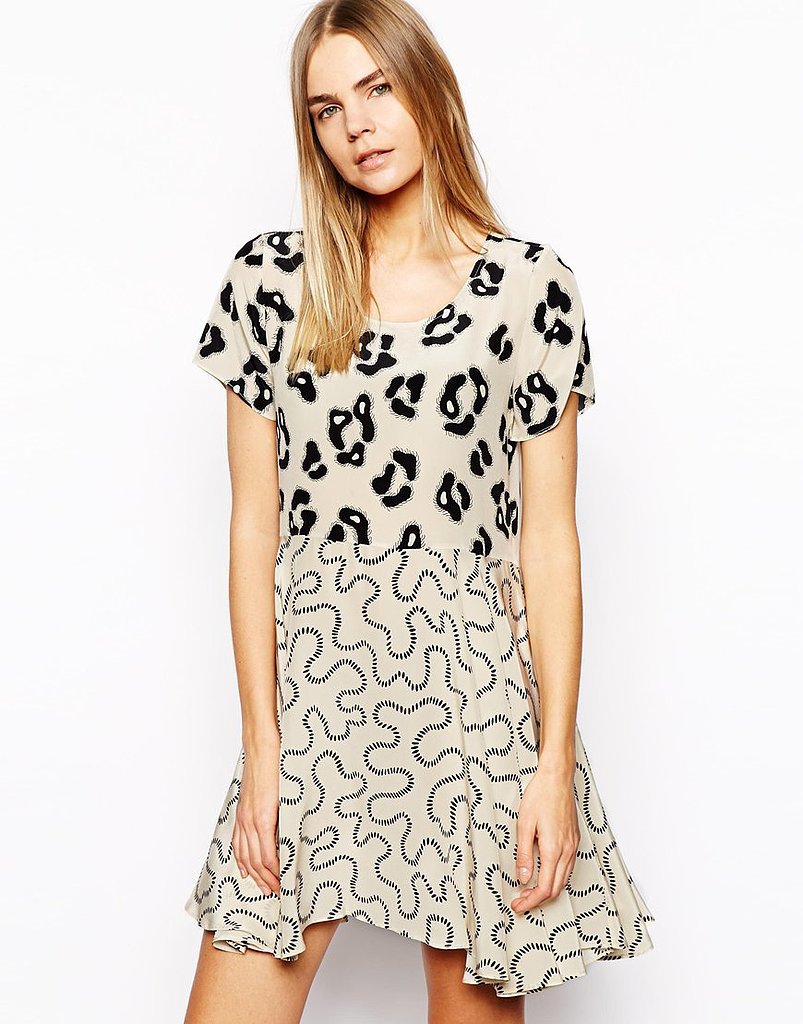 Spring is always the perfect time to try something new, and for me, that's print on print! House of Hackney has taken the guesswork out of picking the right prints to carefully clash — its flippy minidress [4] ($536) combines leopard and swirls in perfect quantities!
— Gemma Cartwright, POPSUGAR UK fashion and beauty editor
Lily Aldridge For Velvet Denim Jacket
It's annoyingly not easy to look like a model, but thank goodness for Lily Aldridge, because at least she's letting us steal her wardrobe with her line at Velvet. Her Nashville-inspired ash denim jacket [5] ($178) already looks worn in, so it's a perfect topper to any off-duty look.
— KS
Gap Sateen Dress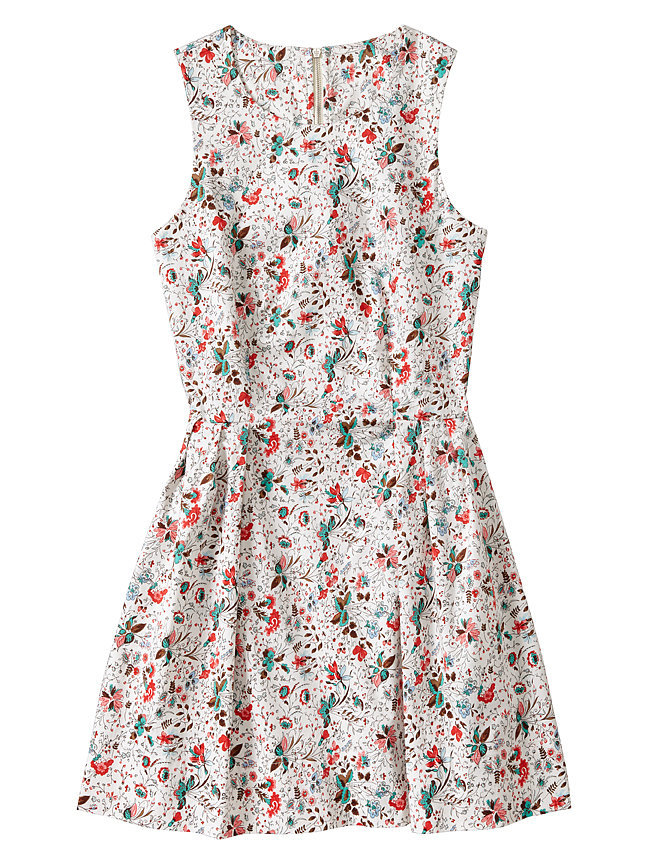 Spring calls for perfect sundresses, but I still want ones that I can wear to work as well as play. This charming Gap cotton floral dress [6] ($70) does the trick with a modest neckline, flattering fit-and-flare silhouette, and a perfectly adorable print.
— MLG
Rag & Bone Bradbury Flap Bag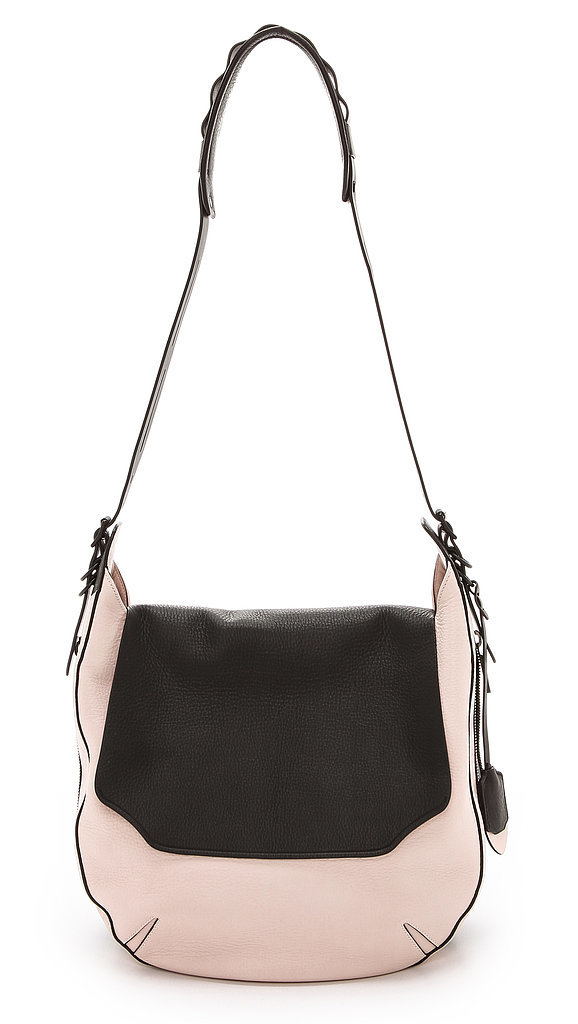 Call it an occupational hazard, but sometimes I see something on the runway and then spend the next six months counting down the minutes until I can get it. Thankfully, the Rag & Bone Bradbury Flap Bag [7] ($895) is finally available. It's roomy but sleek, a great way to ease into Spring's pastel trend — and now celebrity-approved, thanks to Charlize Theron [8].
— MLG
Vita Fede Titan Chain Necklace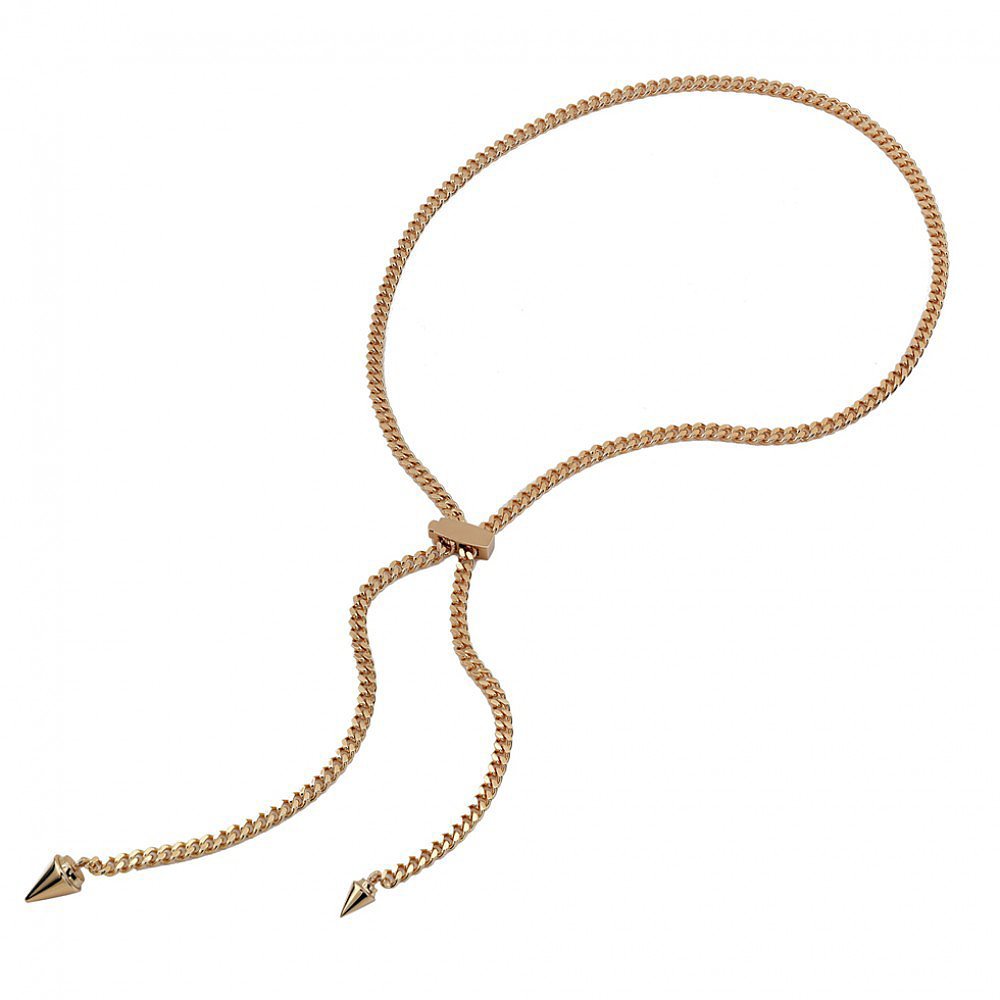 I've been searching for a bolero necklace in rose gold, and I finally found one thanks to Vita Fede [9] ($540)!
— AM
A Denim Story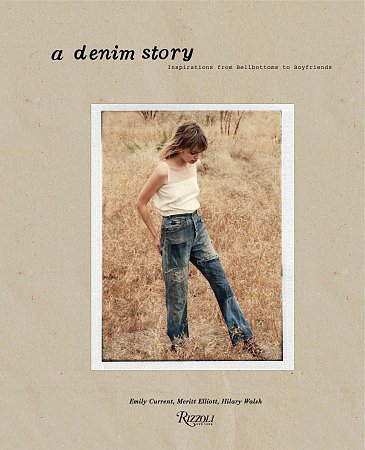 I live in my jeans — to me, they're not just jeans; they're kind of a way of life, so I can't wait to get my hands on Emily Current, Meritt Elliott, and photographer Hilary Walsh's beautiful book A Denim Story [10] ($33), an ode to blue-jean style that covers icons like Kate Moss [11] and Patti Smith. A staple like denim deserves a tribute like this, right?
— Hannah Weil, associate editor
Alexander Wang Oxford Cotton Shirt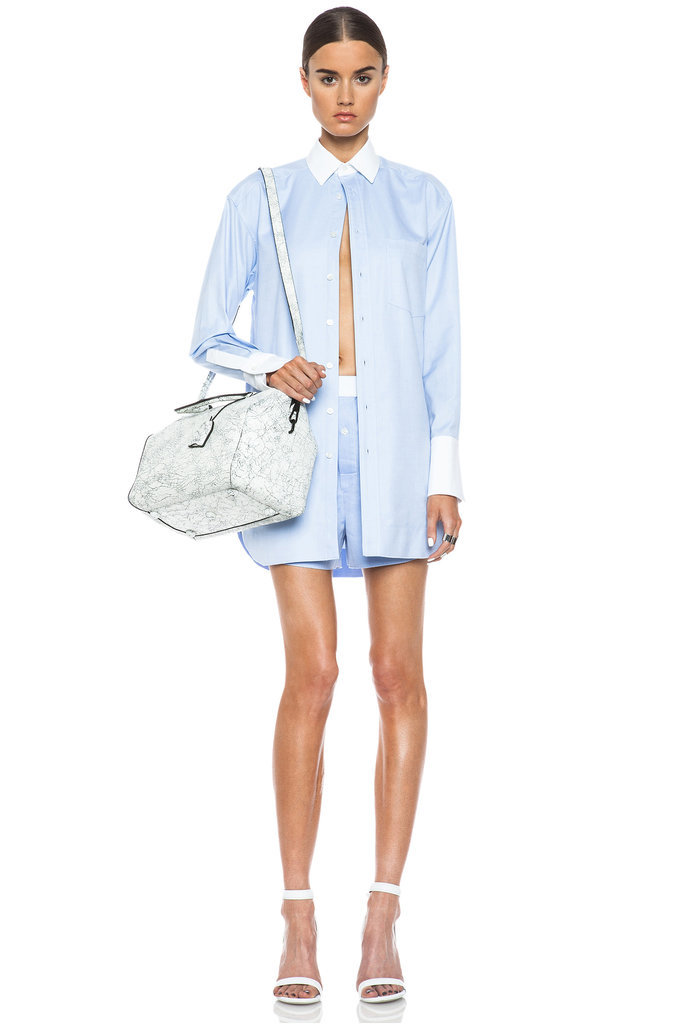 Not until this went on sale did I realize the Alexander Wang Oxford cotton shirt-and-boxer-shorts look [12] ($895) was actually a one-piece romper! How cool is that? And they say fashion is never easy . . .
— KS
Teva Original Universe Sandal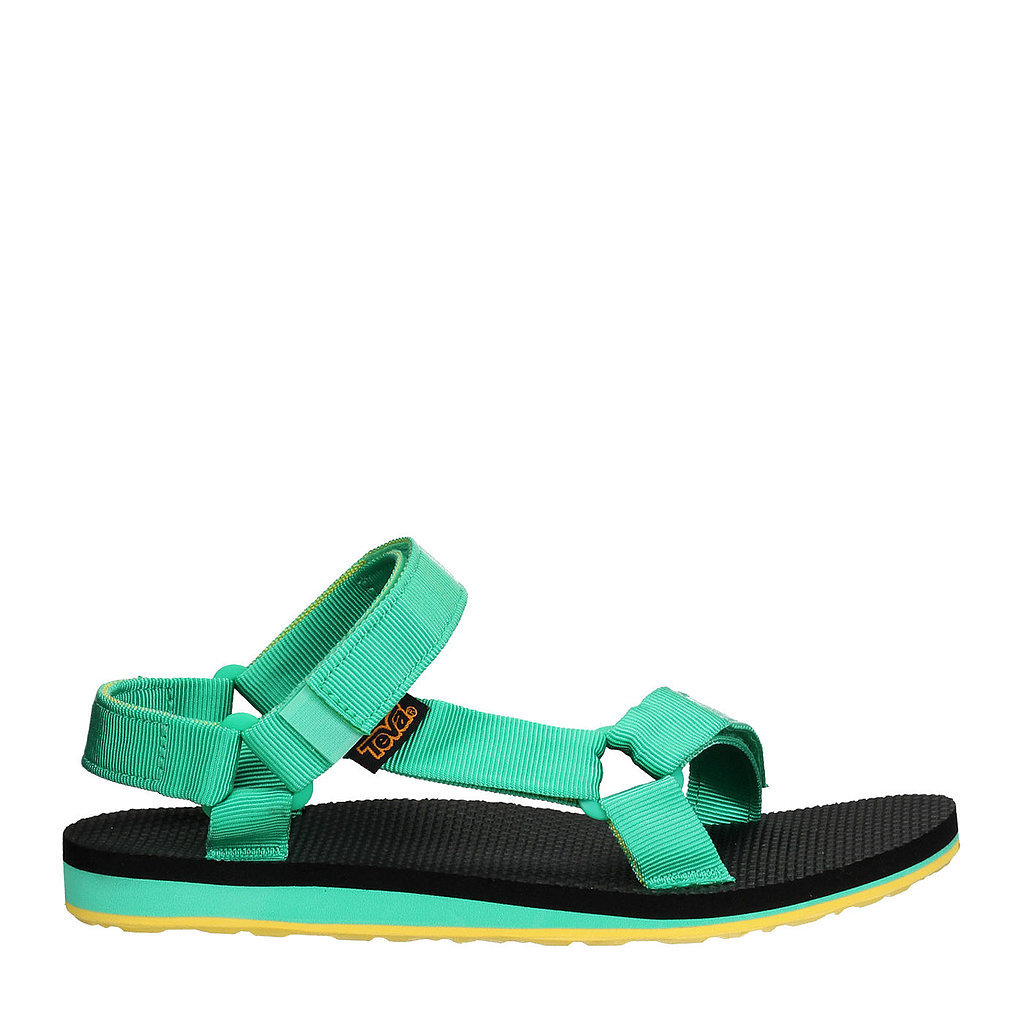 The 12-year-old Summer camper in me is so psyched about this. Welcome back, Teva [13] ($40) tans!
— Randy Miller, associate editor
River Island Playsuit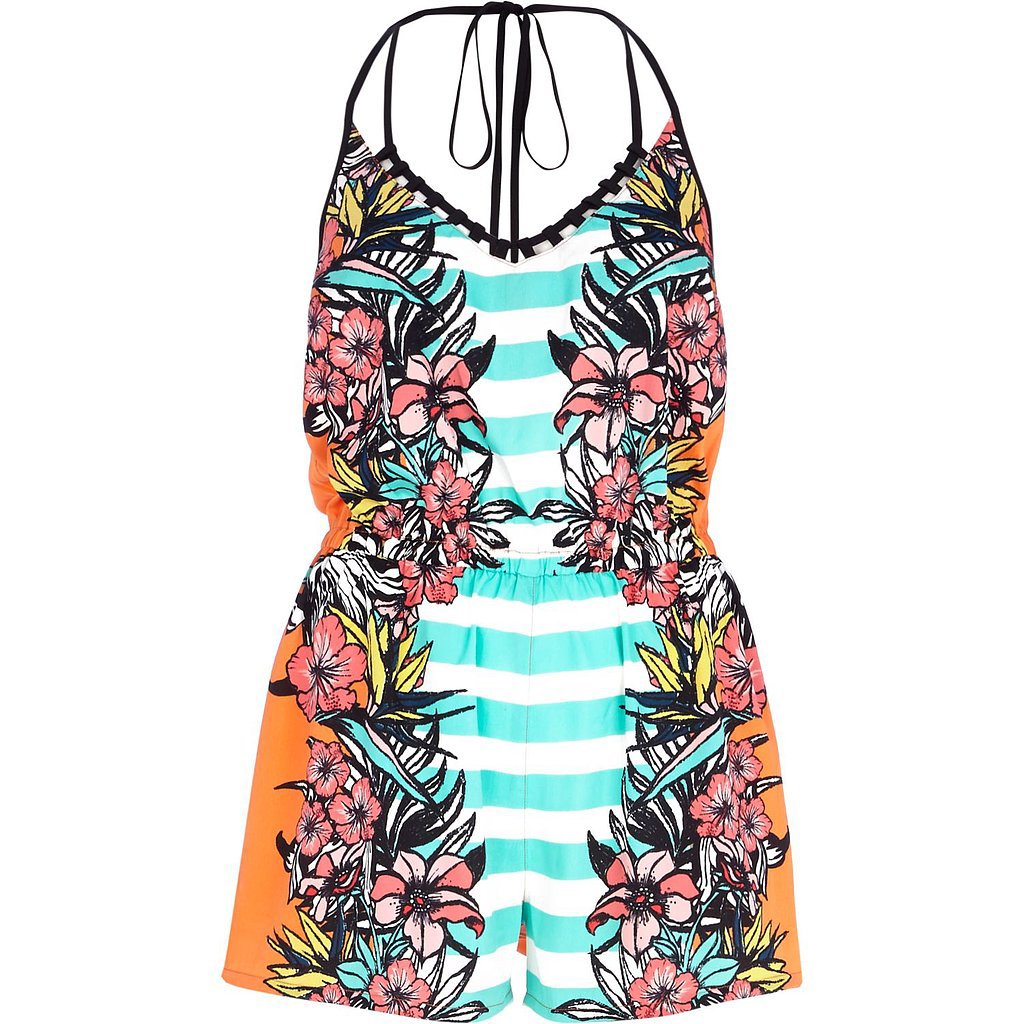 Show me a girl who doesn't daydream of tropical getaways, and I'll show you a liar. Though I'm not sure of my final destination, I am sure this vibrant River Island playsuit [14] ($40) will be the star of my R&R adventure come Summer.
— Mandi Villa, contributing editor
Rebecca Minkoff Julian Backpack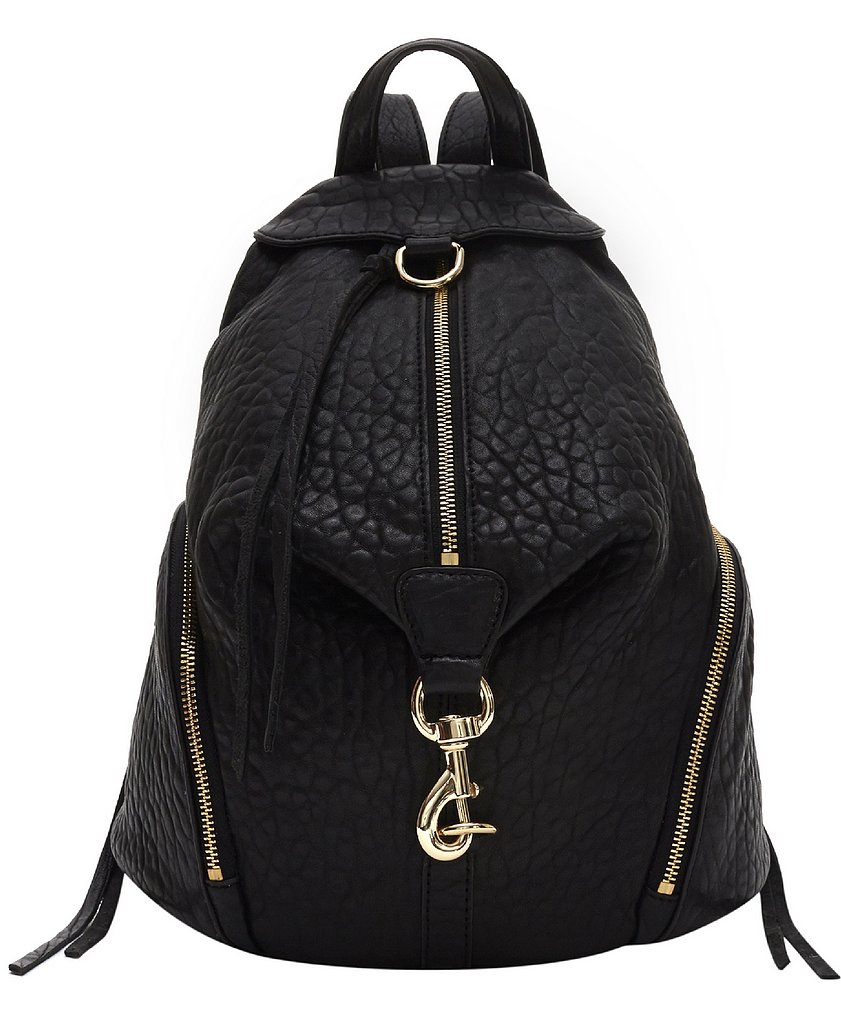 Rebeca Minkoff's leather backpack [15] ($295) will keep my hands free to move about at outdoor concerts (plus, the secure clasp closure will put my mind at ease, so I won't have to constantly check on it).
— RM
Kate Spade New York Umbrella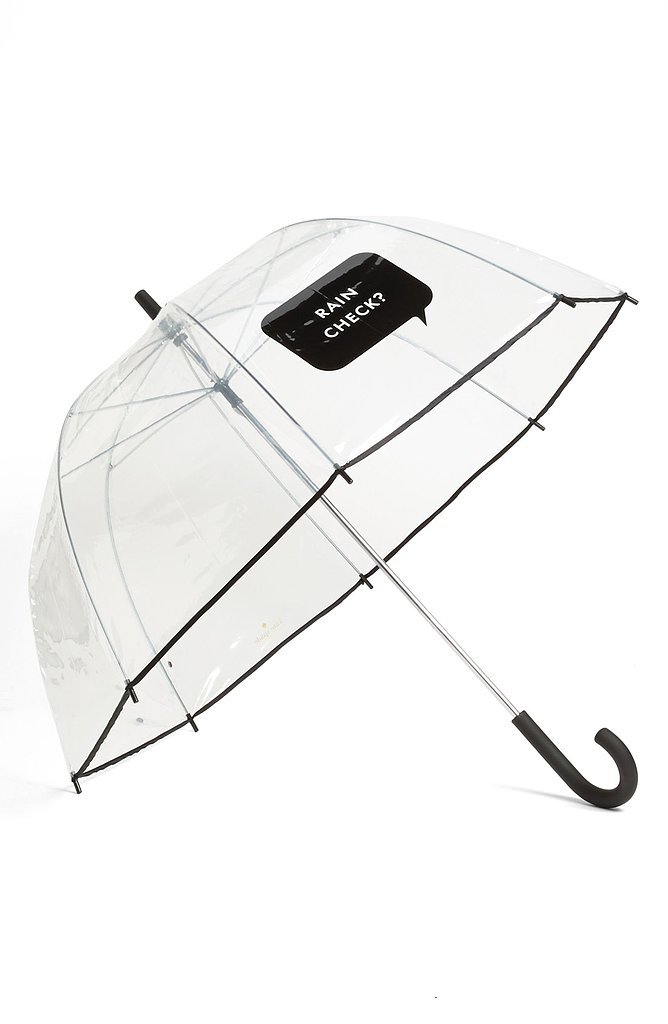 April showers bring fun umbrella options! Now a rainy day will seem far less devastating, because I'll have an excuse to flip open this cheeky Kate Spade accessory [16] ($38). Rain check?
— KS
Club Monaco Karrie Pleated Skirt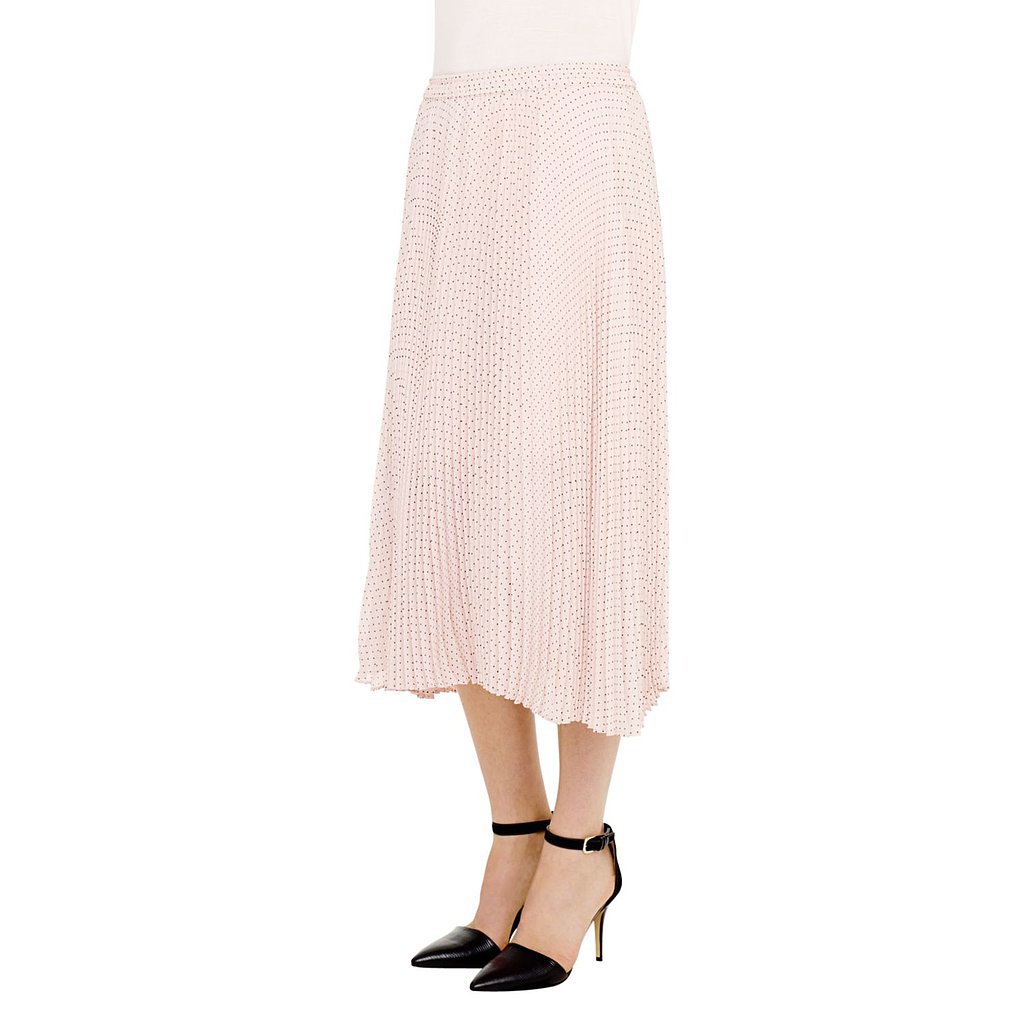 Because I'll be living in pleats this Spring, Club Monaco's breezy style [17] ($140) would be in danger of becoming the piece I wear so often that my friends become sick of seeing it, were it not so darn charming.
— RM
Tibi Printed Raglan Sweater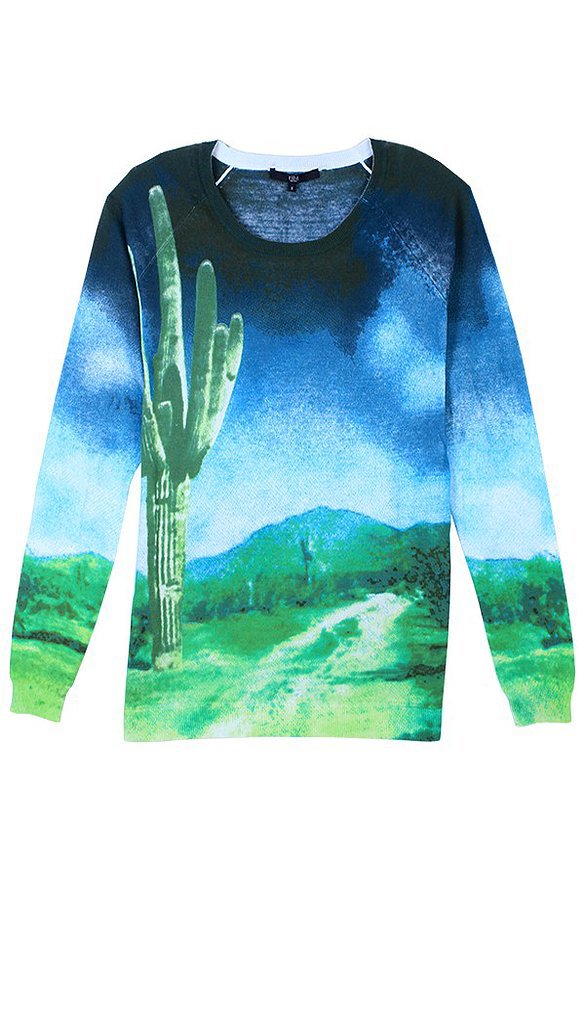 I can't tell what I like more: partying at the Saguaro Hotel during Coachella or this Saguaro sweater by Tibi [18] ($295).
— AM
C&C California Chambray Pants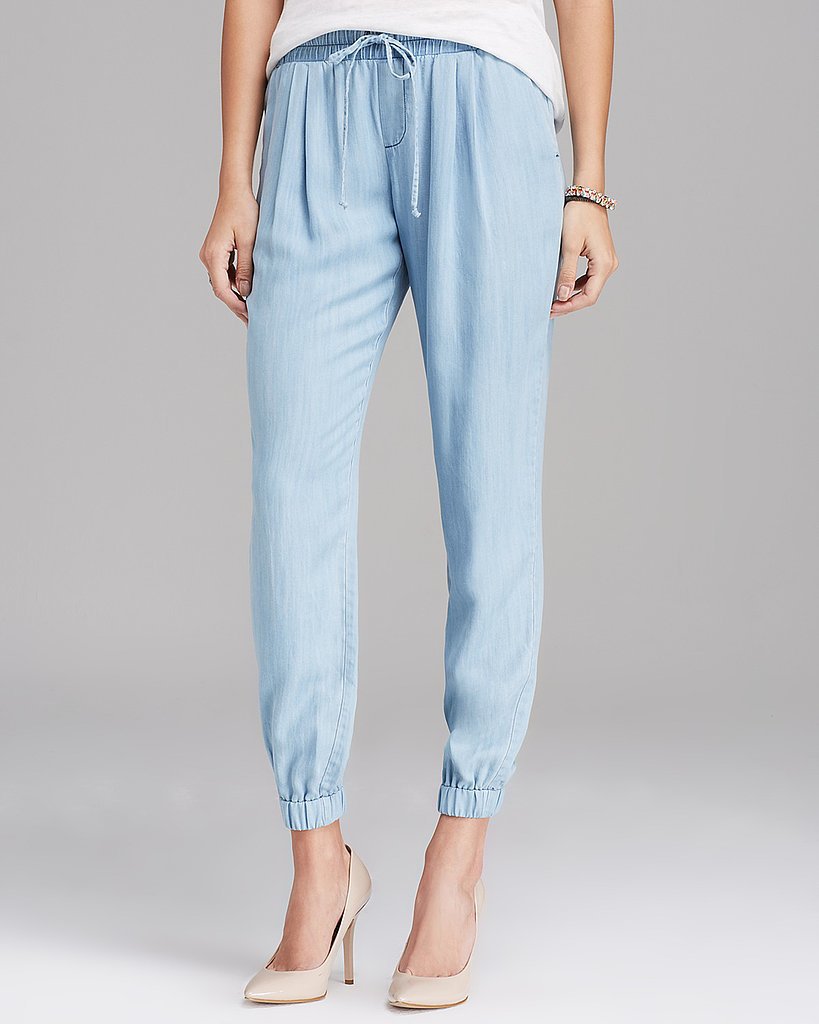 Chambray has become a staple among celebrities and street stylers, but I've got my eye on something better than the classic washed topper. I plan on living in these C&C California chambray joggers [19] ($138) all Spring and Summer. The lightweight fabric, sporty silhouette, and versatile hue will lend a retro-inspired touch to my edgy basics.
— MV
Eddie Borgo Peaked Link Earrings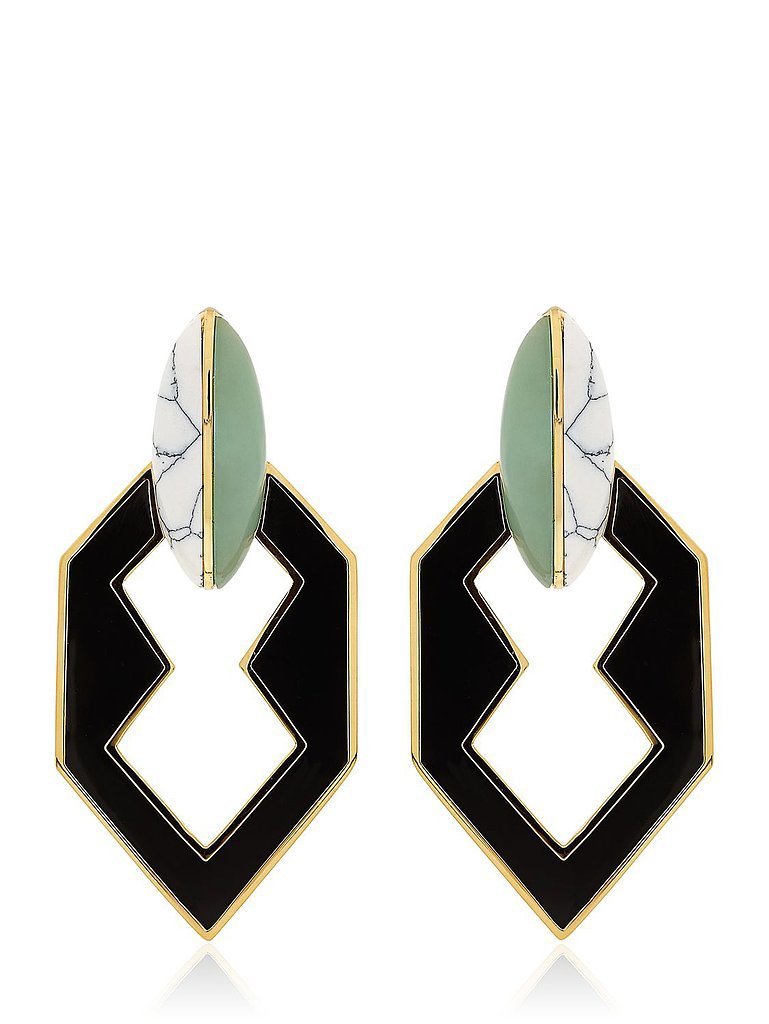 There's nothing that makes me feel more complete than finding the perfect piece of jewelry to express my current mood of dressing. This month, I'm focused a bit more on glamour and am abandoning my regular programming (think: #normcore). These Eddie Borgo earrings [20] ($361), with their architectural shape and mixed materials, feel like they've been plucked from an antique art collection.
— Meg Cuna, style director
Azalee Rain Jacket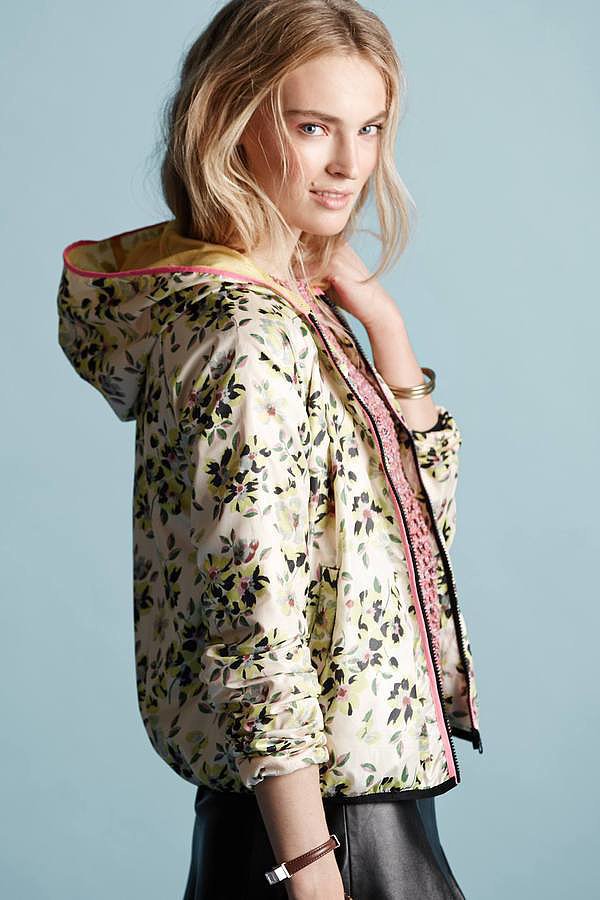 You know the saying "April showers bring May flowers," but what if you could have those blossoms predownpour? Still with me? This blooming Essentiel Antwerp rain jacket [21] ($188) will be a shining beacon of hope on those rainy days. I particularly love the sunny canvas and feminine pink piping.
— MV
Acne Rita LA Print Jacket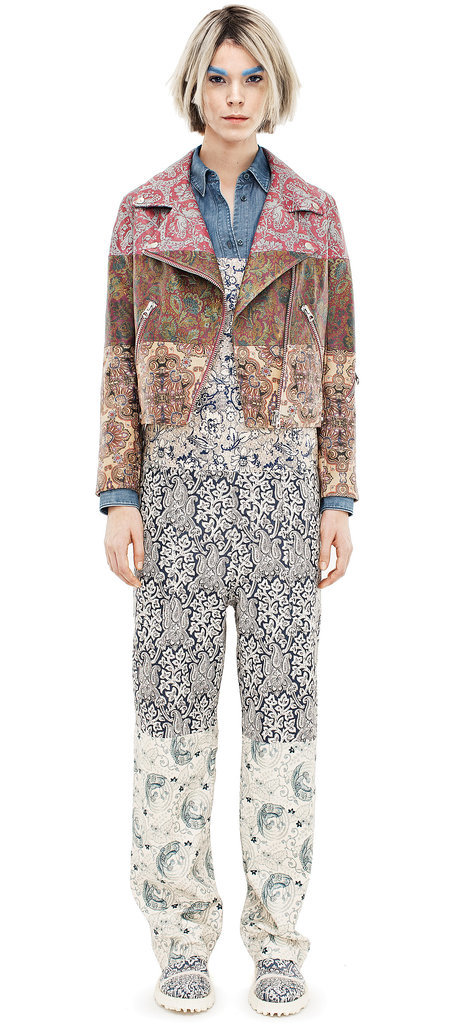 I love Acne, and I love Liberty of London, so of course I loved the news that the two were teaming up for a collaboration. While this amazing leather motorcycle jacket [22] ($2,300) is pricey, it's too good not to daydream over.
— Leah Melby, associate editor
Ivy Kirzhner Joy Embellished Flats
Last month, I attended a supermagical wedding [23] on an exotic beach location where half the guests (including the bride!) wore fancy flats from the same designer. I was immediately intrigued and found these snakeskin-embellished ballet flats by Ivy Kirzhner [24] ($365) as soon as I returned home to urban life. They do a good job injecting me with luxe tropical vacation memories while back at work.
— MC
House of Harlow 1960 Vivienne Dress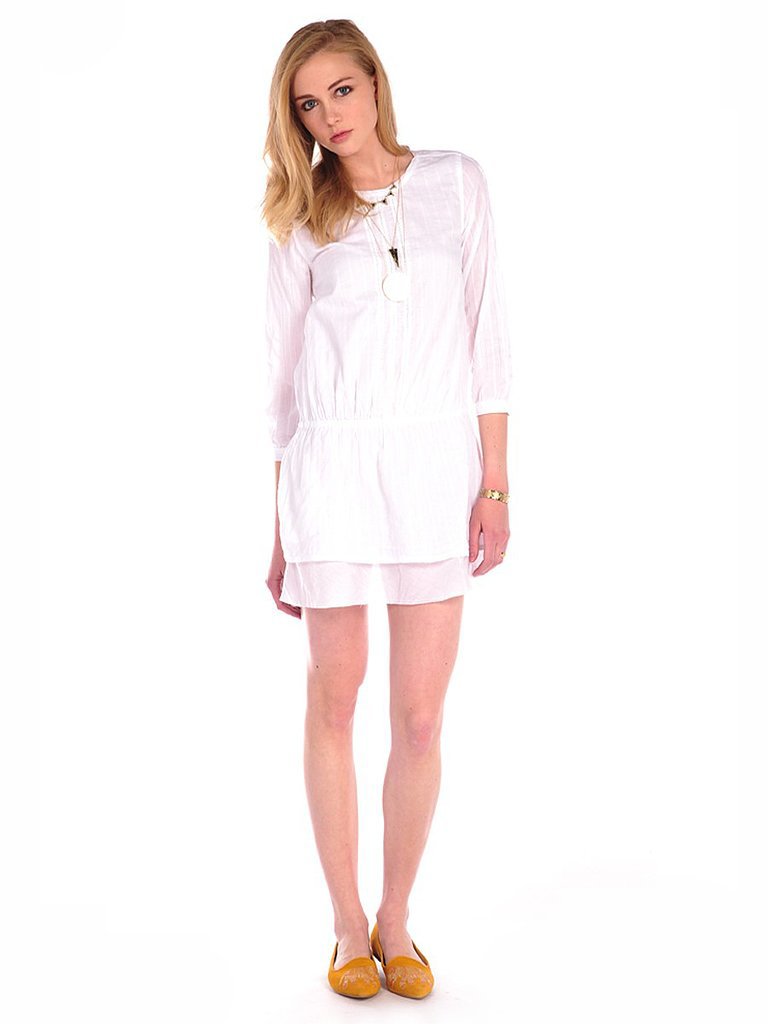 Nicole Richie [25] just might be one of my favorite modern style icons, and her designer line, House of Harlow [26], has been doing amazing jewelry and sunglasses for years now. Now that it's got clothes on tap, I'm obsessed. This dress [27] ($88) is perfect for the next six months, and it's under $100!
— LM
Mara Hoffman Bathing Suit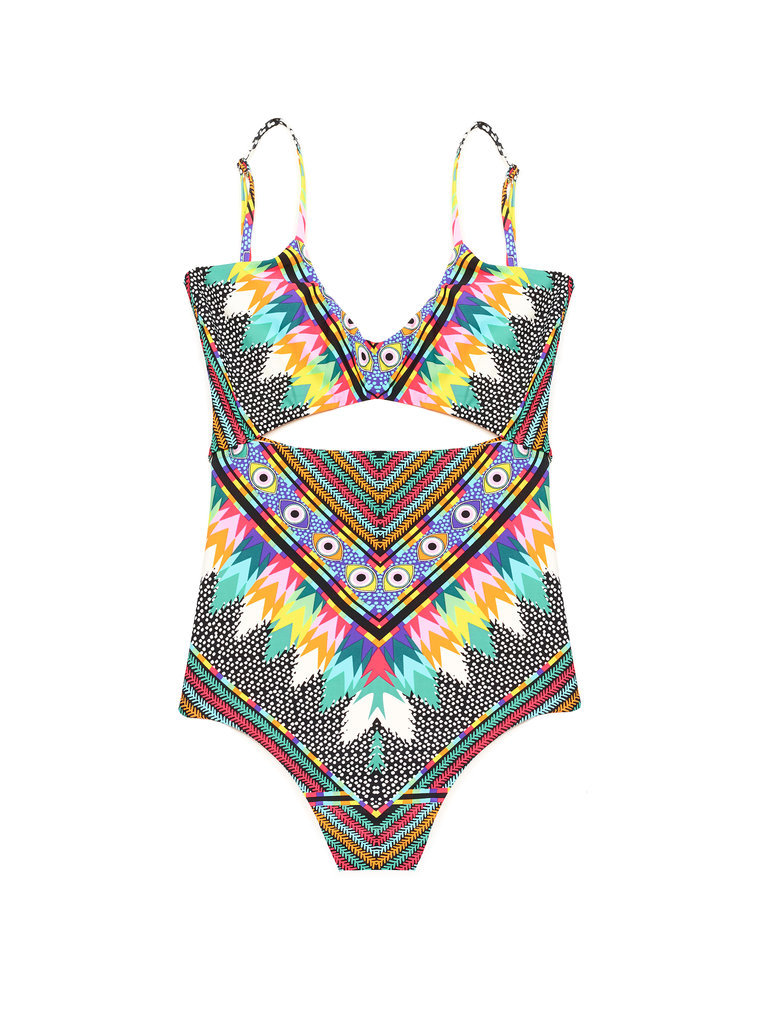 Just because I don't wear bikinis to the beach doesn't mean I should be having any less fun than my more skimpily dressed pals. In fact, Mara Hoffman's cutout suits [28] ($246) are so bright and colorful, they may get more attention than any stringy two-piece could!
— RM
Karen Walker x Benah Bag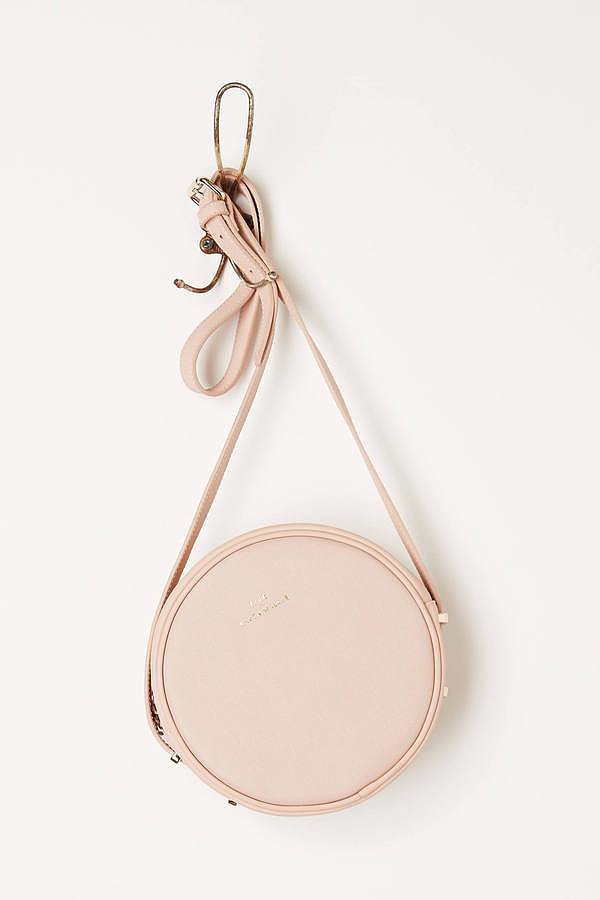 I'm not typically a girl who loves pink, but Spring's pastels have made me a convert — and so has this Karen Walker x Benah bag [29] ($288). The shade is soft enough to feel like a neutral, and the bag is an ideal go-anywhere size — translation: it will go with EVERYTHING.
— HW
Puma x Solange Disc Sneakers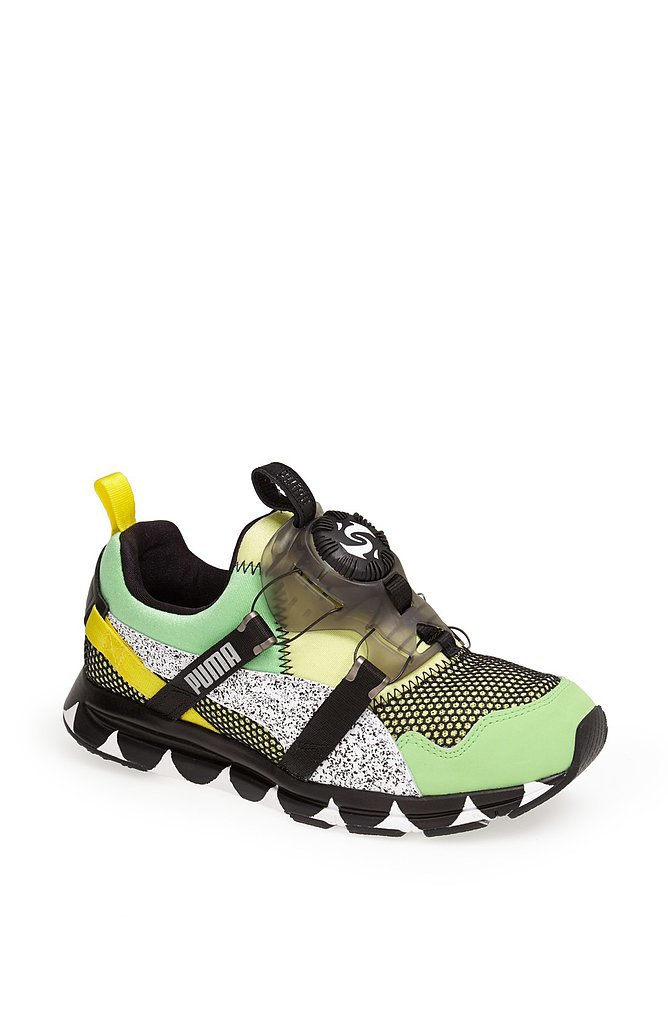 All the credit for a sneaker that encourages my fitness kick while being right on trend goes to these Puma Disc Solange kicks [30] ($150). With Solange Knowles behind the design, is it any wonder why they're so cool?
— HW
Zara Cropped Jacket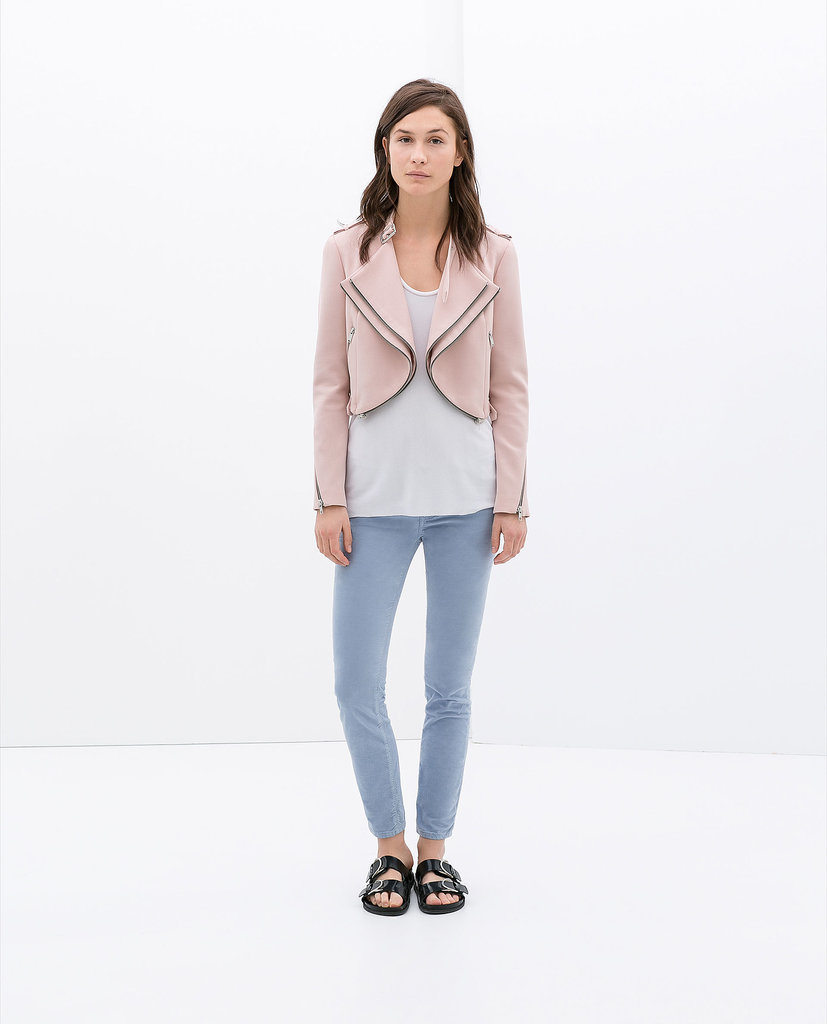 I can't will Spring to come, but if I have to wear a jacket, it's not going to be bulky and oversize — it's going to be pastel, and it's going to look a lot cooler and fresher than my anorak. When I found this Zara jacket [31] ($159), I knew that was it. It meets all my requirements and looks a lot more expensive than $159!
— HW
Sophia Webster Girl Talk Sandals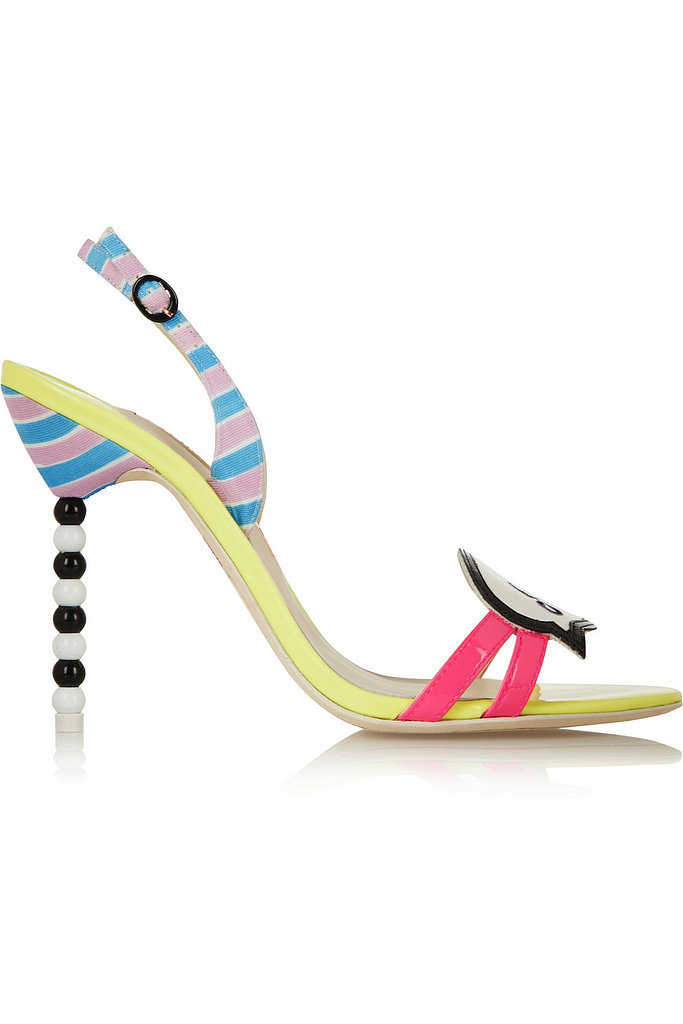 April in London may still be a little too chilly for sundresses, but there are occasional warm days when open-toe shoes suddenly become an option. I'll be rolling up the hems of my jeans and slipping on some statement sandals, like Sophia Webster's brilliant Girl Talk heels [32] ($540), to take advantage of the milder weather.
— GC
Aurélie Bidermann Montesoro Earrings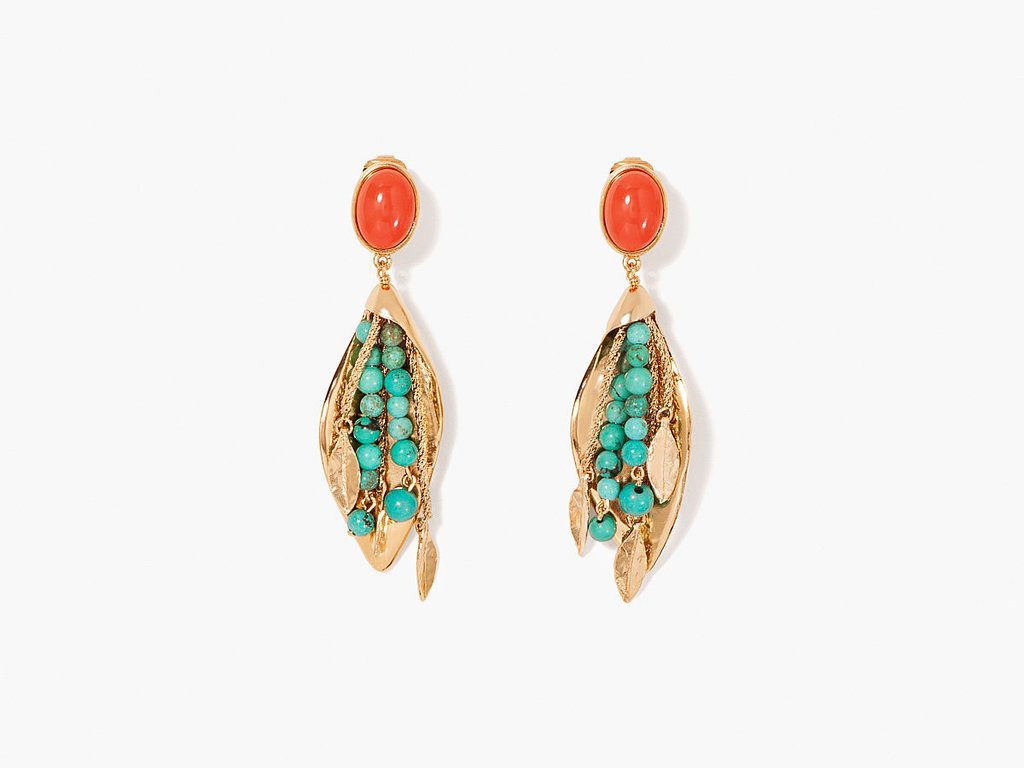 Übercool French jewelry designer Aurélie Bidermann may not be opening her store in NYC [33] until the Summer, but there's no need to wait on snagging these Springy statement stunners [34] ($584).
— MLG
JM Drygoods & TM San Vicente Dress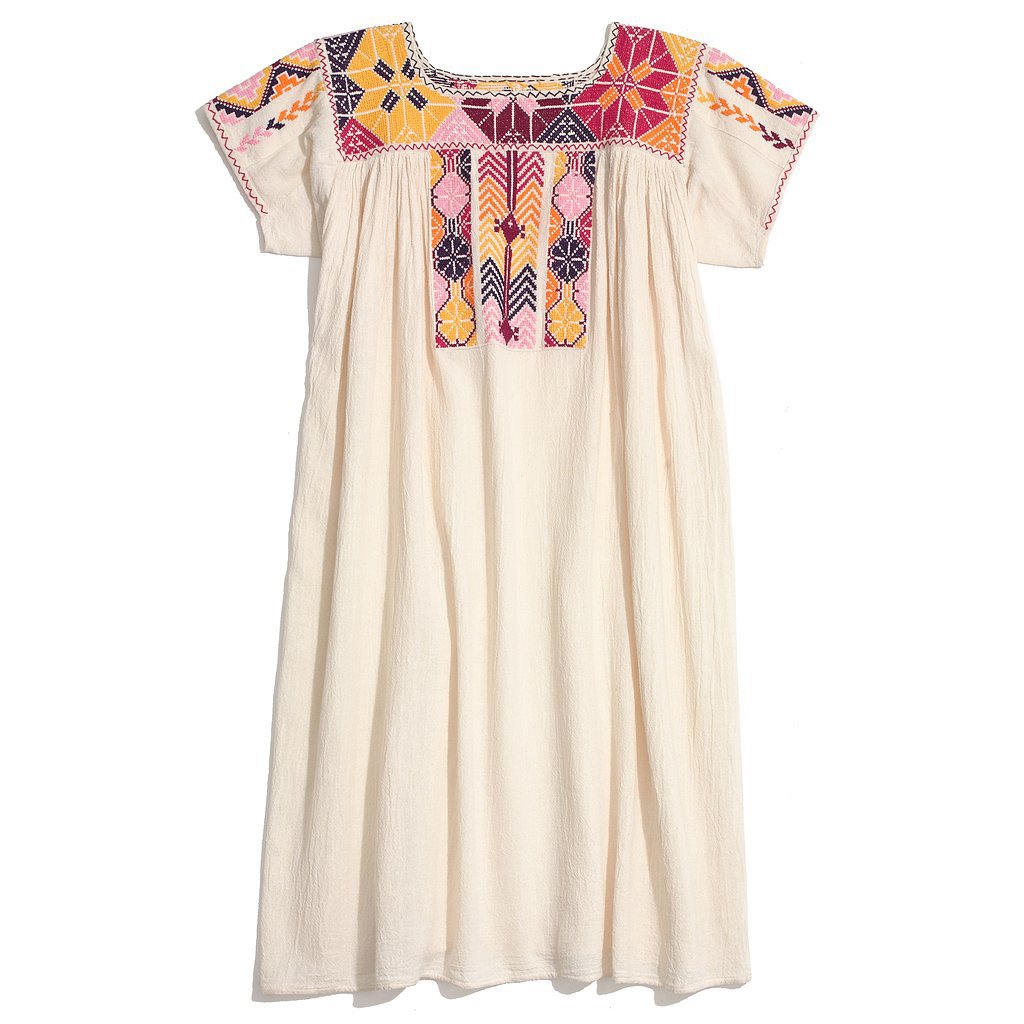 Madewell [35]'s kind-of-amazing designer [36], Somsack Sikhounmuong, fell in love with cool Austin, TX, store JM Drygoods and worked out a deal to bring some of the shop's wares to the Madewell audience. I could see this breezy minidress [37] ($198) becoming my new uniform.
— LM
Aldo Frida Clog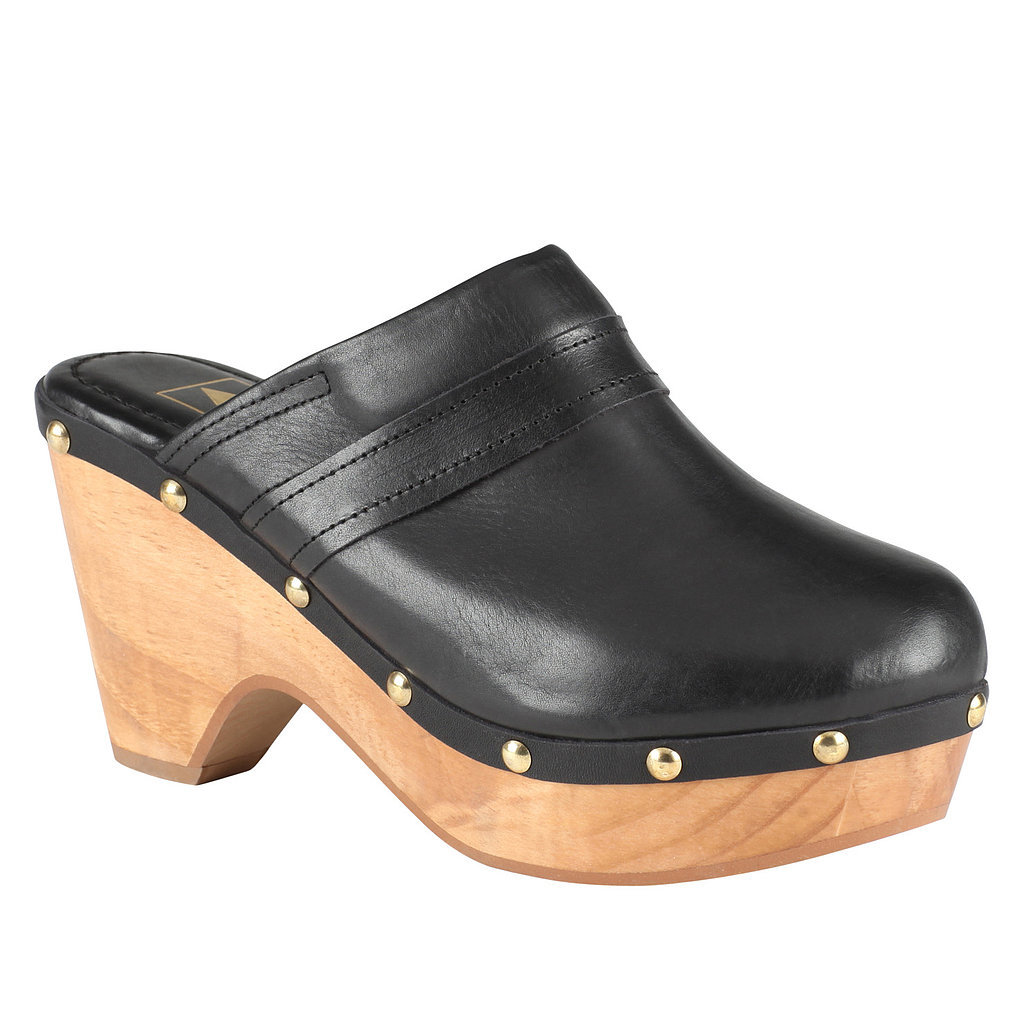 I've started noticing a whole lot of celebrities out in clogs, and I have to tell you — I'm into it. I'm planning on totally embracing the look this Spring and Summer, and Aldo's version [38] ($90) in neutral brown is the right look (and the right price point).
— LM