The trouble with March is that in every store window, it looks like Spring, but the temperatures outside them are as frigid as they've been all Winter long. It's a cruel joke created by Mother Nature and retold every year by the fashion industry. But, that doesn't mean we can't have the last laugh.
Instead of moping around in our depleted puffers, we've compiled the necessary provisions we'll be needing at the very first sign of Spring. The low-cut ankle boots we'll wear as soon as we don't need to cover our toes with chunky wool socks, the green-tinted sunglasses that will help block those first few bright sun rays, and the crop top we won't have to style on top of three other layers of clothing. So, get your go-bag of Spring essentials ready by shopping our editors' March must-have fashion picks right here, right now.
Ecco Dalaman Crossbody Bag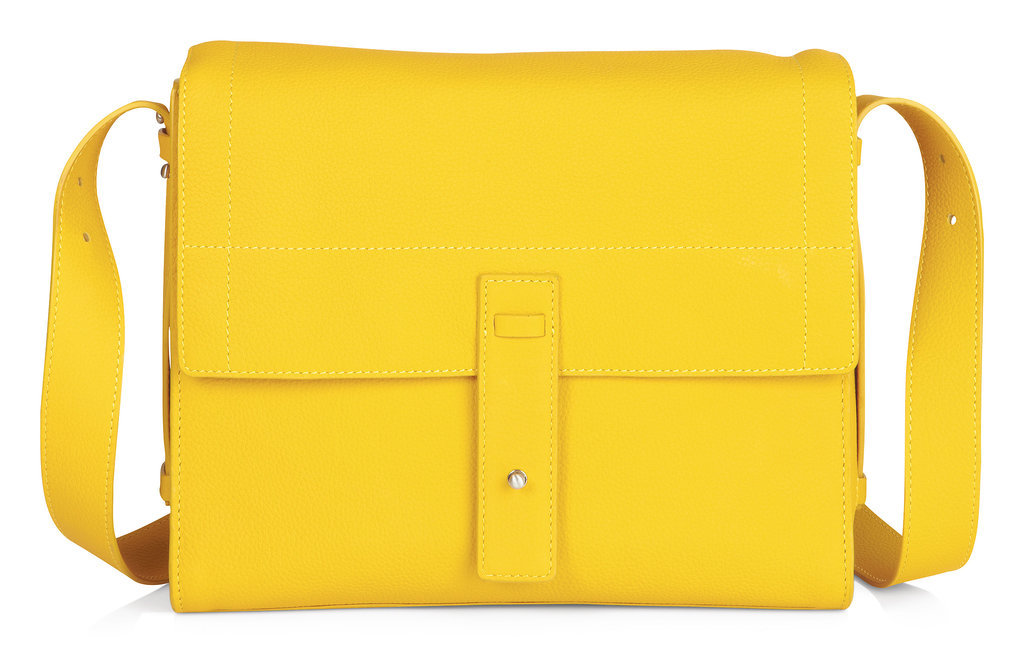 Now that we are oh so slowly exiting the doldrums of Winter, I want to kick off Spring with a jolt of color. This leather Ecco crossbody bag [1] ($260) is the perfect head-turner — not just for its melon hue, but for its sleek, minimalist design.
— Kate Schweitzer, editor
Topshop Floral Jumpsuit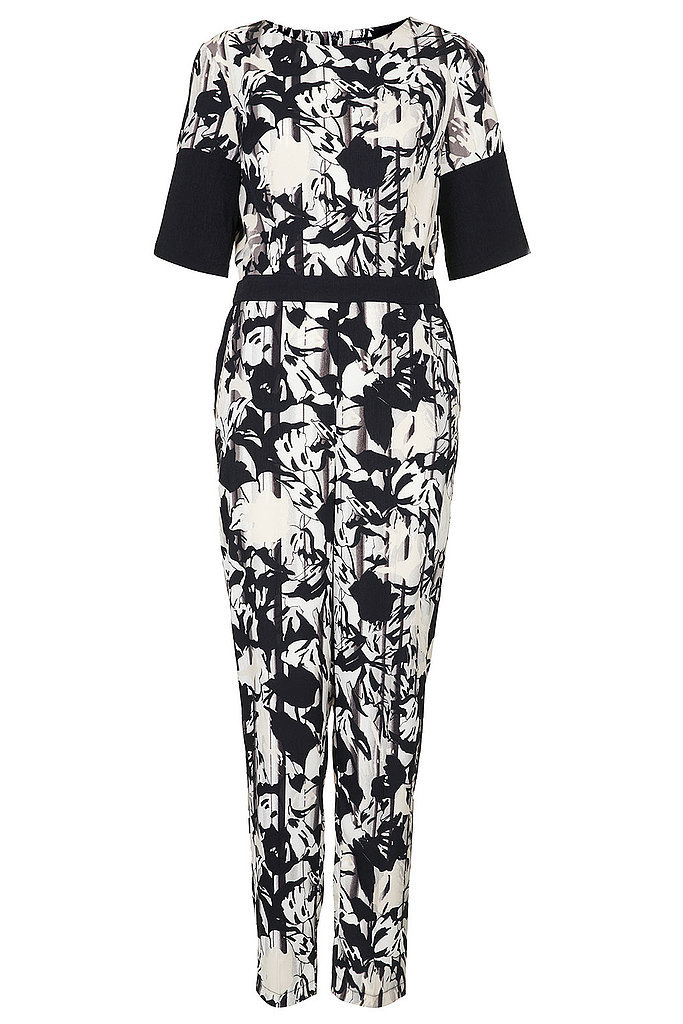 I'll admit that I was late to the jumpsuit admiration society, but once I got my first adult onesie, I was hooked at the simultaneous ease and cool factor. I'm not quite ready to flash my legs as the weather gets a little warmer, but this Topshop jumpsuit [2] ($120) is a perfect transition piece to get in the Spring mood.
— Melissa Liebling-Goldberg, fashion and beauty director
DylanLex Falkor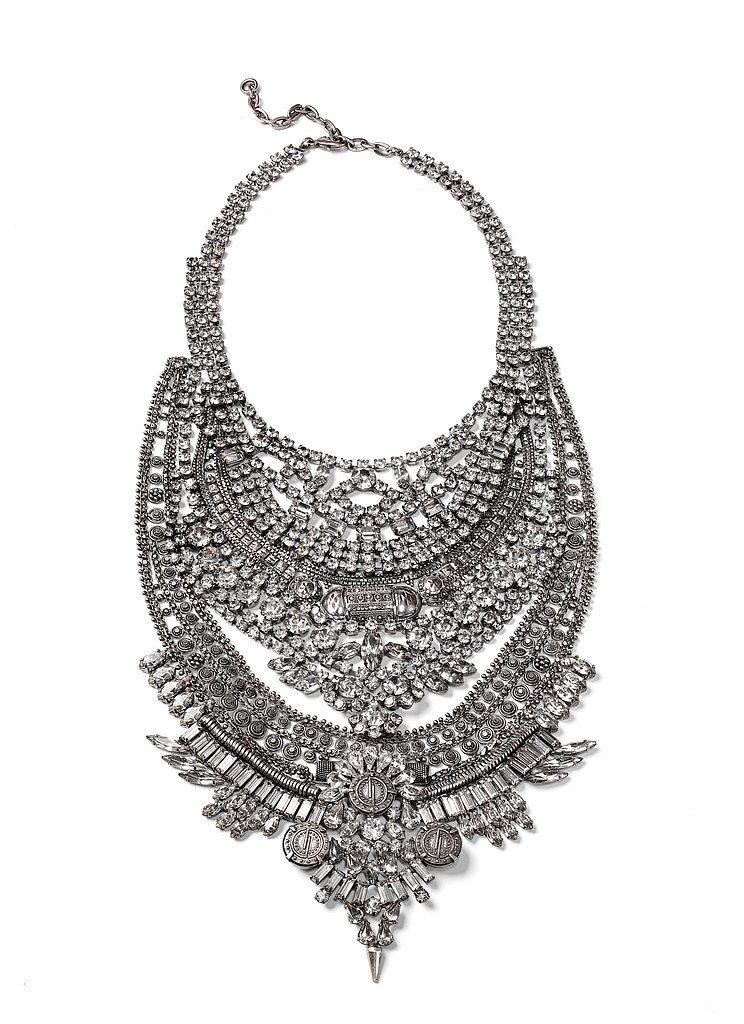 Do I even need to wear clothes while rocking this sensational DylanLex necklace [3] ($980)? Composed of antiqued Swarovski [4] crystals and signature coins adorned with Indian filigree details, this rivière has me absolutely mesmerized. Wrap me up in your love, DylanLex!
— Mandi Villa, contributing editor
Madewell The Erin Boot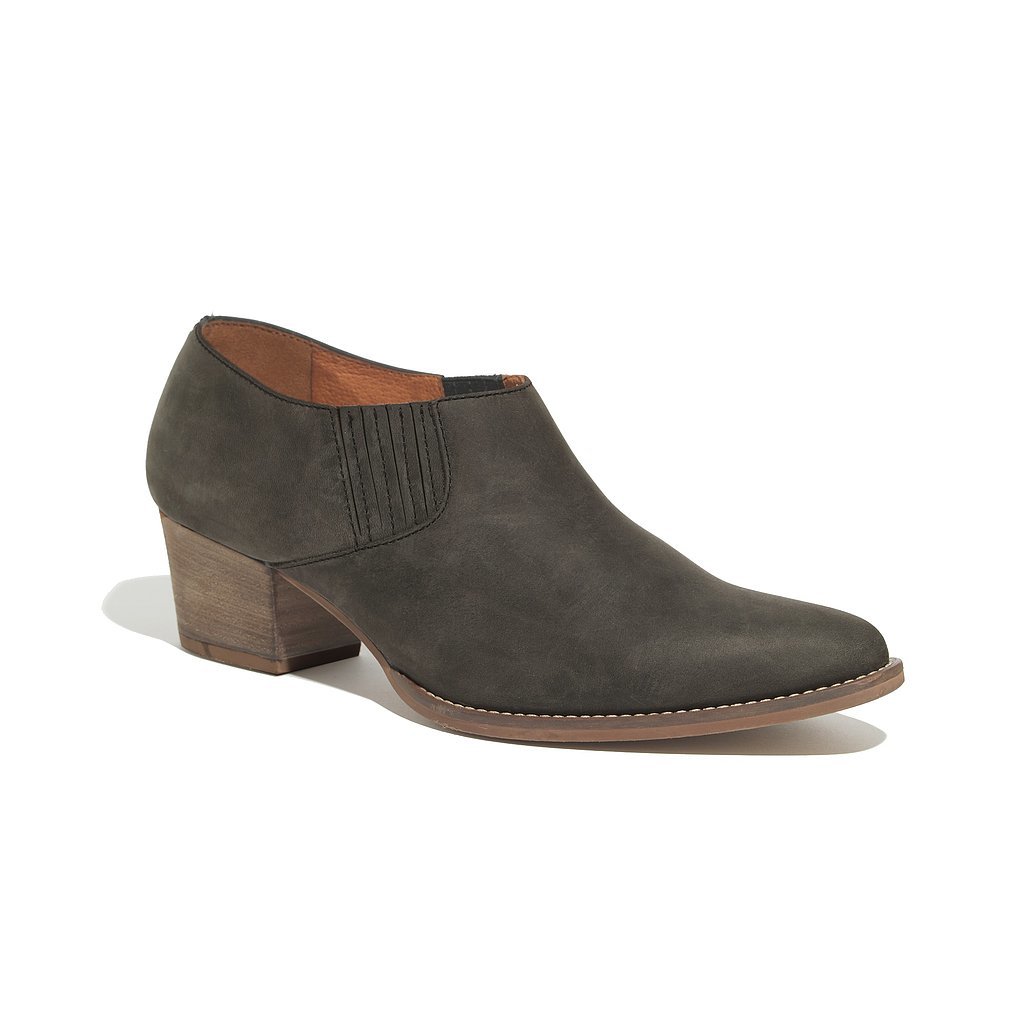 After eyeing a certain designer pair of low-cut ankle boots for a solid year, I was almost ready to take the plunge . . . until I spotted this more budget-friendly Madewell pair [5] ($218). At less than half the price, they've got the same perfectly casual vibe and leg-flattering cut.
— Leah Melby, associate editor
Rebecca Taylor Runway Lace Dress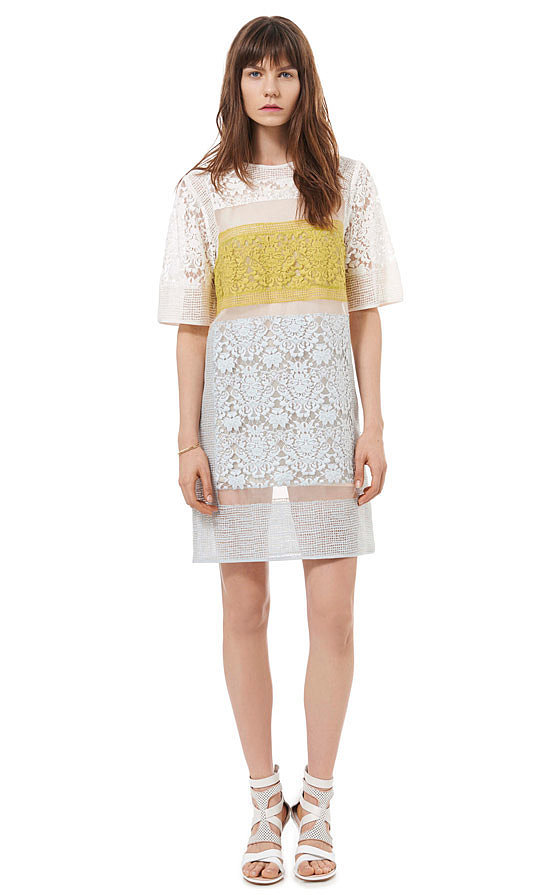 I've adored this pretty Rebecca Taylor dress [6] ($495) since it walked the runway last Fall. Now, it's hitting the virtual shelves, and I'm suspecting it won't be there long. It's one of the few pieces that makes sheer look so downright pretty, not overtly sexy — plus, it comes with a full slip!
— Hannah Weil, associate editor
Cynthia Rowley Cotton Lei T-Shirt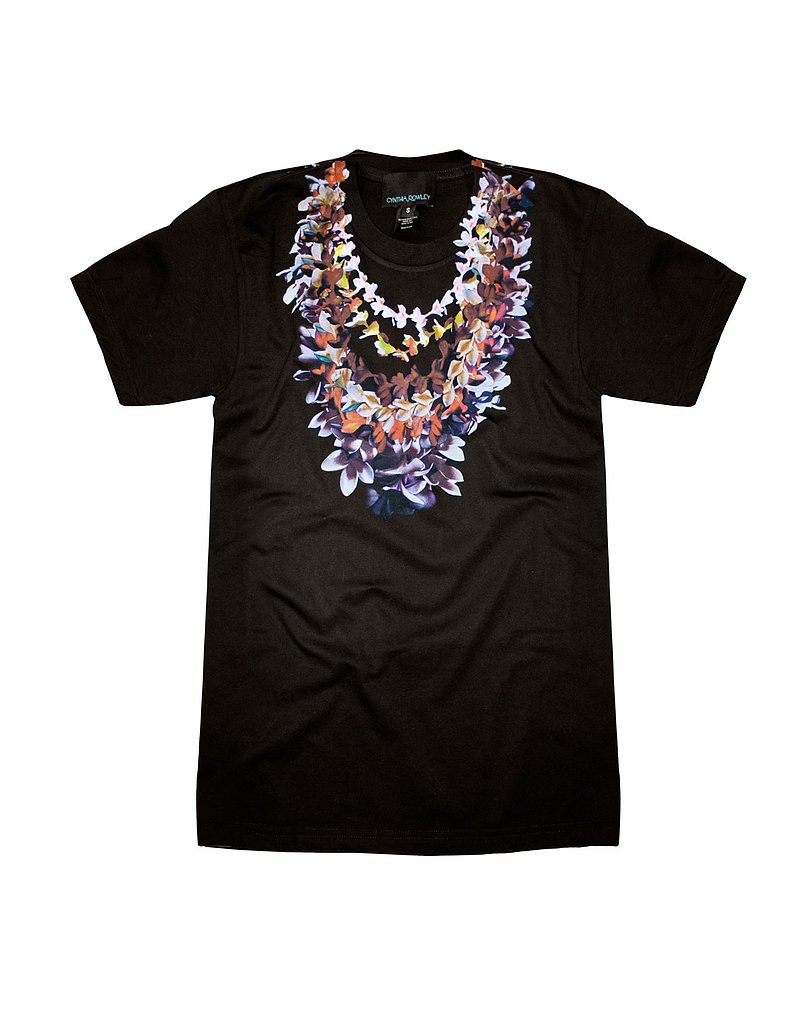 I find it a shame that adulthood means you don't automatically get a week off for Spring break in March. So what better statement than wearing this why-am-I-not-in-Hawaii-right-now Cynthia Rowley cotton lei t-shirt [7] ($55) around the office?
— KS
Jules Smith Americana Choker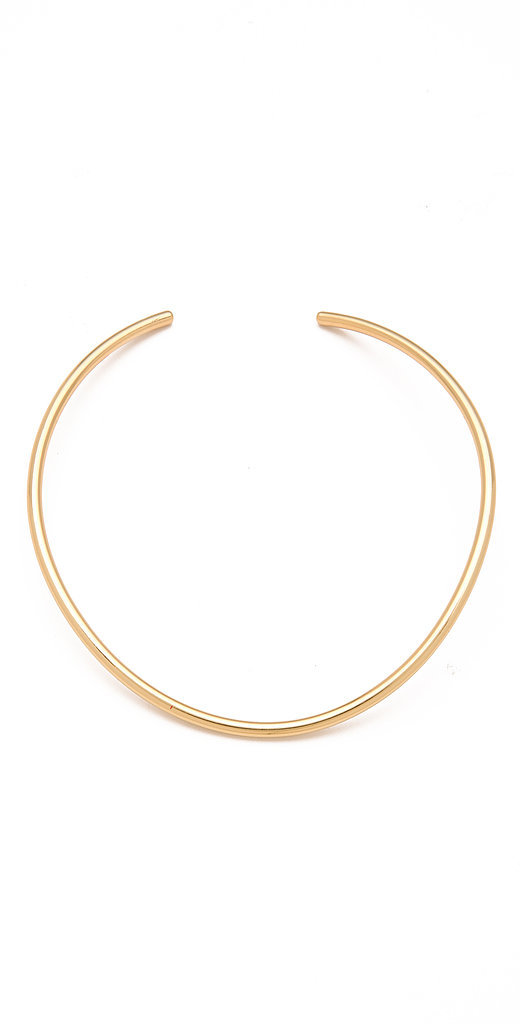 Chokers were huge on the runway for Fall, but I'm getting a jump on the trend with this Jules Smith choker [8] ($98) that sits lightly on the collarbone rather than encircling the neck. It's great under an open-neck blouse or even better with a camisole top to really set off the shoulders.
— MLG
Nordstrom Sarah Jessica Parker Collection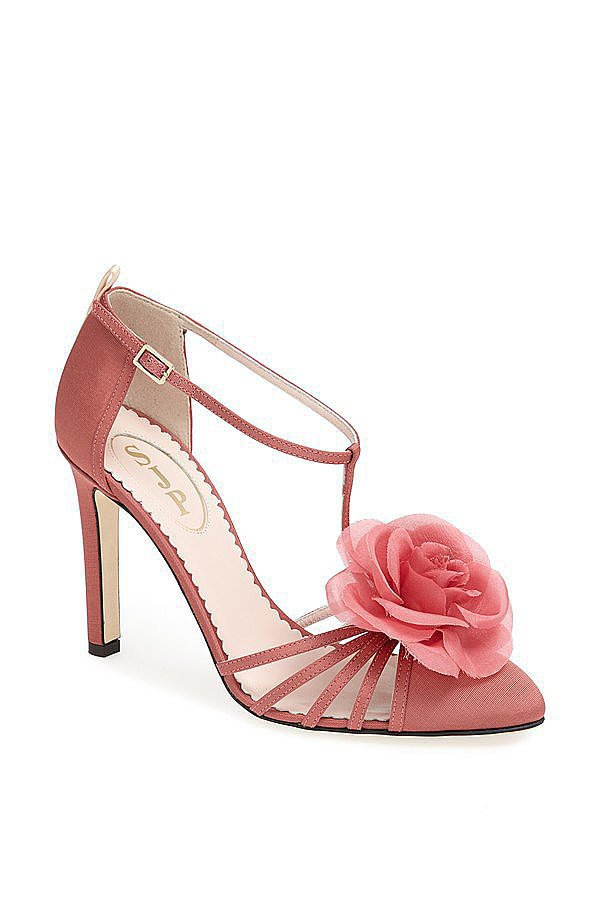 Sex and the City may have gone off the air 10 years ago, but thanks to Sarah Jessica Parker's new shoe line [9], SJP, Carrie Bradshaw is alive and well. I'm especially a fan of her '20s-inspired Etta shoe [10] ($425) in this dusty shade of pink.
— Robert Khederian, editorial assistant
Karen Millen Jeans Patched Denim Collection
A denim closet refresh without breaking the bank? Yes, please! These patchwork Karen Millen jeans [11] ($130) are giving me so much Lisa Turtle realness, I can hardly take it. Style them with a chambray shirt to up the true-blue ante.
— MV
Henri Bendel Pavé Deco Bar Double Ring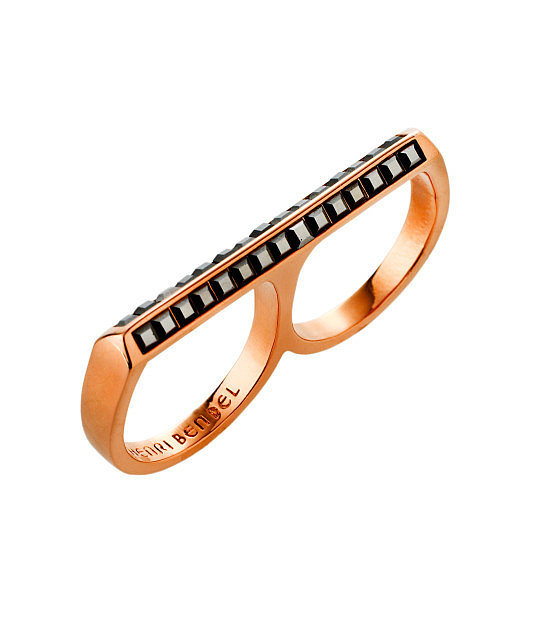 Henri Bendel [12] has been our go-to for fun and affordable jewelry the past few years, but it's taking things to the next level with the brand-new Henri Bendel Luxe line. I'm digging this pavé double ring [13] ($88) for a work-appropriate tough-girl feel.
— MLG
Illesteva Leonard Round Horn-Pattern Sunglasses With Mirror Lens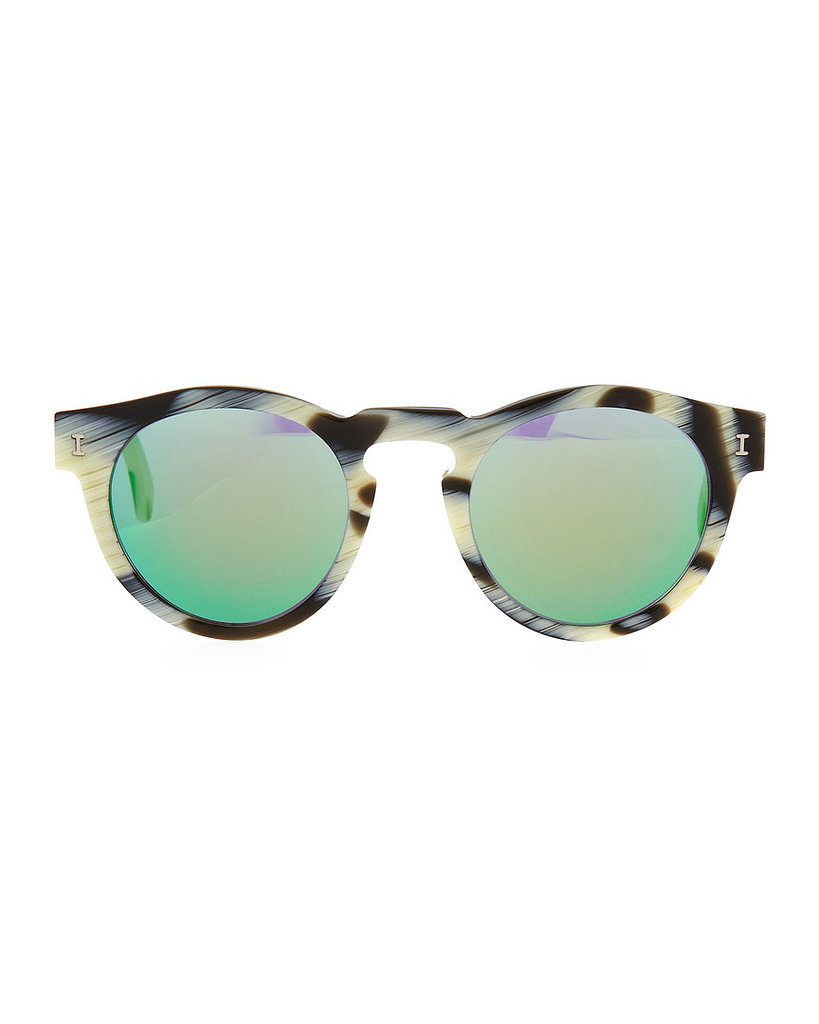 I don't love getting decked out in shamrocks or going head-to-toe green for St. Patrick's Day, but how's this for a subtle way to rep the holiday? Plus, I don't have to tell you that you'll get plenty of use out of these Illesteva shades [14] ($177) well beyond March 17 too.
— HW
Wildfox Team Happy Hour #9 Baggy Beach Jumper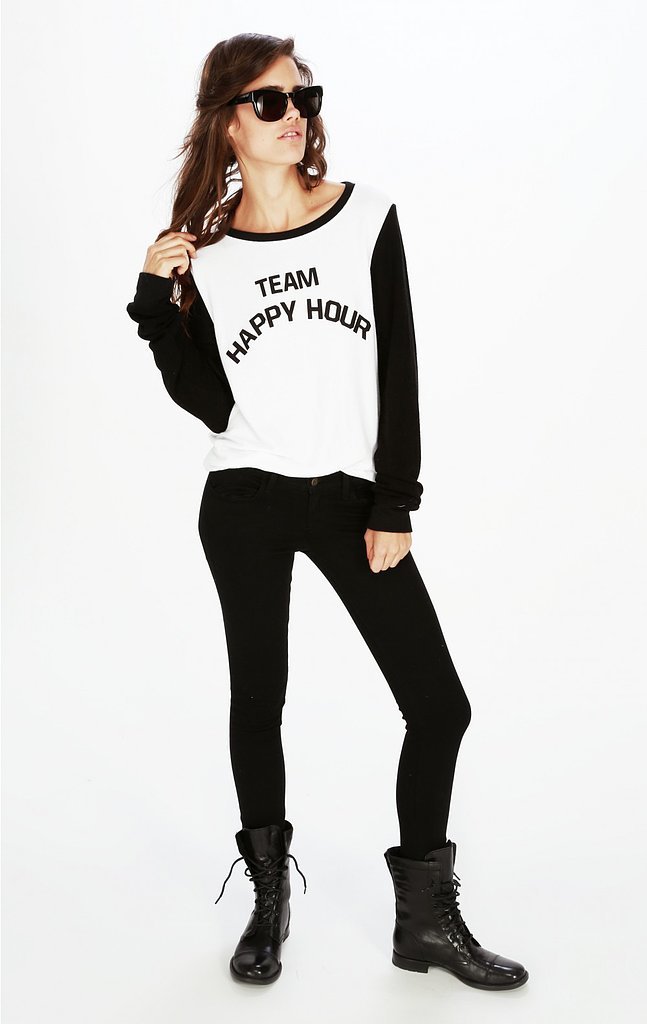 Because the best part of Spring is the promise of warm-weather happy hours [15] ($108).
— Randy Miller, associate editor
Loeffler Randall Industry Bag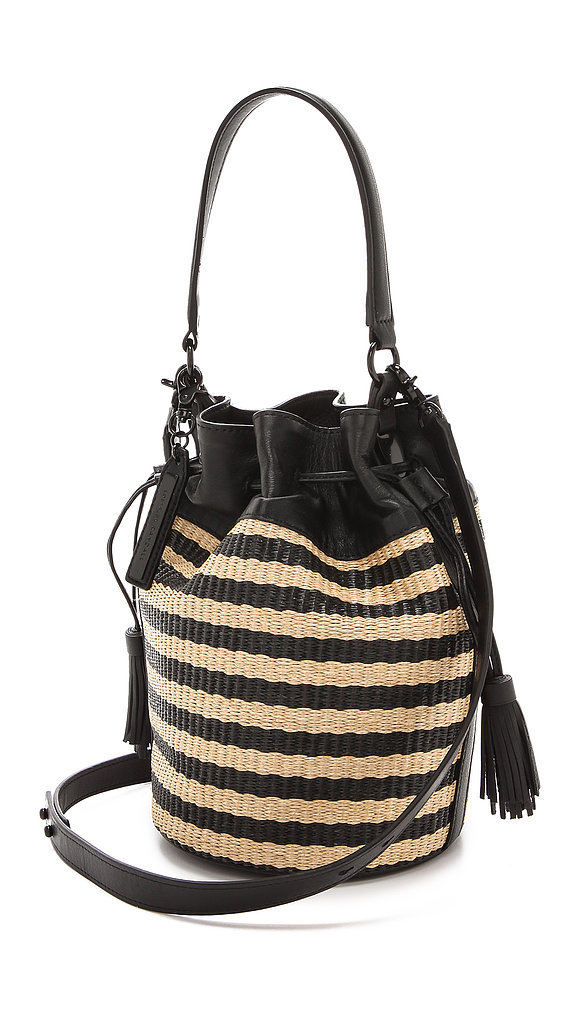 Just in time for Spring, the perfect bucket bag [16] ($295) is here. And with its airy raffia details, I'll be crushing on this style long into Summer.
— RM
Laveer Kadette Blazer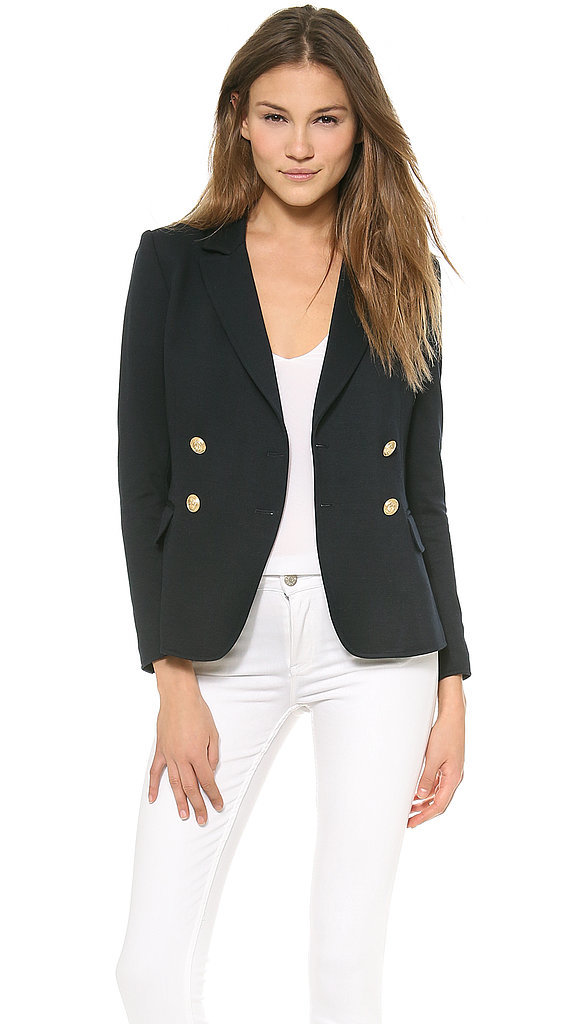 You know I'm extremely anxious for Spring to arrive when I'm breaking out lightweight dresses a bit too early, but this classic, double-breasted Laveer jacket [17] ($495) will provide me the right amount of warmth and polish to fake the appropriateness of it all.
— Meg Cuna, style director
Zara Leather Wide Heel Mule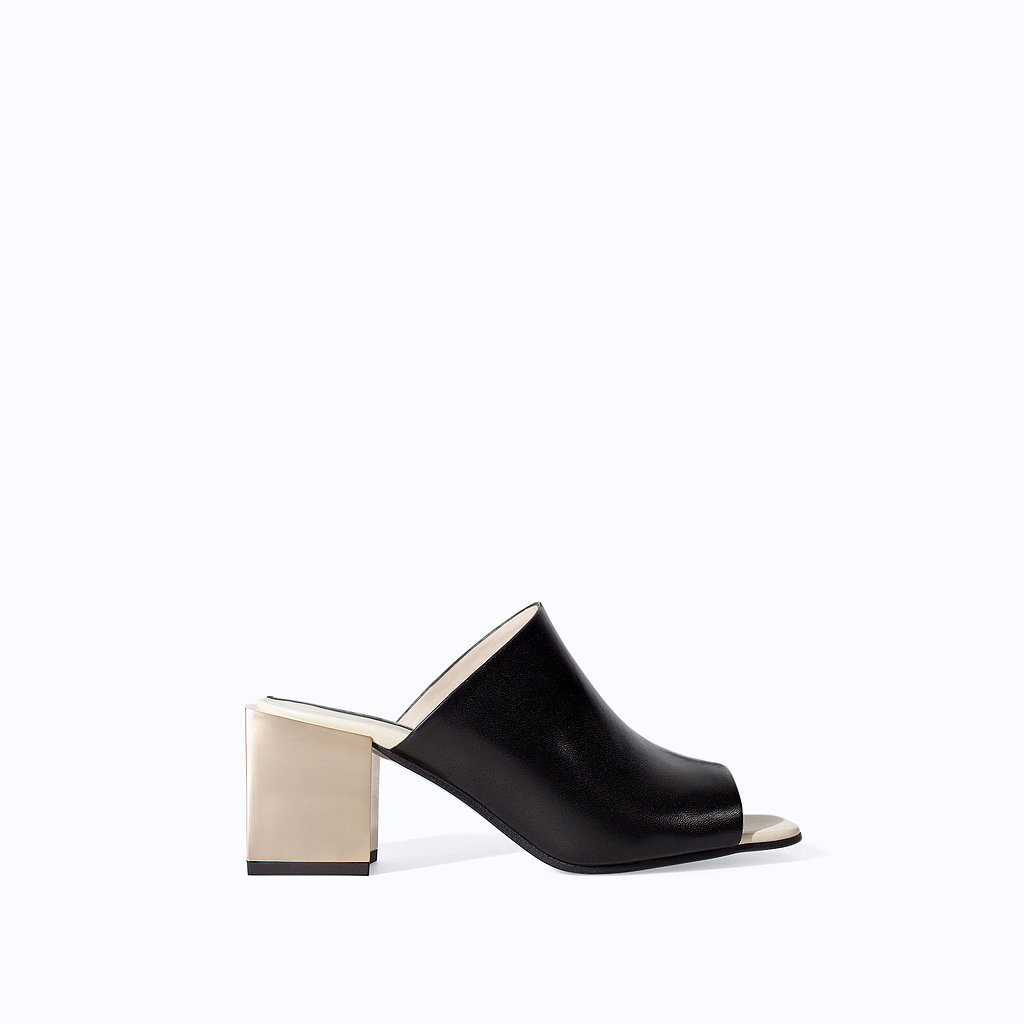 I swore to myself I'd never wear mules, but these leather wide-heel Zara ones [18] ($100) are too cool to pass up!
— Allison McNamara, fashion reporter
Michael Kors Mid-Size Channing Golden Stainless Steel Three-Hand Watch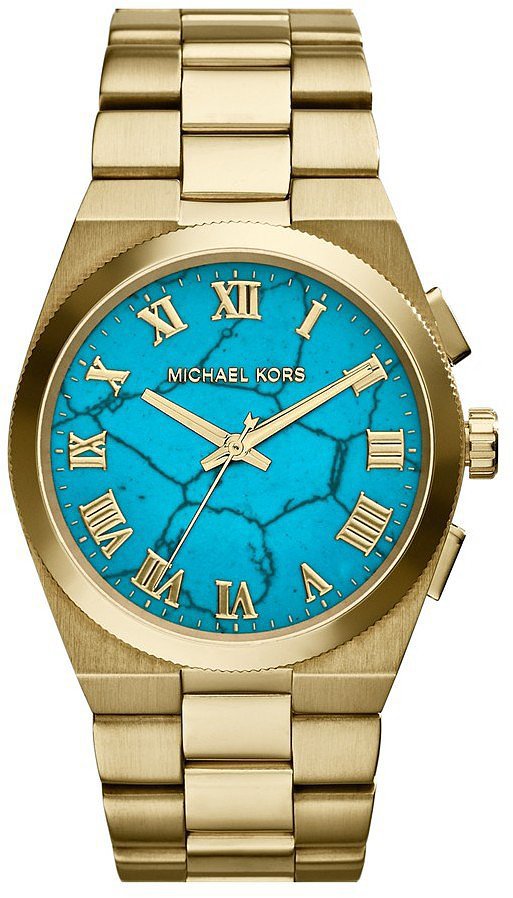 Chances are at least one of your best girlfriends wears a Michael Kors [19] watch. The brand hit it out of the ballpark with oversize, menswear-inspired timepieces, and now it's introduced the Channing [20] ($250), a new style to pick from.
— LM
10 Crosby Derek Lam Shirt Dress With Pleated Skirt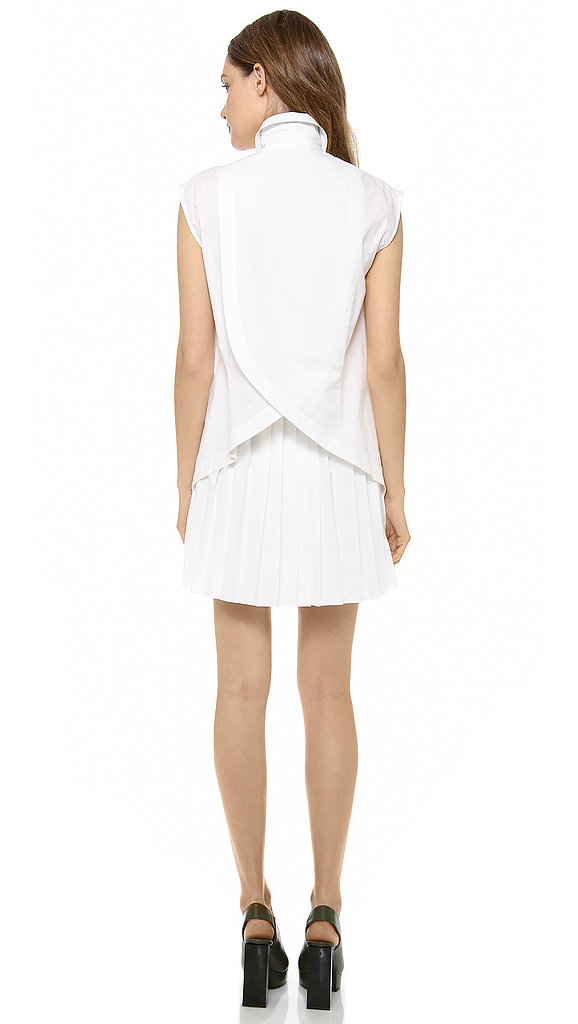 Nothing is more feminine than wearing a menswear-style shirt as a dress. I know that can go in so many awkward directions, but if you stick with strict tailoring and crisp cotton like this 10 Crosby Derek Lam version [21] ($395), you'll avoid all the "where are your pants?" questions. Unless, of course, you like that kind of thing.
— MC
Soludos Solid Platform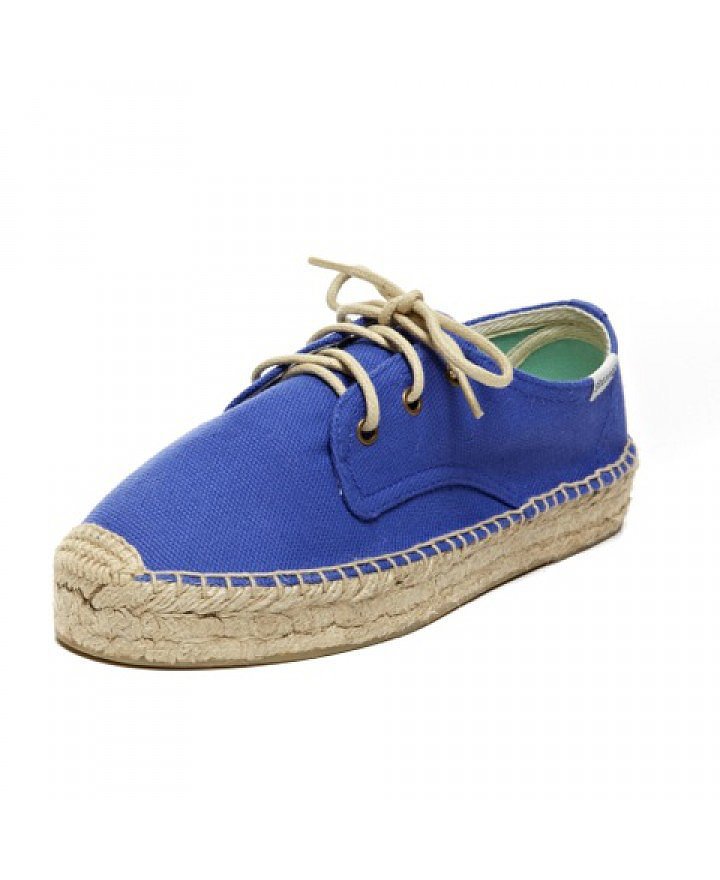 Is there any shoe more beach-ready than the espadrille? This newly released platform option [22] ($70) by Soludos [23] may give you — and your Winter-weary spirit — just the lift you need.
— RK
Tibi Short-Sleeved Crop Top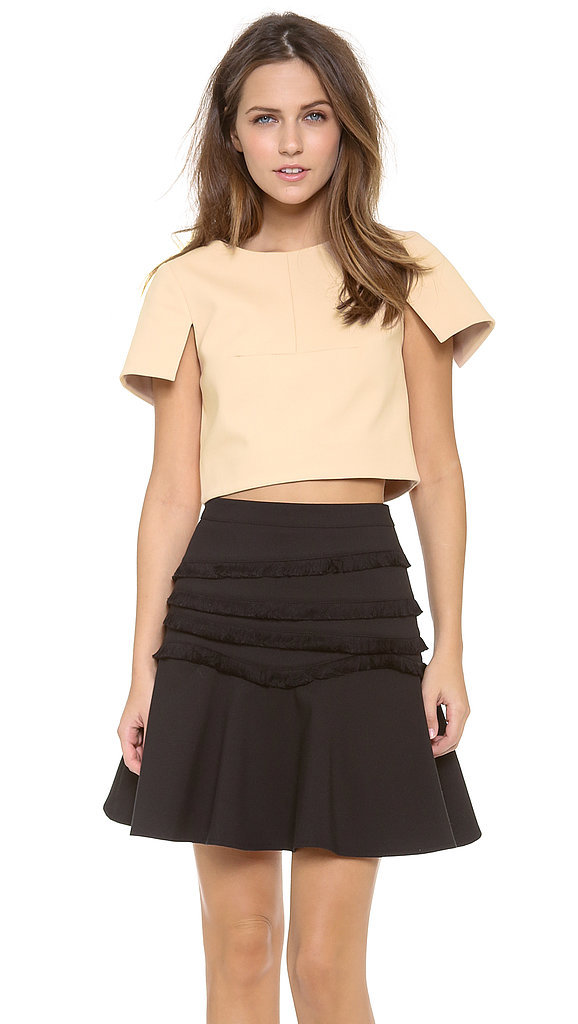 I didn't think I'd ever utter the words chic and crop top in the same sentence, but then I spotted this futuristic Tibi shell [24] ($325). Coating it over a crisp white button-down and superskinny denim, I'll instantly be mistaken for — or, at the very least, likened to — Olivia Palermo.
— MV
Oscar de la Renta Enamel Painted Flower Earrings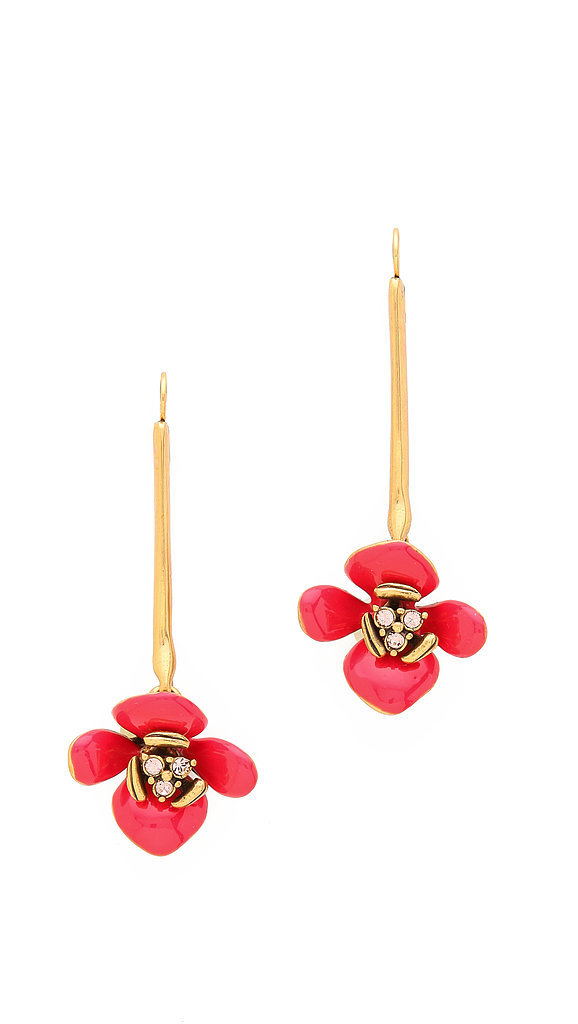 In honor of the Oscars, why not pick out something special from our very favorite Oscar? These Oscar de la Renta enamel flower earrings [25] ($195) are Spring ready and would look great both on the red carpet and off.
— KS
Givenchy iPad Case in Floral-Print Coated Canvas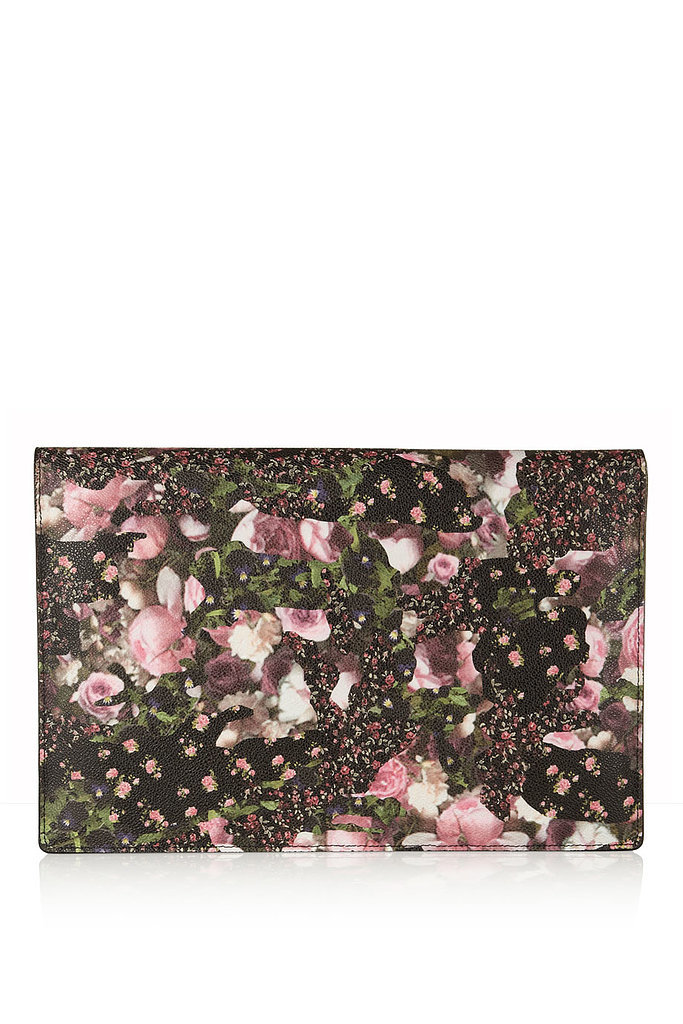 Who doesn't switch out their iPad case with the changing seasons? This March, I'm lightening my load with a floral Givenchy style [26] ($475) inspired by one of my favorite runway collections ever [27]!
— RM
Rag & Bone Talia V-Neck Sweater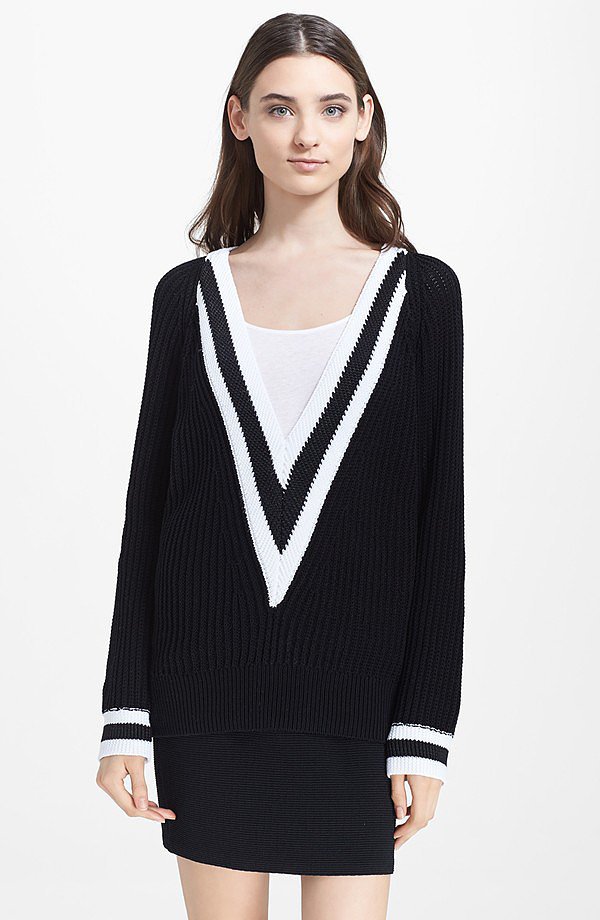 This Rag & Bone sweater [28] ($395), with its exaggerated deep-V neck, large textured knit, and bold stripes, is all things quintessentially British and prep. I'll likely wear it as a dress and pair it with some brogues for a little schoolboy charm.
— MC
Giejo String Tie Top and Mixed Side Tie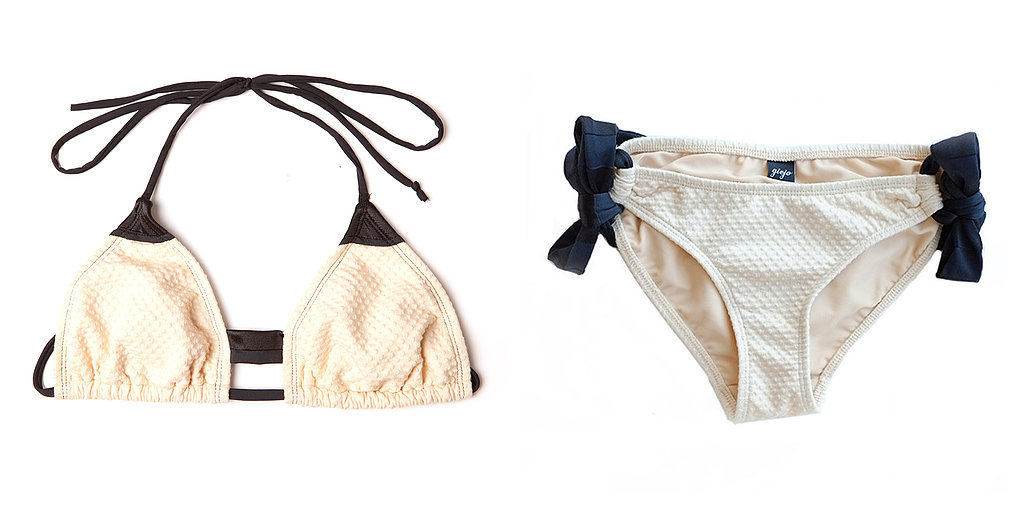 It's never too early to start thinking about bikini season, especially with a Spring trip on the horizon. If you're anything like me and love mixing and matching your tops and bottoms, no one does it better than Giejo. I'm obsessed with the sweet cream-and-blue contrast on this top [29] ($110) and bottom [30] ($90) — the kind of suit that's classic with great new details. It's guaranteed to get you compliments.
— HW
River Island Blue Embellished Waist Draped Maxi Dress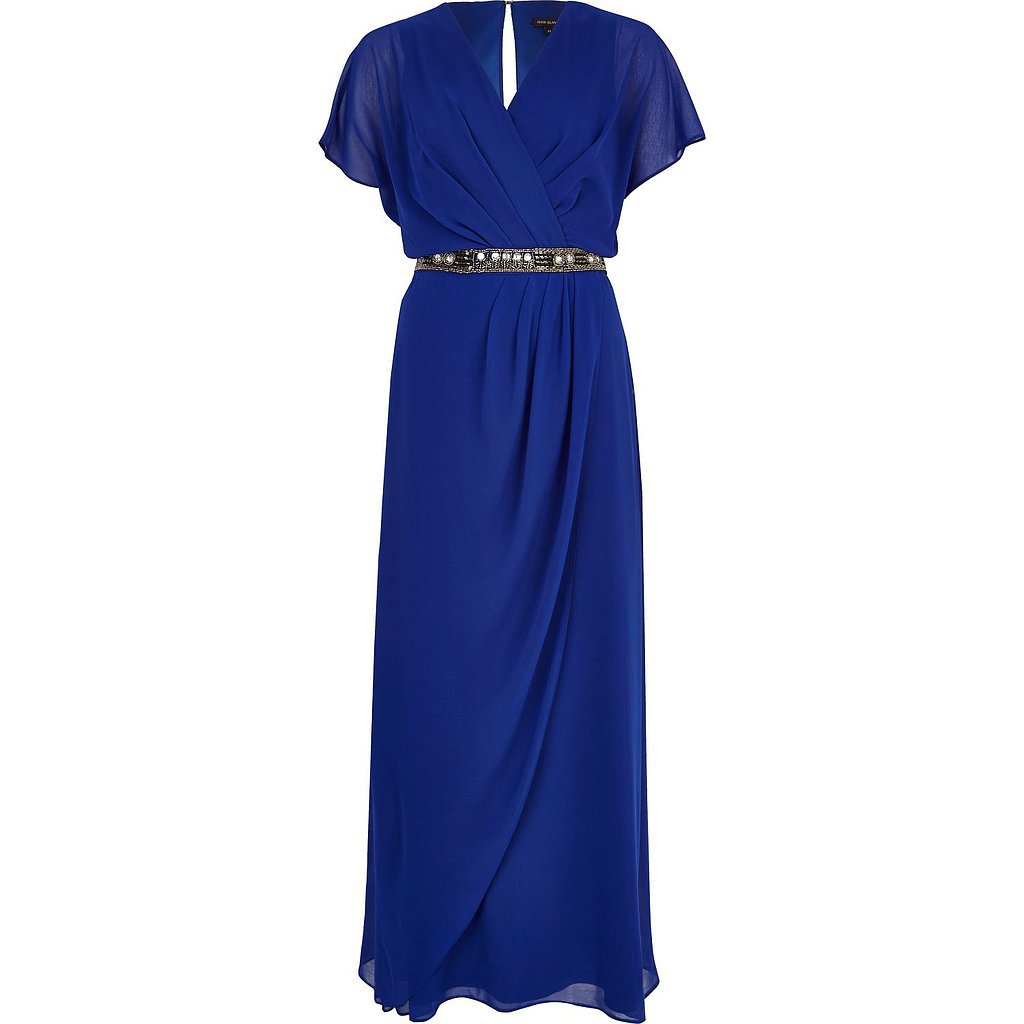 With a few off-season weddings on the books, this blue River Island draped maxi dress [31] ($120) — with a stunning embellished belt — is the perfect transitional dress. I can wear it now with a cropped leather jacket and pumps and in the Summer with sandals.
— KS
Alexander Wang Chastity Makeup Pouch in Gummy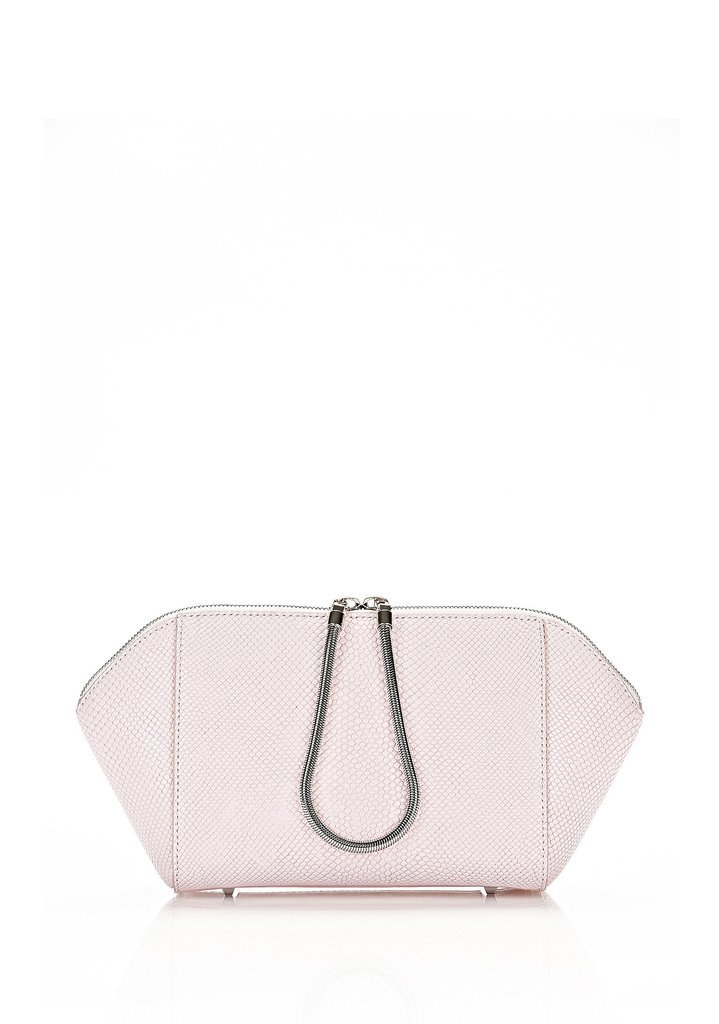 Alexander Wang [32]'s Spring bag line is crafted in the perfect shade of petal pink (how very on trend!) — and this makeup pouch [33] ($450) is just the perfect size to tote all my essentials — and will force me to weed out anything that's not. How's that for some inspired Spring cleaning?!
— HW
A.L.C. Davenport Double Buckle Leopard-Print Haircalf Clutch
I love expansion — especially if it means designers of cool clothes begin to make bags, too. Such is the case with A.L.C., which just debuted its first bag collection. The best way to celebrate is by shopping, of course; I'm eyeing this leopard hair-calf clutch [34] ($675).
— LM
Velvet Anna Stripe T-Shirt Dress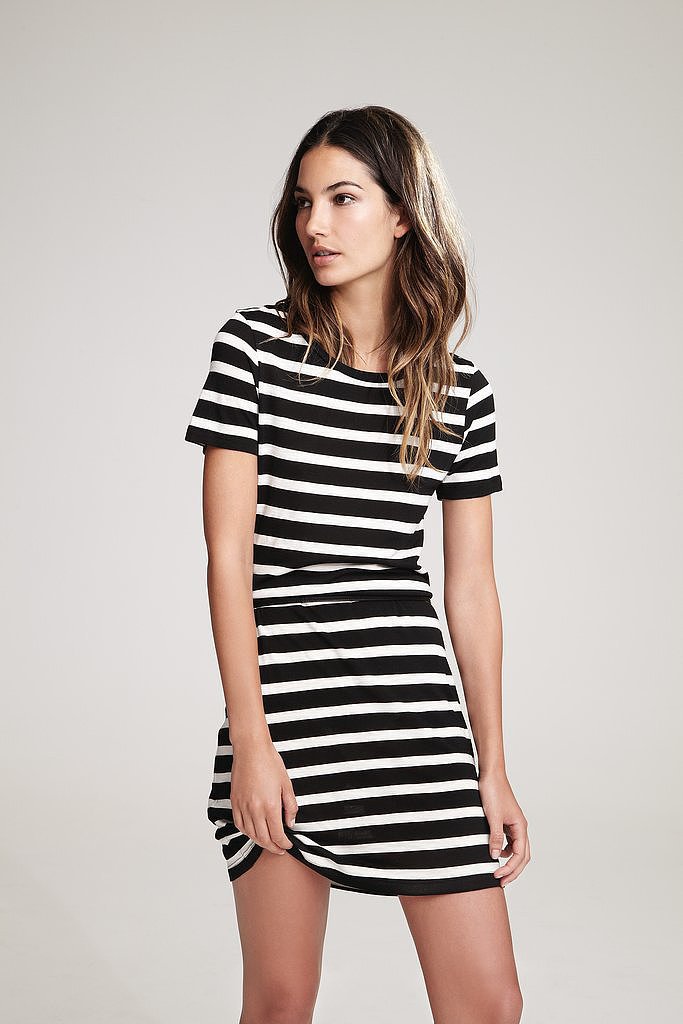 I've never met a sailor stripe I didn't like. And now, to join all the long-sleeved tees I already own, I'm planning on snapping up this comfy dress [35] ($108) from Lily Aldridge's latest for Velvet [36].
— LM
Fallon Crystal-Accented Palm Cuff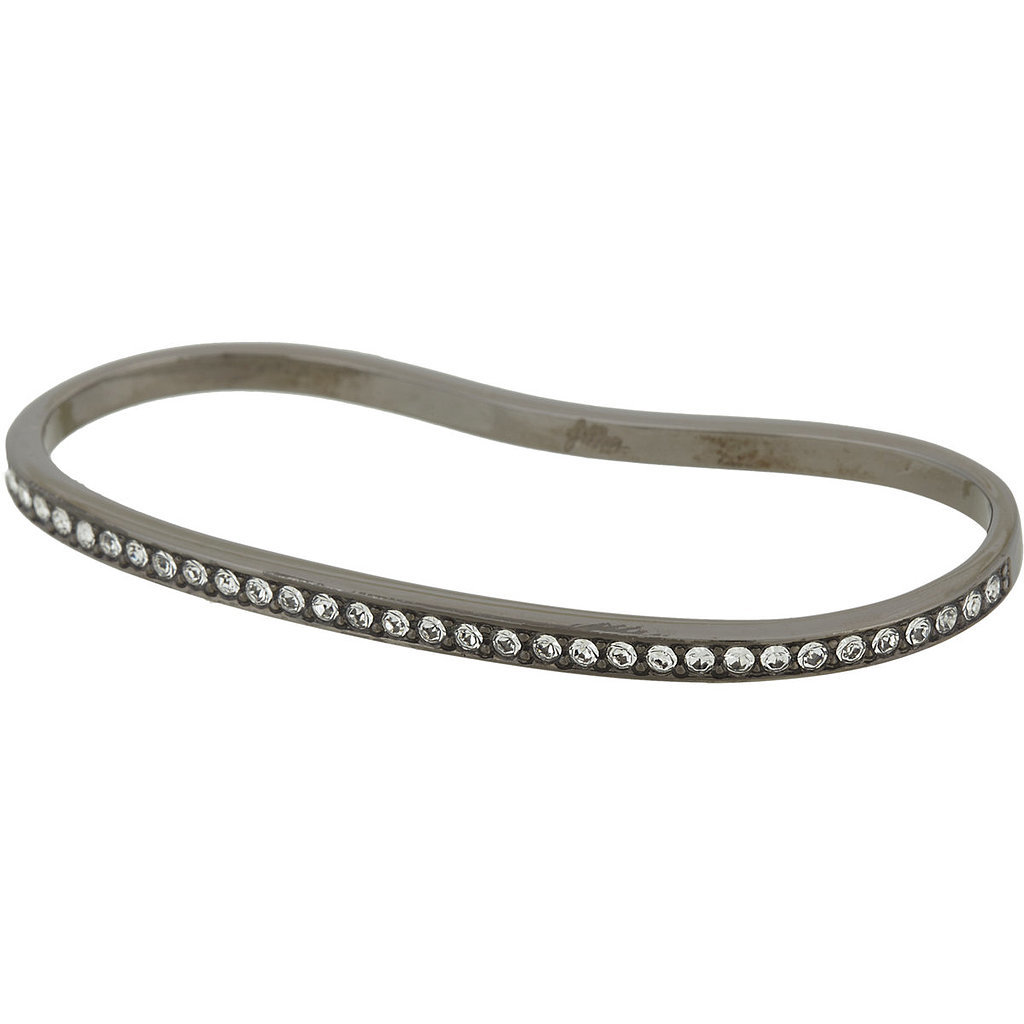 I missed the boat on ear cuffs, so I'm getting in on the palm cuff trend [37] nice and early. And since Fallon's studded style [38] ($175) is a casual alternative, I won't have to wait for a premiere to rock this red carpet look.
— RM
New York & Company Eva Mendes Collection Kelsey Lace Trench Coat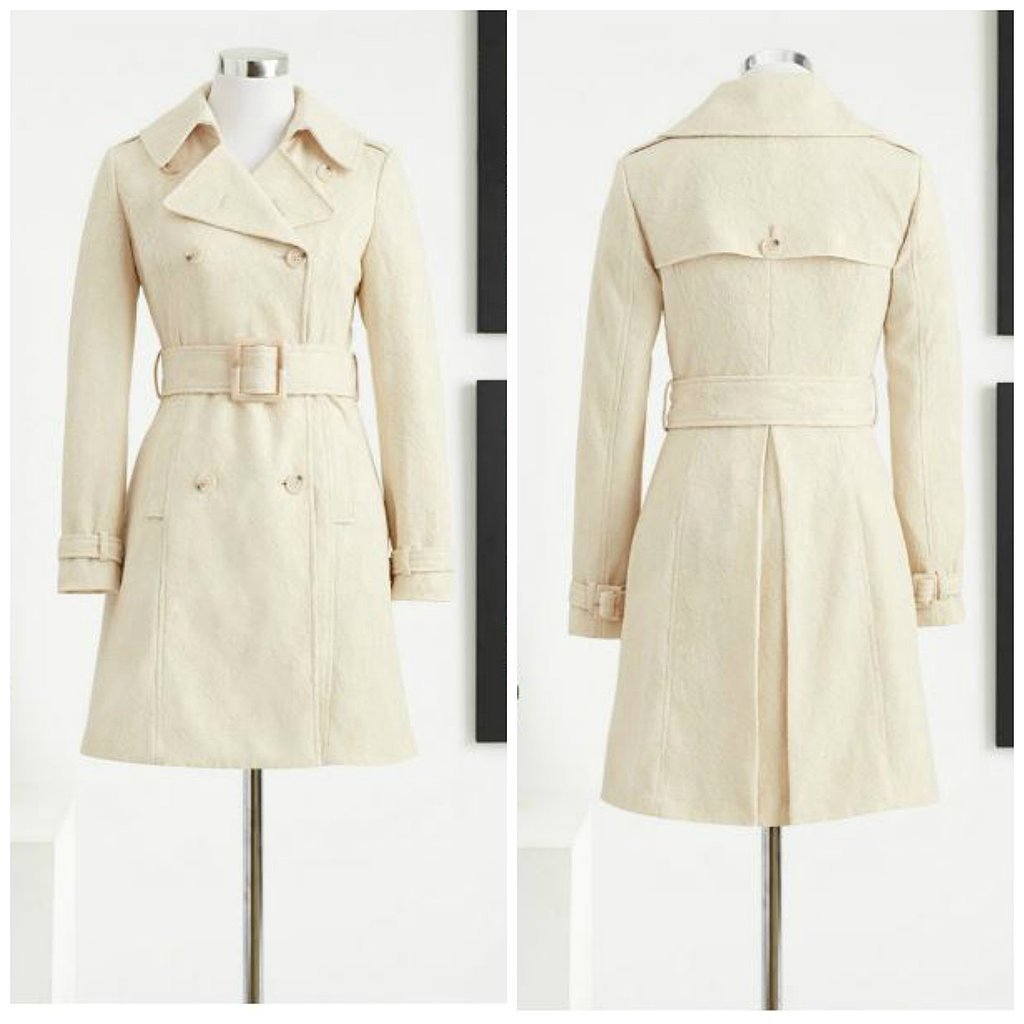 I have to say: most celebrity collaborations end up underwhelming, but Eva Mendes [39]'s New York & Company line is honestly worth shopping. Next on my list is this timeless double-breasted trench coat [40] ($170). It might look like a standard jacket, but if you inspect it more closely, the allover lace adds the perfect feminine touch.
— KS
Nike LunarElite Sky Hi Canvas and Suede Wedge Sneakers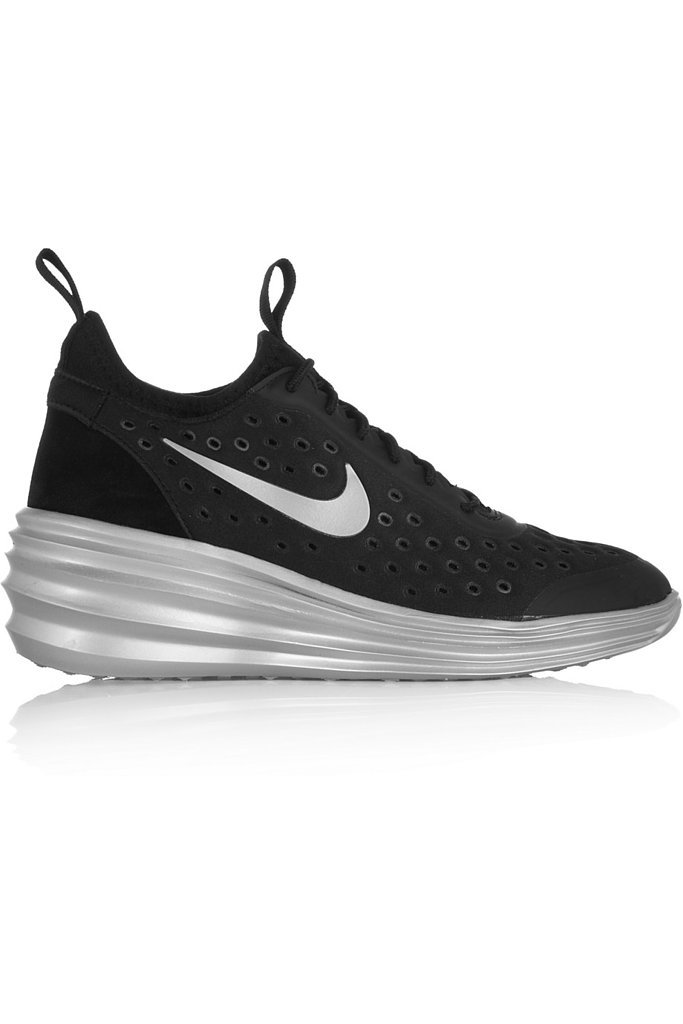 What do you do once even Isabel Marant [41] herself gives her iconic sneaker a rest? Seek out the next great height-altering sneaker, of course! The LunarElite Sky Hi [42] ($130) is right on the nose of the sporty trend for Spring, and since they are Nike [43], you know they'll be insanely comfortable. There is no greater gift from the fashion gods that ultracomfy, ultratrendy shoes.
— MLG
MM Couture by Miss Me Floral Bomber Jacket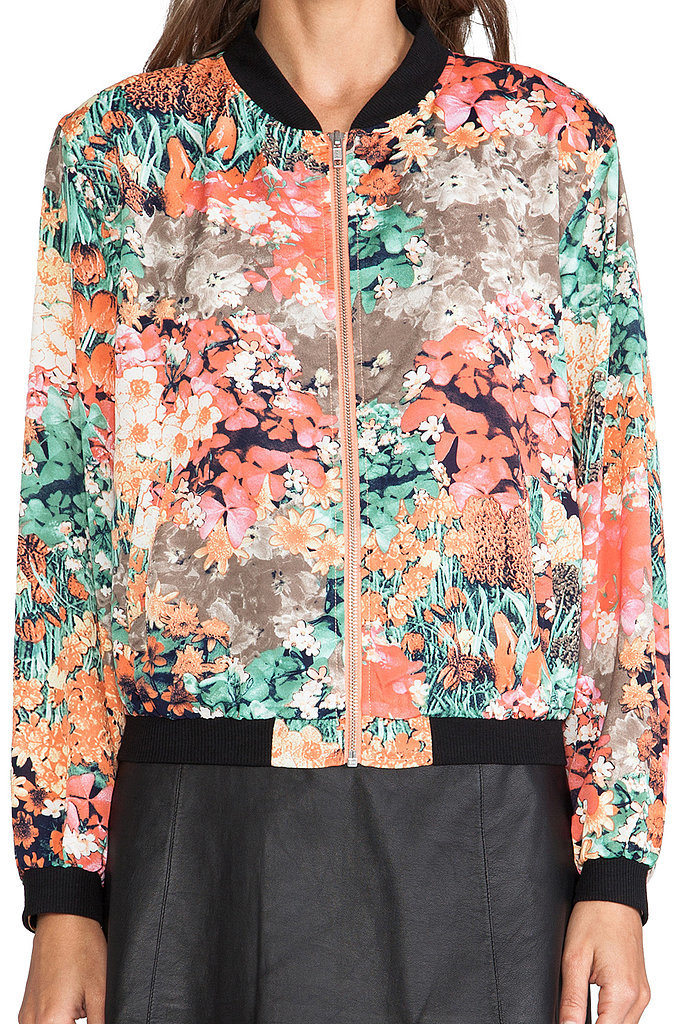 Though my "attend Pilates four times a week" resolution has fallen a wee bit short, my sartorial revamp [44] is in full bloom. I'll pair this MM Couture by Miss Me floral bomber [45] ($108) with a black leather miniskirt and checkered Vans.
— MV
Trademark Edgington Jacket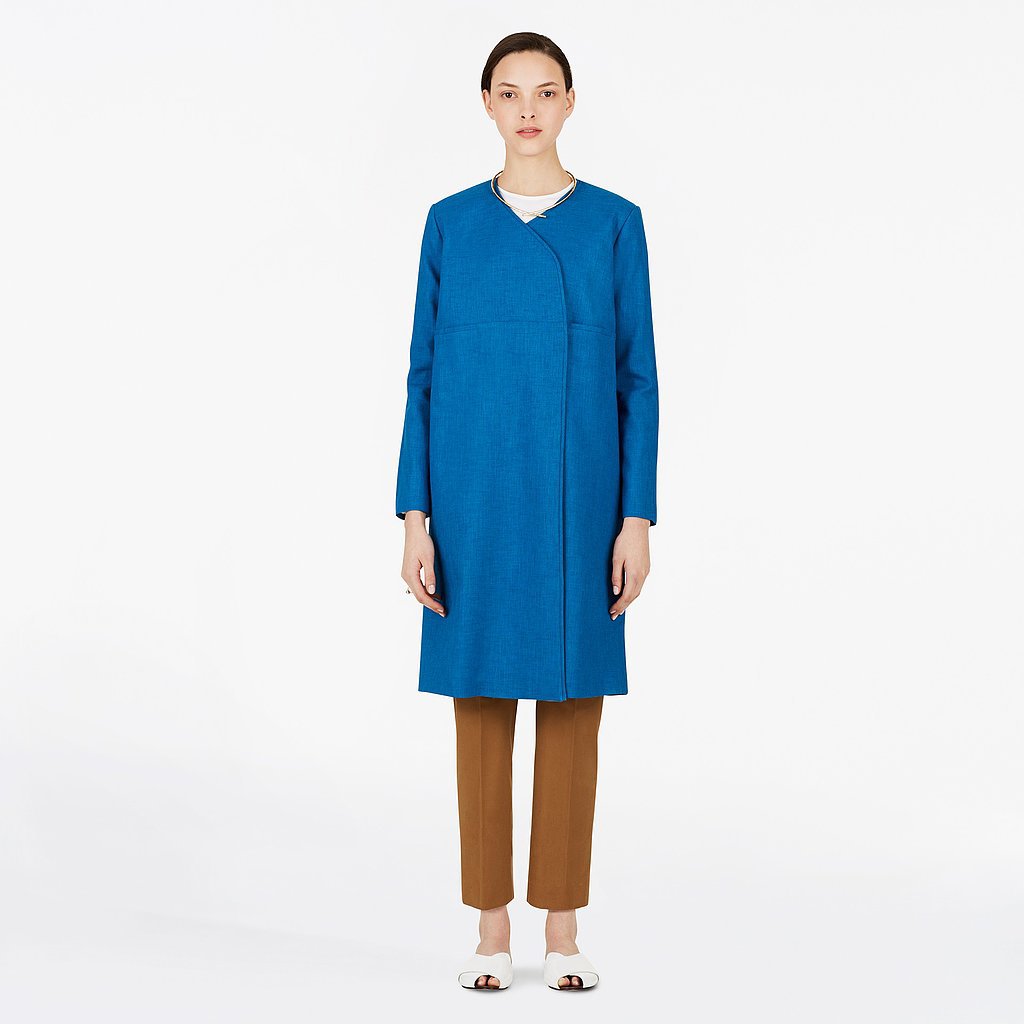 Because I can't contain my excitement for temperatures being slightly on the rise (it's been a rough Winter, to say the least), I think everybody should go out and buy a bright Spring weight jacket like this one [46] ($328) from Trademark. Consider it your secret weapon for those not cold yet still not warm transitional days.
— RK
3.1 Phillip Lim Wednesday Flap Shoulder Bag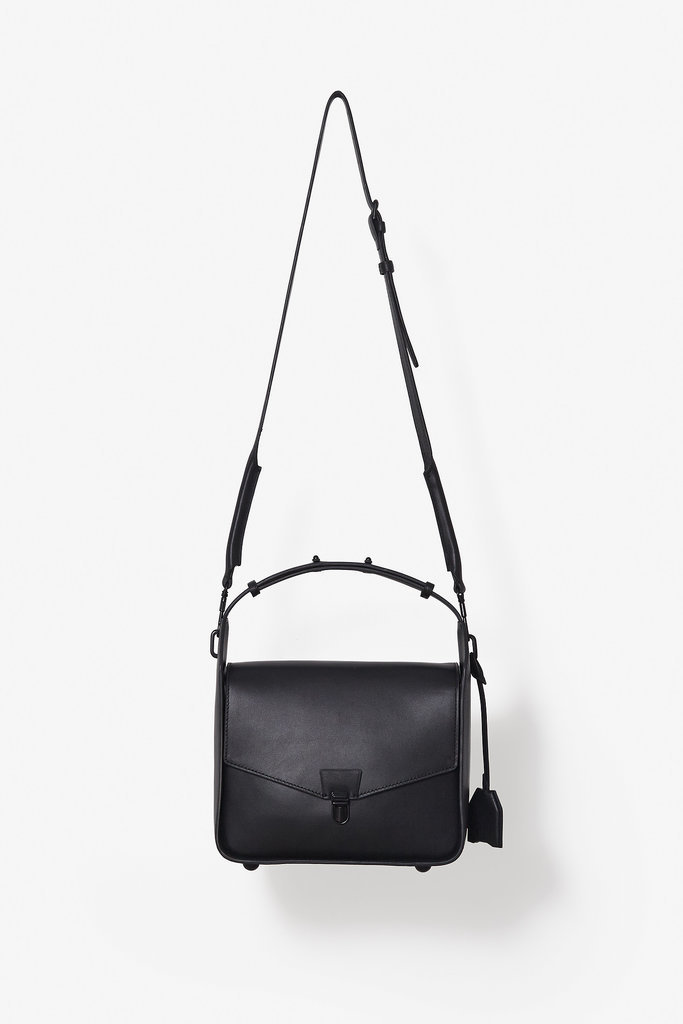 I've been looking to update my small-satchel game, and this one by 3.1 Phillip Lim [47] ($875) is perfect.
— AM