Once you've secured your Valentine's Day plans, it's all about figuring out what to wear. So whether you're celebrating the big day with a sweet, low-key dinner at home, hitting the town with your man, or celebrating your singledom with your girls, we've got a look that will make it a night to remember (cross our hearts!). And, since Valentine's Day doesn't end with dessert, we've also helped to outfit just the right look for hanging at home — read: lingerie included.
Click through to see and shop nine no-fail outfits for every occasion — we've even thought of the morning after!
Valentine's Day Date Outfit With Your Girlfriends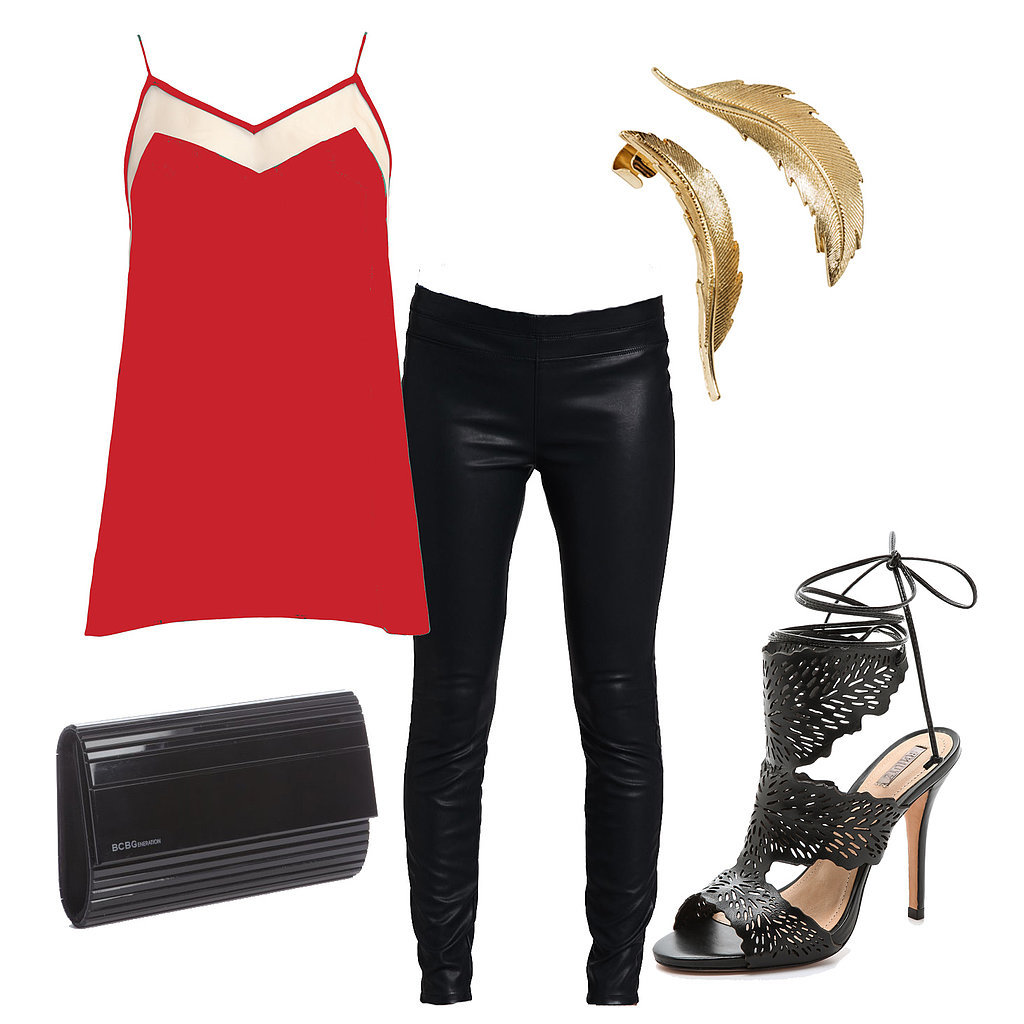 The sheer neckline of this silky cami makes it feel fancier than a simple underpinning; pair it with faux leather leggings, not denim, to elevate it even higher. Laser-cut, lace-up stilettos are sexy, but also sure to win major points with your shoe-loving friend, and a hard black clutch adds a nice edge to everything. For earrings, we love the look of gold ear cuffs — they're trending right now [1] and are a guaranteed conversation-starter with the cute guy at the end of the bar.
Shop the look:
Cami NYC Classic Red Cami [2] ($128)
H&M Earrings with Ear Cuff [3] ($5)
Blank Faux Leather Leggings [4] ($98)
Schutz Garoa Laser-Cut Sandals [5] ($200)
BCBGeneration Black Ridge Lucite Clutch [6] ($37, originally $53)
Valentine's Day Night Outfit With Your Girlfriends
The best part of a thin, silky cami is that it can easily double as sleepwear — it's what it was intended as, after all! Keep yours on after the club and swap out pants for a pair of frilly tap shorts. Clunky, chunky slippers can feel juvenile, so skip the fuzzy pair in favor of velvety smoking slippers. The final touch? A cheeky cat-ear sleep mask to pull on when it's finally time for some shuteye.
Shop the look:
Cami NYC Classic Red Cami [7] ($128)
Nasty Gal Reversible Eye Mask [8] ($22)
Anthropologie Dione Tap Shorts [9] ($58)
Splendid Cannes Smoking Slippers [10] ($55, originally $78)
Valentine's Day Date Outfit With Your Boyfriend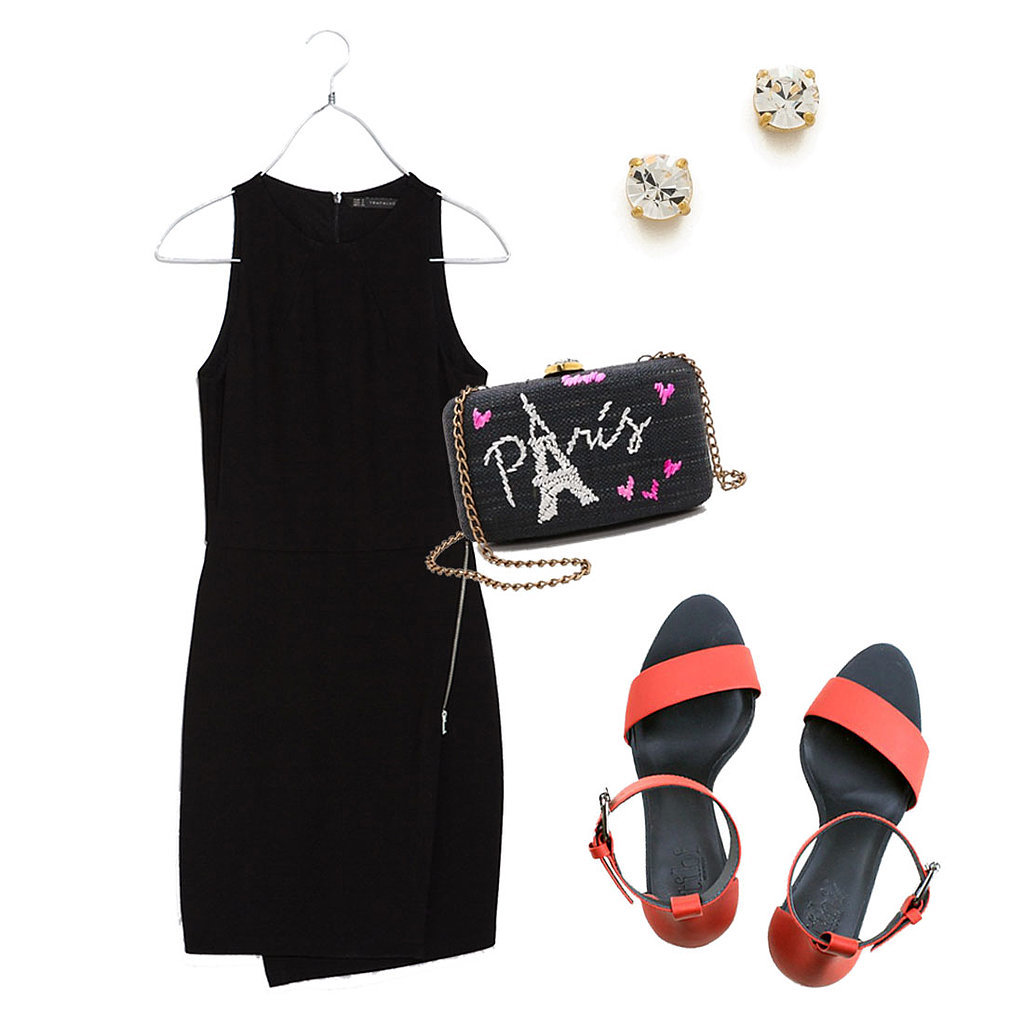 Pull out all the stops for date night with your guy — Valentine's Day calls for your sexiest LBD. Punch it up with a pair of red ankle-straps and a perfectly romantic clutch. Then, add subtle sparkle with a pair of studs — the kind of jewelry that'll let your natural beauty have all his attention.
Shop the look:
Zara Zip-Up Dress [11] ($50)
Kayu Paris Embroidered Clutch [12] ($125)
Tibi Carine Heel [13] ($365)
Kate Spade Cueva Rosa Stud Earrings [14] ($48)
Valentine's Day Night Outfit With Your Boyfriend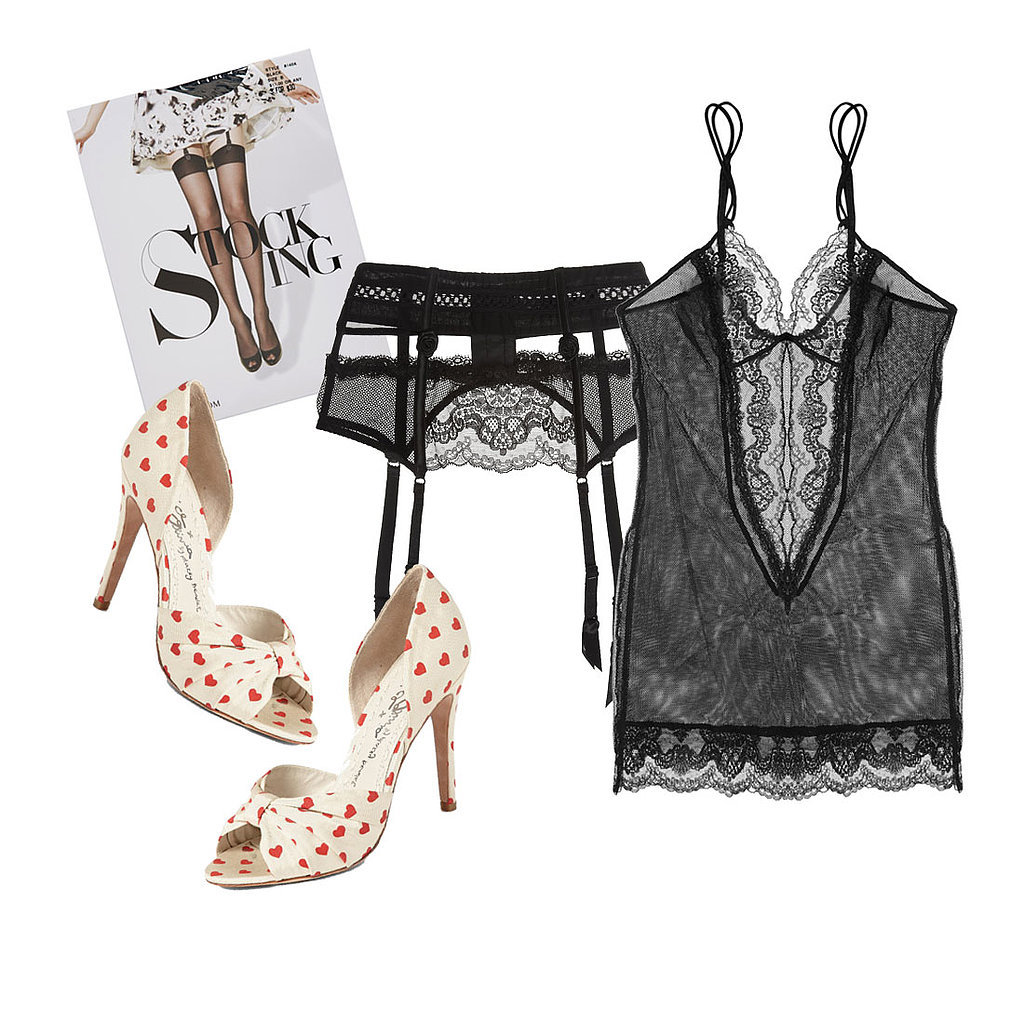 Keep the fun going post-date-night with an equally sexy look at home. Now's the time to pull out the big guns in your lingerie drawer and cater to the romance with heart-print heels or some otherwise sultry gear.
Shop the look:
La Perla Calle de la Pasion Lace and Stretch-Mesh Chemise [15] ($410)
La Perla Calle de la Pasion Stretch-Tulle and Lace Suspender Belt [16] ($240)
Nordstrom Sheer Garter Stockings [17] ($11)
Alice + Olivia Gigi Heart Print d'Orsay Pumps [18] ($295)

Valentine's Day Date Outfit With Your Husband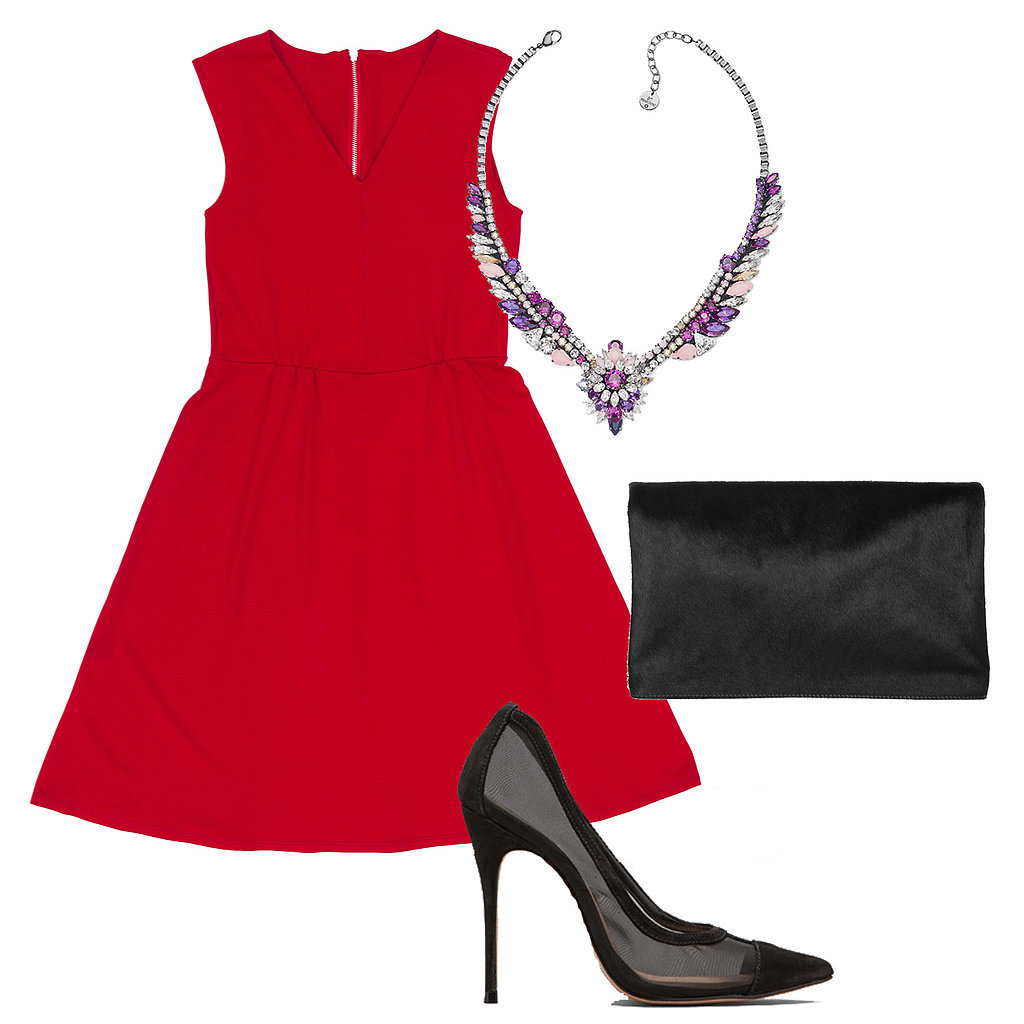 With a longtime love, your Valentine's dinner plans can run the gamut, from a long dinner out to something intimate at home. And even if you're simply ordering in, we're all for dressing up. Pick a classic red dress, sexy sheer black pumps, and an unabashedly girlie statement necklace in brilliant pinks and purples.
Shop the look:
Ava Gray Dress [19] ($78)
Swarovski by Shourouk Necklace [20] ($410)
Iris & Ink Calf Hair and Leather Clutch [21] ($198)
Schutz Sheer Eshaal Heels [22] ($200)
Valentine's Day Night Outfit With Your Husband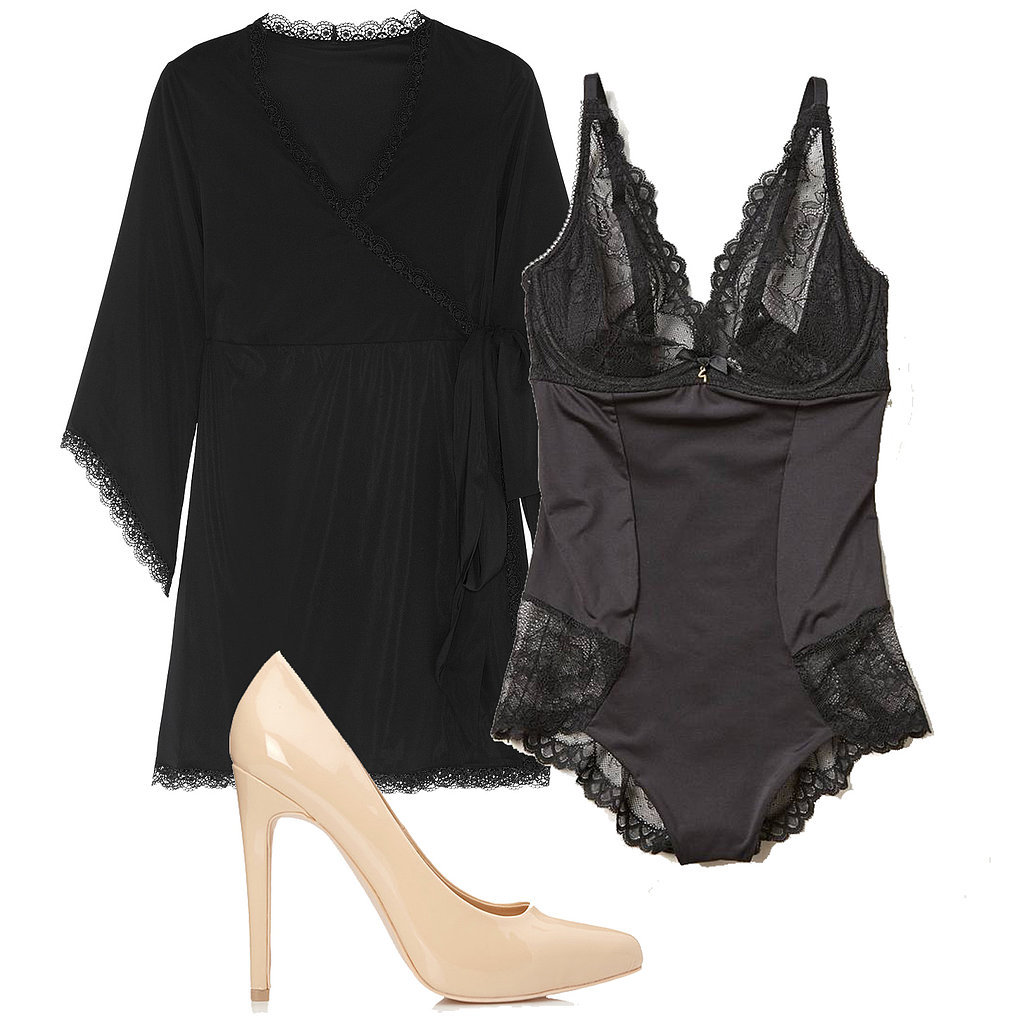 The brilliance of the racy bodysuit is that it's comfortable while being undeniably sexy. Pull on the silky piece and your favorite pair of leg-lengthening nude pumps. For an extra sultry touch, cover up with a kimono-style robe.
Shop the look:
Agent Provocateur L'Agent by Simona Lace-Trimmed Robe [23] ($200)
Anthropologie Cecita Bodysuit [24] ($89)
Forever 21 Nude Stiletto Pumps [25] ($30)
Valentine's Day Date: The Morning After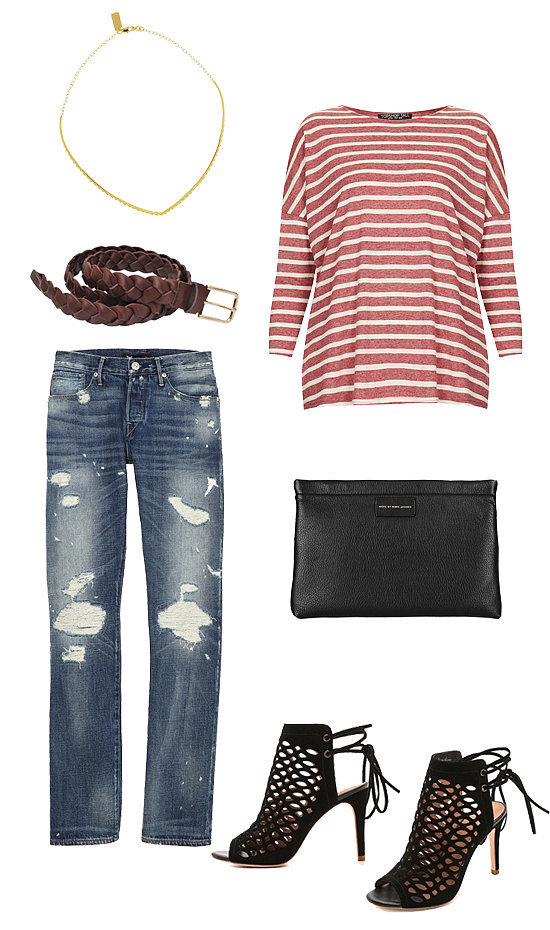 If you roll over the next morning only to realize your miniskirt is a bit aggressive for a morning stroll to brunch, make use of your guy's jeans. It's just like wearing boyfriend jeans, after all. Just make sure to belt them (to keep them from falling off!) — and when you add your heels from the night before, the look won't be too sexy for daytime.
Shop the look:
Eberjey Arme De L'Amour Gold-Plated Chevron Necklace [26] ($290)
Paul & Joe Henri Woven Belt [27] ($57)
3x1 M4 Selvedge Rip/Repair Jeans [28] ($119, originally $395)
Topshop Linen Mix Stripe Tee [29] ($40)
Marc by Marc Jacobs Can't Clutch This Textured-Leather Clutch [30] ($280)
Joie Clayton Cutout Booties [31] ($335)
Valentine's Day Date: The Morning After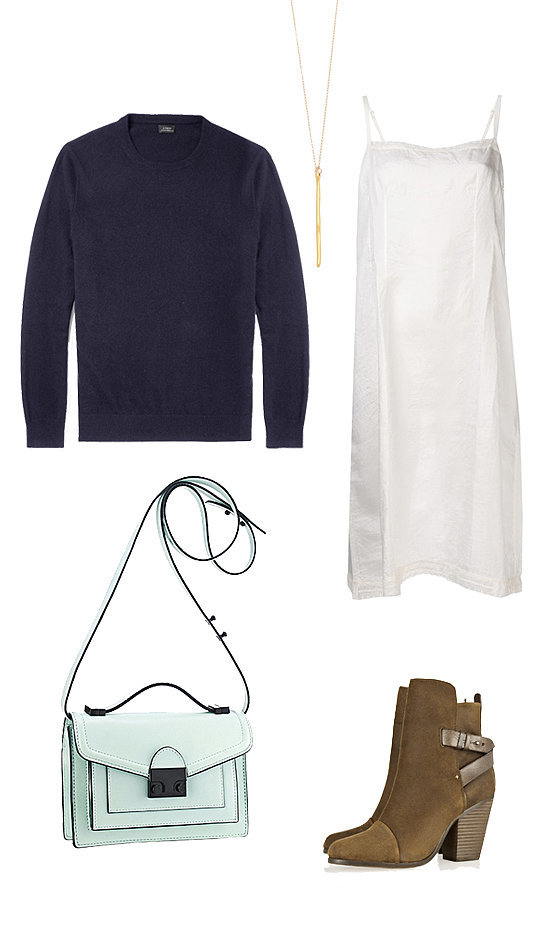 If you slept over but forgot to pack anything for the next day except your slip, you're in luck. All you really need is your guy's cozy sweater to make your pretty underthings a real outfit. Layer it up on top, and add your booties and bag from the night before — et voilà, a look you can head right out and hang in, without any embarrassment.
Shop the look:
J.Crew Cashmere Crew Neck Sweater [32] ($225)
Dosa Chemise Slip Dress [33] ($285)
Loeffler Randall Mini Rider [34] ($395)
Gorjana Pressed Taner Layer Necklace [35] ($115)
Rag & Bone Kinsey Leather-Trimmed Waxed-Suede Ankle Boots [36] ($595)
Valentine's Day Date: The Morning After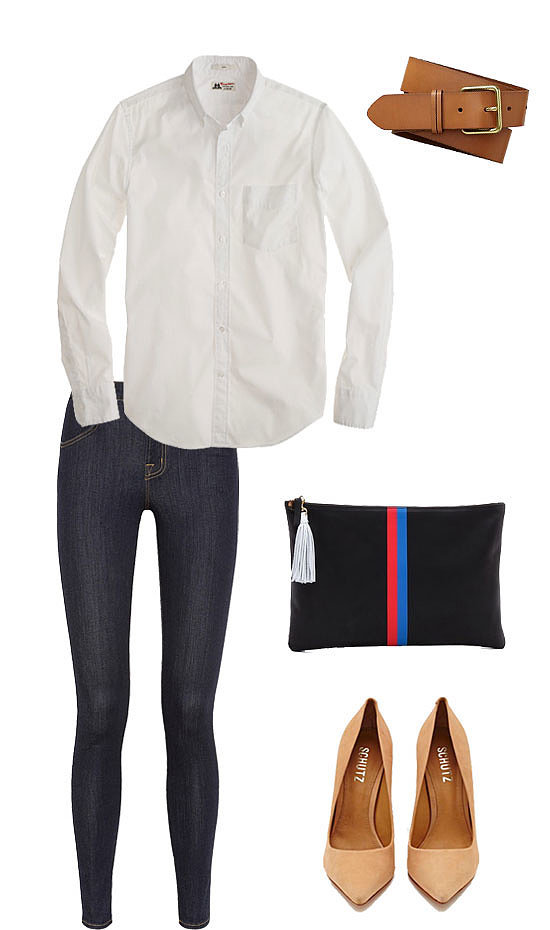 Let's say you headed out for your date the night before in a pair of skinny jeans and your sexiest going-out top. By the light of day, that look may feel a little more exposed. The solution? Swap out your evening top for your guy's white button-down. If it's a little oversize, all the better to steal a belt (or use your own) and cinch it over your jeans. When you add your clutch and heels, the effect won't be quite as attention-getting as the nighttime version.
Shop the look:
Thomas Mason Slim For J.Crew Button-Down Shirt [37] ($148)
J Brand Maria High-Rise Skinny Jeans [38] ($200)
Gap Wide Leather Belt [39] ($35)
Clare V. Stripe Oversized Clutch [40] ($275)
Schutz Libertine Pump [41] ($150)