We are thrilled to share this story from Lauren Conrad! The TV personality, writer, designer, and style maven has started LaurenConrad.com, a social networking site that features daily posts by Lauren on all of our favorite topics — fashion, beauty, food, party planning — and Lauren will be sharing her latest fashion finds with Fab every month. This week, she's showing us how to seamlessly transition from the office to off-duty.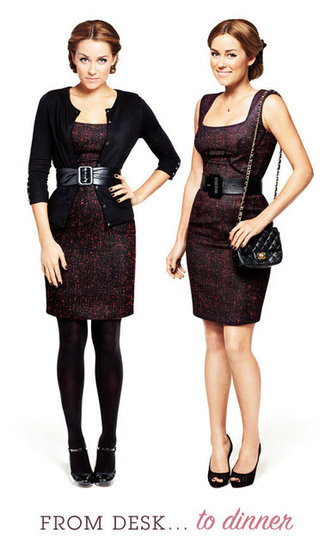 As a young working woman I often find myself racing against the clock. Constantly. (Maybe always.) Whether I am running from the gym to the office or the office to post-work cocktails, it seems that time is never on my side (even though it seems to be for the Rolling Stones . . . go figure). Since the ticking of time is inevitable, I've come up with some shortcuts to maximize the free moments I rarely find in my jam-packed days. Let's be honest here: When you're always on the go the last thing you need slowing you down is wondering about your wardrobe. Right? Especially when you're darting from your desk to drinks or dinner after clocking out. Here are a few surefire tips to take you from office appropriate to dinner date chic in a snap:
Start with the basics. When you get dressed before work, pick a simple piece to be the backdrop for your outfit. Something with clean lines and a somewhat fitted or simple silhouette is best. Think of this item as the canvas upon which you will layer and load with interchangeable accessories and other clothing items. Personally, I love slim-fitting pencil dresses, or top and pant combinations of the same color.

Related: Tuesday Ten: Fall Booties

Add for the office. Layer on a sleek blazer or a relaxed cardigan to make your outfit office appropriate. Pull the look together by adding a thin belt or a prim headband and finish off your look with tights (if your office is cold) and sensible shoes (no hooker heels in the office, ladies).
Pack for later. Bring along a playful pair of heels or booties, a clutch or small cross-body purse, bright lipstick, and if it's cold — an edgy jacket.