One of my New York Fashion Week highlights was meeting J.Crew's Creative Director Jenna Lyons. As you know, I am officially J.Crazy — Fab's been a wearer since high school. But for the past several years and thanks to fellow wearer First Lady Michelle Obama, J.Crew has gained serious momentum. This is largely due to the company's Cali-born 6-foot-tall Jenna (pictured here, with a fan).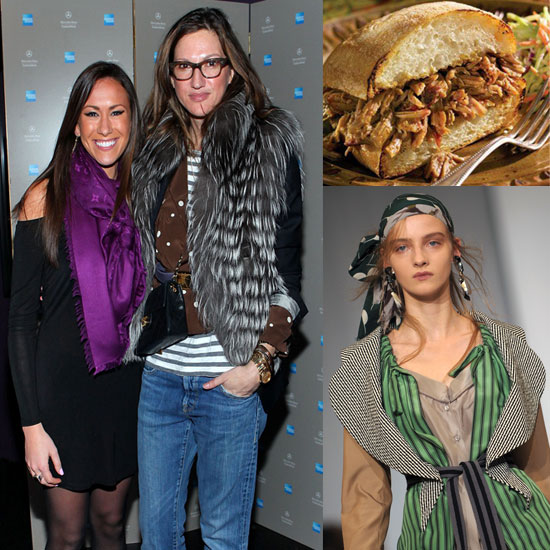 Two tall California girls chatting away in the corner in the AMEX Skybox; what did they talk about? Let's start with the fun stuff: Jenna's faves. Read on to hear about Jenna's favorite designers, bands, food, and inspiring hobbies.
Favorite designers?
Marni, Phillip Lim, Derek Lam (I went to school with him), vintage, what Pheobe Philo is doing with Celine is a new favorite. I'm all about old school preppy – socks, navy blazer, jeans.
Favorite bands?
Oooh, that's a good one. I have an insane girl crush on Alison Mosshart right now from The Kills, I'm like obsessed with her. I have like pictures of her . . . Do you know Nouvelle Vague? I'm a total Depeche Mode junkie and old Killing Joke and The Smiths. It's funny because I have a little boy, and when he was young we used to play rock n' roll a lot — like hard rock, everything from Nirvana to Killing Joke, and now if I put on anything too soft he goes, "No, Mommy. I like rock and roll." I was like, awesome. Thank God.
For lots more Jenna, read more