With her supporting family in tow, Zoe Saldana celebrated her cover on the first issue of Cosmopolitan Latinas last night at the Press Lounge in NYC looking gorgeous in a frothy mauve Elie Saab Couture dress, Bottega Veneta clutch, Brian Atwood pumps, and Irit Design jewels. Between her infectious smile and down-to-earth personality, it was hard not to fall in love with the beautiful actress. At the event, the actress let us in on her style secrets, not being a "pink girl," and why she loves being in her 30s: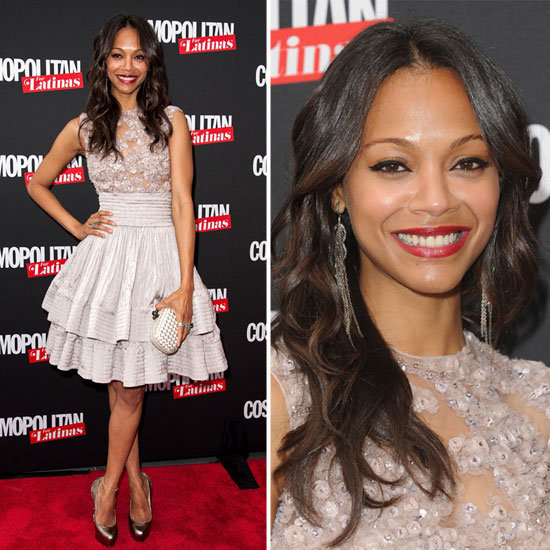 On where her style comes from: "My stylist Petra Flannery, she is my must have. I work so hard and I am nonstop that sometimes taking time to think about what I am going to wear is overwhelming. She is one of my closest friends and her taste is exquisite. I literally just show up at her door and if I have time, I love just staying with her one entire afternoon and see what I've been missing, like all of the collections in Paris, New York, or London. Petra Flannery is my go-to, my must."
On her organic style process: "I will say no to certain things; I am not a pink girl. This [dress] took years for Petra to get me to wear — feminine, pretty colors, and pastel. I always want things to be hard and poignant and sometimes, you need these things because they mellow you out, you know? They really help you feel so great."
On three words that describe her style: "Unexpected, emotional, and weather-oriented."

See pictures of Zoe Saldana on the cover of Cosmopolitan Latinas, plus read what she has to say about her Oscars dress debate, and why she loves being in her 30s.