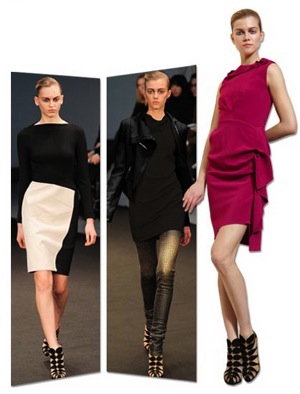 What was most interesting about
interviewing Roland Mouret
was how in tune with the zeitgeist he his. For instance, we talked about Twitter — are you
following me
, BTW? — and he realizes the importance of it, is even fascinated by it. But will he be tweeting anytime soon? No. But someone at his empire will. He is also super savvy about his costumer.
He recently announced launching menswear
and has had fun trying on the demos himself. Clearly, he's on top of his game. No wonder his dresses look so damn good . . .
You mentioned you're against cocktail dresses?
I'm against the way we live now — just one dress for one thing. I wanted to try to bring the outfit to another level. I was offered for Christmas two years ago, an amazing phone, really expensive phone. But it was just one function, just a phone. And it was impossible for me to let go of my phone — you know my music. And I realized we are living in a technology world, where clothes must have the same relevance as technology. You must be able to transform your clothes to have a different life. But you have to be really eccentric to wear it in the daytime with a pair of Doc Martins. I like evening wear, but I like to do really understated evening wear. Not this in-your-face evening wear. Even as evening wear, you want to be able to wear it again in three or four years and have people think it's a new dress. You know it — you know it better than me. Would you buy something dated?
To hear about his menswear news, read more