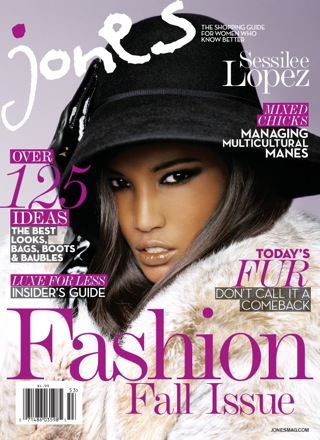 Jones Magazine recently announced the release of its first Fall Fashion issue — with one of our favorite American models, Sessilee Lopez, on the cover! Besides being a fabulous cover girl, Sessilee was also honored with the Model Award at the first annual The Jones Awards during New York Fashion Week. We got a chance to chat with the beauty about the award, her cheap thrills, and top five Fall trends every girl should rock. Read on.
FabSugar: Congratulations on receiving the Jones Award. How exciting! What does this honor mean to you?
Sessilee Lopez: This award means so much! I am very humbled to be honored by such a positive magazine and how it empowers black woman. I am beyond appreciative of this honor and so thrilled that they chose me to receive this award and to be on the cover of Jones Magazine.
FS: What's your style uniform? Your go-to pieces.
SL: My style is sexy, confident, comfortable but chic. I'm usually in skinny jeans and a t-shirt and heels.
To hear more from Sessilee, including her favorite online shops, read more