In this second installment of speaking with The Runaways costume designer, Carol Beadle, we get down and dirty about what separated Joan and Cherie's (Kristen and Dakota's) styles and the key pieces of the time. Then, Carol and I got into an interesting conversation about always-evolving hemlines, and Bowie is referenced yet again. The film comes out today; are you going to see it? I kinda want to just to revel in all the rockin' clothes and Dakota's Sasson jeans . . .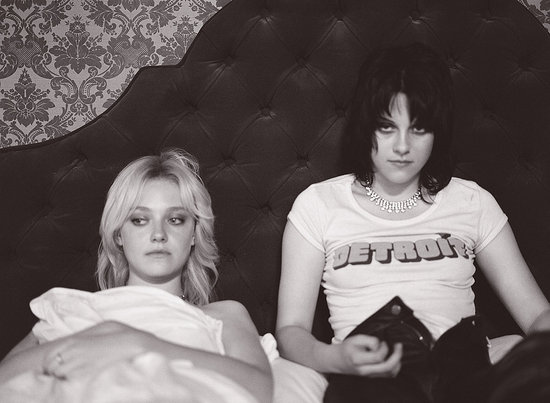 What would you say are the style differences between Kristen and Dakota's characters? How would you describe each of their styles and how are they different?
The obvious difference is one is more feminine and one is less, one is really trying to be put forth this style that's very masculine, mainly to prove that she can play her instrument as well as the boys, which is really the main thing. You had to really prove yourself. And it was pretty punk, so you couldn't just get up there and bang the sh*t out of a bunch of chords. You had to really prove that you were worthy of being up there and that this was your main focus; to not be girlie and taken super seriously. I think Cherie (Dakota's character) was less into the music. Cherie was more into the style and having been such a massive Bowie fan — he was not only an amazing musician, but his style was what really caught you. I think the difference is that she's definitely more feminine, but also raw, too. Not like Brady Bunch feminine, but like still pretty raw. Feminine rock and roll, that would be the main difference — more colorful, more glammy.
For the rest of the interview, read more