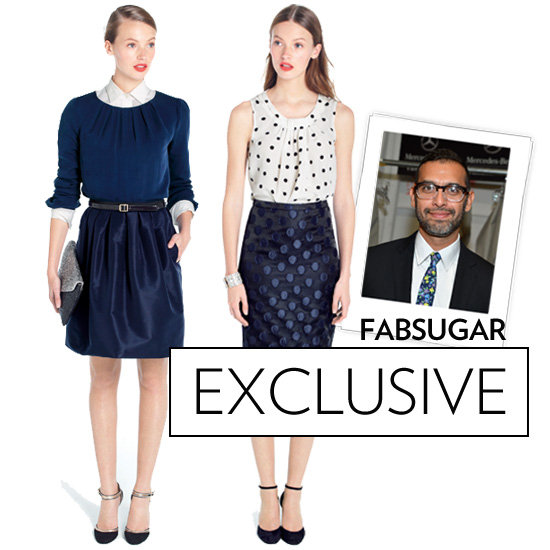 When it comes to styling up a polished yet playful party look, nobody does it quite like J.Crew — and with invitations coming in left and right, we thought it necessary to tap into the brand's signature quirky-cool aesthetic for the season ahead. We chatted with Tom Mora, J.Crew's head of women's design, to hear about the latest collection and get his expert tips on holiday party dressing — and boy, did we get a wealth of inspiration. Tom gave us his advice on taking a look from work to play, his favorite cocktail dress alternatives, and even gave us the inside scoop on the gifts that make creative director Jenna Lyons smile. See what he had to say below.
FabSugar: A lot of us end up going to holiday events straight from work — what are your tips for making an office look party-ready?
Tom Mora: There are a couple things that I think are easy fixes: throwing on a statement necklace or pair of earrings does an incredible job of making an outfit feel really special. In the same vein, we have really gorgeous suede pumps in the most exquisite colors, and it's really fun to walk into a party in a more muted black or gray outfit and then have people look down and see a bright shoe! I also think a really great lipstick color — a really red or poppy-colored lip — looks amazing and is an easy switch-up.
There are a million parties to go to all season, and we tend to get into our somber, dark clothes — but there's lots of color out there, and it's a great opportunity to experiment with brighter tones and mix and match them with hues like seafoam green, icy lilac, and citrus. Don't shy away from colors that you think don't work on you — those rules were made to be broken!
For more of Tom's tips, and to see chic style inspiration from J.Crew's Holiday 2012 lookbook, just keep reading.