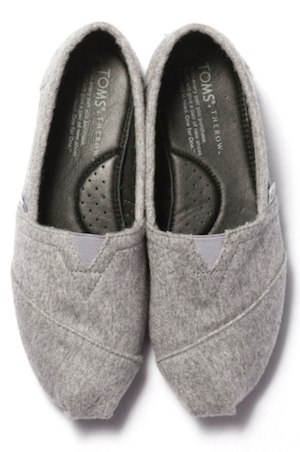 If you live in Toms's canvas kicks all Summer long, there might be hope for you in the Winter. Mary-Kate and
Ashley Olsen
just debuted their collection for
Toms shoes
made out of cashmere and Italian wool — come on, you knew they were going to add a cool twist somewhere in the design process. "The giving is so immediate and transparent,"
said Mary-Kate Olsen
. "Having the opportunity to be a part of something so meaningful has made the collaboration with Toms so special to everyone at The Row."
The Row for Toms shoes collection features three styles in heather gray, a dark-plaid print, and black. Prices are steeper than the usual pair of Toms, ranging from $140 to $150, because of the fancier fabrics, but you can feel good knowing every shoe purchased will be matched with a pair donated to a child in need.