Like any jet-setting geek girl, I refuse to travel without all of my gadgets. But with a phone, iPod, camera, cords, and chargers, keeping gadgets organized and cords tangle-free is a challenge.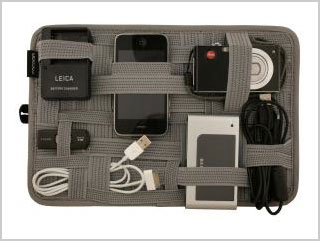 I'm in love with the
Grid-It organization system
($25) from Flight001. Overlapping rubberized elastic bands offer easy storage for even the strangest-shaped objects, and the entire grid is perfectly sized to fit right into my laptop bag. There's even a zippered pocket in the back for storing other small items. Knowing my beloved gadgets are safe and secure means one less travel stress.