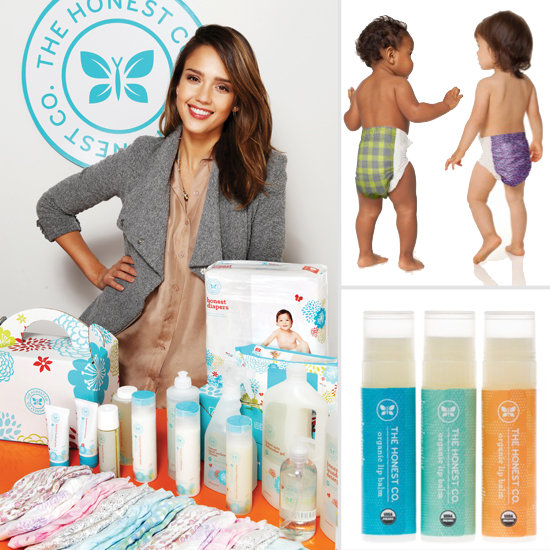 It's been 10 months since
Jessica Alba
and Christopher Gavigan launched
The Honest Company
, an eco-friendly and toxin-free baby products and household items company. If anyone thinks that the actress is just the face of the company who only shows up to draw attention to the products and then goes back to her Hollywood life, they'd be sorely mistaken. The company is truly the brainchild of the mom of two — to Honor, 4, and Haven, 1 — and she takes personal pride in its success.
The company will launch its newest styles — purple leopard and green-and-gray lumberjack patterned diapers — and latest product — a trio of lip balms for mom — on GiltKids.com tomorrow afternoon as part of the company's first sale on the site. We joined Gilt Groupe, Jessica, and Christopher at Honest's offices to discuss the brand, the new products, and what moms really want in their products. And come back tomorrow for the rest of our conversation about Jessica's seamless transition from actress to businesswoman, and the products her kids like best.
Moderator: So we were talking a little bit about the partnership with Gilt; what made you want to partner with them? How did that come about?
Jessica Alba: I just think it's a great site. I love a good deal myself as a mom, and I love that they have a curation of the best in class. So because we're the best in class, and it's also a very stylish site, I just thought it would be the perfect place to have an exclusive partnership and launch our most fashionable two designs.
Moderator: And how did you decide to step out with these particular new products? What was the reasoning behind that?
JA: We have tons and tons of designs and they fall into the category of traditional, sort of whimsical, and kind of edgy. I feel like parents have kind of fallen into a couple of those categories, if not all three. I know I do, and so depending on what kind of mom you are, you're obviously going to be attracted to the different designs. So we had about 10 per category, and we went out to parents and they pulled their favorites and then everyone here at the office. That's how we end up with our designs — people choosing it.
Moderator: So the things that Gilt's launching, are they an extension of items you already have?
JA: So we already have these, and these are our boy options, and these are our girl options, and so what I was saying is this is the edgy girl option; this is the whimsical and this is the more traditional. For whatever reason, the sweets and the skulls are the ones that everyone talks about, so when our moms post on our Facebook, or whenever anyone takes a photo of their babies in our diapers, they love showing them in our edgiest designs, so we felt that would be the best to launch with Gilt Groupe. We have the highest absorbency than any other diaper on the market, conventional or eco, and then we have obviously the edgiest and coolest designs. And no other company allows you to pick and choose. If you're part of our monthly delivery program you get to pick and choose what designs you want, so you're like, "Oh, I really love lumberjack, but I also love the skulls and I love the anchors," and so you can get all of that in your monthly package if you want.
Keep reading to see what Jessica Alba says about the company's first product for moms.