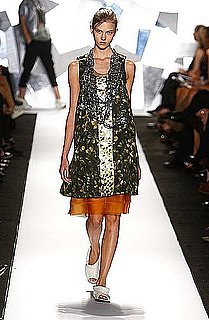 Another designer pulling from their slot at the tents during New York Fashion Week--Vera Wang has announced her decision to show her Fall 2009 collection at an intimate off-site show. To see Wang's Spring 2009 collection, click here. 
Both Francisco Costa and Donna Karan revealed that their Fall 2009 collections will be smaller this season, in an effort to cut costs. Now there's a thought.
Kate Moss has re-signed her contract with high street retailer, Topshop, for another three years. The supermodel plans to expand her range to include accessories and lingerie. 
A collaboration with Linda Farrow has become a right of passage for young designers. Refinery 29 has the scoop on those for House of Holland, Peter Pilotto, and the like.