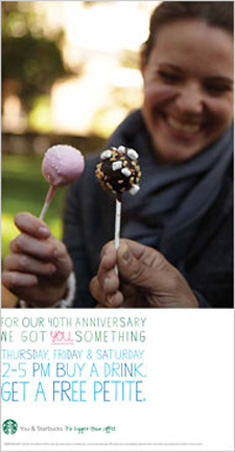 It's Starbucks's 40th birthday this month, and it's got plenty in store besides
that brand-new logo
. Starting today, the coffee giant is launching a massive anniversary marketing campaign that'll include print ads, TV commercials, in-store promotions, and
product lines
.
In addition to new brews — Starbucks Tribute Blend coffee and a Via version of the same blend — the corporation is also rolling out a new cocoa cappuccino. But bigger yet, it's globally launching Petites, a new line of eight baked goods and treats under 200 calories, including mini cupcakes, cake pops, and whoopie pies.
Starbucks's slogan? "It's our anniversary, but you get the presents." When customers buy drinks at stores between 2 p.m. and 5 p.m. Thursday through Saturday, they'll also receive free Petites items.
Does the Petites line sound appetizing to you? Will you take advantage of the excuse for a celebration?