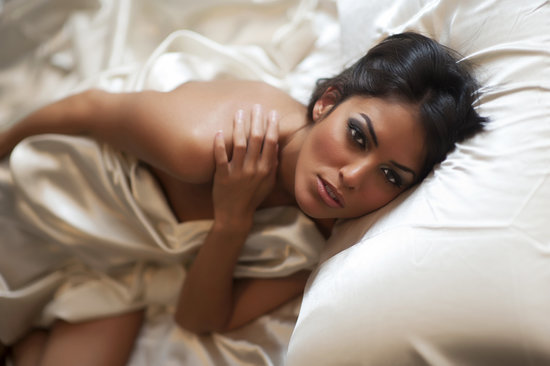 Get your spouse-to-be excited with a hot photo session for their eyes only. Boudoir photos make the sexiest wedding gift anyone could ask for, and with so much attention on the bride, the groom deserves a lil love. Not sure about stripping in front of a camera? We've got you covered. Photographer Cherie Steinberg of The Boudoir Cafe is offering some of her expert tips for taking provocative pics your love is sure to appreciate. Here are her top 10 tips for a bridal boudoir session:
Research Your Photographer
"I can't stress how important it is to research your photographer before making a decision," Cherie says. "Read their website, social media profiles, and customer reviews to make sure they are professional photographers with a vision similar to your own. Look at the photographs on their website and see if the photographer is directing their clients or just snapping pictures. Any good photographer will have a team, a studio, and a hair and makeup person. I always have numerous conversations with each client before a shoot to make sure they are prepared and comfortable. Your photographer should do the same!"
Research Your Style
"Know what you like!" Cherie stresses. "Are you more of a Dita Von Teese or a Gisele Bündchen type of girl? Before the shoot, pull photographs from magazines and the web that you love and send them to your photographer. It could be a person, an outfit, a pose, or even special lighting that you love. Make sure your photographer sees it before the shoot so they are prepared to give you the look you want."