It's safe to say most occupations employ a vernacular all their own — fashion speak, legalese, and medical jargon immediately come to mind — so it goes without saying that heading to the tailor requires a certain level of terminology know-how too. That is, unless you want your pant leg to be darted instead of hemmed. No need to be embarrassed about your current tailor-talk knowledge: this is a glossary safe zone. Is there a difference between bespoke and custom pieces? What is a vent? No, it's not an air filter we're referring to. When do you "take something in" as opposed to requesting darts — or do you do both? Is a cutter something scary? Read on for tailoring-term enlightenment and insurance against any further miscommunications.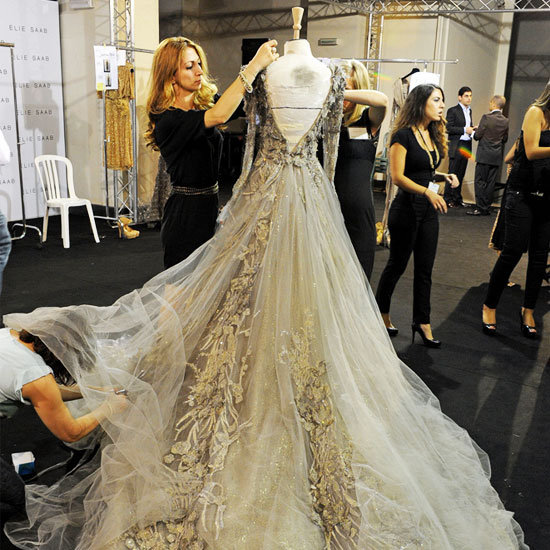 Baste — Basting is kind of like the bread and butter of tailoring and altering a piece of clothing. It describes the action of sewing long, easily removable stitches that are used to mock up a fitting, hold into a zipper into place, and keep slippery fabrics from moving. The next time your tailor is stitching you into something, chances are they're basting.
Bespoke — A bespoke piece of clothing refers to a garment made from scratch to fit a customer's specific measurements and requirements. Its origin dates back to the days of London's Savile Row, when a customer ordering a garment would select and reserve a cloth or fabric, which automatically made it "bespoken" or "spoken for." Thus, there's no difference between bespoke and custom wares, as both speak to a totally personalized experience. More often, people get confused between bespoke and made-to-measure goods. Made-to-measure pieces are tailored from a standard-sized pattern mold; while the end result can be tailored to fit your body, the initial piece of fabric was not made especially for you.
Cutter — Contrary to the sound of it, a cutter is the person who measures and fits the customer. From there, he or she makes a pattern from the measurements and observations of the customer's figure and posture. We'd say that's a pretty big job.